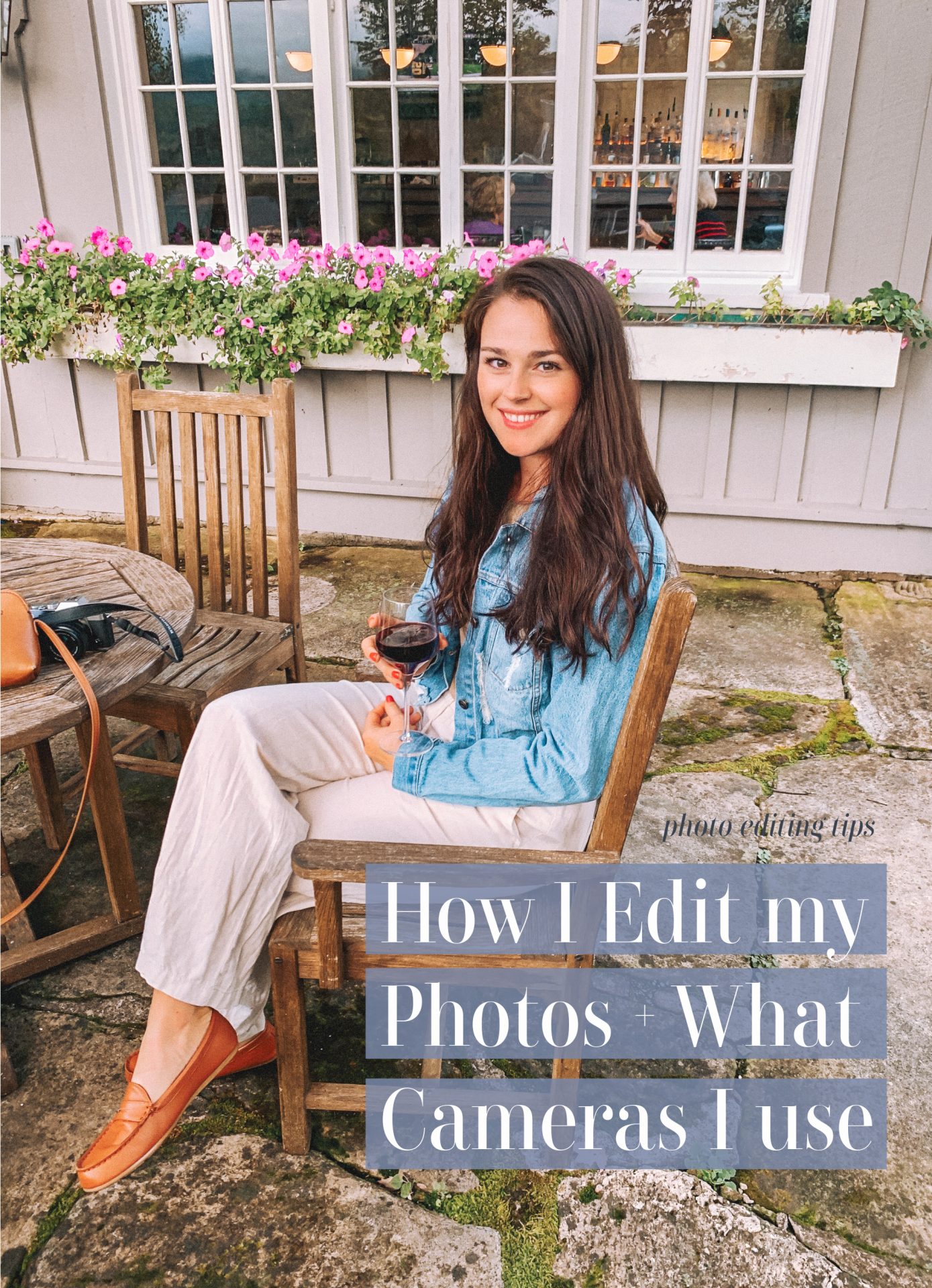 This post is a long time coming. I get asked about how I edit my photos, what editing software I use, which camera I have, and how I got started with taking blog photos almost daily. Photography can be intimidating when there are so many cameras, editing tools, and outstanding professionals out there. And to be honest, ANYONE can take a good photo no matter what camera you have or what level you're on. We all start at level one, and the best part about taking pictures is that there are no rules. You get to set your own style and format for your photography. People don't choose wedding photographers because they follow the art by books; they choose photographers based on the art of the photo. Some may like low saturated photo and others may like it airy and light! It's all about how you decorate your shot.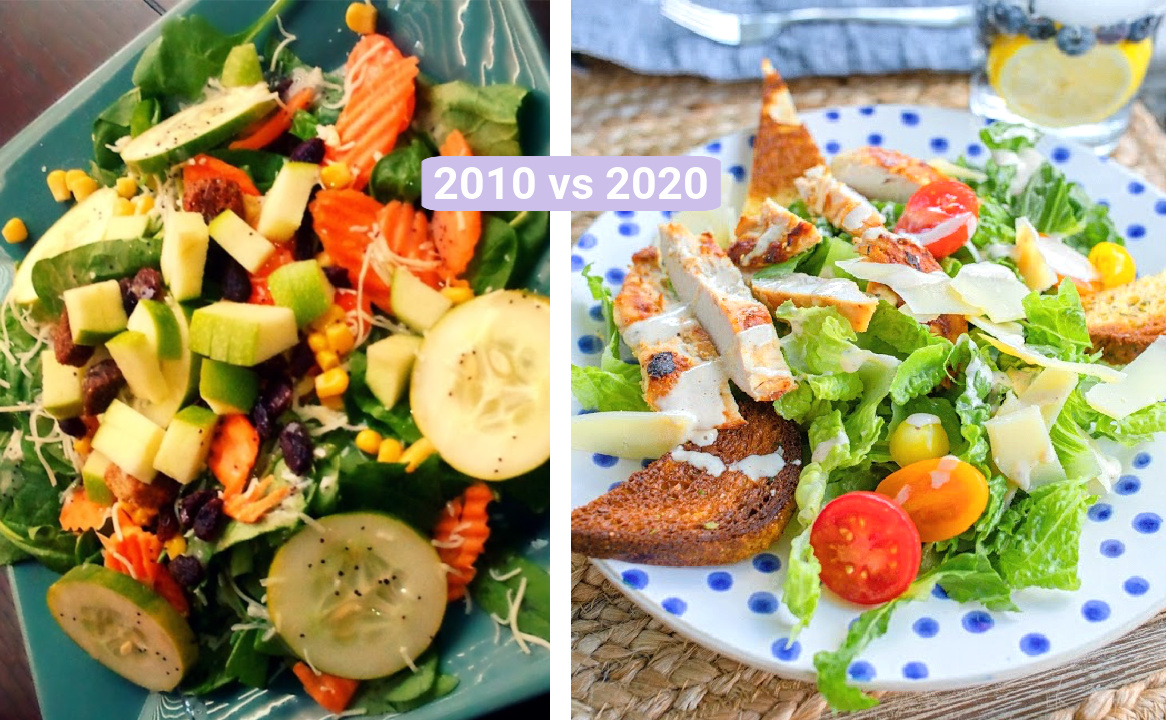 When people ask me what I love most about blogging, I always say "photography." It's the best part of editing travel guides, recipes, and recaps. I love making a cup of coffee and changing up the style of photos. It's therapeutic and a way to express yourself. Adding a "look" to your photos is what keeps people recognizing your work in places. I wanted to share a picture of a salad I took in 2010 vs. now to show you that EVERYONE starts at level one. I had no idea how to take a photo for a blog. I would just take my cell phone out and snap an image in a dark kitchen before eating. The cell phone wasn't the issue here; it was the lighting.
What is my number one tip to change ANY photo?
My NUMBER ONE TIP for taking better photos is NATURAL LIGHTING. Before you snap a photo of your food or your subject, take it over by the window, go outside, or make sure all the curtains are open. A photo taken without natural lighting will never match up to a photo with natural lighting. And a flash? I have maybe used a flash five times in the past ten years. And that's normally when it's a group photo outside at night. The sun is the best form of magic for your photos. When I'm shooting a recipe, I photograph it in my optimal lighting window. If the sun isn't shining through the kitchen past 4 pm, I'll store the recipe and shoot it the next day. Sometimes, I'll even take a recipe to the front guest room to steal the light from that window. Using natural lighting is the most simple yet powerful tool for photo taking!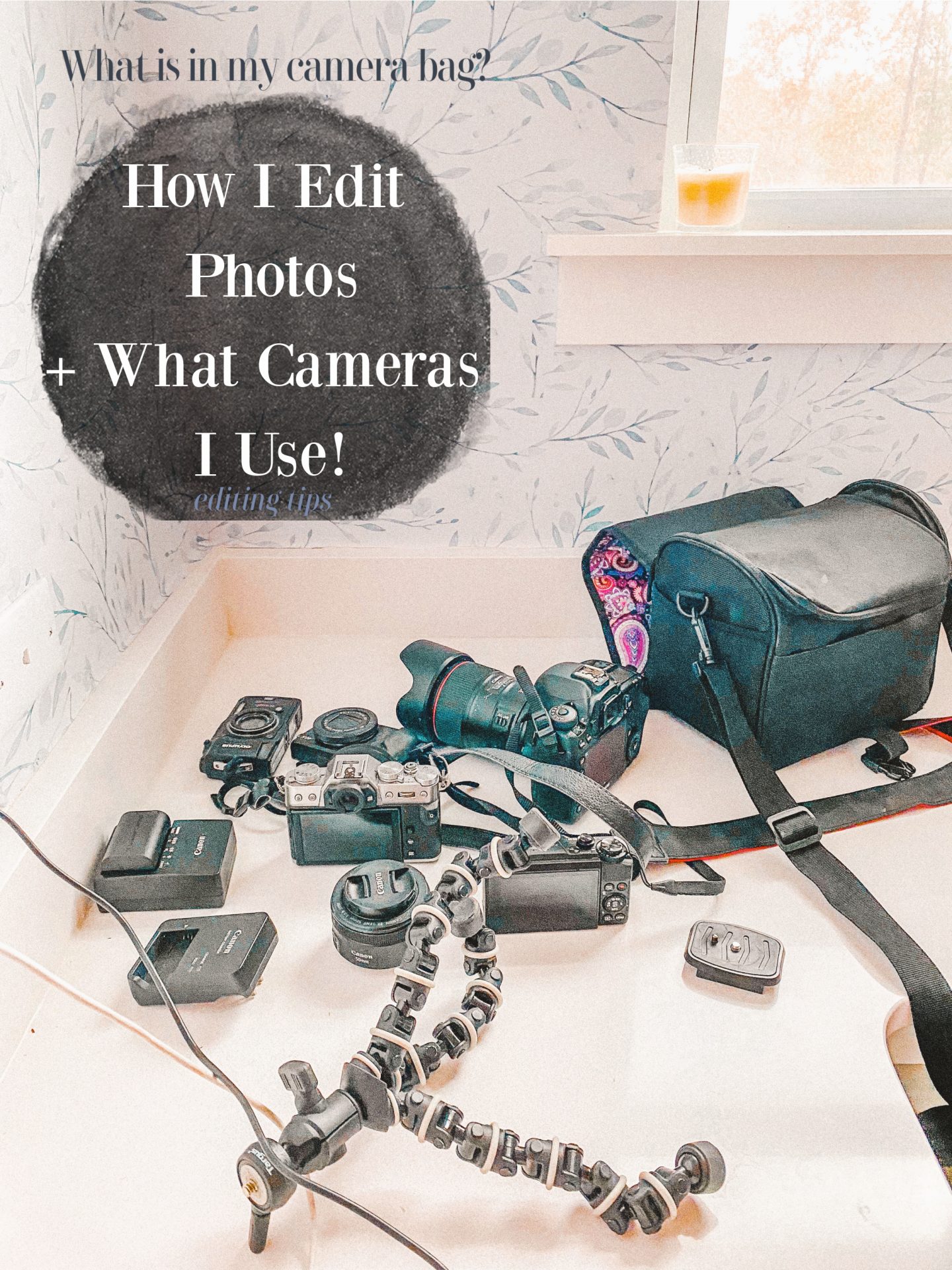 Before I share what I use to take photos, I want to be honest here! You do not need expensive cameras or equipment to capture beautiful photos. Almost 80% of the time, my photos are taken with my cell phone, edited with Lightroom, and that's when I get most of the questions about my photos. There are times when my more expensive cameras sit in their bag months at a time because using my cell phone is so much easier and more convenient.
I would say I use my cell phone 80% of the time! They have made phone cameras so much better nowadays, and they're easier to transfer, have in your back pocket, and the quality is great.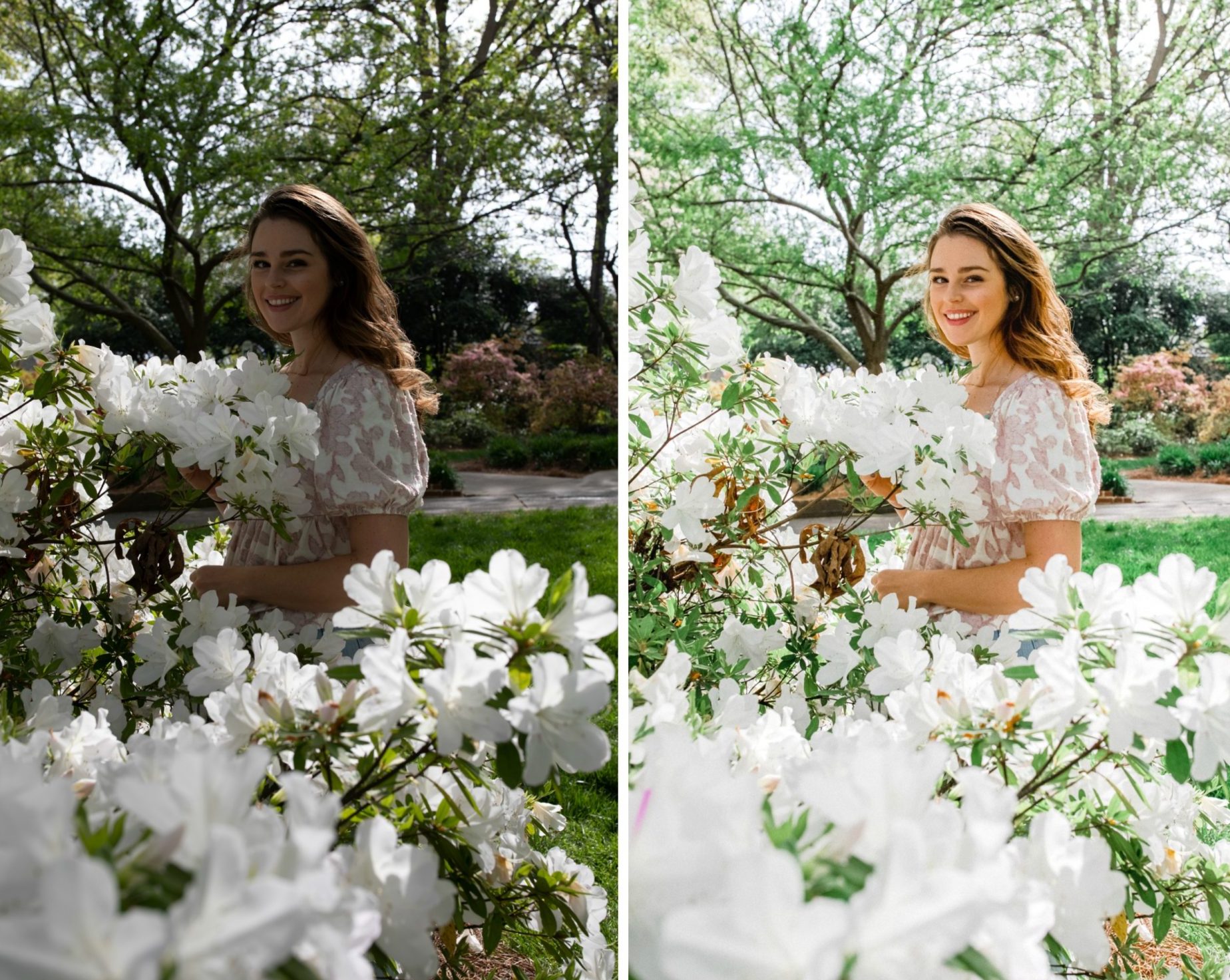 What Cameras Do I Use?
my camera on the pricier side
When I want my photos to be a little better, I use my actual cameras and not my cell phone. When I'm taking family photos for someone, I never pull out my cell phone. I always have my Canon EOS Mark IV SLR Camera. It's high quality and a great investment if you are looking to GO BIG with your photography. This is the camera that I have shot weddings, engagement sessions, and recipe photos with. This camera is NOT necessary in order to have a blog with pretty photos. I love that I have it for when I get asked to do more professional style photos, but it's definitely a camera I could live without when it comes to blogging. I alternate two lenses with this camera. I use a Canon EF 35mm f/1.4L II USM  for lifestyle photos and the Canon EF 50mm f/1.8 STM for more detailed shots. After trying out multiple lenses with this camera, these are the two I liked and used the most. 
my favorite camera on the not-so-pricier side
One camera I have been obsessed with lately is the Fujifilm X-T30 Mirrorless Digital Camera w/XF18-55mm lens. I wanted to have a camera that I could hang around my neck without it weighing me down while traveling. Before I headed out to Beaufort a few months ago, I purchased the Fujifilm camera and couldn't have been more in love with it. I'm still obsessed and now take a lot of my lifestyle photos with it. It captures everything so sharply without having that weird cellphone distortion. I have found that cell phones make heads a little big for the body (often when the camera holder is angling it incorrectly.) With the Fujifilm, anyone can use it on any level, and it captures photos so raw and perfect. I am going to be purchasing the X-T4 now that I know the X-T30 is a fantastic camera. This camera has a feature where you can upload the photos directly to the app from the camera. It saves a lot of time when it comes to transferring the memory card into the computer. That way, you don't need to take your laptop with you for editing.
I have shot many recipe blogs with this camera. My pumpkin pie recipe is the latest post shot on the Fujifilm X-T30 Mirrorless Digital Camera w/XF18-55mm lens.
my vlogging camera
Another camera I use a lot is my vlogging camera, the Canon PowerShot G7 X Mark ii. Not only does it record amazing videos for being so compact, but it also takes great lifestyle shots. I used it to capture 90% of the photos in this travel blog to the Biltmore. You can see that it's a perfect camera for capturing and filming videos at the same time. What I like about this camera is its excellent quality for the cost. I like that I can film a vlog and hurry up and take a photo instead of bringing multiple cameras. If you head over to my YouTube channel, you'll be able to see what the camera looks like for filming. I actually have three of these cameras to make filming easier around Christmas time. You know…vlogmas 😆
action and waterproof camera
One of the best cameras for underwater photos is the Olympus Tough T-G6 Camera! It takes fantastic photos for adventures on the water, snorkeling, or in a place you may drop your camera a lot. I took my Olympus to Hawaii to capture the Manta Rays, the snorkeling cruise, and more underwater adventures. It shoots great video, and the photos come out so clear!
I've owned other cameras in the past that I haven't liked or don't think they're worth mentioning. In my opinion, you'll be fine starting with your cell phone. Still, if you want to make the jump to buy a better quality camera, I'd definitely start with the Fujifilm X-T30 Mirrorless Digital Camera w/XF18-55mm lens.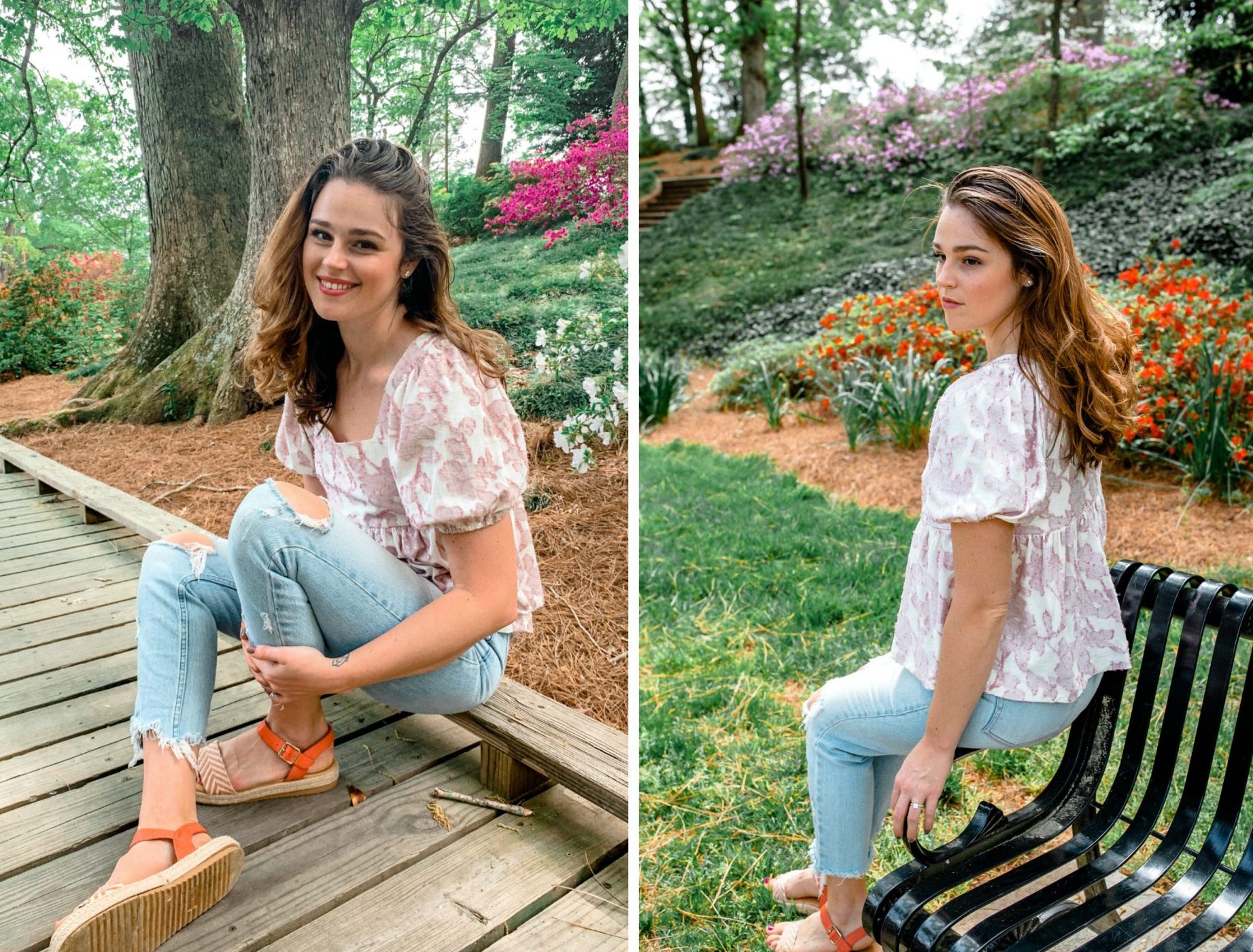 Above is an example of why you don't need to have fancy cameras to get a colorful or bright photo. The left photo was taken with my cell phone, and the right photo was taken with my canon mark iv. I edited the photos with the same preset, and they don't look too different!  There are times when I actually prefer a cell phone shot.
---
Accessories I can't live without?
There are a few things that I cannot live without when it comes to my cameras!
extra batteries for all cameras
mini flexible tripod
big tripod
flat lay tripod with clamp (how I film fast videos)
an equipment bag for multiple cameras and lens
extra SD cards 128 GB or 256 GB storage size
cloths and cleaner kit
filming ring light
---
no doubt about your skill!
A tip that helped me in the beginning was to stop doubting myself. I used to look at other photographs and get so down that I could never produce anything like that. Well, the truth is, that's the beauty of it! You get to take photos and make them your own style. No one wants to see the same photos plastered all over the internet. You don't need expensive cameras or the best editing skills to produce a high-quality photo. Play around with presets, find out what aesthetics you like, and start from there. I know many people may look at my photos and think they are too grainy, colorful, bright, but that's what I love. You may like a more moody, dark, or contrasted photo, and those photos are beautiful too! Don't compare your photos with other people's photos. Compare them to photos you took a week earlier or a few years earlier. That's how you'll see progress.
---
After you get your photo taking skills, it all comes down to editing.
What Editing software do I use?
I always use Adobe Lightroom! 
I have used Lightroom for years now. This is where I store and organize all of my photos and albums. It allows me to edit from my phone or computer and have them synced to both devices. I have created many presets in my lightroom to help to edit photos faster.
What is Preset?
They are custom filters applied to photos using Adobe Lightroom, a photo-editing software. Presets give your photos an aesthetic that makes your blog or social media platforms cohesive.
When I apply my presets, I usually play around with the highlights, brightness, sharpness, color, etc. This will help fit a preset to your photo. I have my presets organized by food, places I've traveled, the season, etc.
I use the app MADE WITH OVER  to get text and overlays on my blog photos and social media posts. This also helps enhance your photos for optimization on social media platforms.
---
Purchasing Presets!
You can now purchase my preset packs, and single presets in my shop! I'm finally sharing my edits to help you make your photos lighter, brighter, and more colorful! This is so exciting because I love helping others with photos, and I can't wait to see your photographs. 
Once you download the lightroom editing program and purchase a preset, you'll be able to edit your photos with my presets I use daily with just one click! If you head over to my new shop website, you can see the before and after of my edits! I'll share a few below so you can see how presets work to enhance your photos. When photos are edited with a pop, they're more likely to be picked up on Pinterest, social media, and more.
Want to know how to download presets to your lightroom? I have a tutorial here!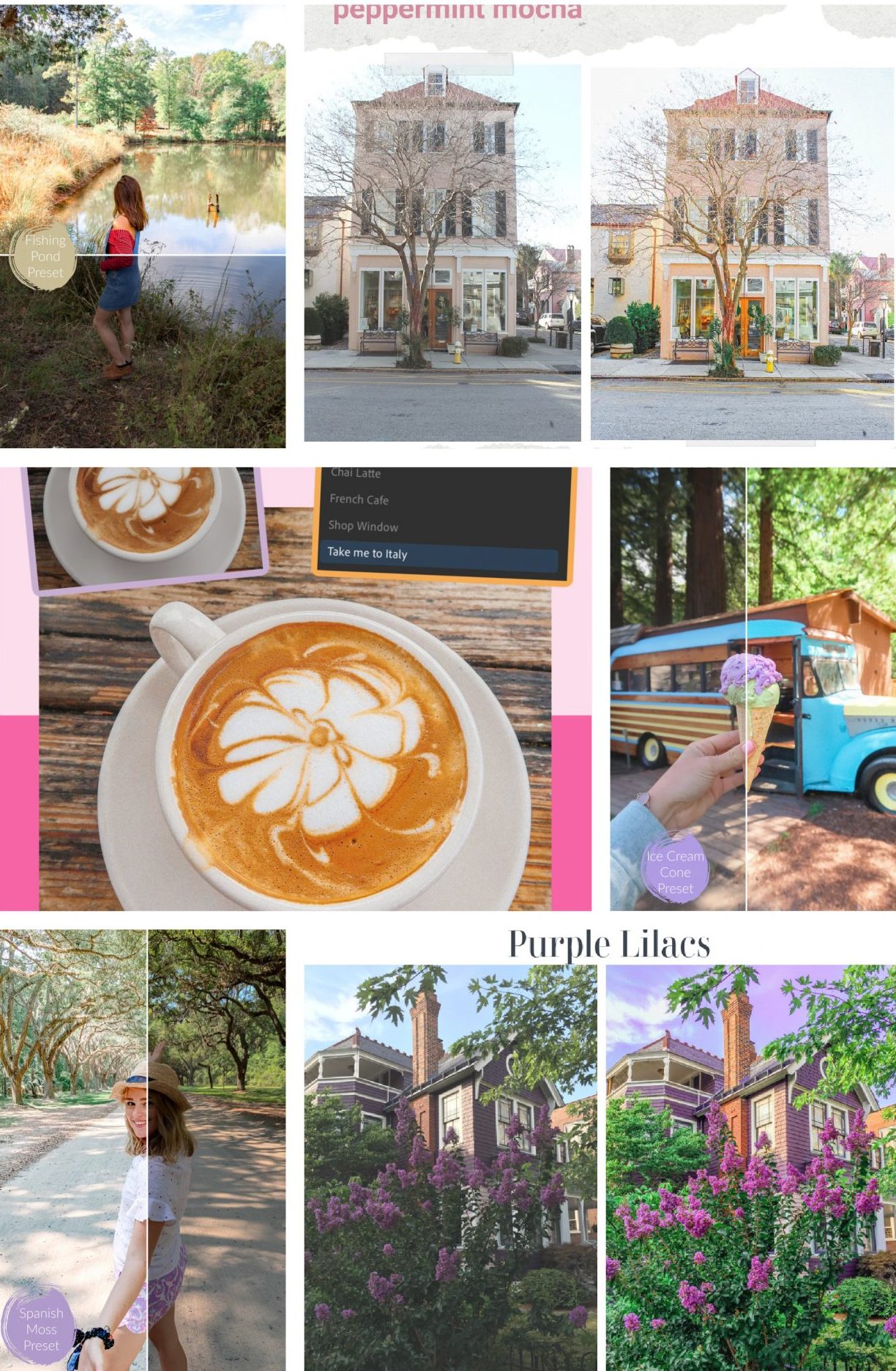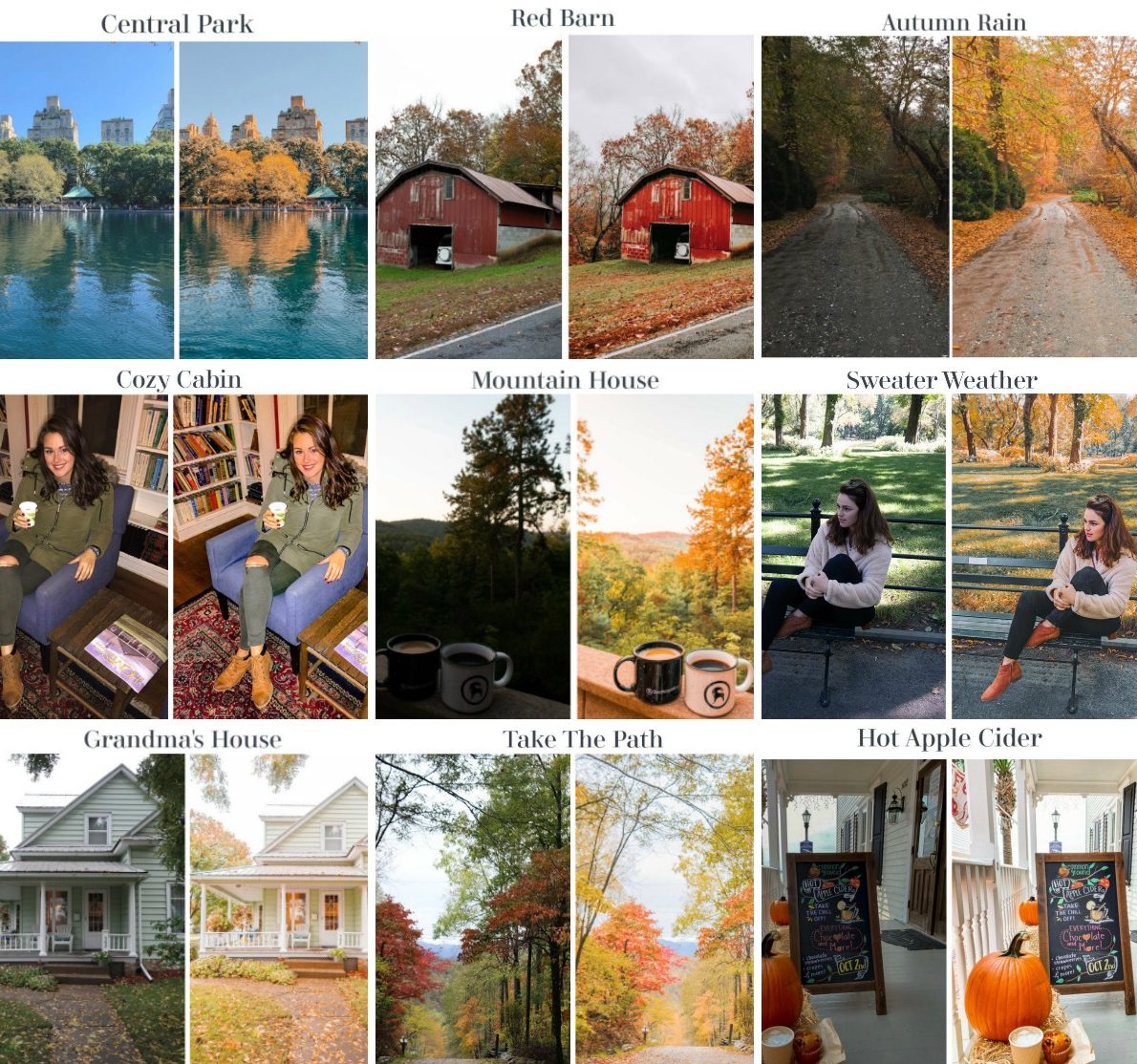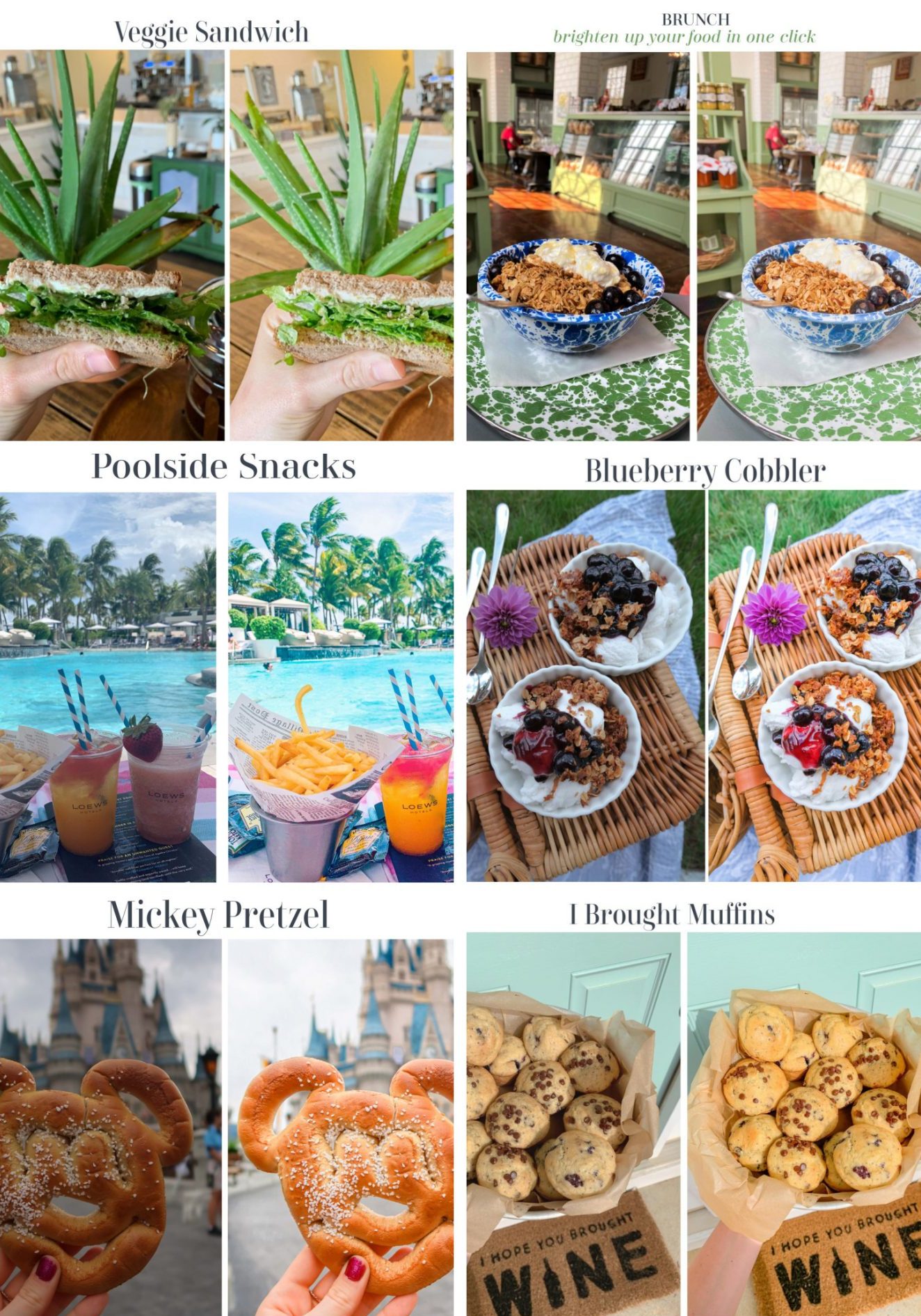 I had so much fun organizing my preset packs, and I cannot wait for you to spice up your photos! If you have any questions, please feel free to leave them in the comments, and I'll make sure to get to them asap.
---
I hope this post has helped you get a little insight into how I get my photos to pop with color and brightness! I would love to answer any questions you have about editing and cameras below! ♥️
---
Questions for you!
Do you use a camera or cell phone for most of your photos?
Do you have a blog? (leave the link in the comments!)
What is one question you have for me about blog photography?