Good morning! It's 5 am on Saturday, the house is quiet, my coffee is hot, and I'm ready to sit down and write. I wish I could be a night owl as much as I am a morning person, but by 5 pm, I feel like mush. 
It's 8:45 am on Saturday morning. As soon as I started writing, my son woke up, my husband and the dogs came trampling down the stairs, and my quiet dream ended. I finished up a walk, planted a few seeds in the garden, and now I have some time to myself to write while the dogs get groomed, and Kyle takes over with Bugs. With starting a new business and being a full-time mom, finding the time to blog has been super tough, but I'm going to keep on trying to hop on here as much as I can, even if it's a few times a month, or a few times a week. I appreciate all of you who have given me grace during this time!
Today, I'm sharing some photos of our summer and pictures from our trip down to Florida! This was our first family trip together since becoming parents!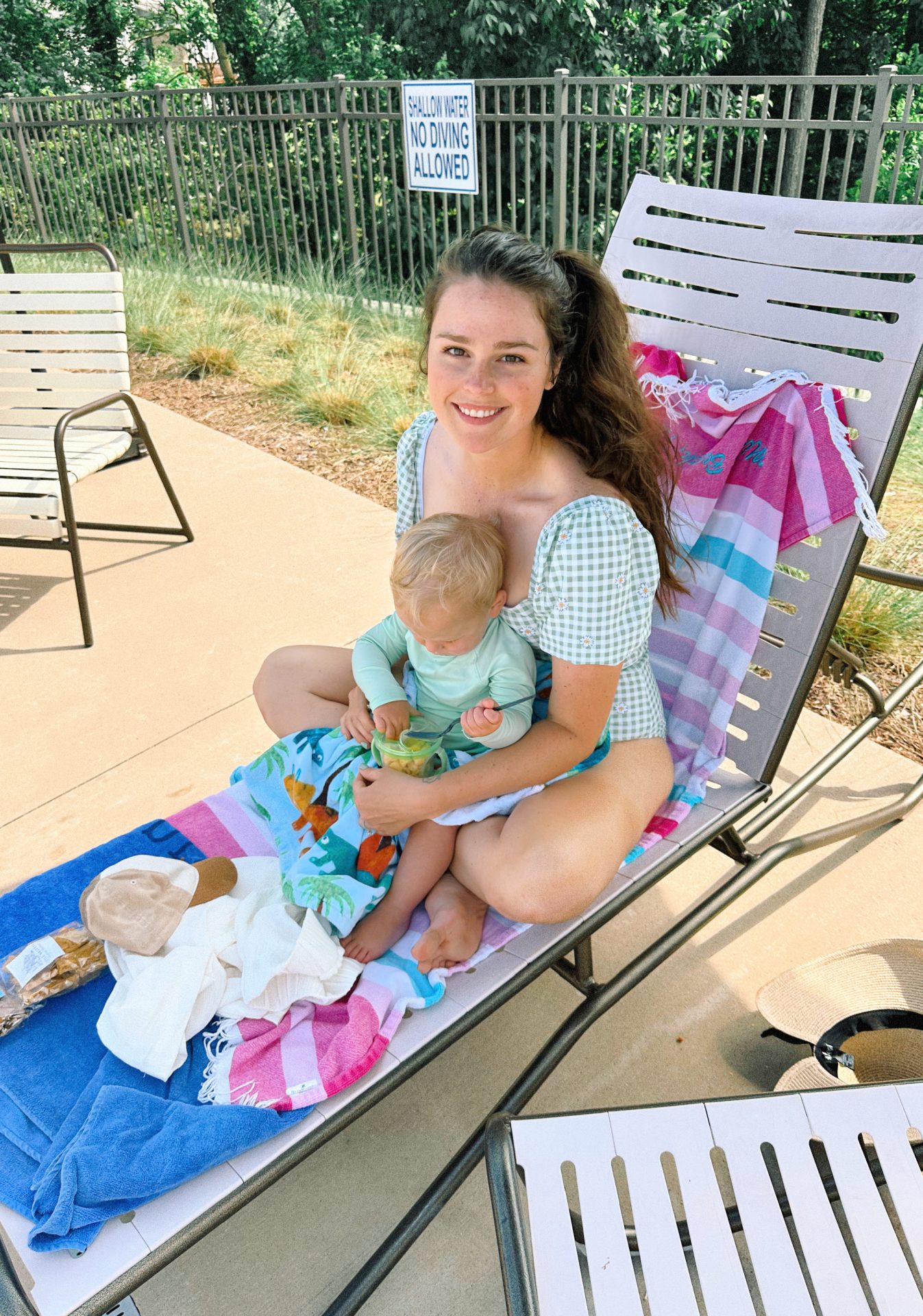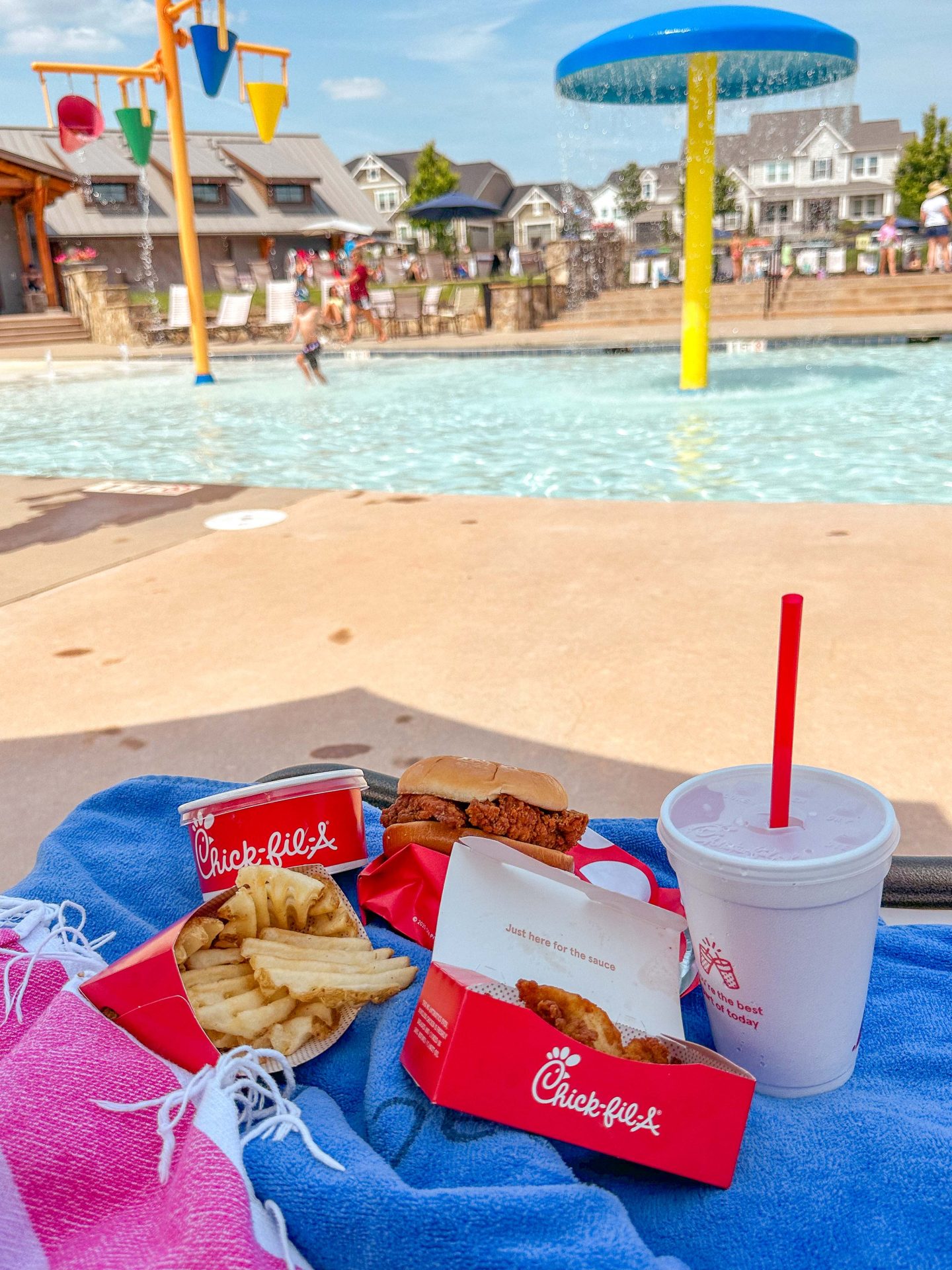 We are in the toddler phase, where we want to run all over the place and never sit still (unless we are eating or drinking), and it's hard to keep finding things to do. He does not like to be in the playpen anymore, and I can't blame him. Thank goodness it's summer because we spend much of our time at the pool now. 
My mom joined us for a pool day a few weeks ago, and we kicked off the summer season with Chick-Fil-A.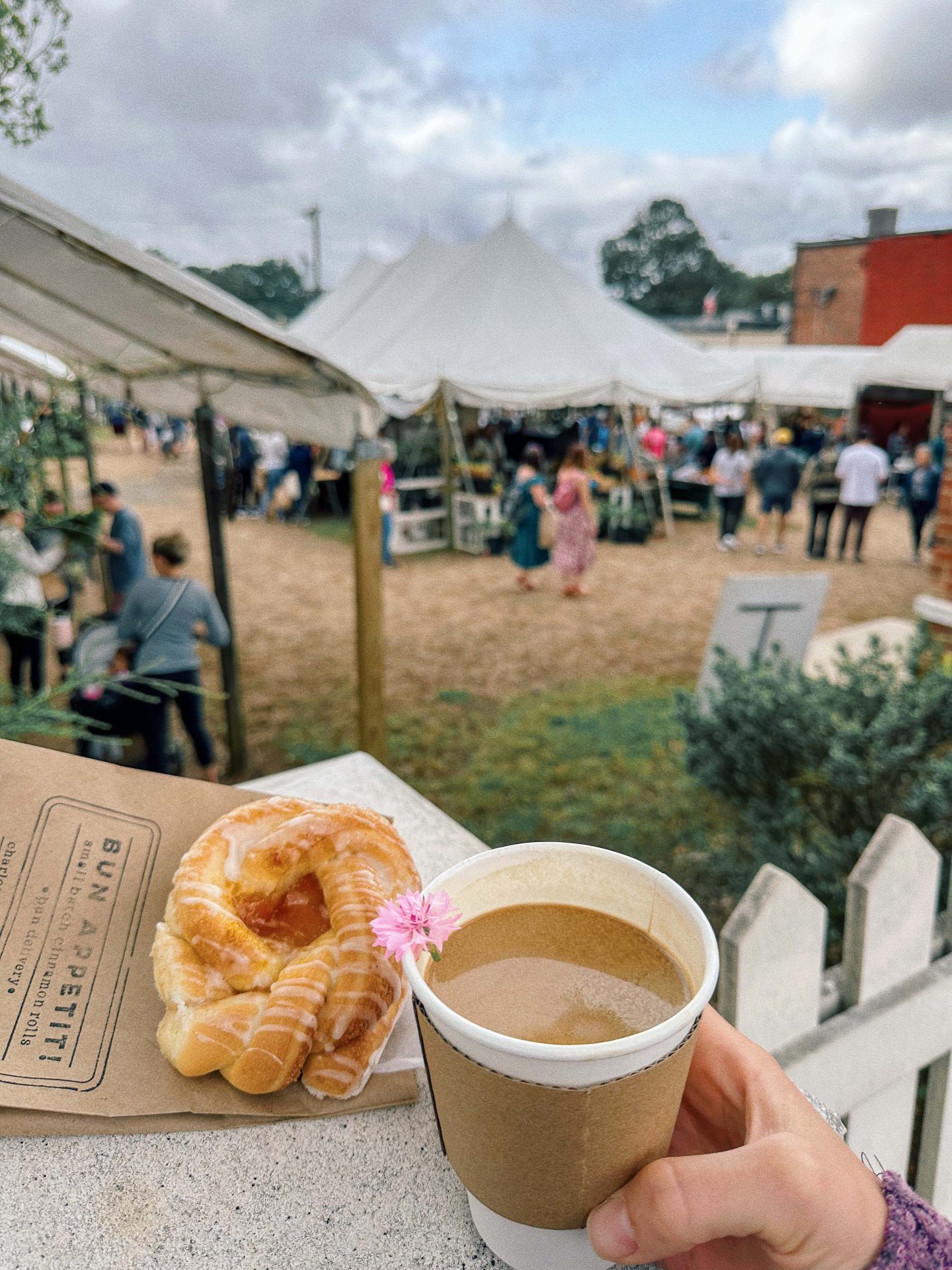 The best thing about Saturdays in the summertime is the farmer's markets. 
I met up with a friend and went to the Farmers Market in Matthews. It's one of the best ones in the Charlotte area! They have all kinds of dessert vendors, fresh flowers, fresh produce, and coffee! I can't wait to attend another one. 
I had an apricot bun from Bun Appetit and a honey wildflower oat milk latte from Good Cup Coffee Co.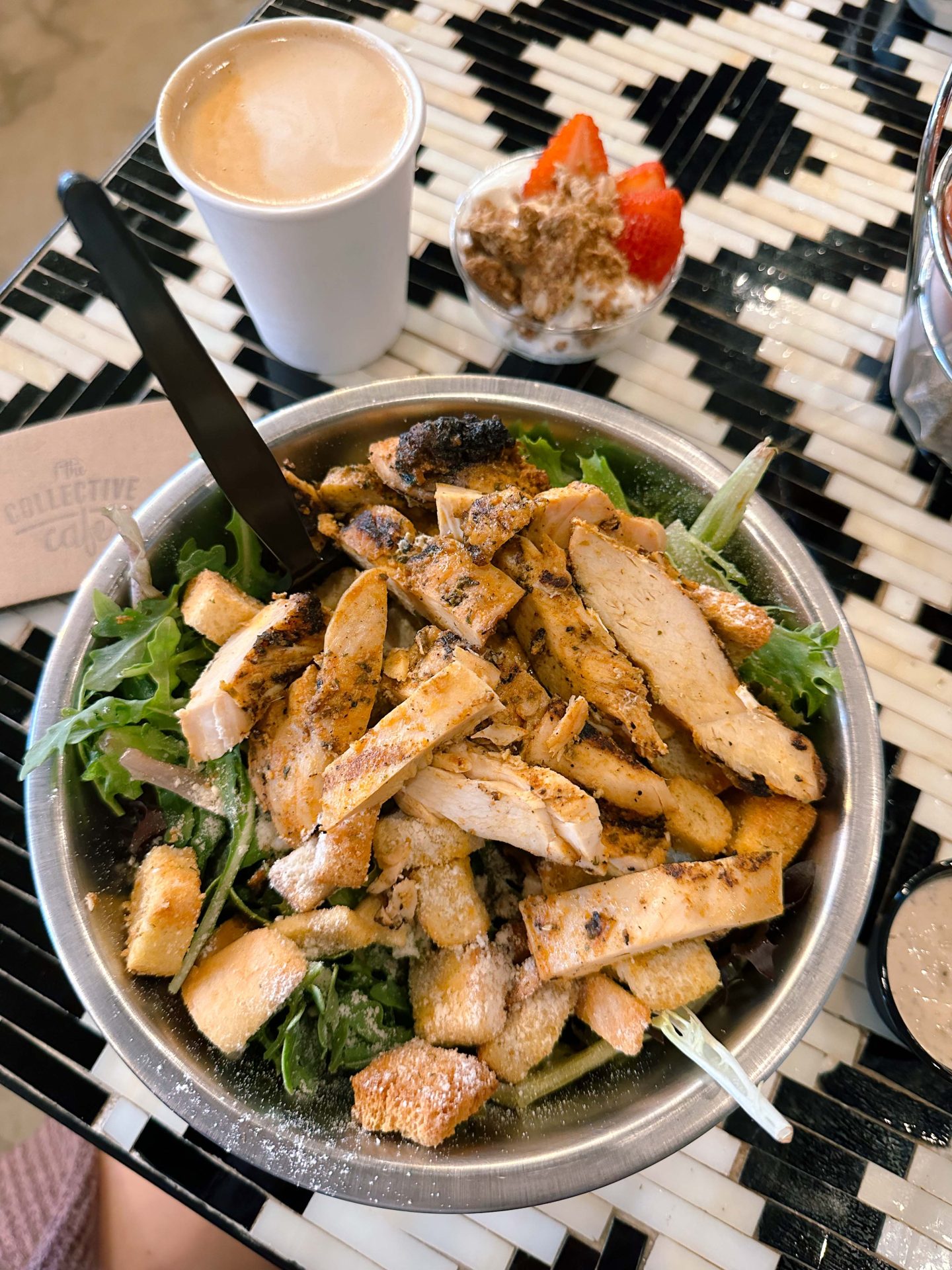 After popping into several antique stores, we headed to Collective Cafe for lunch. I had the oat milk cortado and a chicken Caesar salad. This spot had so many things on its menu! The food was delicious.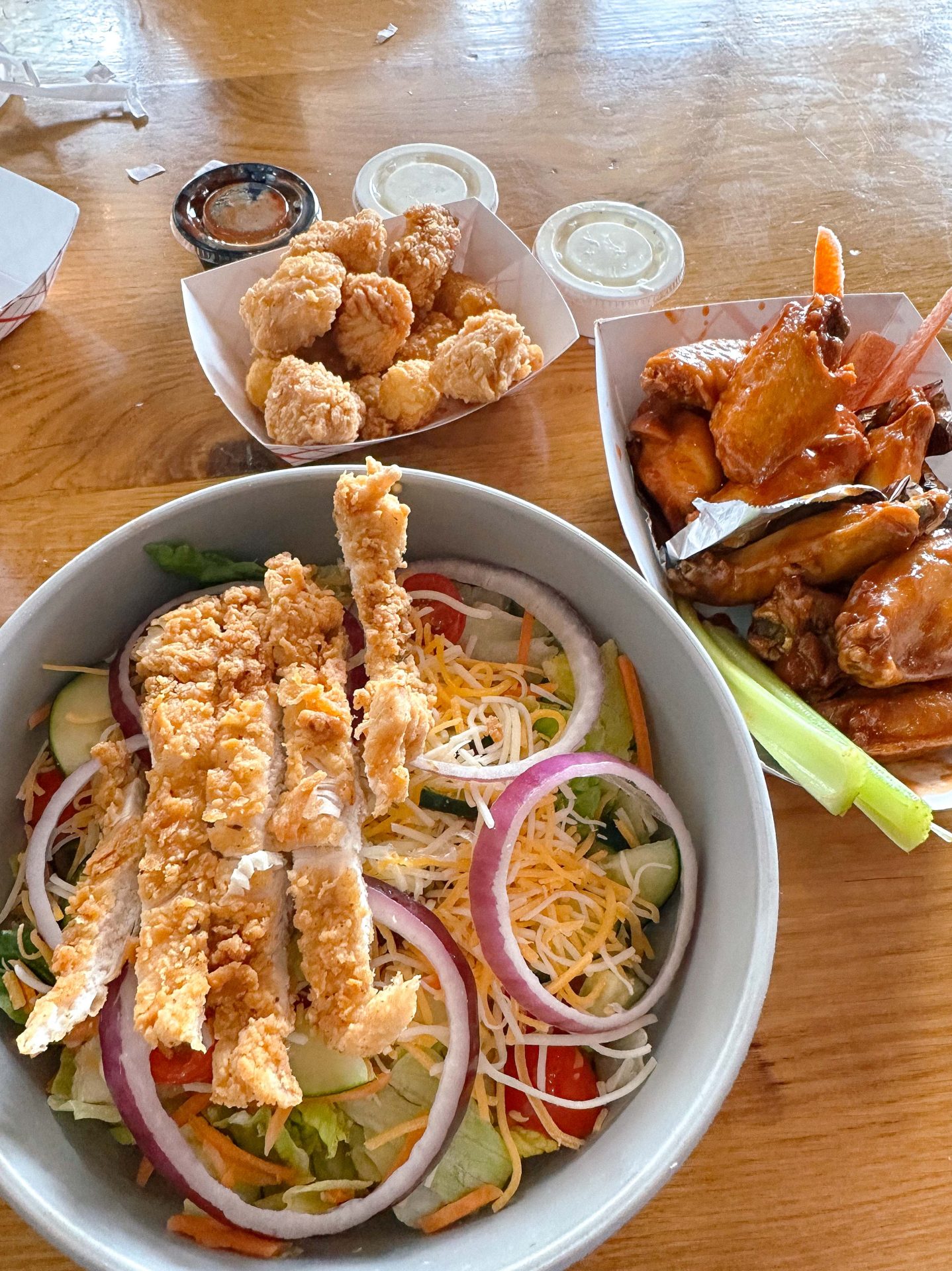 When I got home, I helped put Bugs to bed, and when he woke up, we headed to the pool and then VooDoo Wings for dinner. I had their chicken house salad, and Kyle ordered the spicy peanut butter and jelly wings. I was skeptical at first, but OMG, they were so good!


Right next to VooDoo Wings is an ice cream shop called "Whits." We wanted a sweet treat, so we bought a peanut butter Whittie. OH MY GOODNESS! This was one of the best-tasting ice cream sandwiches I have ever had. It had the biggest chunks of Nutella in the ice cream, and the peanut butter cookie was soft and flaky. I give it a 10 out of 10!


I still love adding my favorite Amazon items to my storefront, and this singing bubble crab is one of the best bathtime toys I've purchased! He is obsessed with it, and bathtime has been a game-changer! It sings songs, spills out bubble bath, and he knows how to turn it on and off. They even make one that looks like a dinosaur. I may have to get that one, too!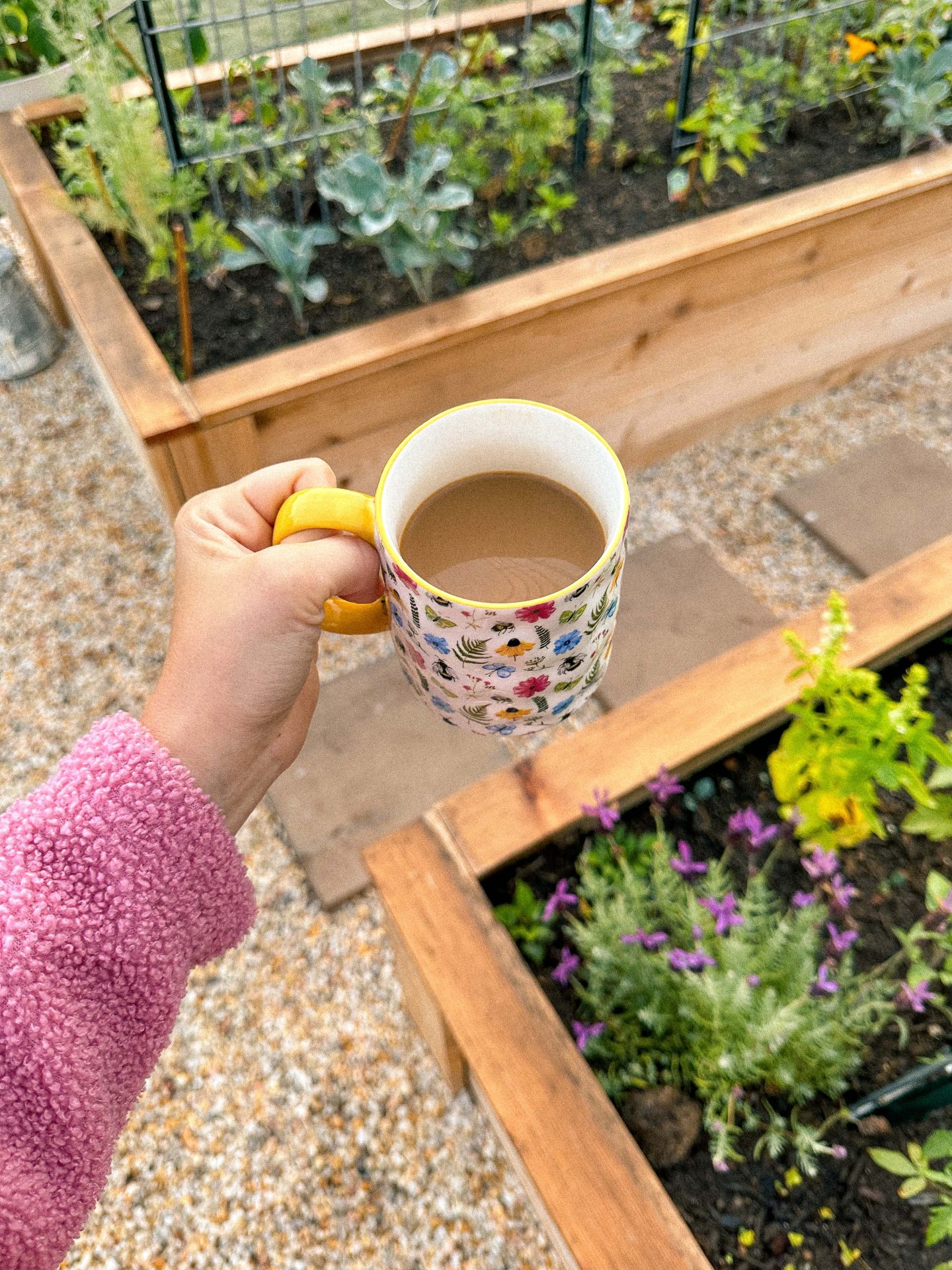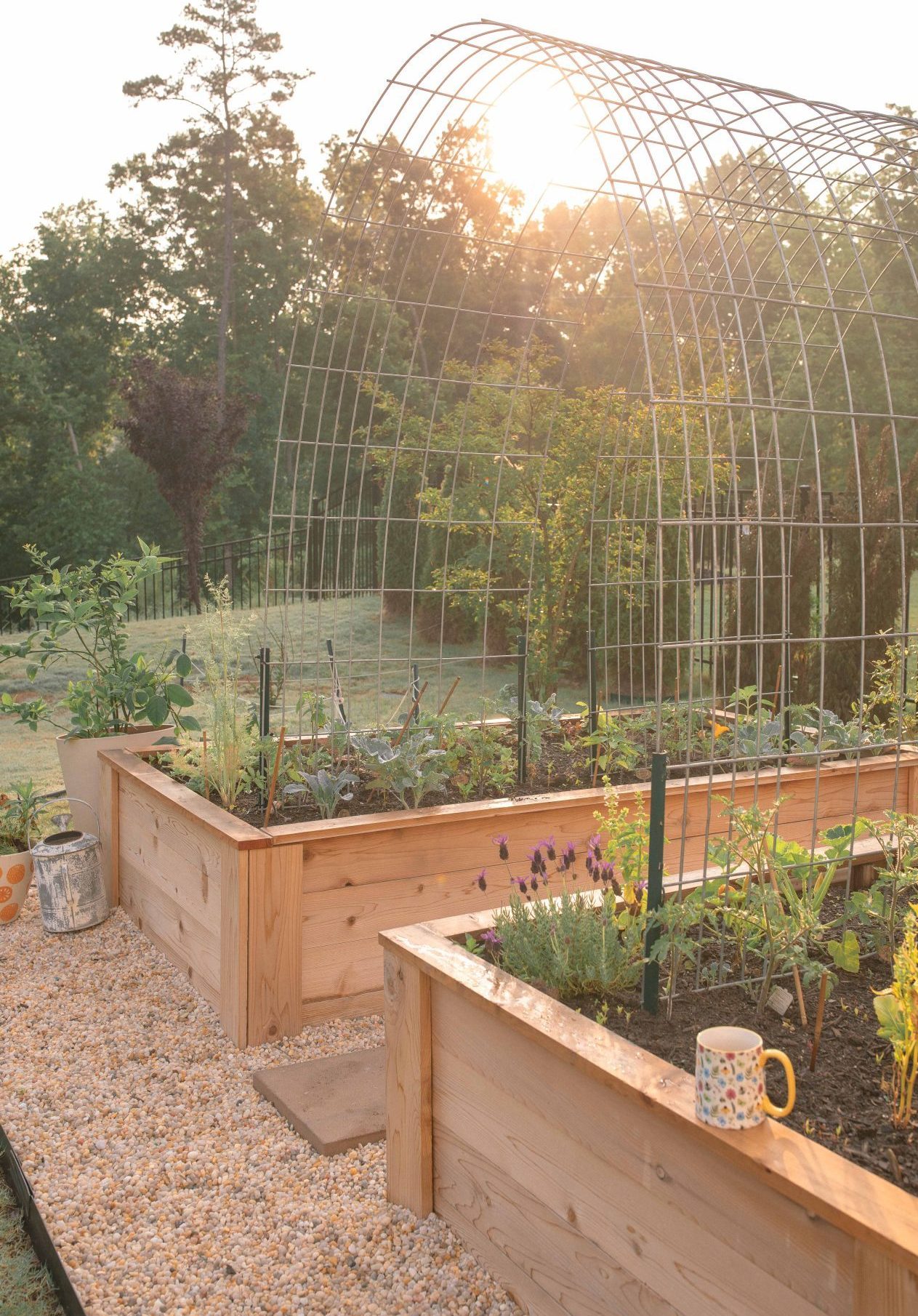 I knew waking up and checking the garden would be my favorite part about these garden beds. It's so exciting watching all of my seedlings turn into big beautiful plants. I can't wait for all the juicy tomatoes, peppers, and squash! It's lettuce season, and I've been getting all the fantastic lettuce from my garden this past week.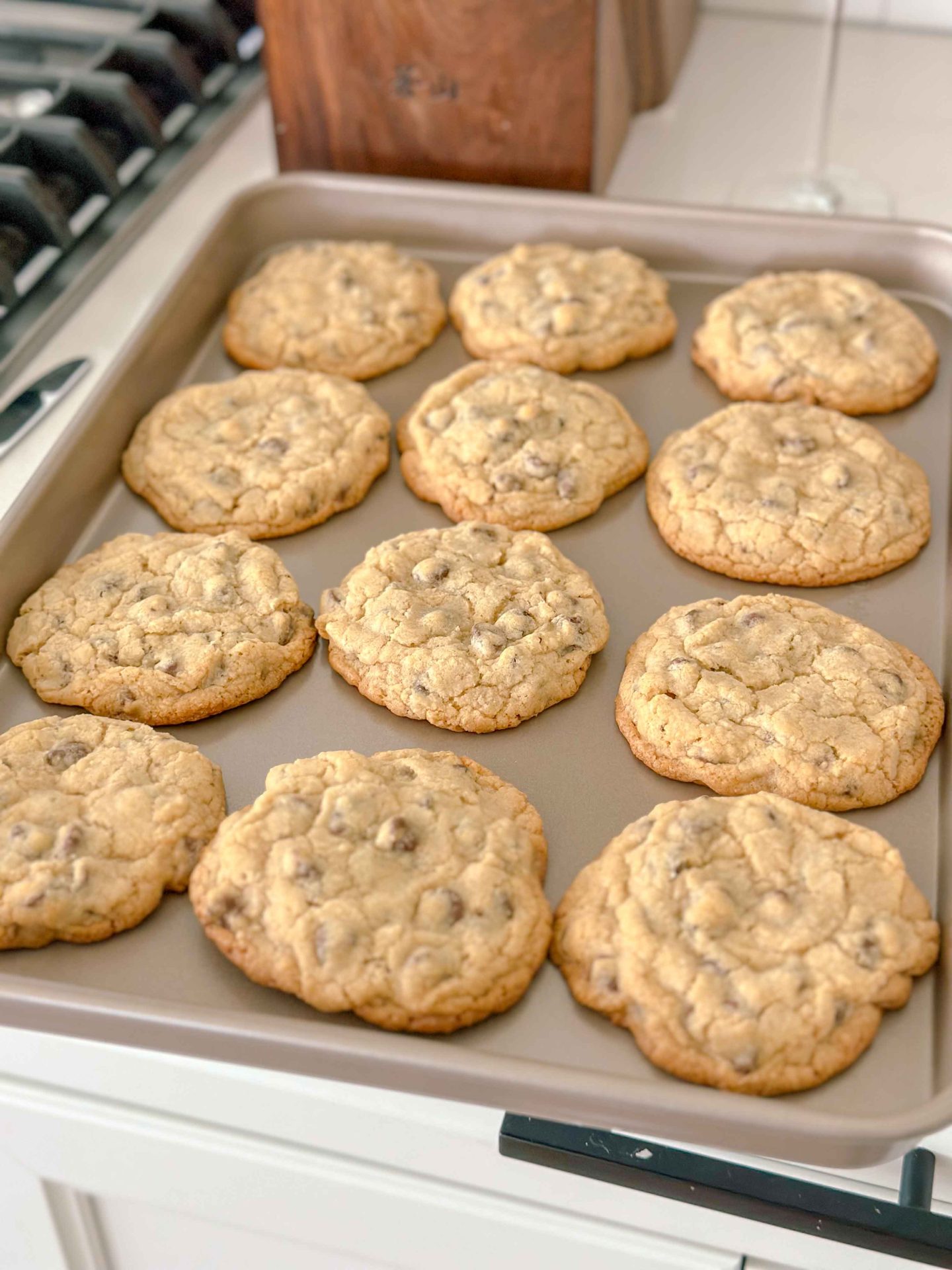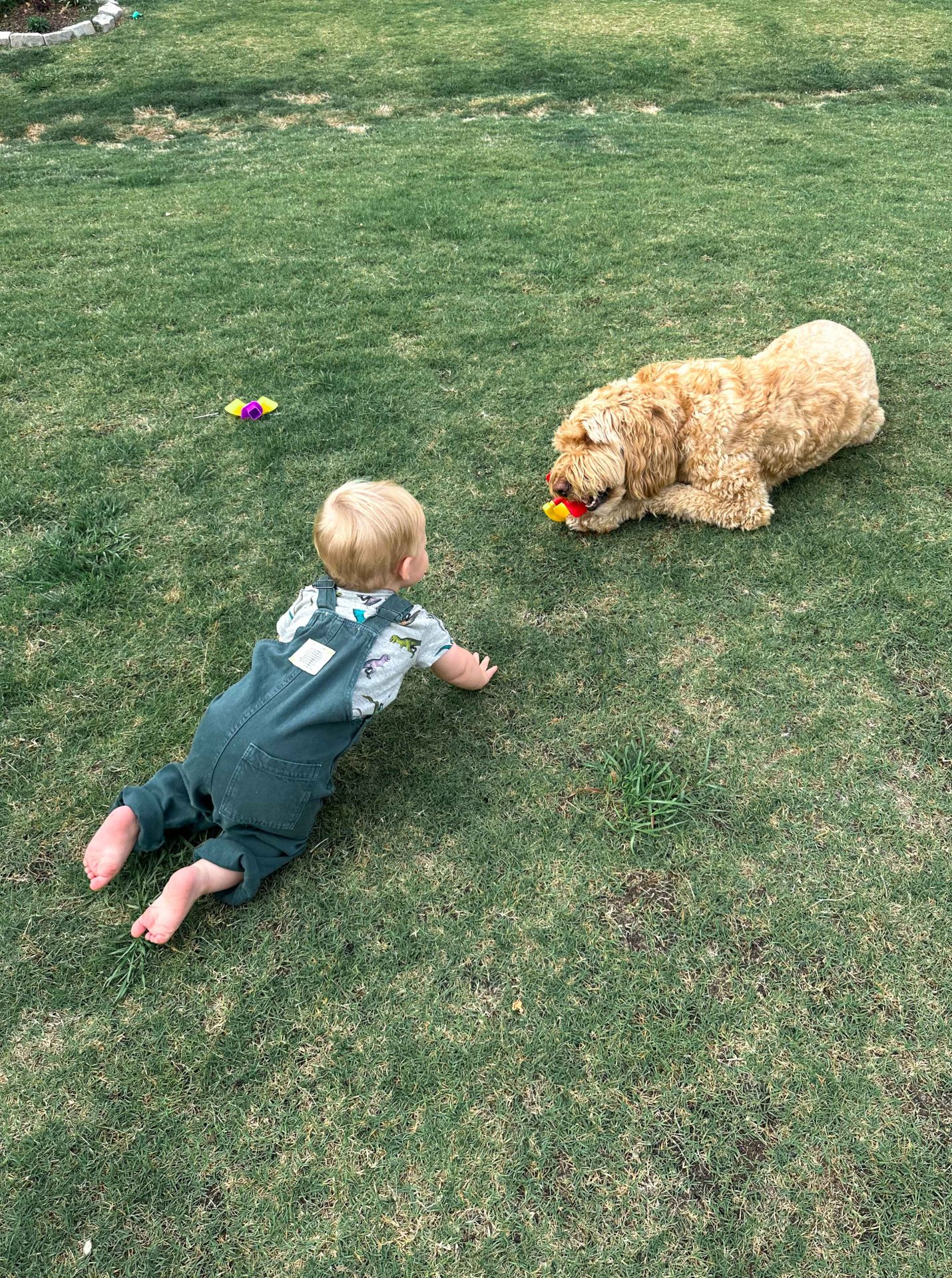 I had a cookie order the day before heading out on our trip! The little Bug was playing fetch in the yard with Leo, and it's so cute to watch this relationship blossom! Leo usually ignores him, but now that he's up and walking, he finds him to be a little human he can play with.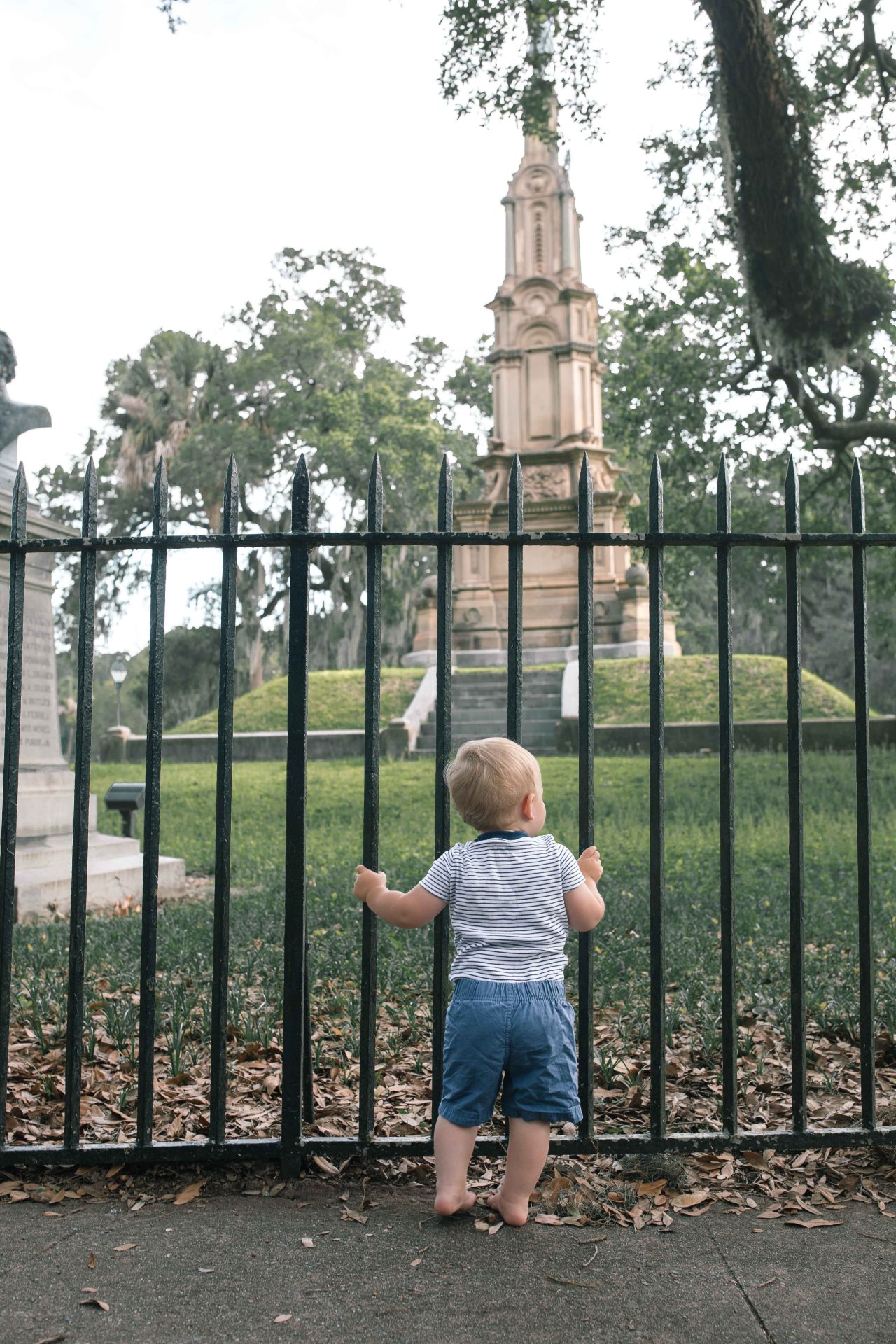 Last Tuesday, we left at 4 am to head down to Florida. We wanted to go early, hoping we'd have a sleeper for the first few hours of the drive. He slept for about 45 minutes but then woke up. Luckily, he was pretty good in the car! We played with cups, straws, string, tape, and toys he had never seen. Toward the end, I put on Ms. Rachel, and she seemed to be a hit. 
Since Savannah was on our way, we stopped for a play in the park and breakfast! It has been a while since visiting Savannah, and it made me so happy to be there, even if it was just for a few hours. I need to plan a trip back soon.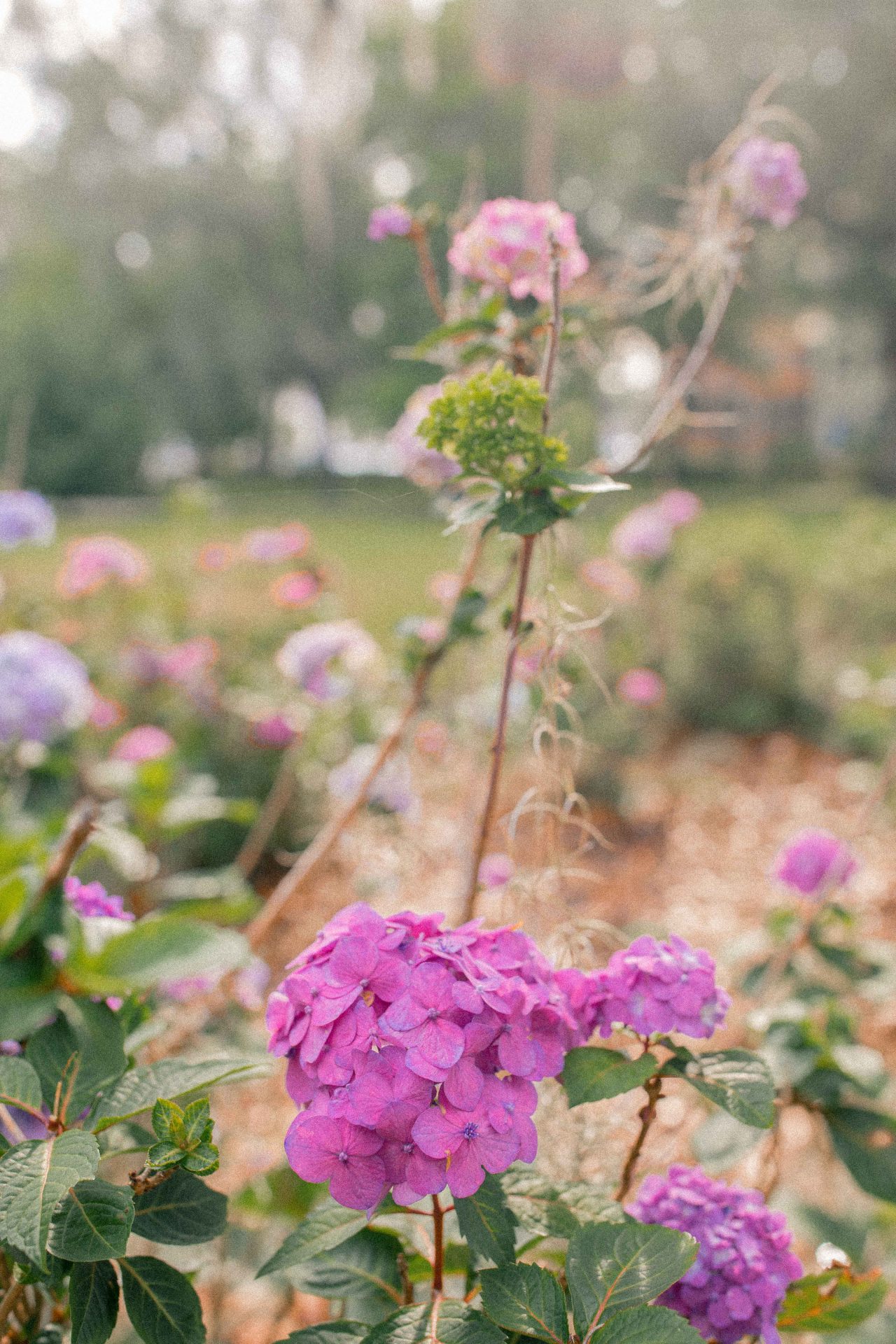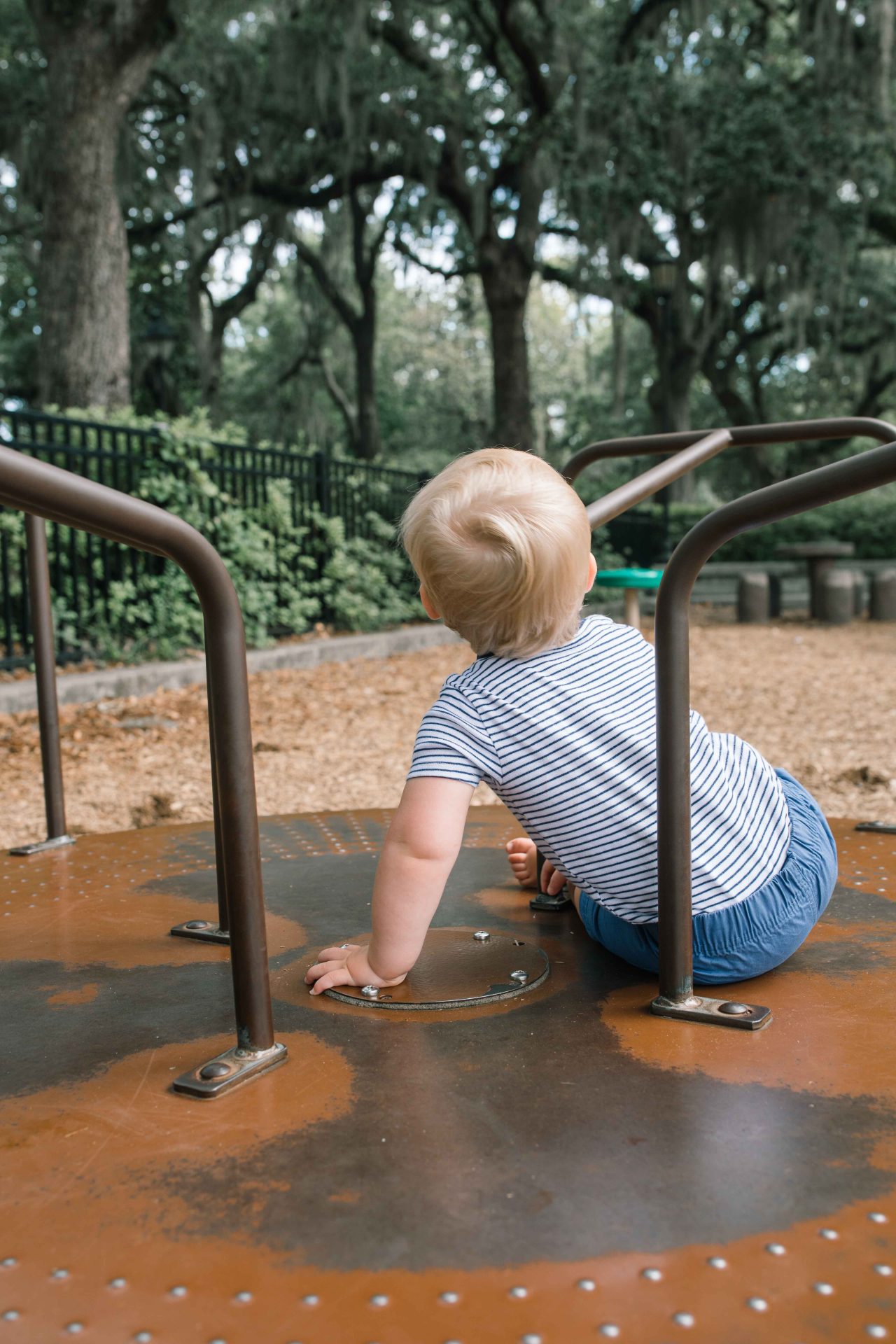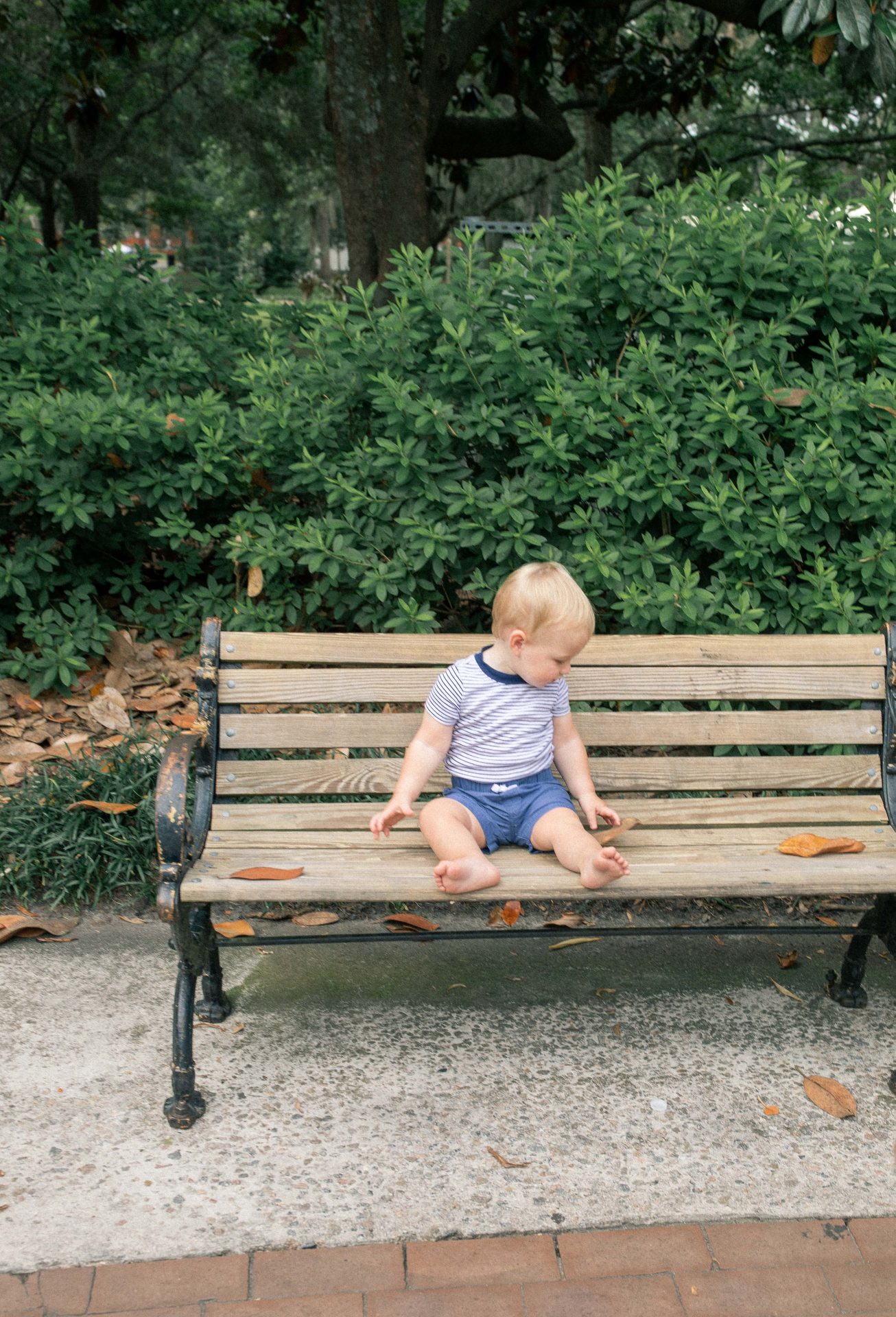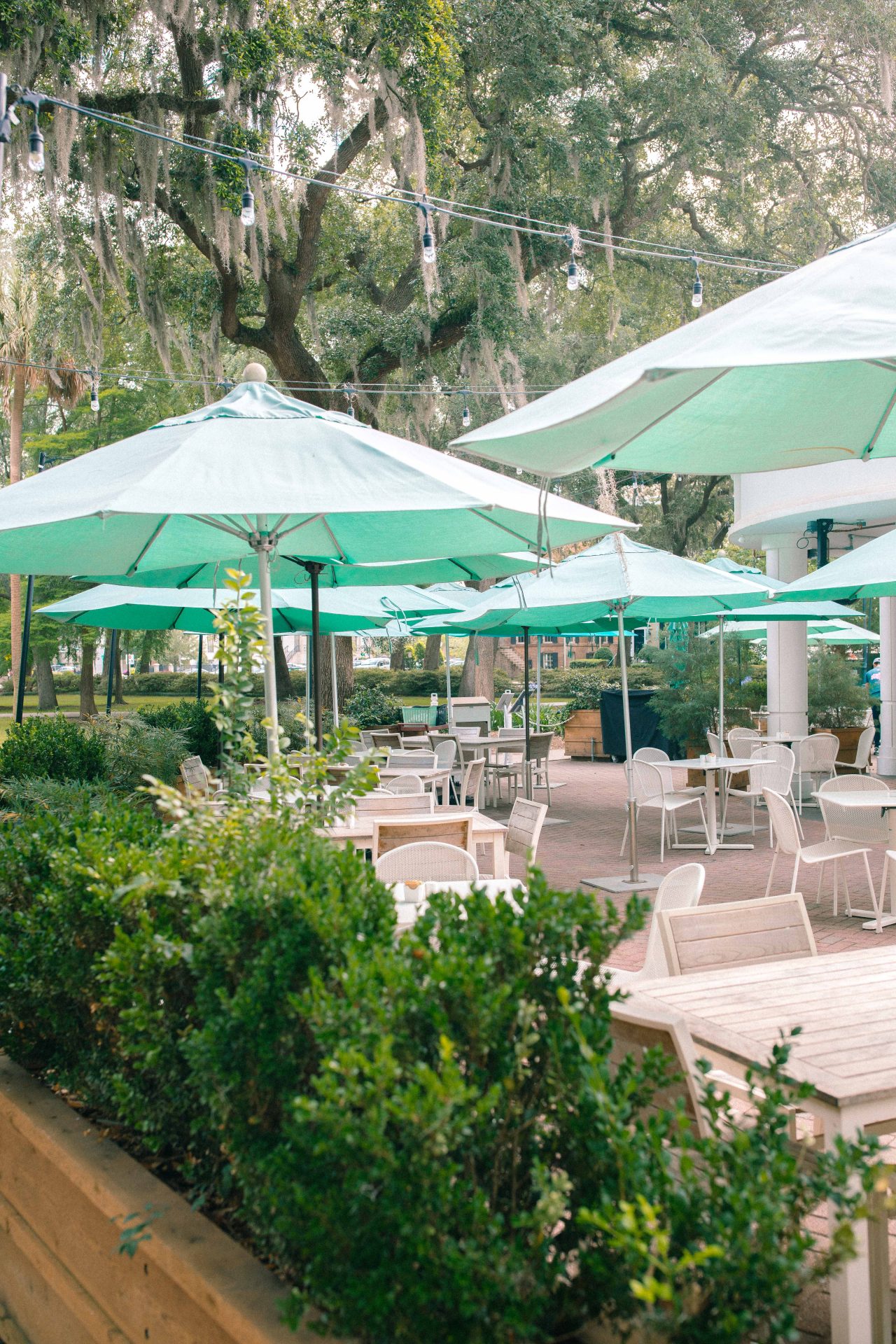 Taking a few breaks on the trip helped. Savannah was perfect since it was on the way and had so many cute parks to play or walk in.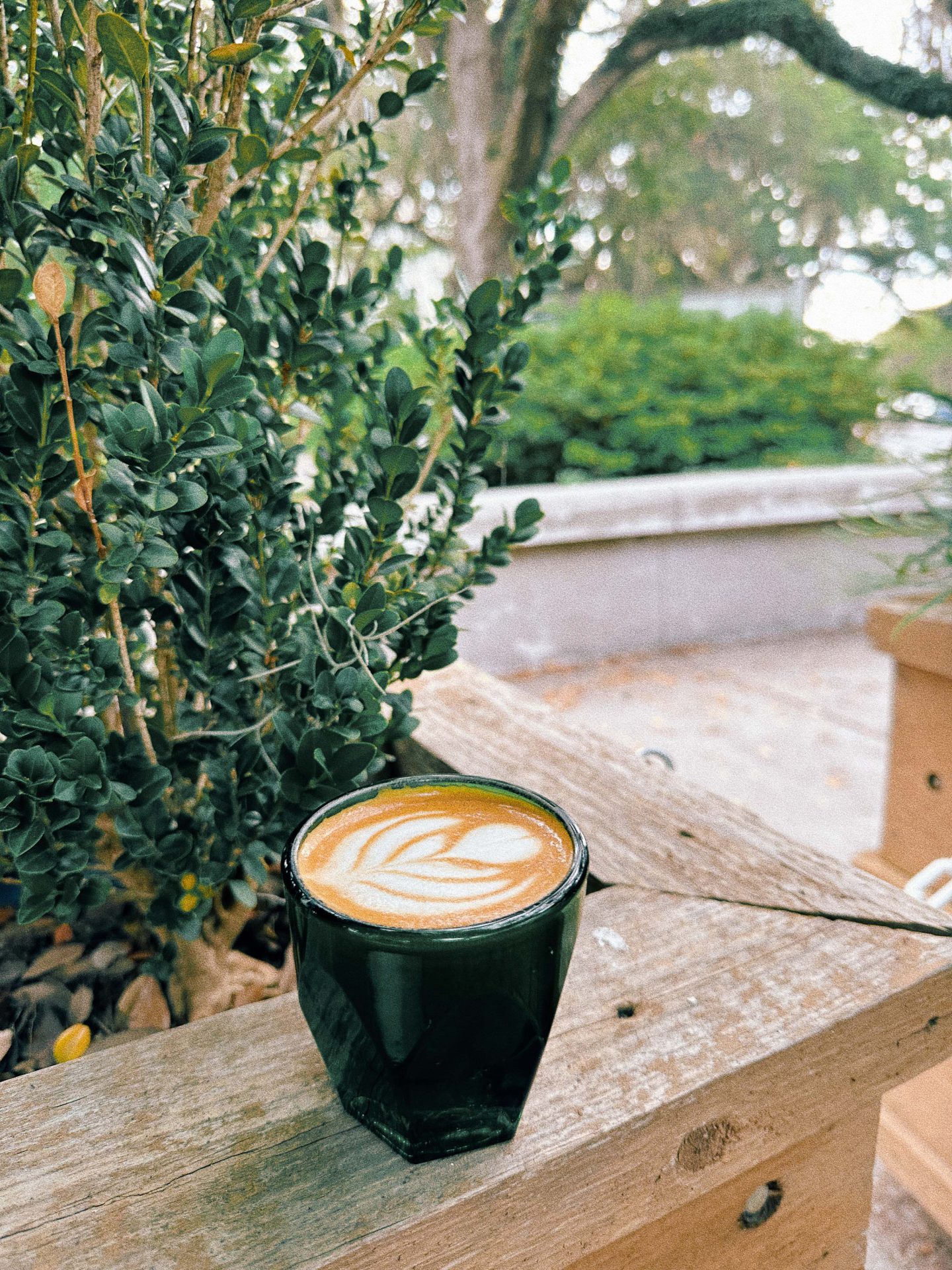 After getting all the morning zoomies out at Forsyth Park, we stopped at Collins Quarter for breakfast. Collins Quarter has always been one of my favorite spots to eat in Savannah, but we always went to a different location. I loved that this one was right in the park, and the food was absolutely delicious. I have several Savannah travel guides on my blog if you plan to visit.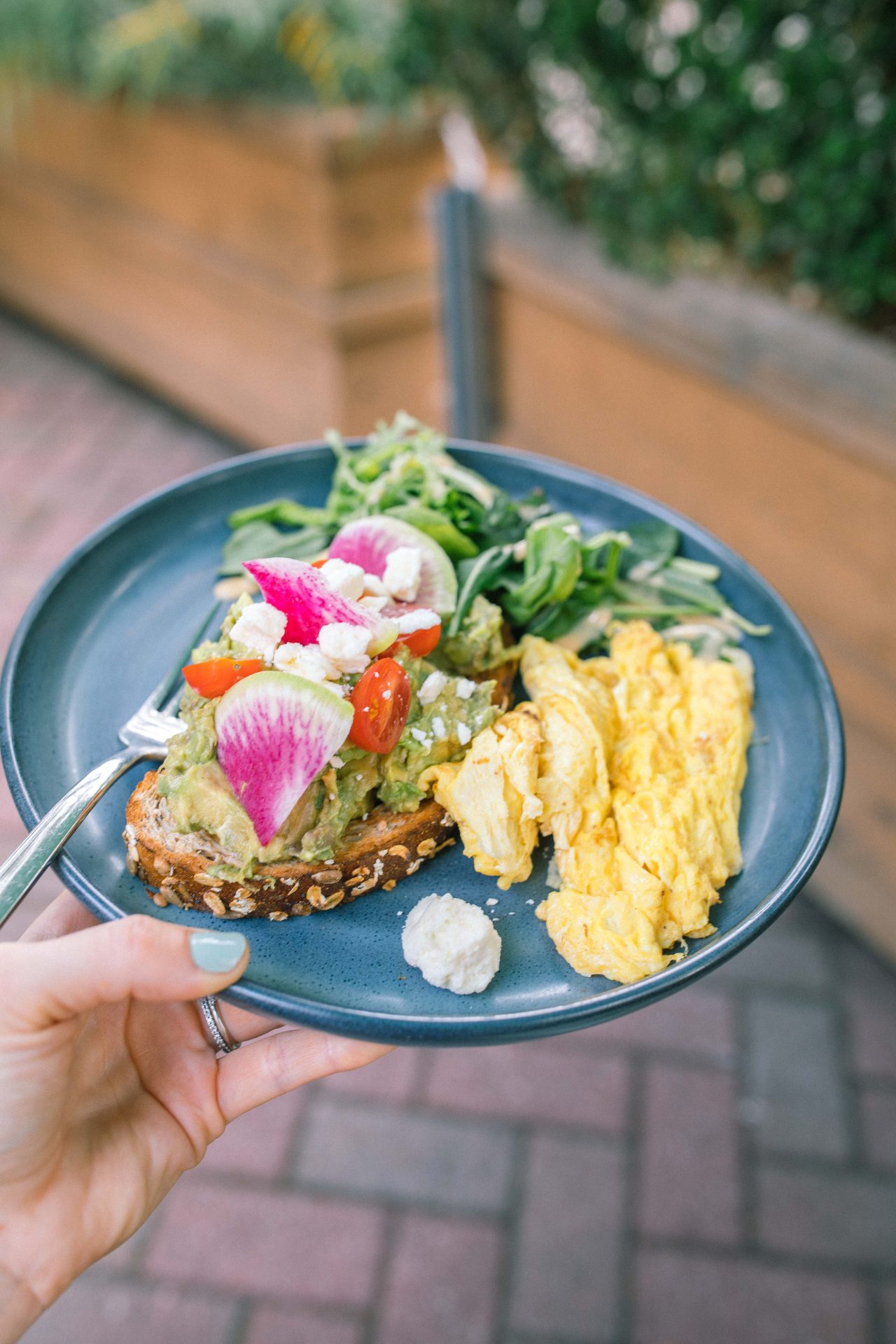 I always order something I can share with Bugs for my meals. I had the avocado toast with eggs, and he helped me devour it. I also had an oat milk cortado, but my only mistake was not ordering one for the road!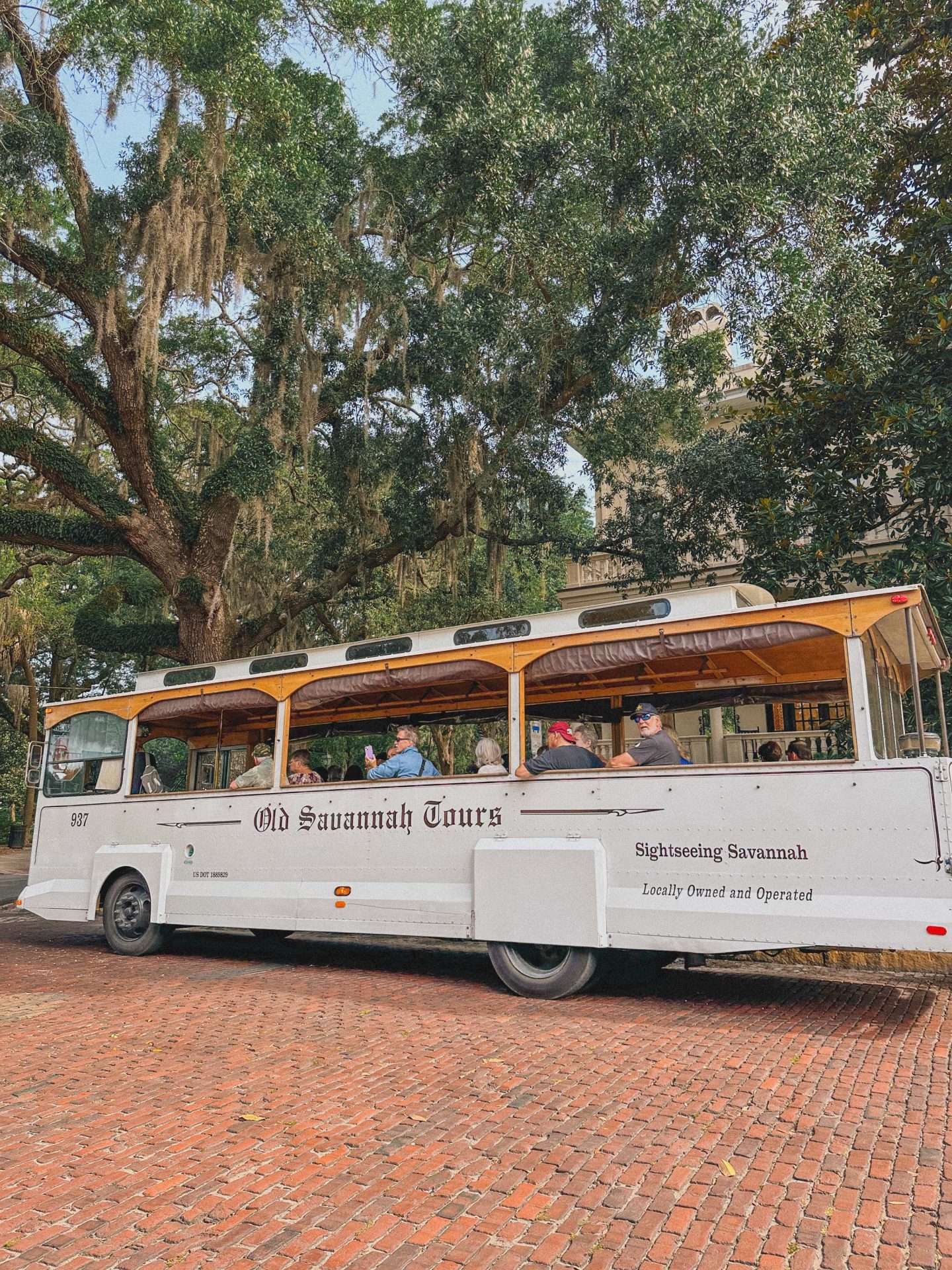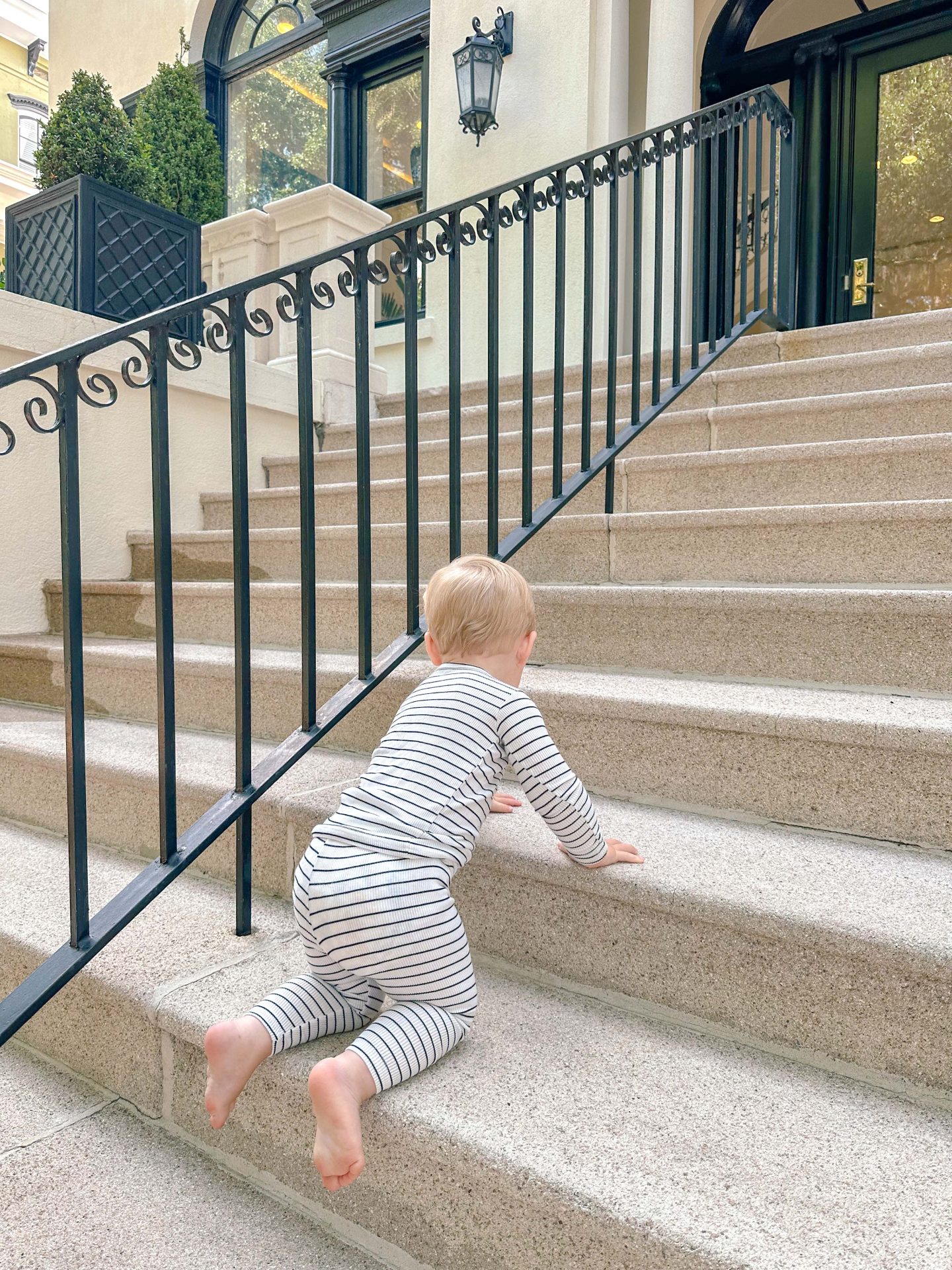 This mini-stop has me excited about planning a trip here soon! My little explorer loved it.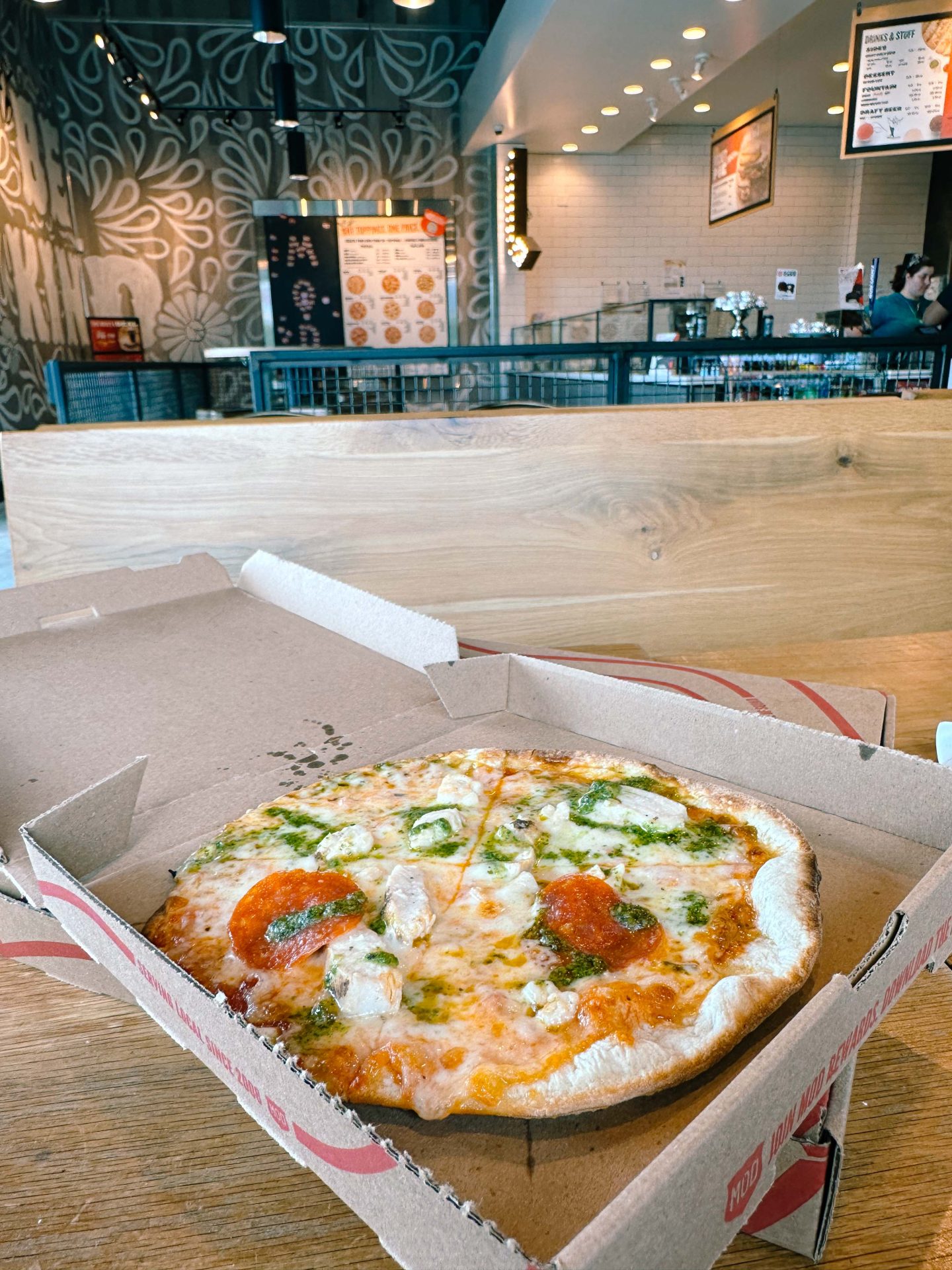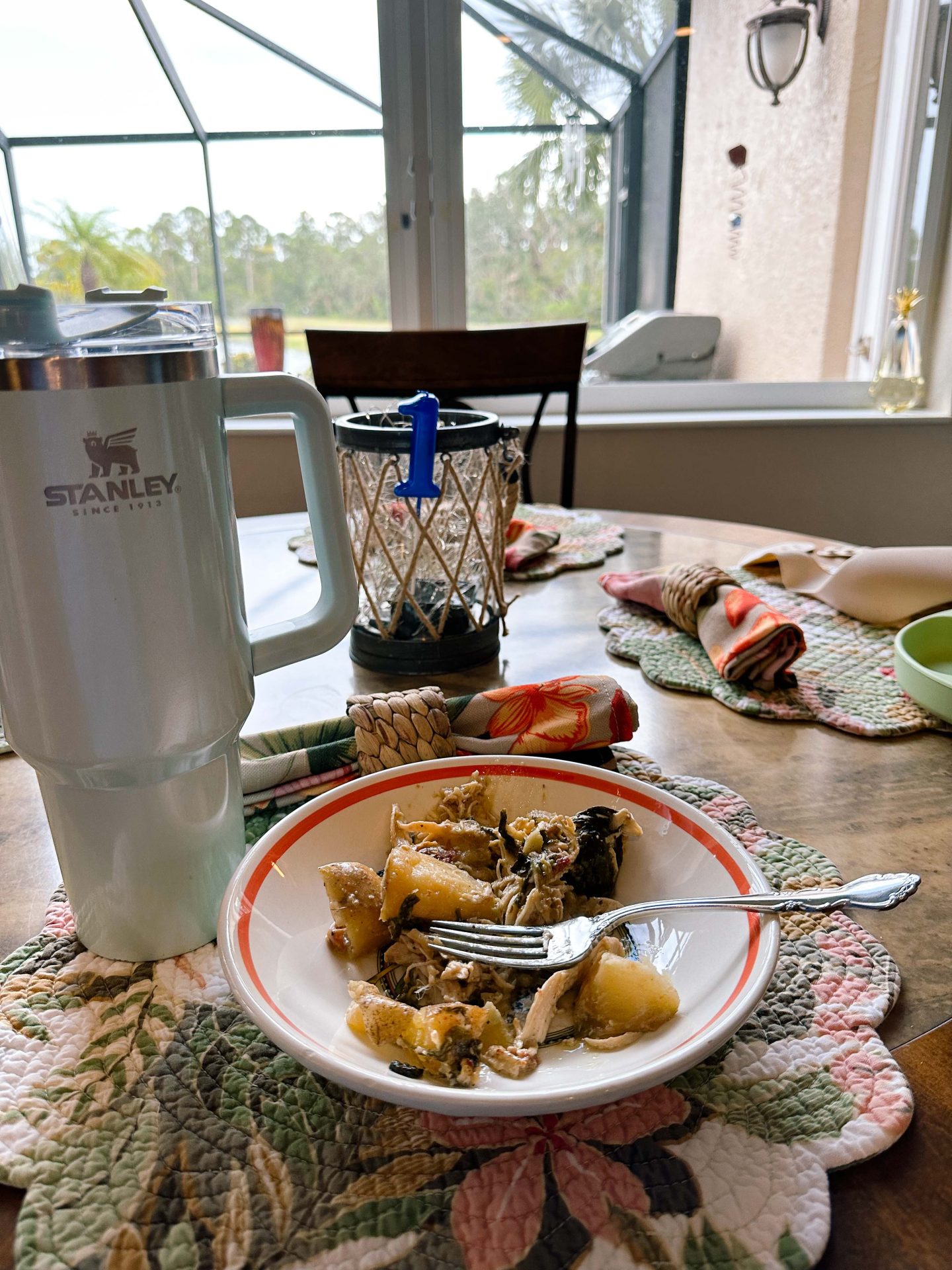 We stopped at Mod Pizza for the little one's dinner in Tampa. He was a big fan of the pesto pizza! We made it to Kyle's mom's house around 5 pm! We had dinner (she made my Italian chicken crockpot dish!), and we bathed bugs and put him to bed after a long walk around the neighborhood. We hadn't visited her house in Florida in almost five years, so we were so excited to be back for the week!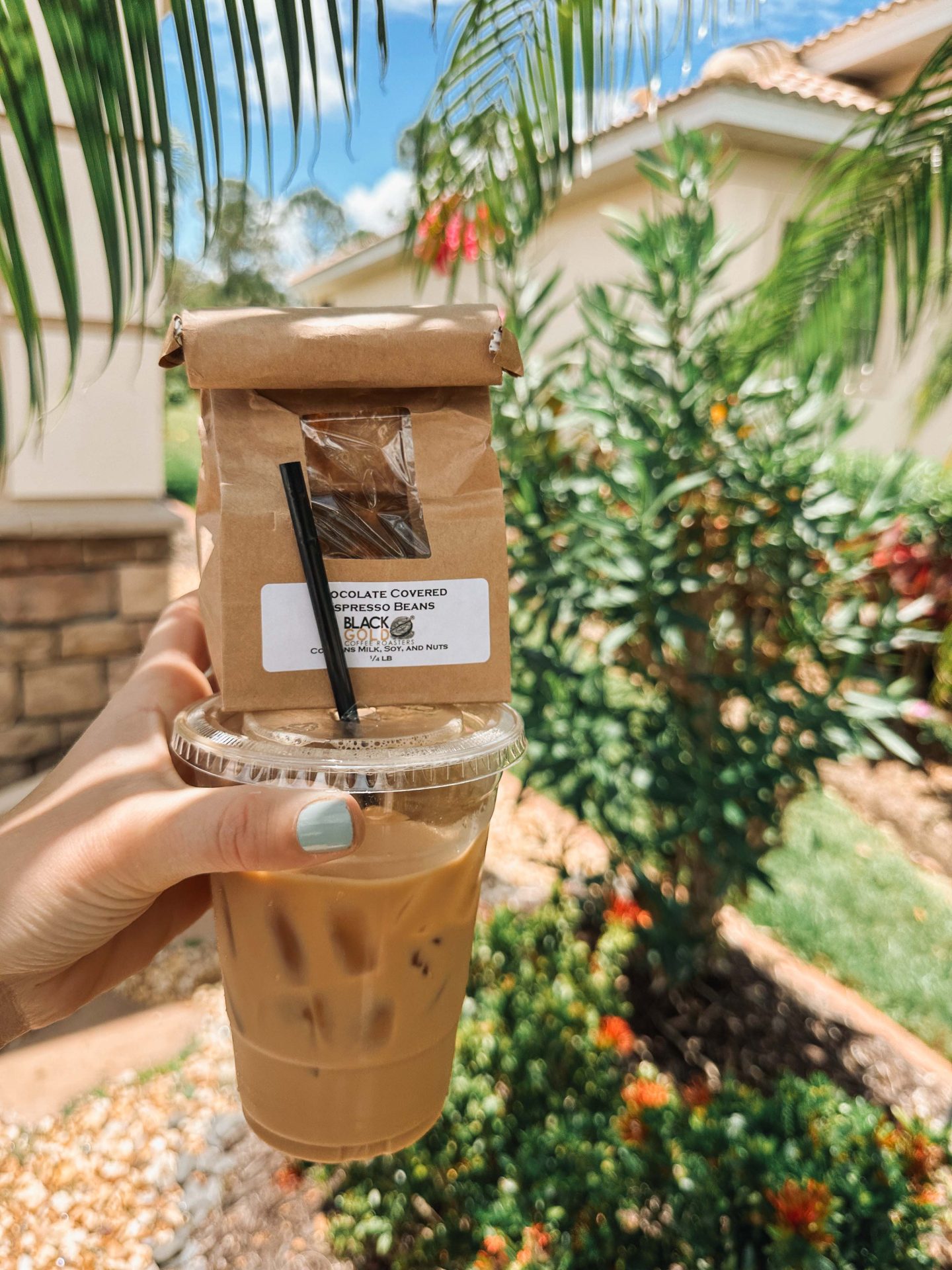 The following day, we had coffee at Black and Gold Coffee! It's one of my favorites. I ordered an oat milk latte, and it was delicious!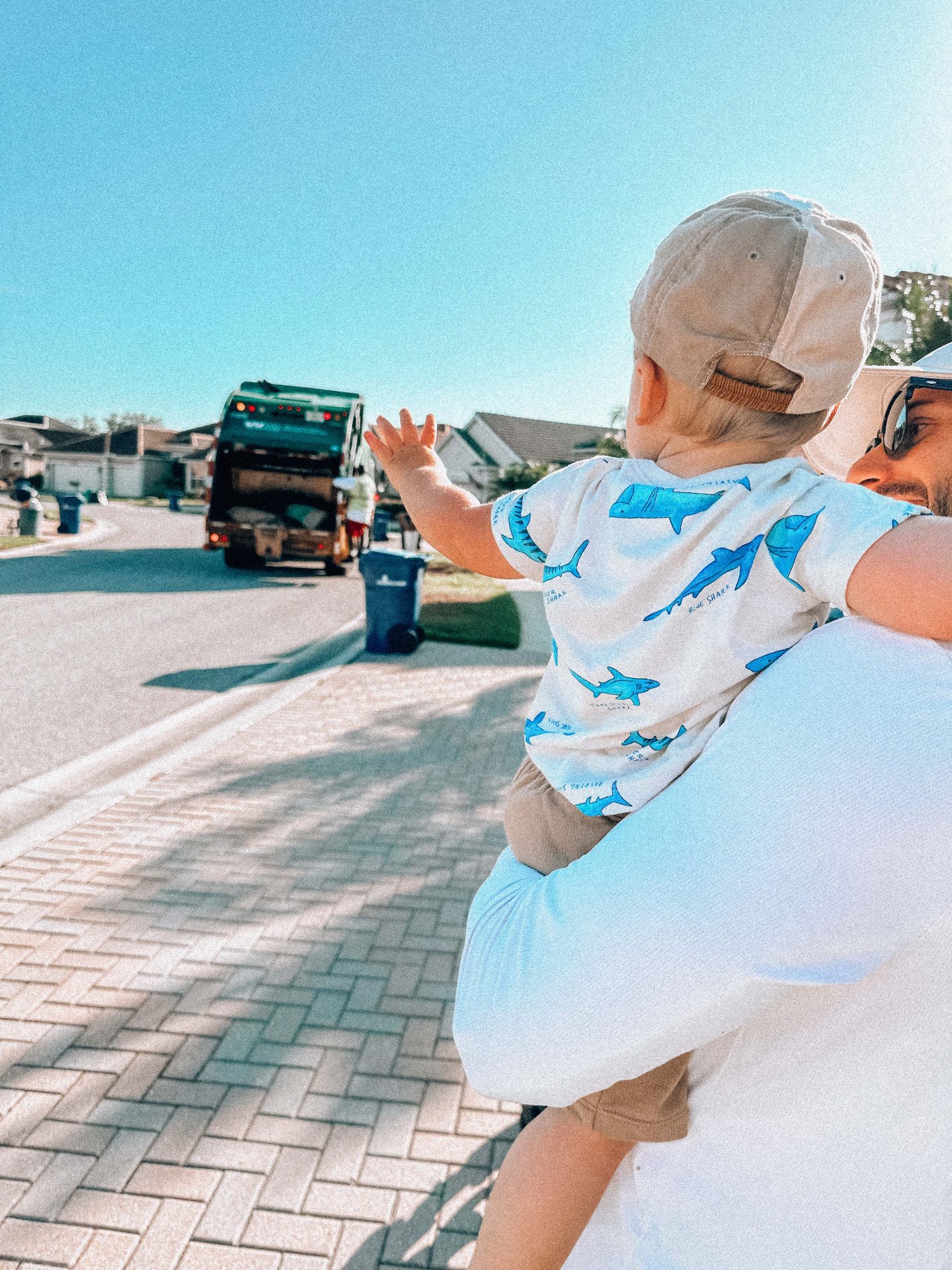 He loves waving at the trash trucks!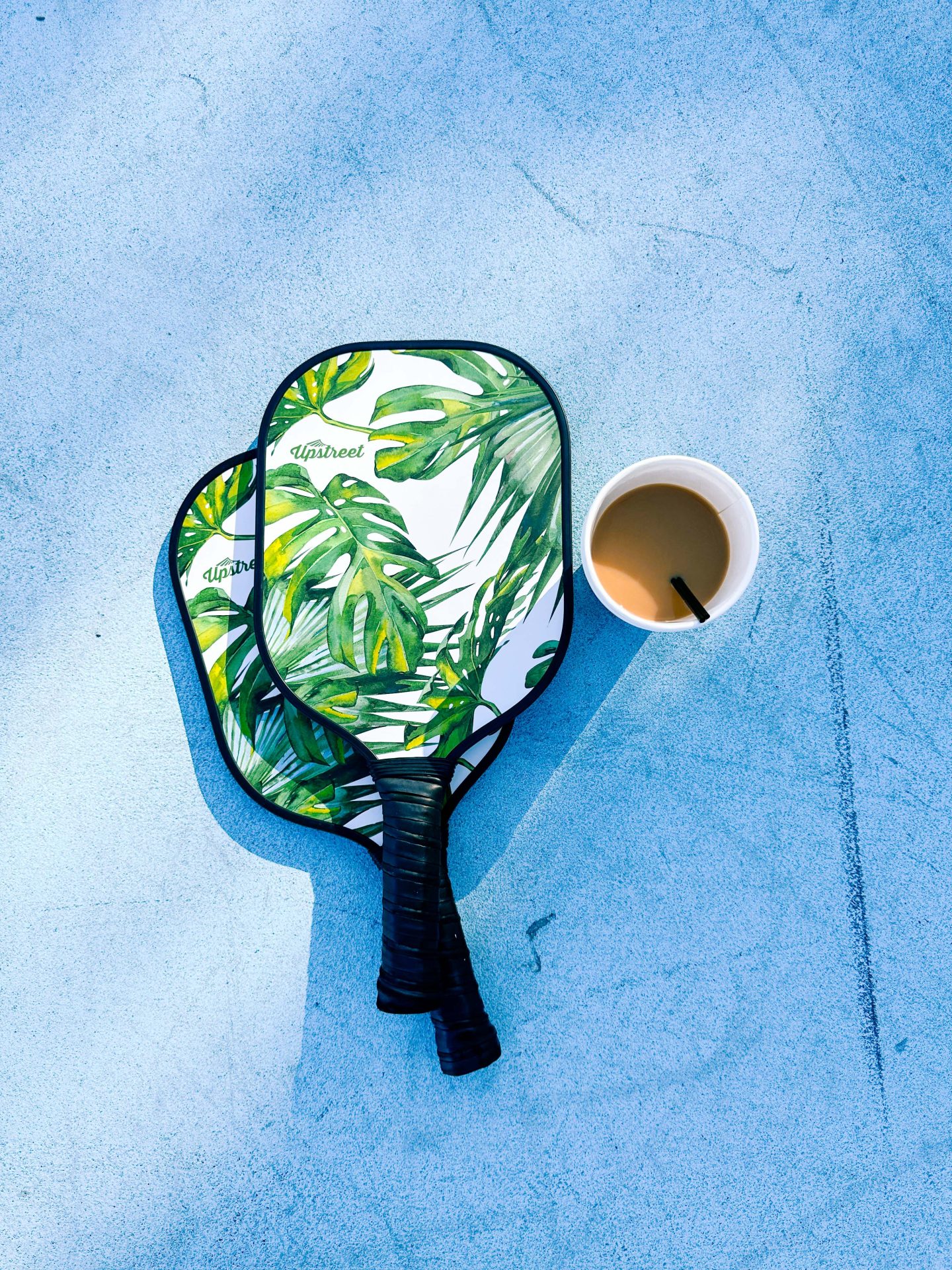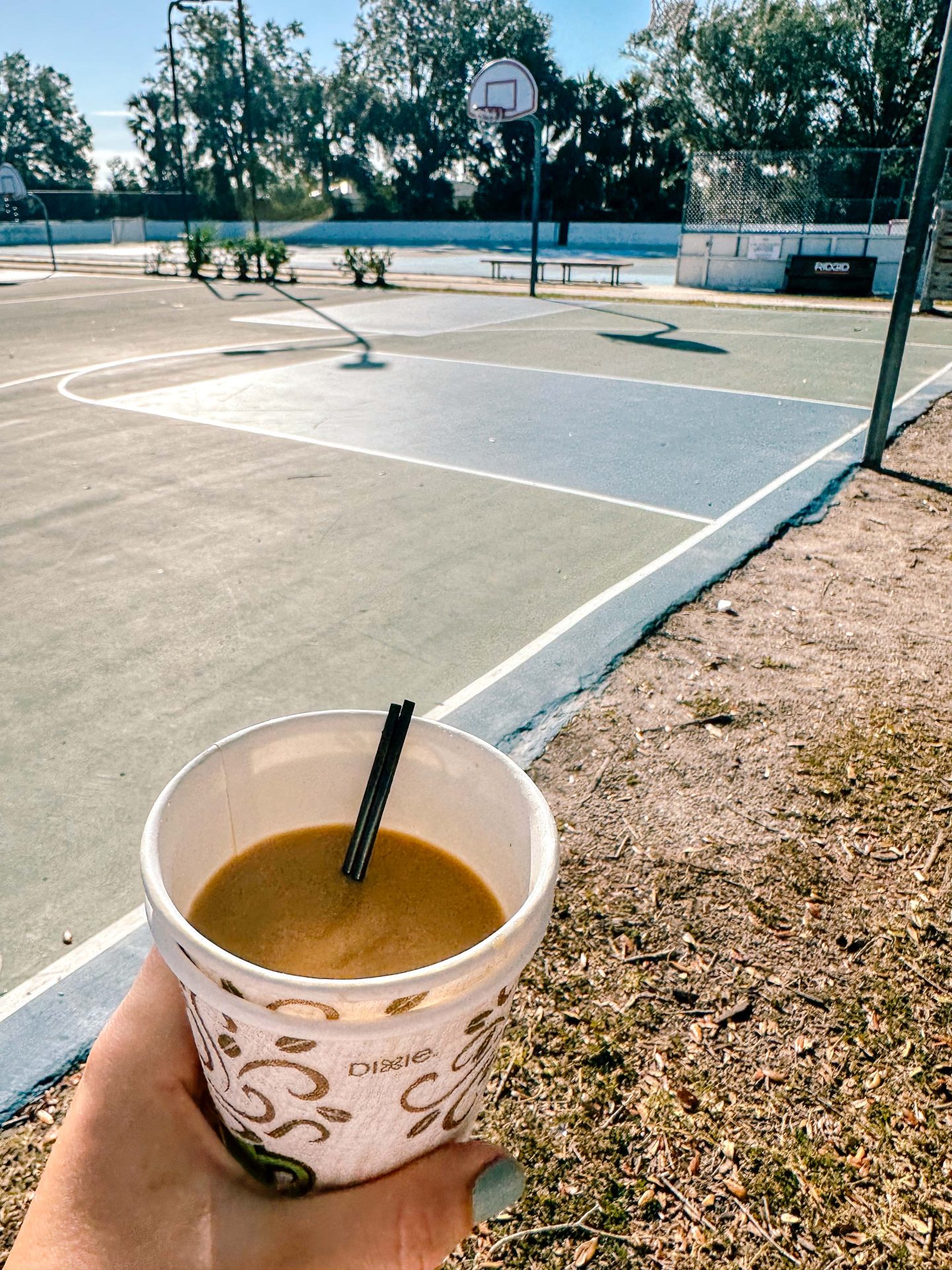 It turns out I love pickleball. I'm already a big tennis fan, but pickleball is going to be my new thing. We had so much fun playing, and I want to start playing here! It's a lot easier than tennis, but the scoring and rules are complicated to catch on to since I'm used to how tennis goes. I'm sure I'll catch on soon.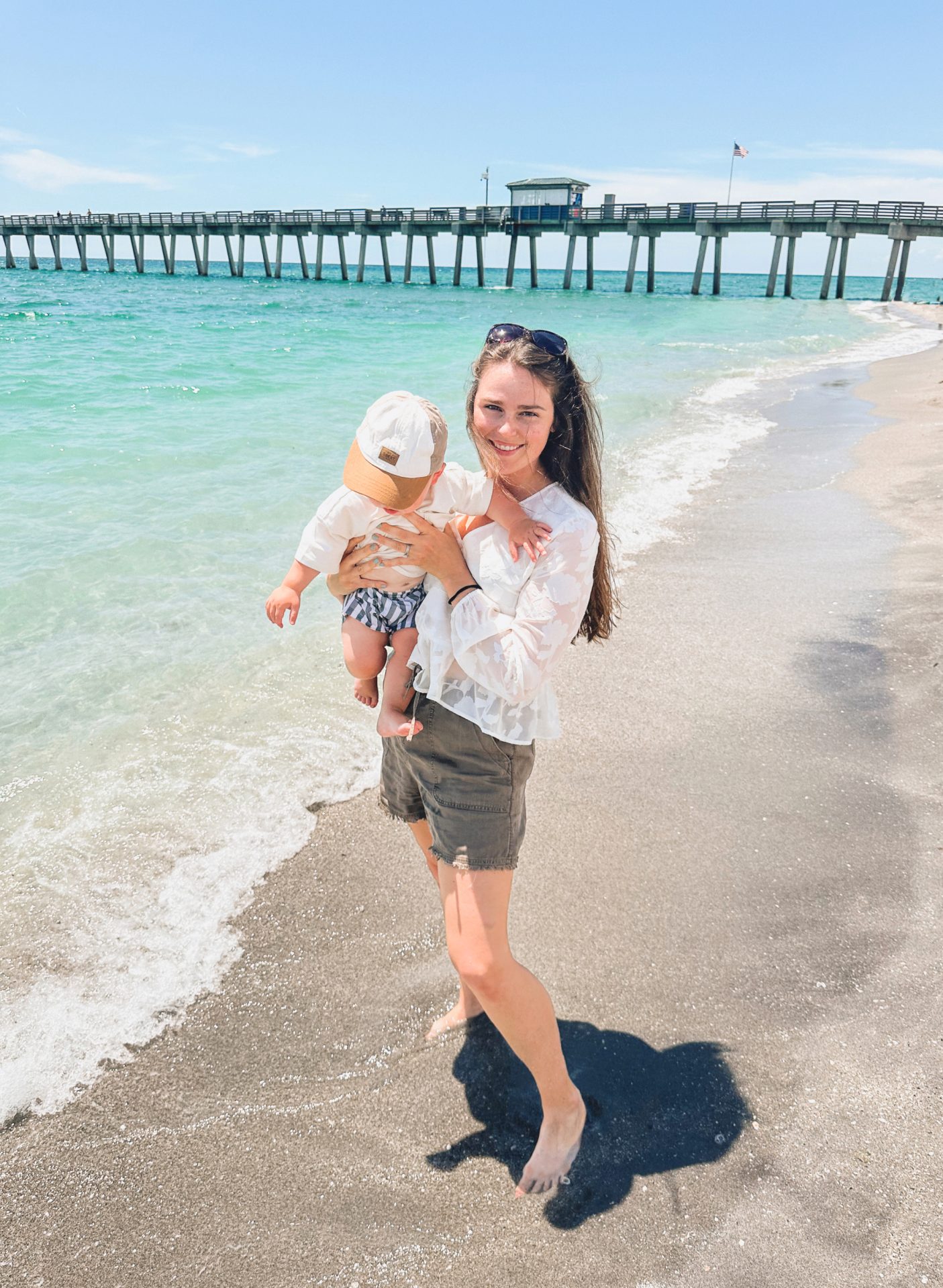 We took Bugs to the beach for the first time! He was a big fan, especially of the birds!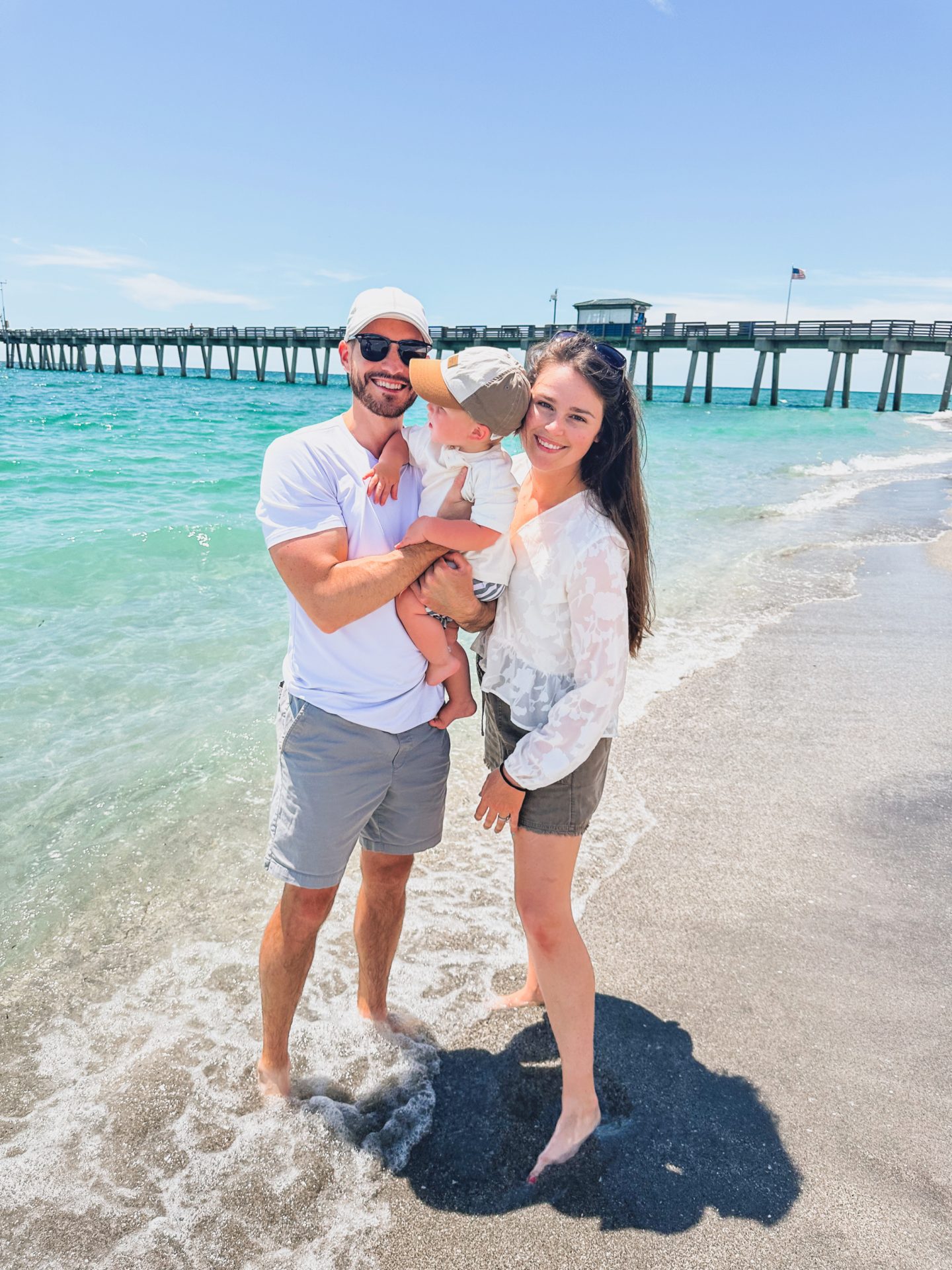 He would laugh so loud whenever a wave came to his feet.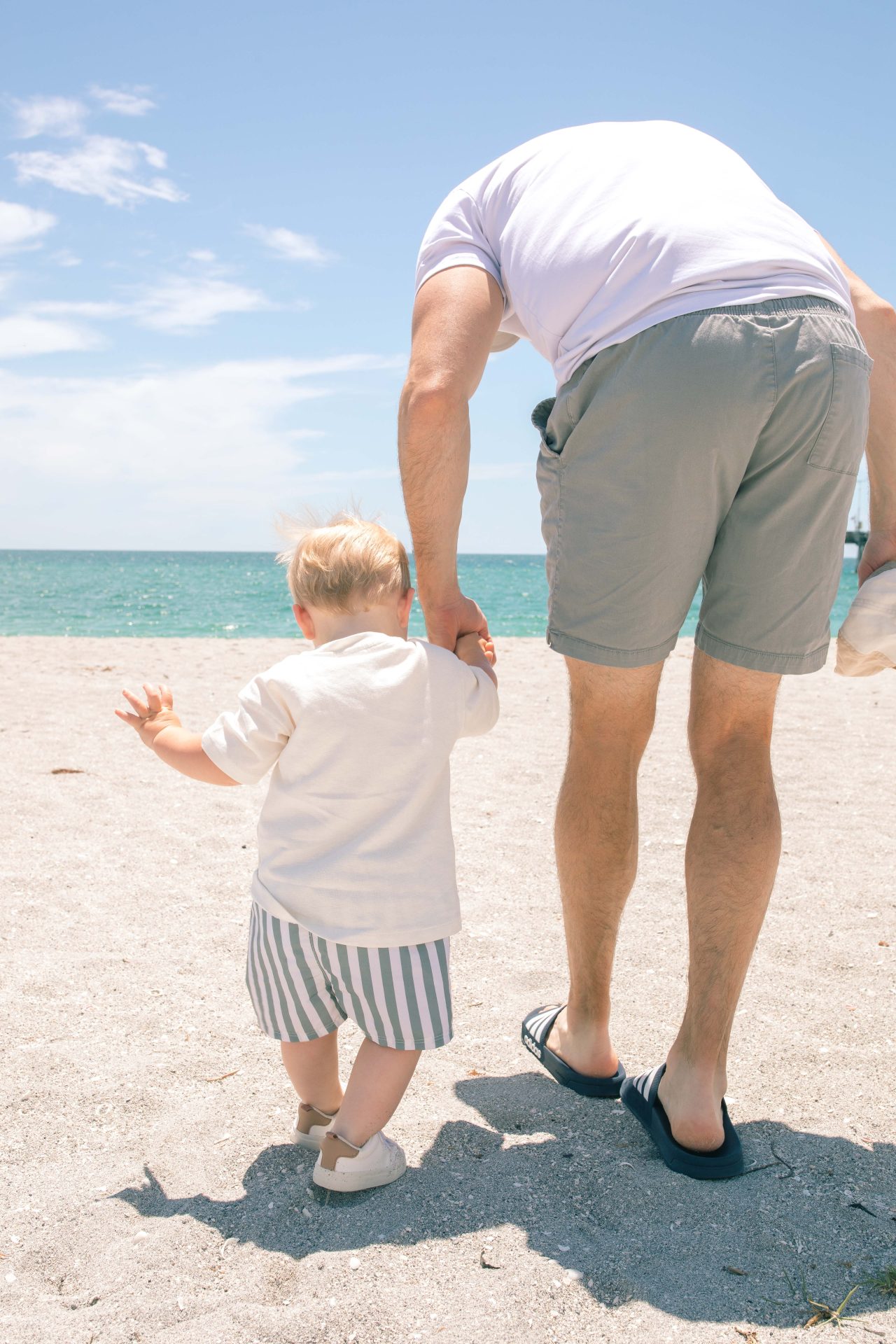 Such a special moment 🙂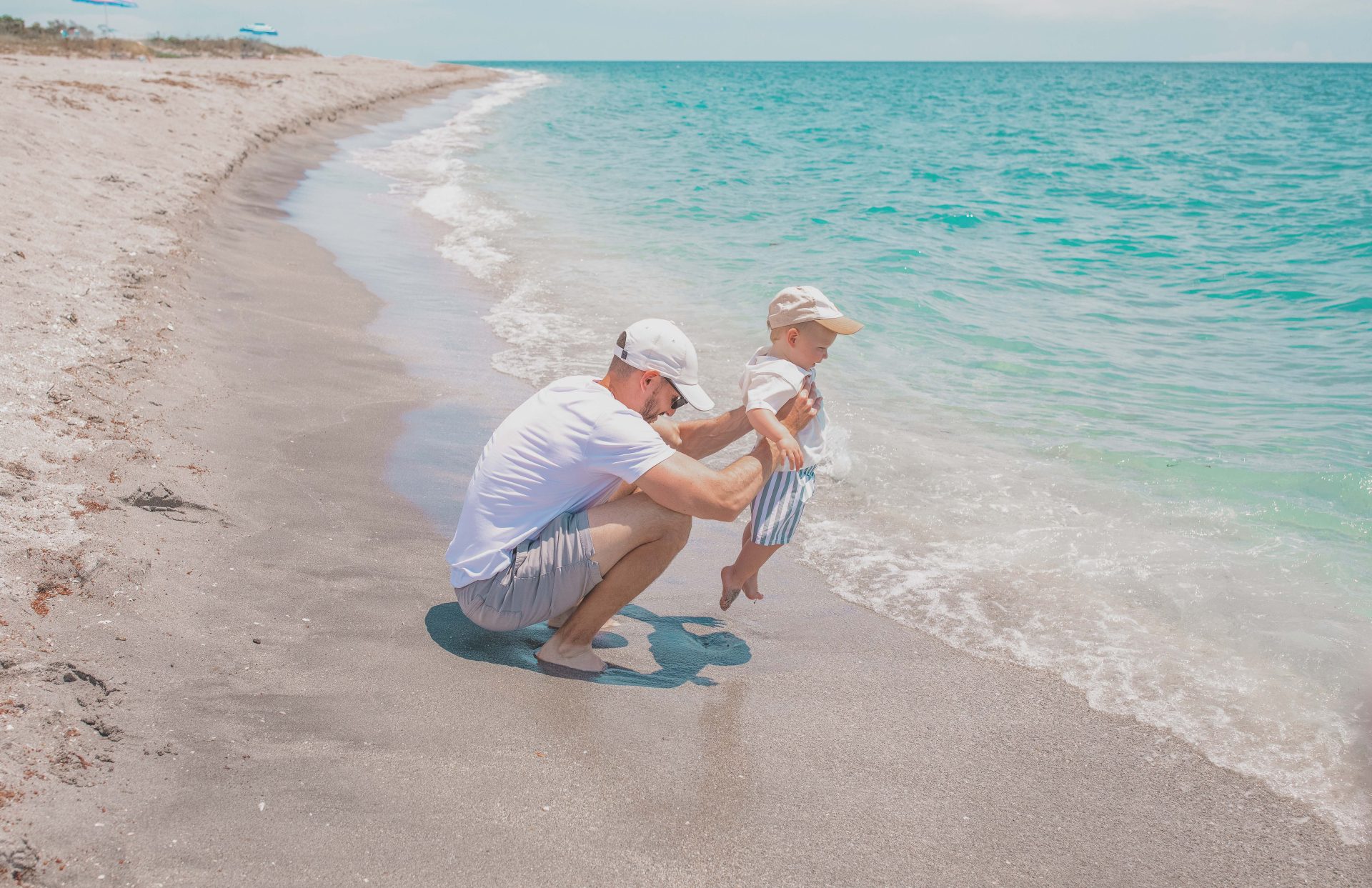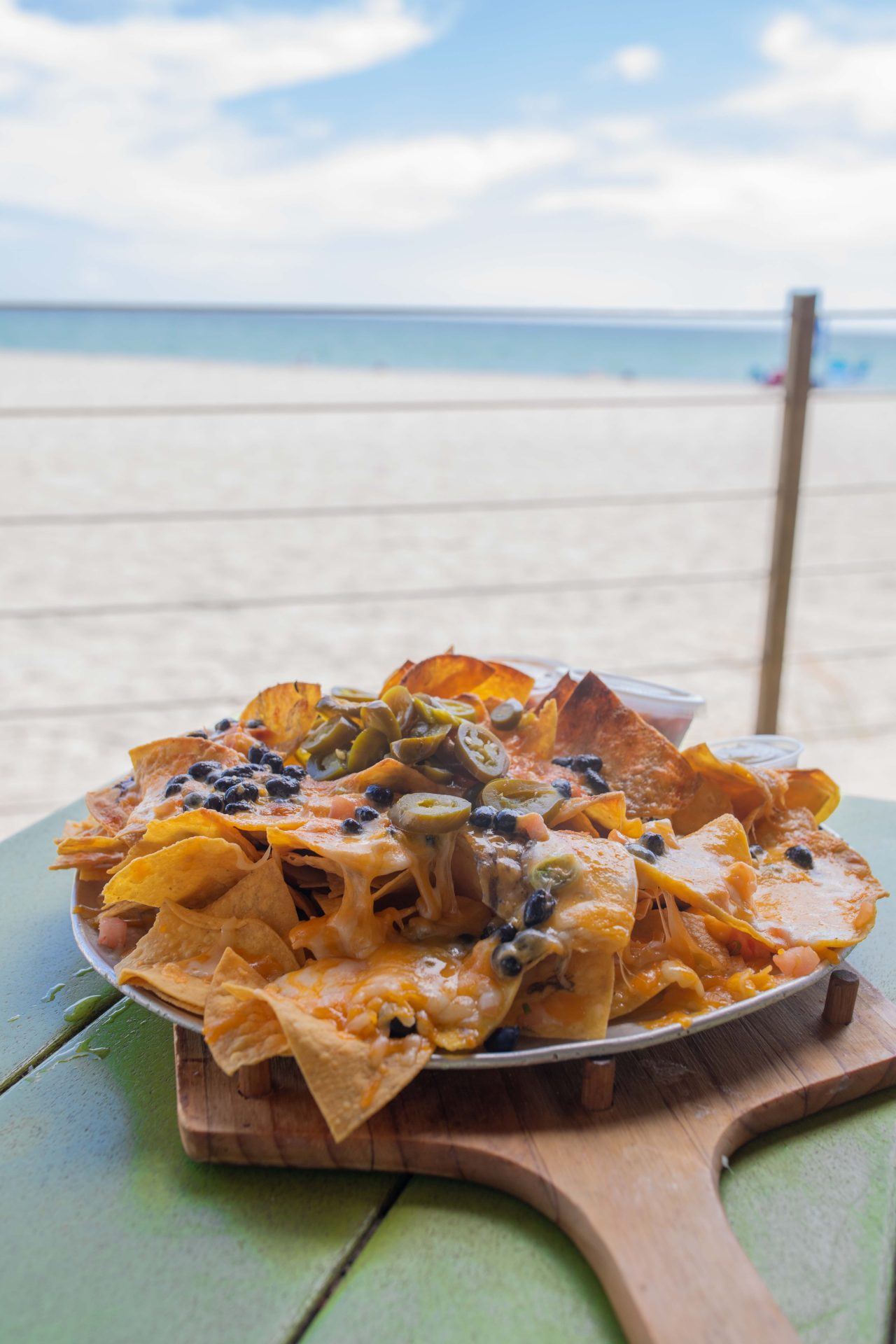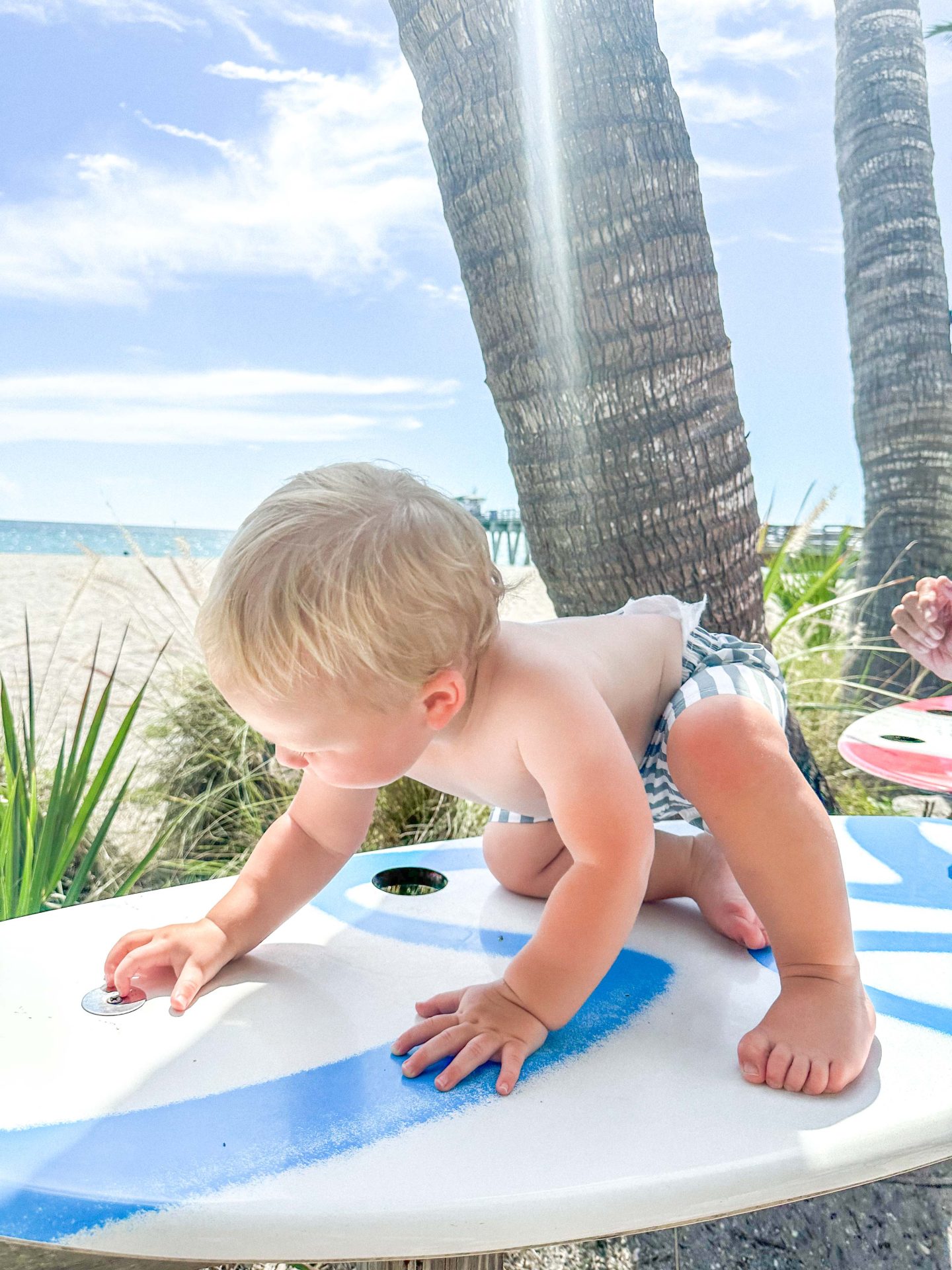 My little surfer baby!
Before heading back, we stopped at Sharky's for a plate of nachos.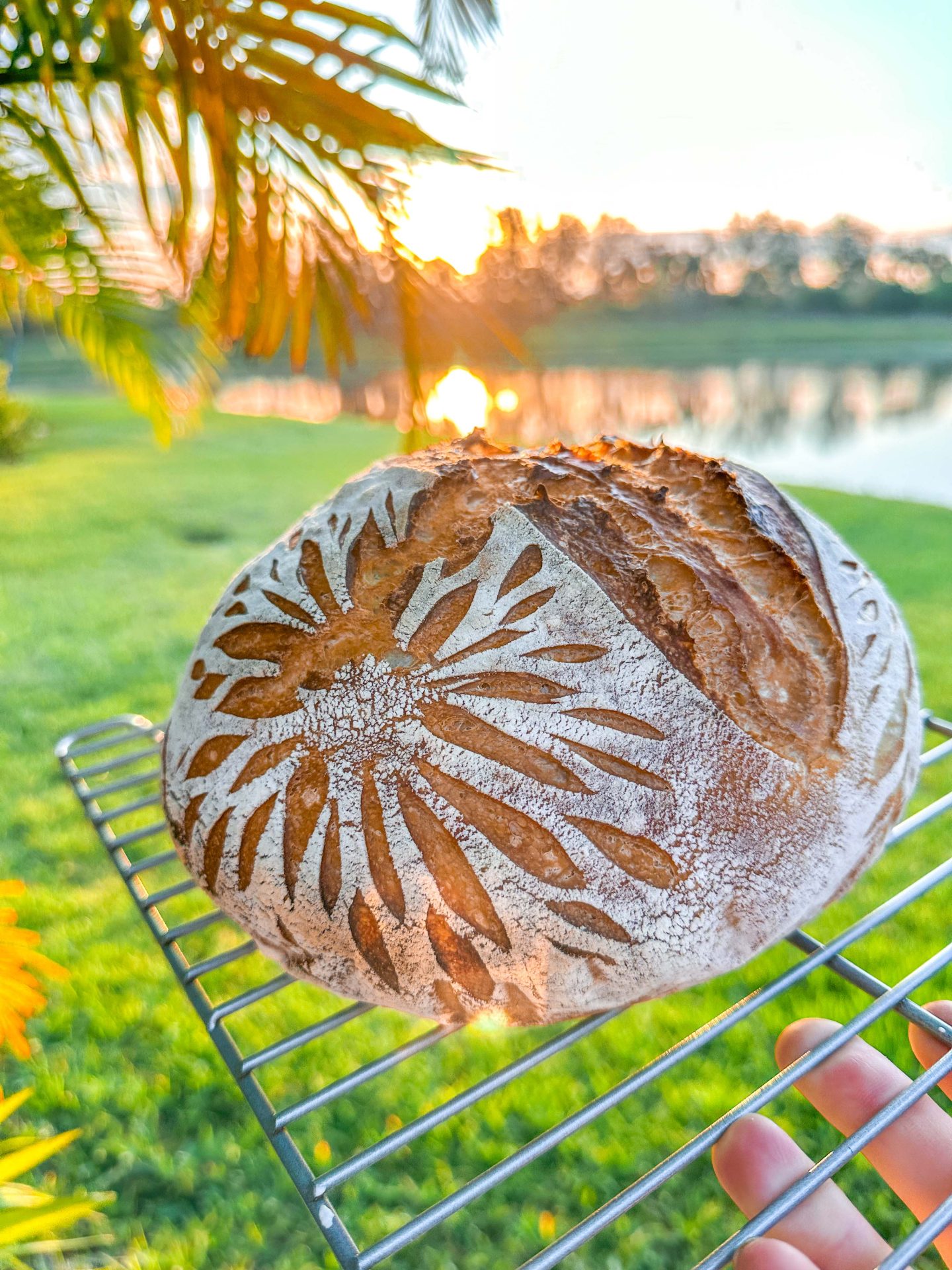 Kyle's mom wanted me to give her a sourdough lesson, so I brought my starter and taught her how to make bread and cinnamon rolls.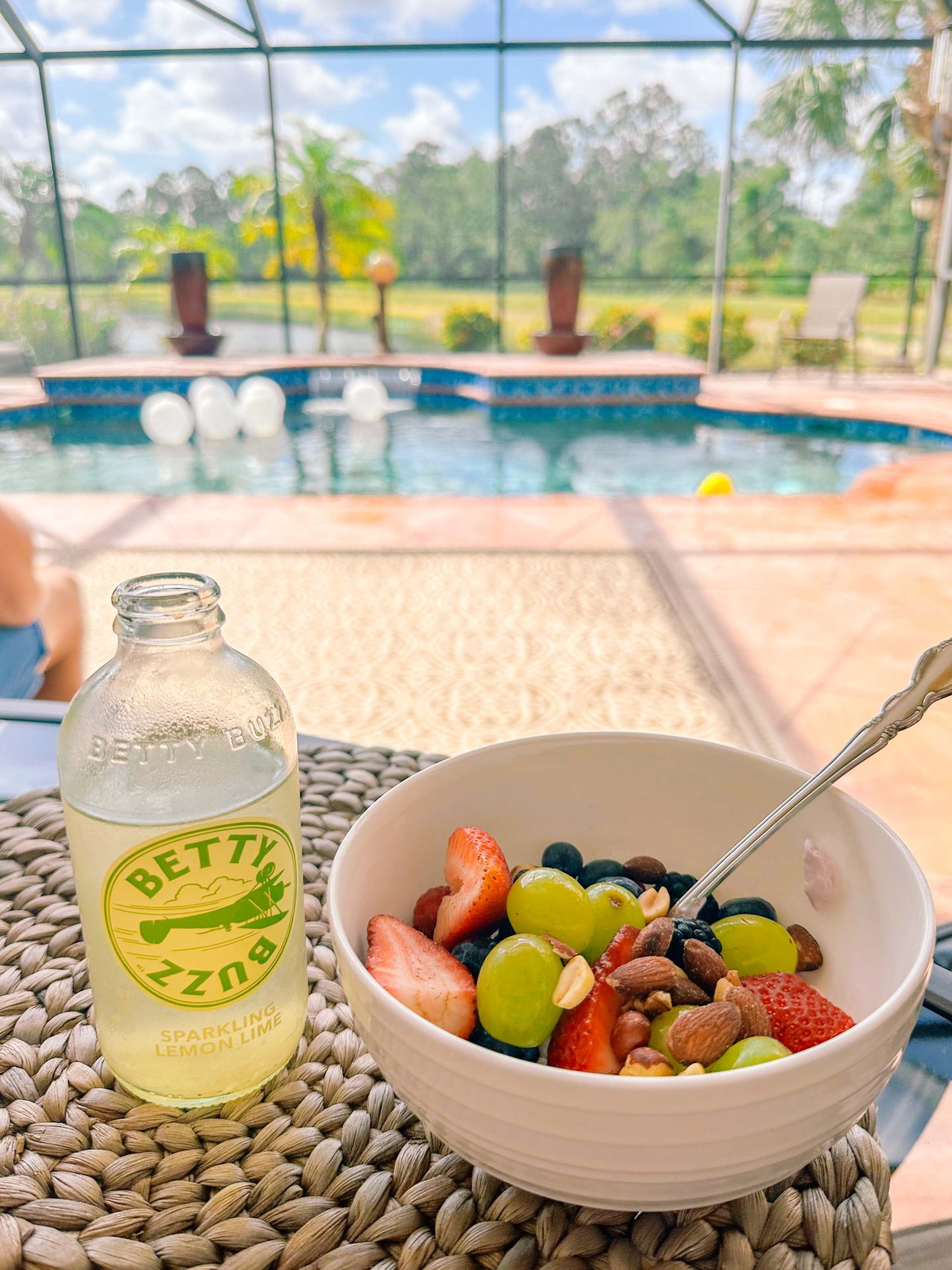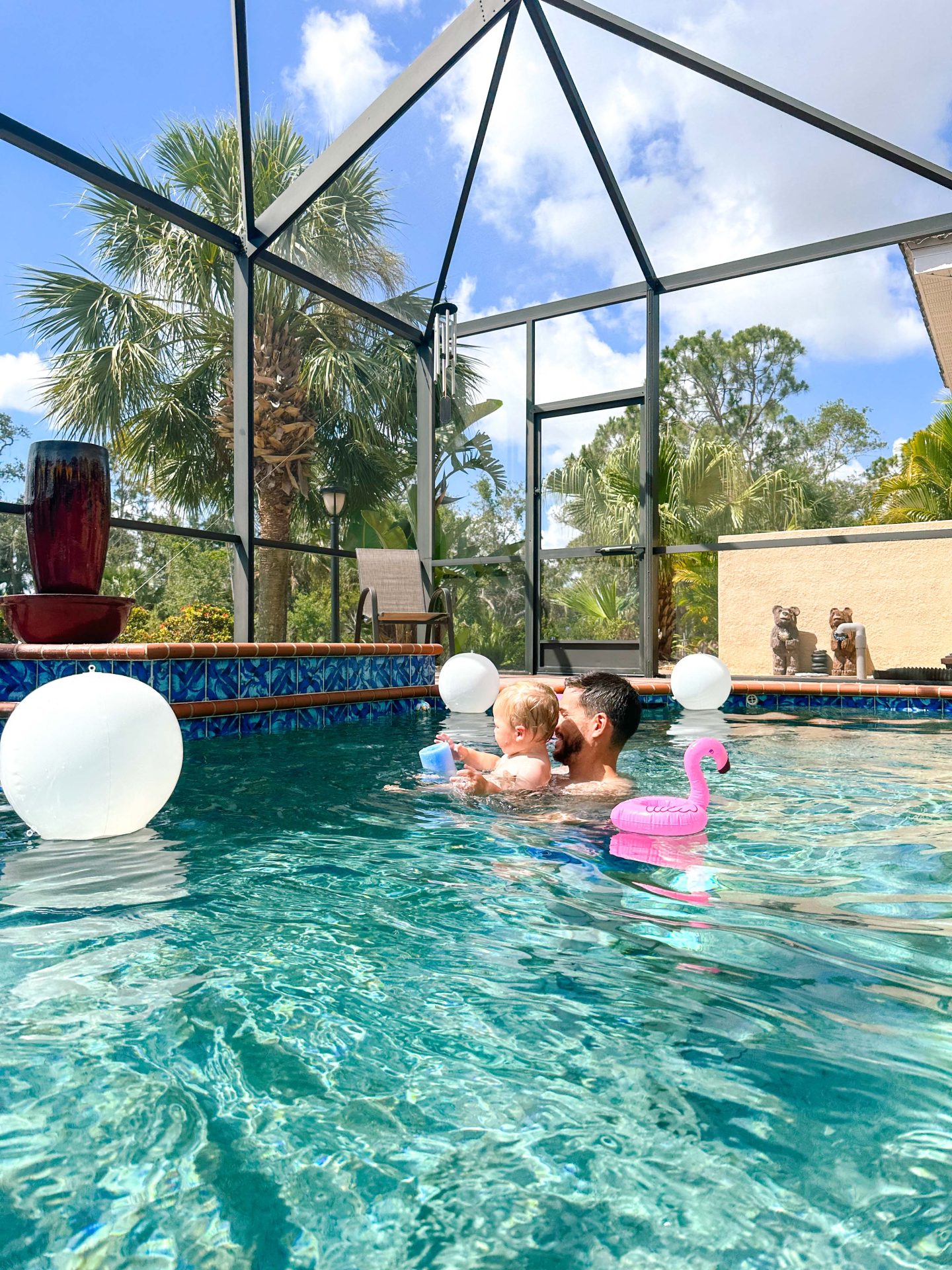 Pool day!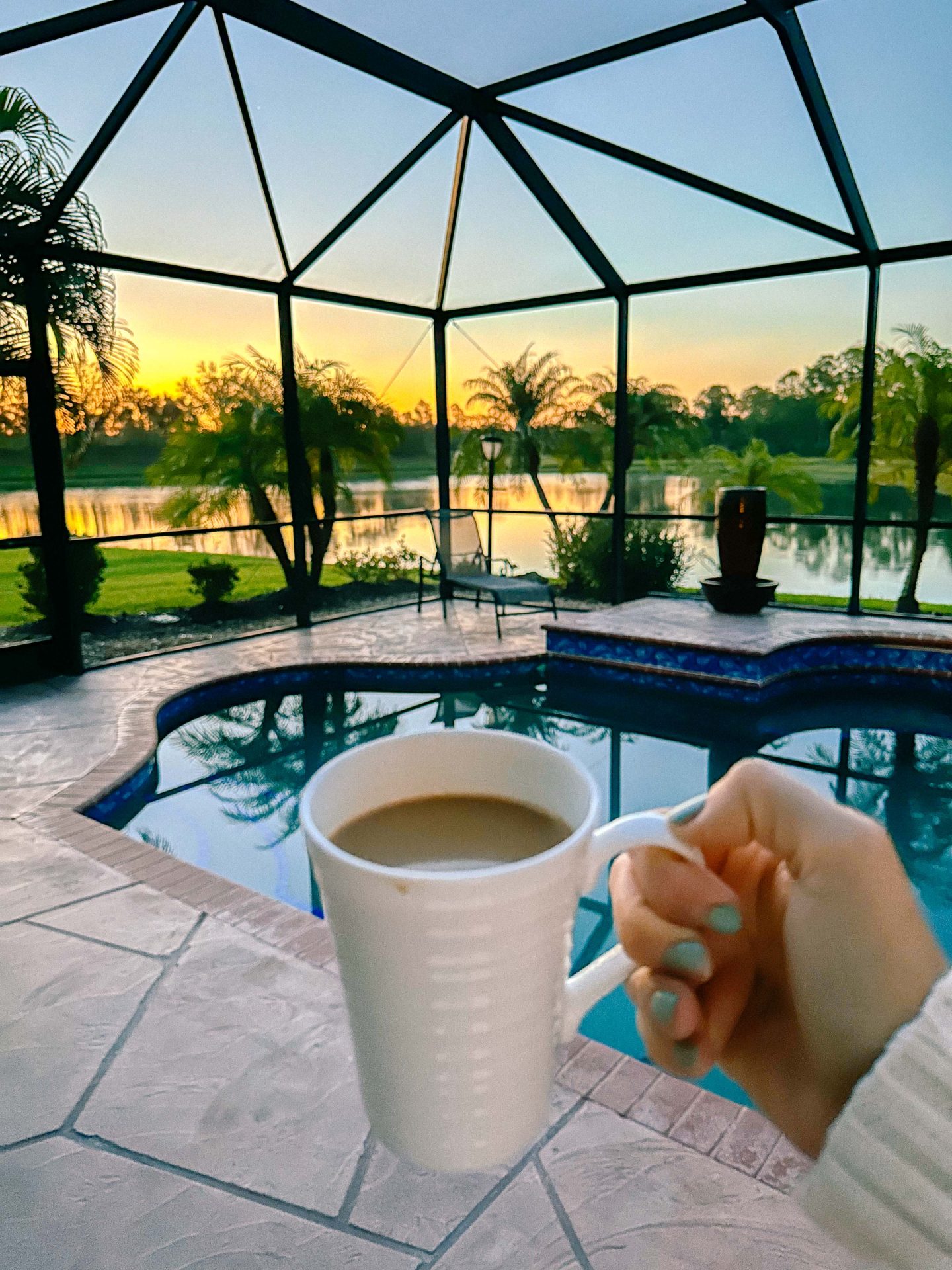 I could get used to a morning view like this!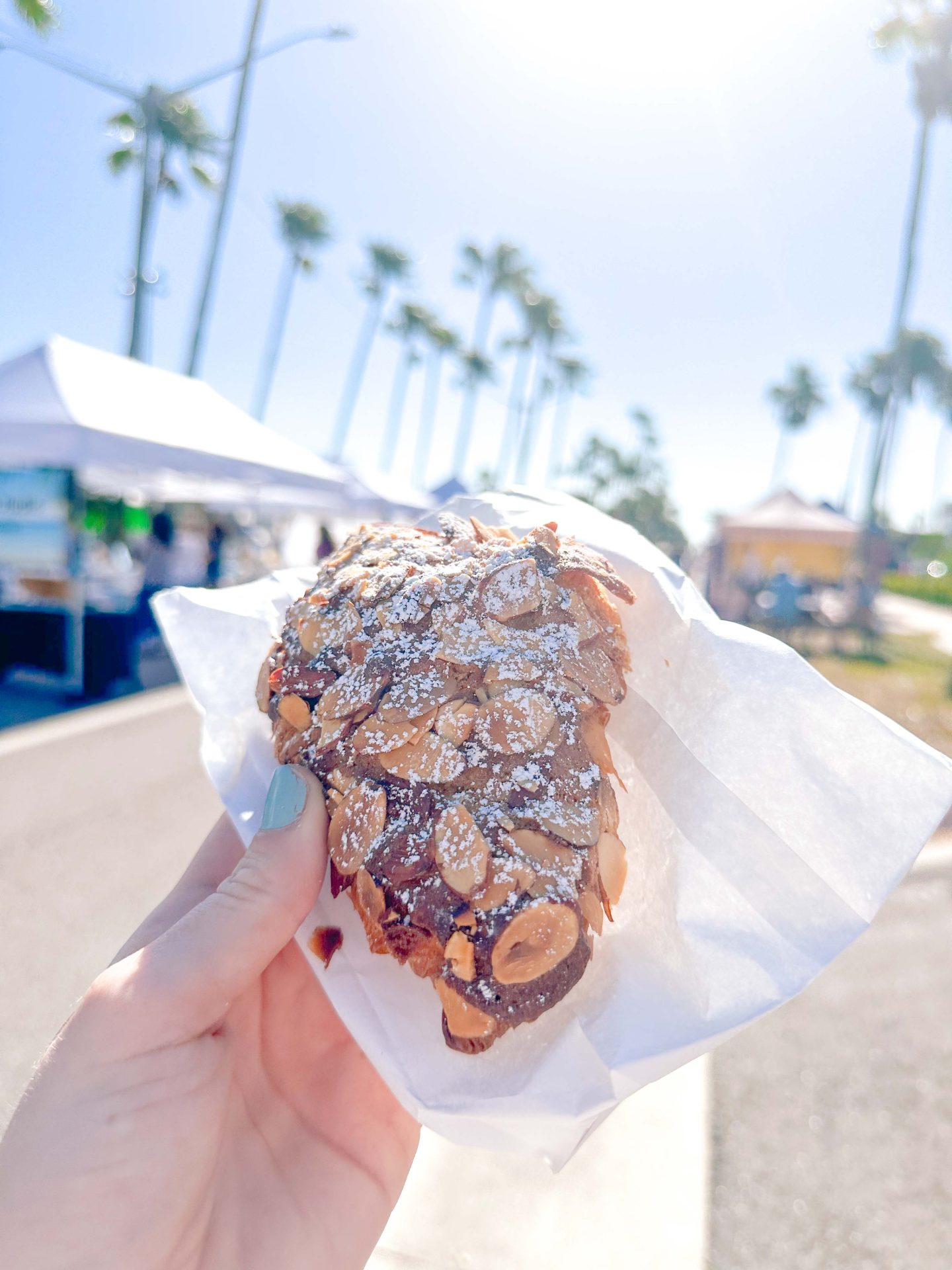 On Saturday morning, we headed to the Venice Farmer's Market. We first started with a delicious almond croissant.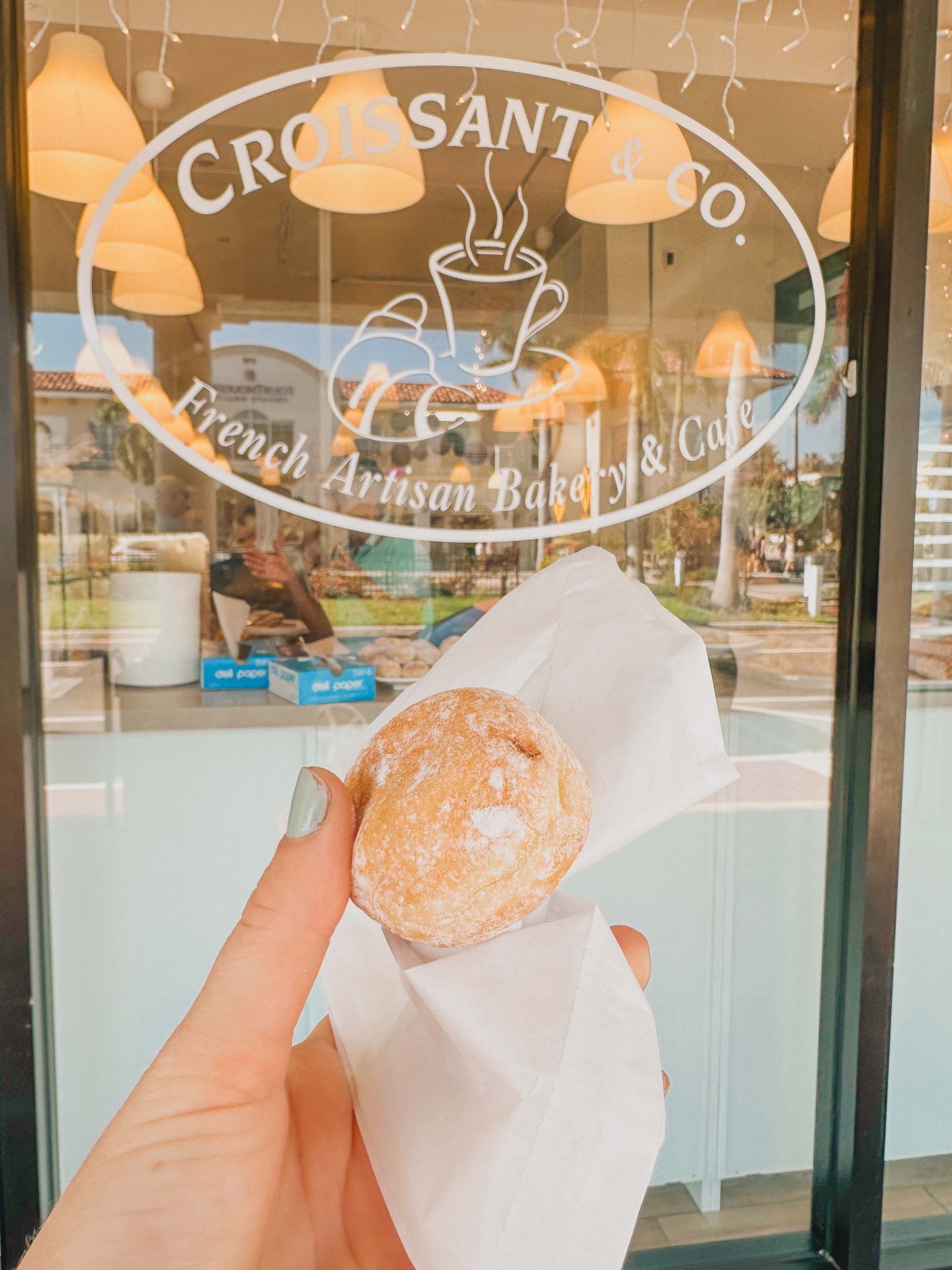 A Nutella beignet from Croissant & Co!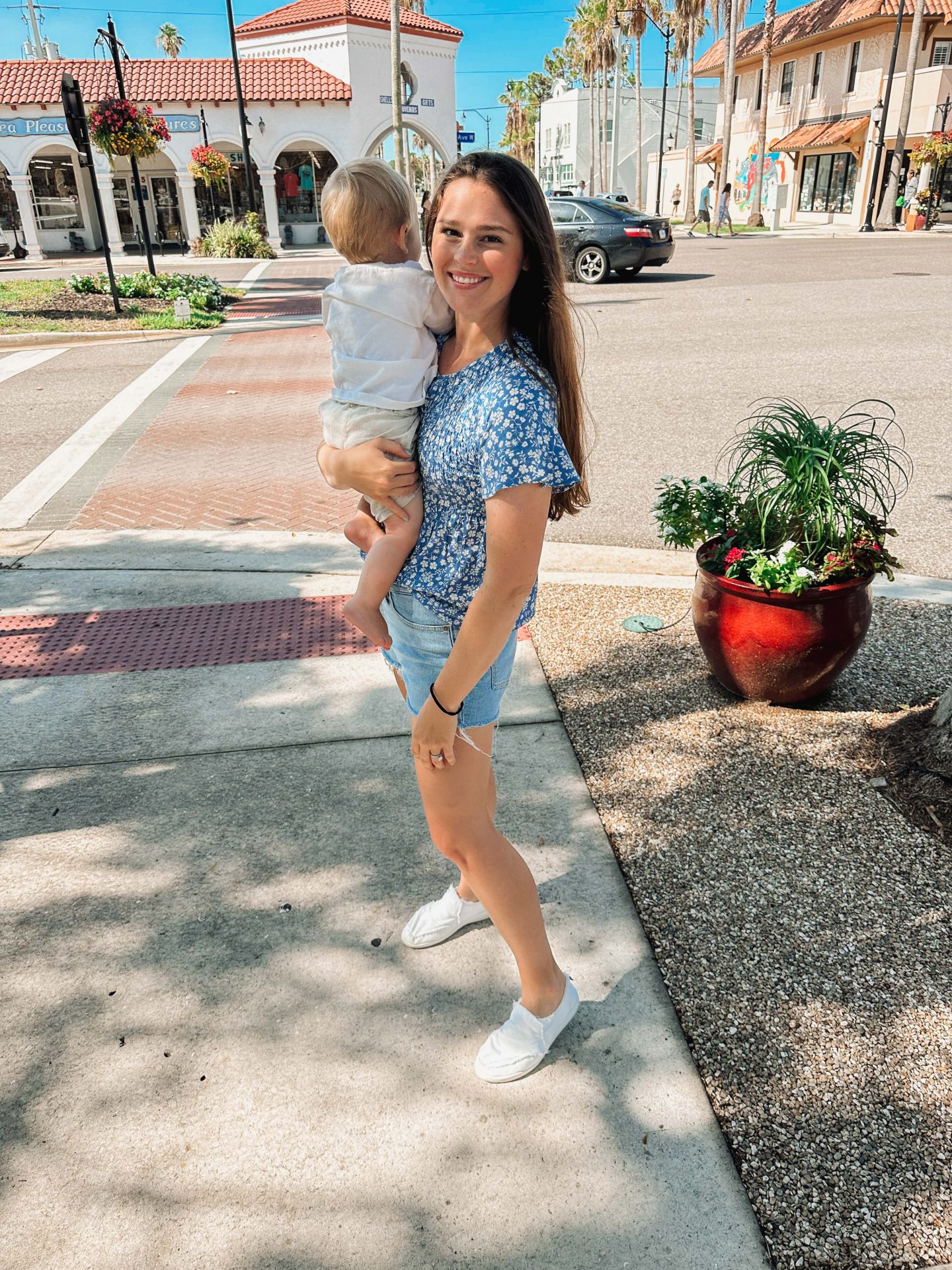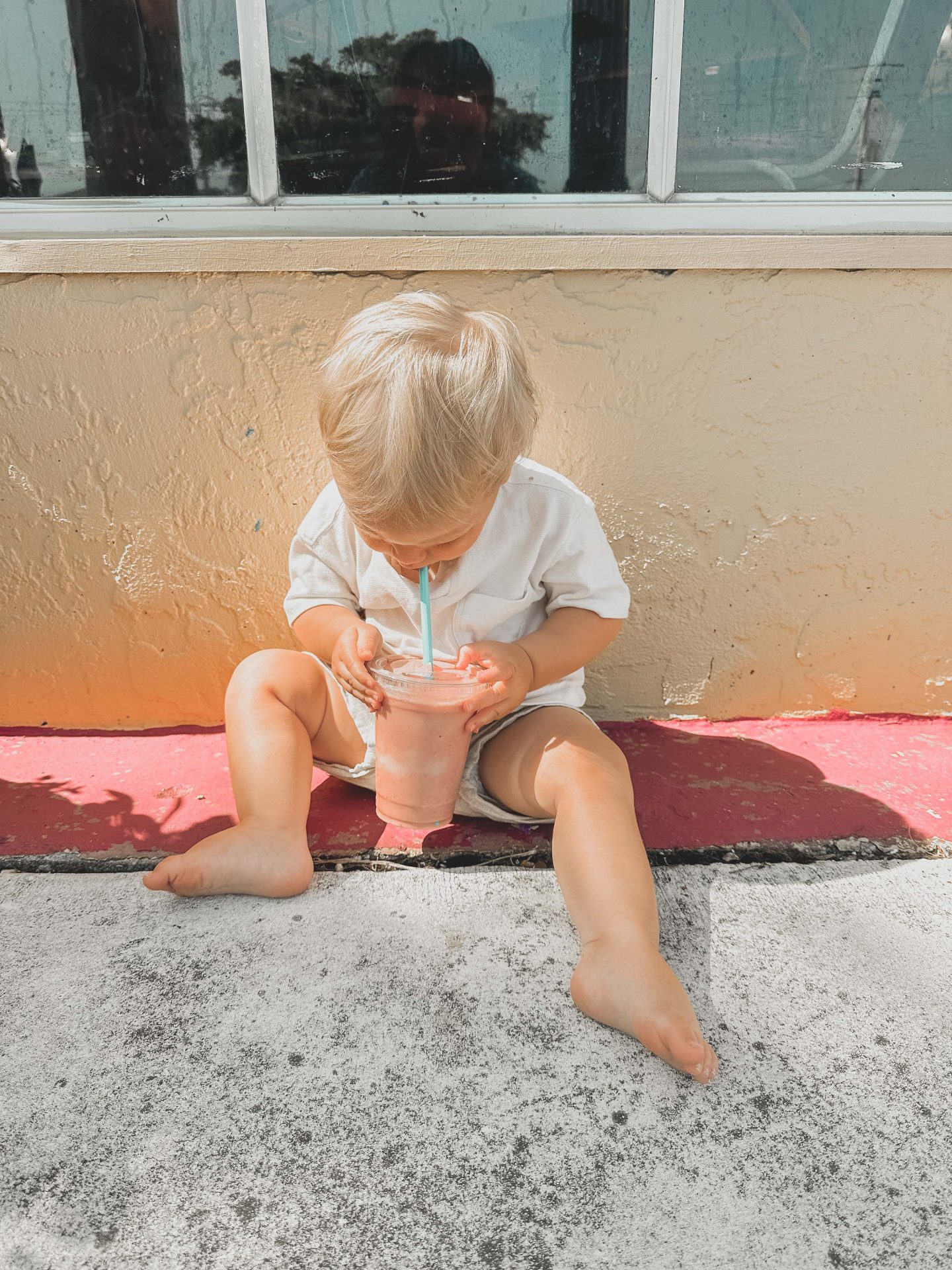 We stopped at our favorite Mission Organic Coffee & Cafe for lunch! We come here every time we are in Florida. Bugs got a banana, strawberry, and spinach smoothie!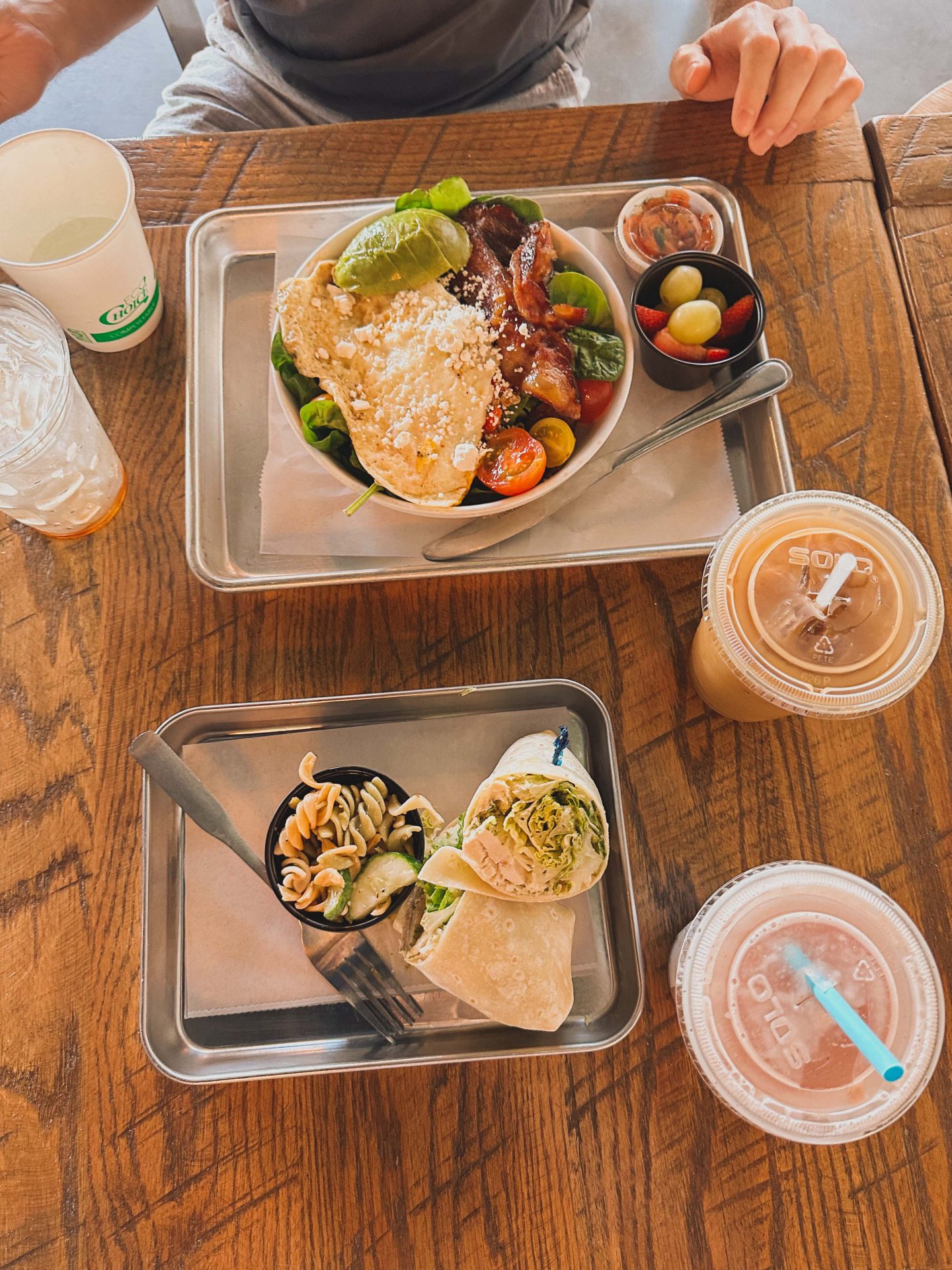 I had a chicken Caesar Salad wrap and a cold brew!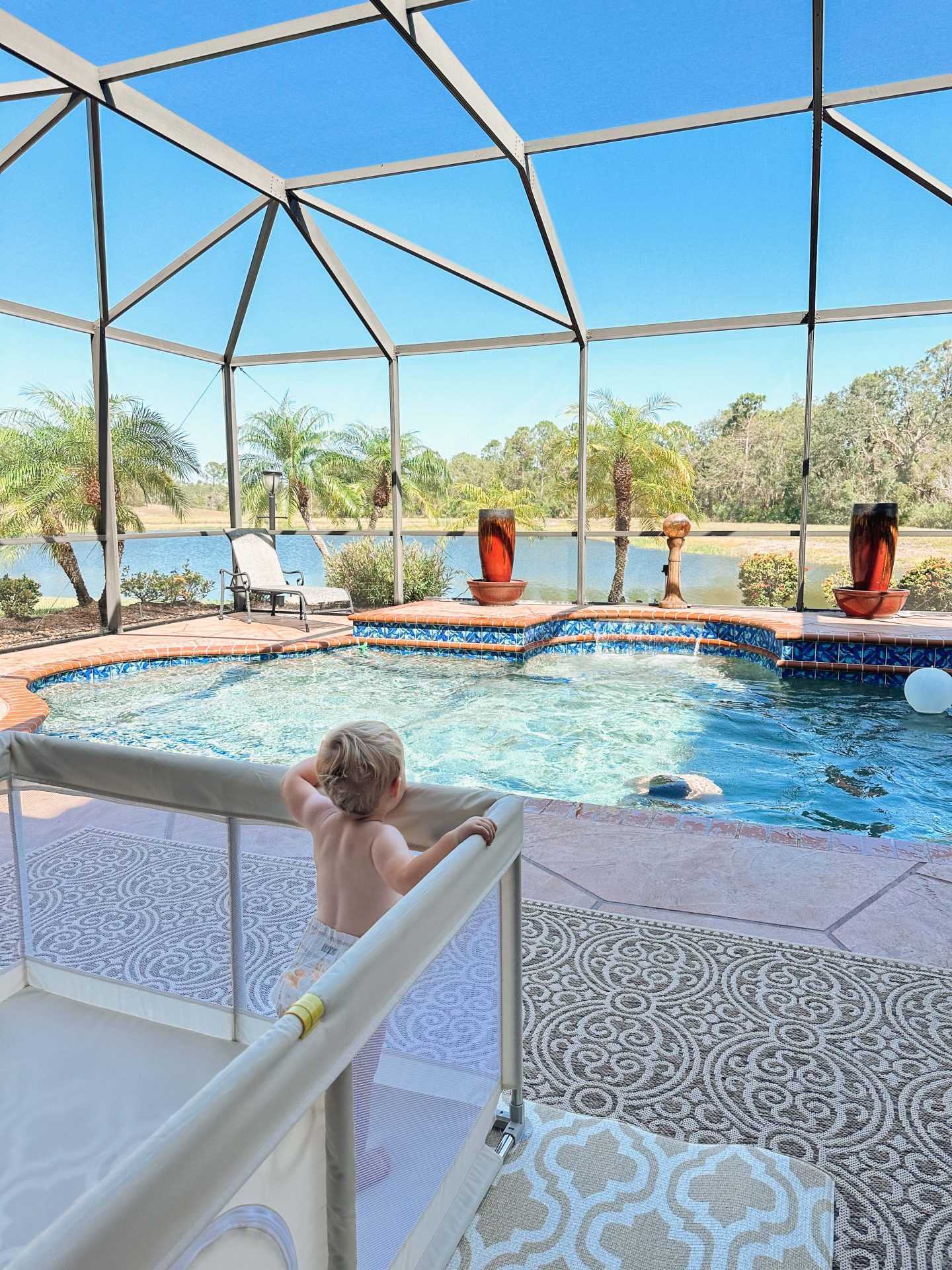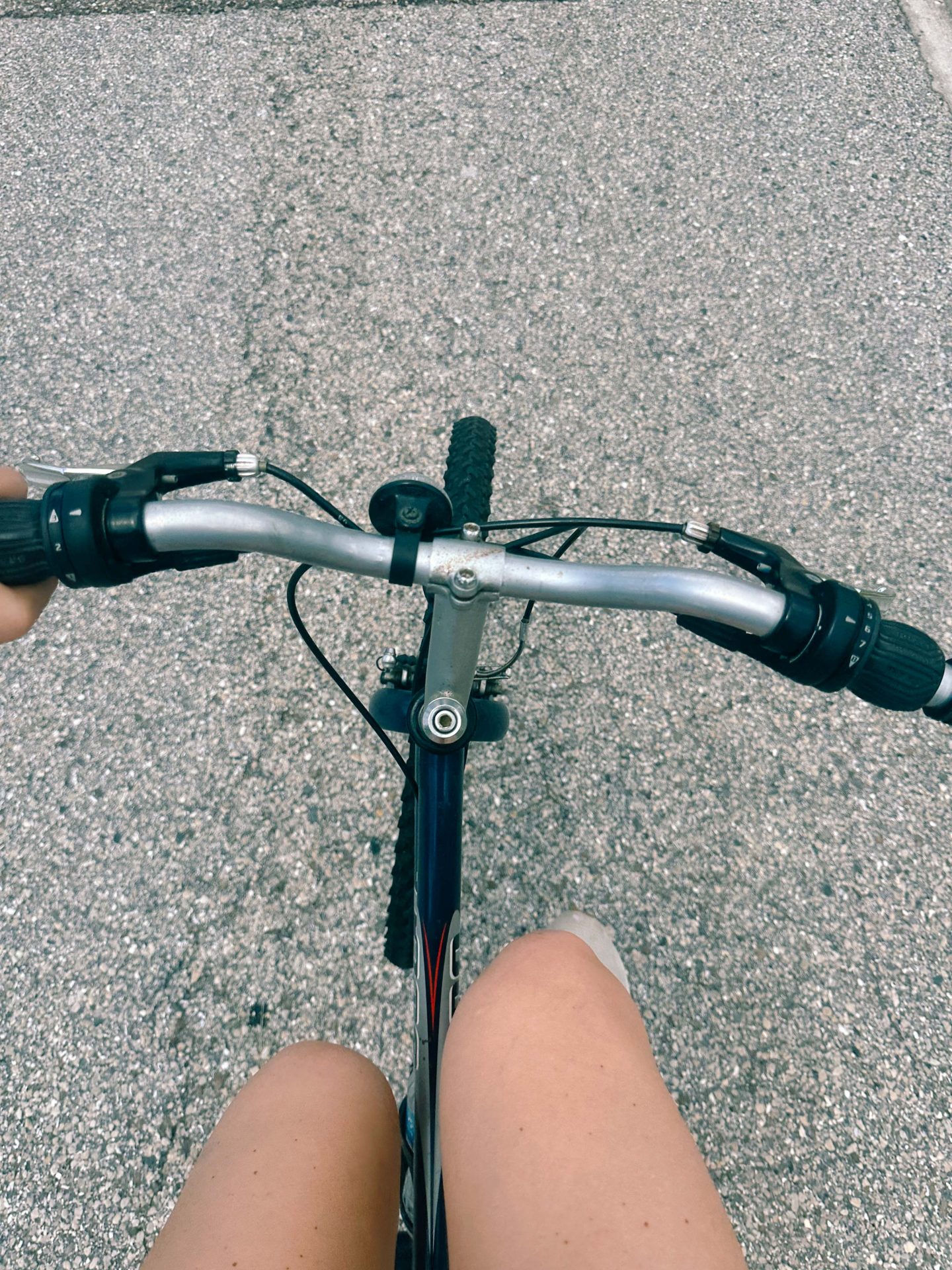 After Bug went for a nap, I went on a 5-mile bike ride with Kyle!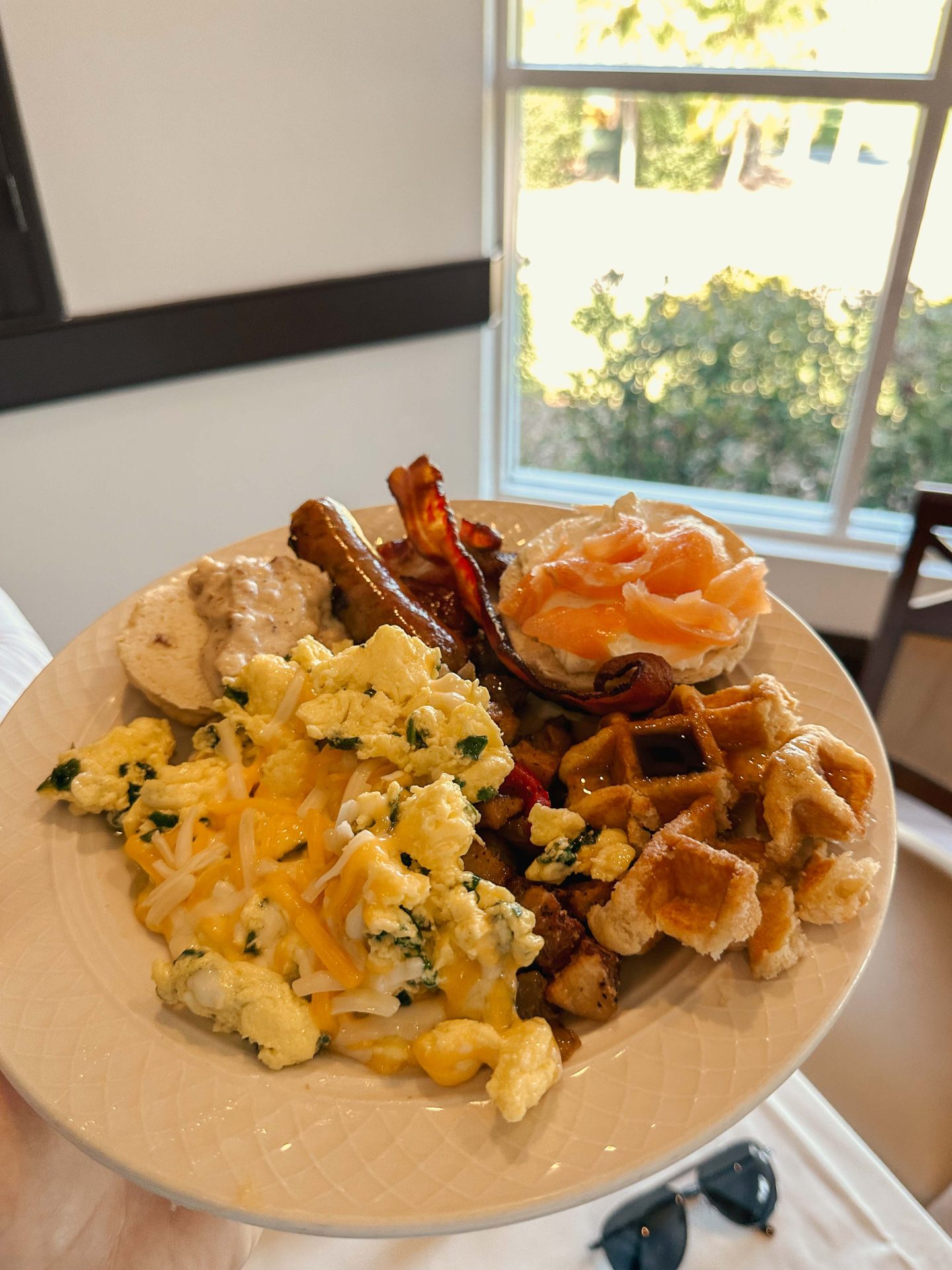 After playing a long game of pickleball in the morning, we had brunch at Plantation Country Club.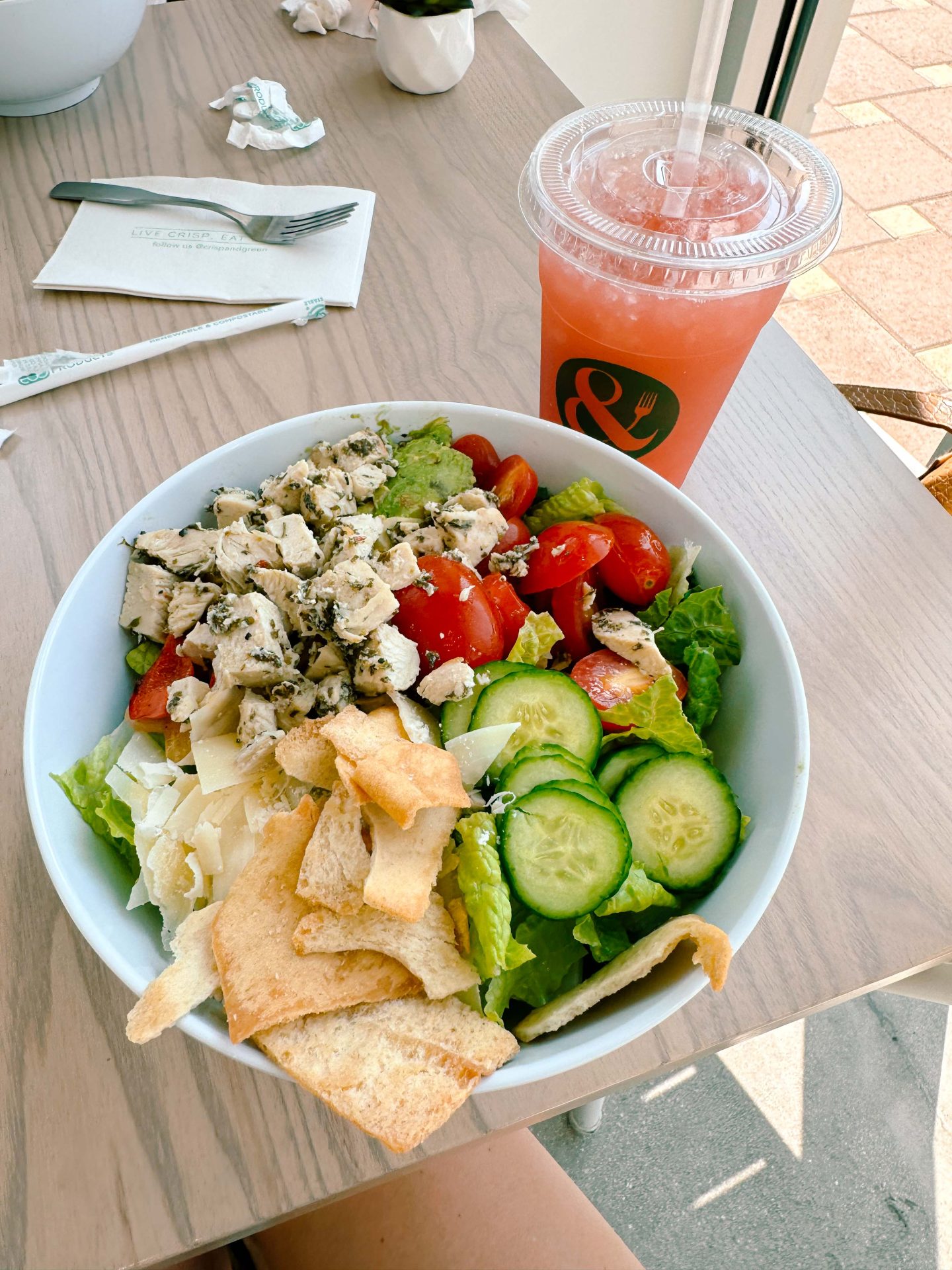 For dinner, we had Crisp and Green! This spot was so good. I had their chicken Caesar salad.


In the morning, I finished the sourdough lessons by teaching Kyle's mom how to make the famous cinnamon rolls!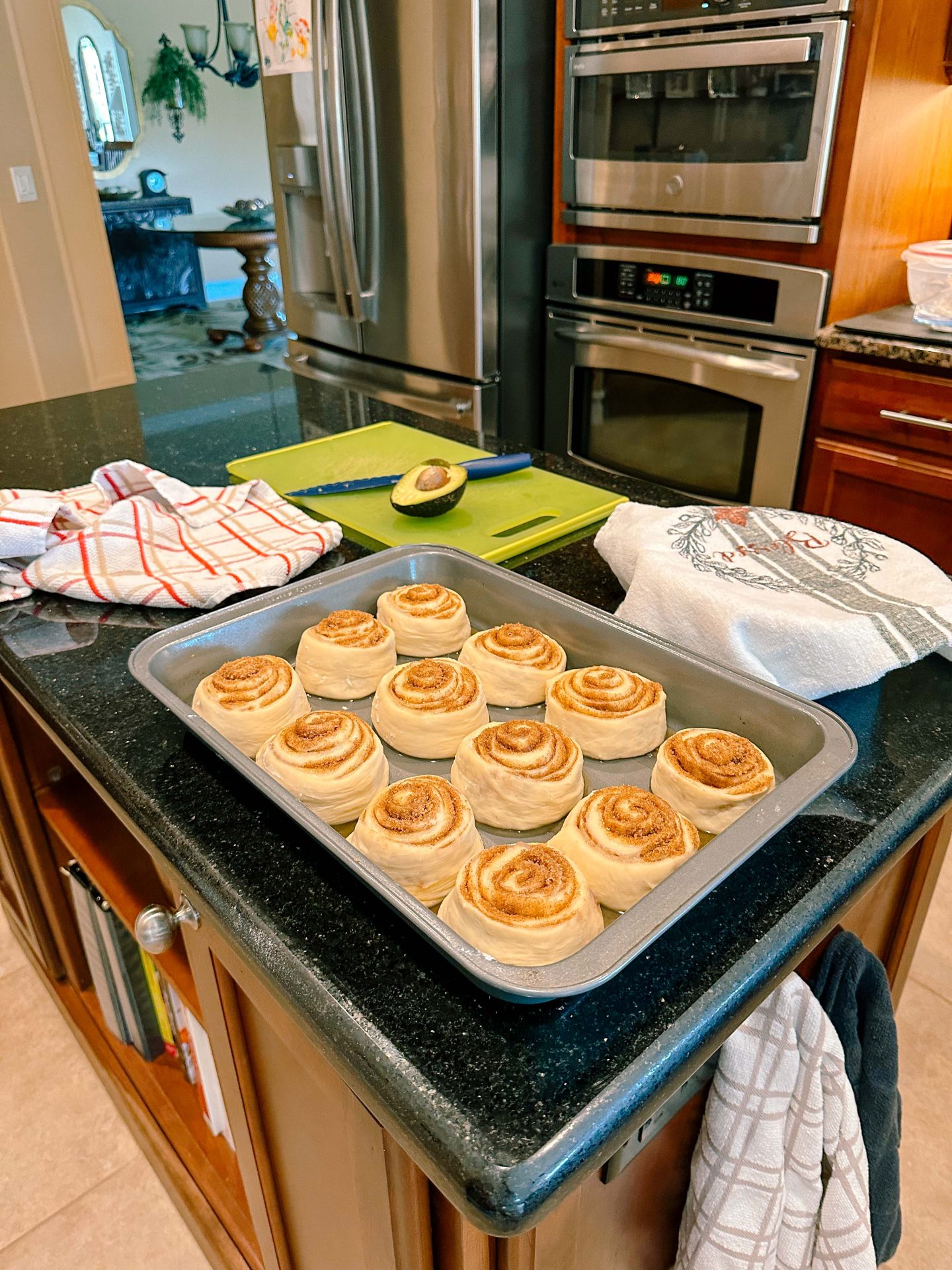 These were the best ones I have ever made! I think making them earlier in the evening made a difference since I wake up so early. They had more time to rise at night. I will try that again today for tomorrow morning's cinnamon rolls.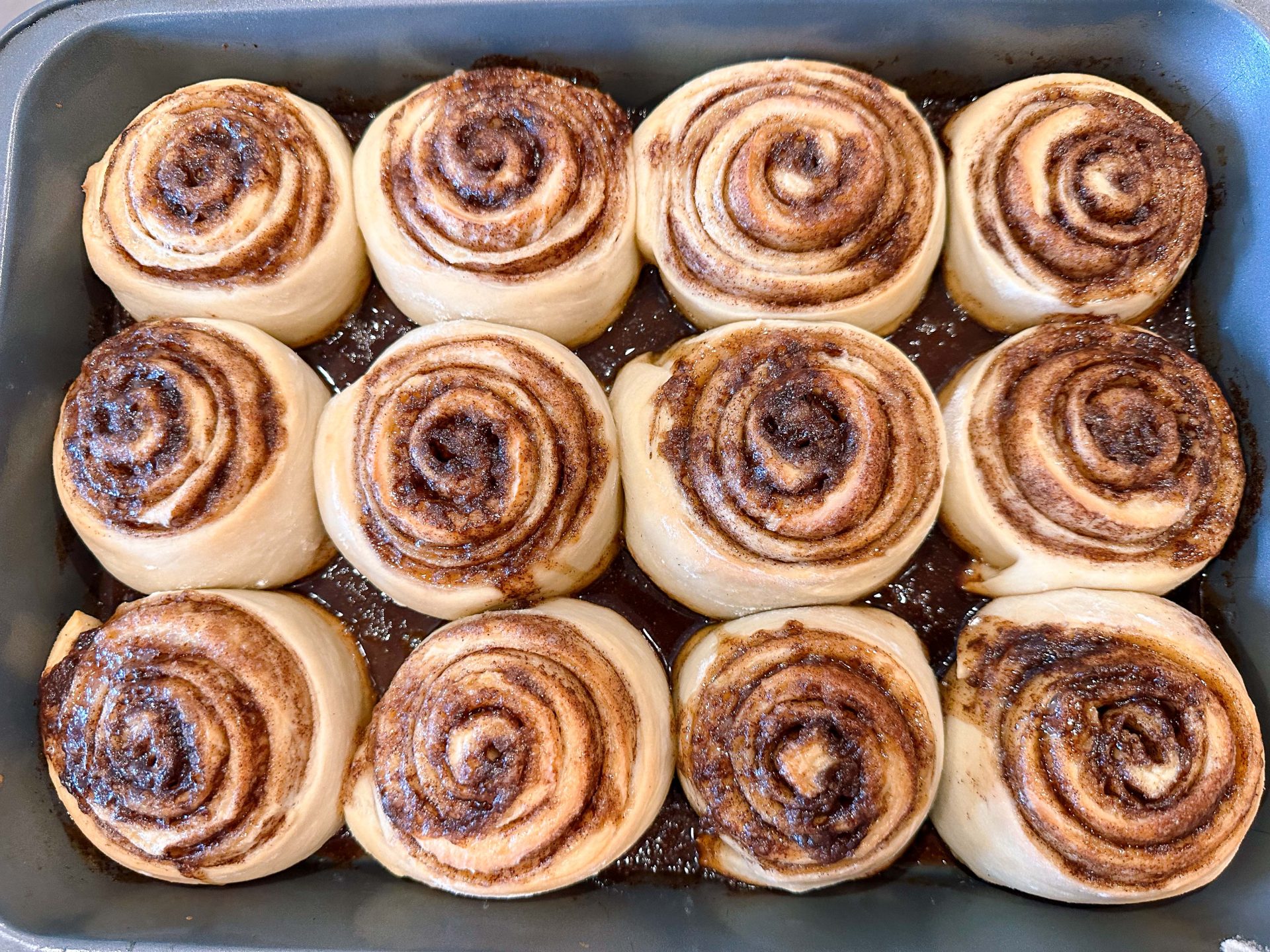 YUM!!!!! They were oozing with cinnamon goodness. 
 We were in a bit of a hurry, so we put the icing on while they were hot, and OMG, what a game-changer. Totally doing this tomorrow as well. It glazed over the top.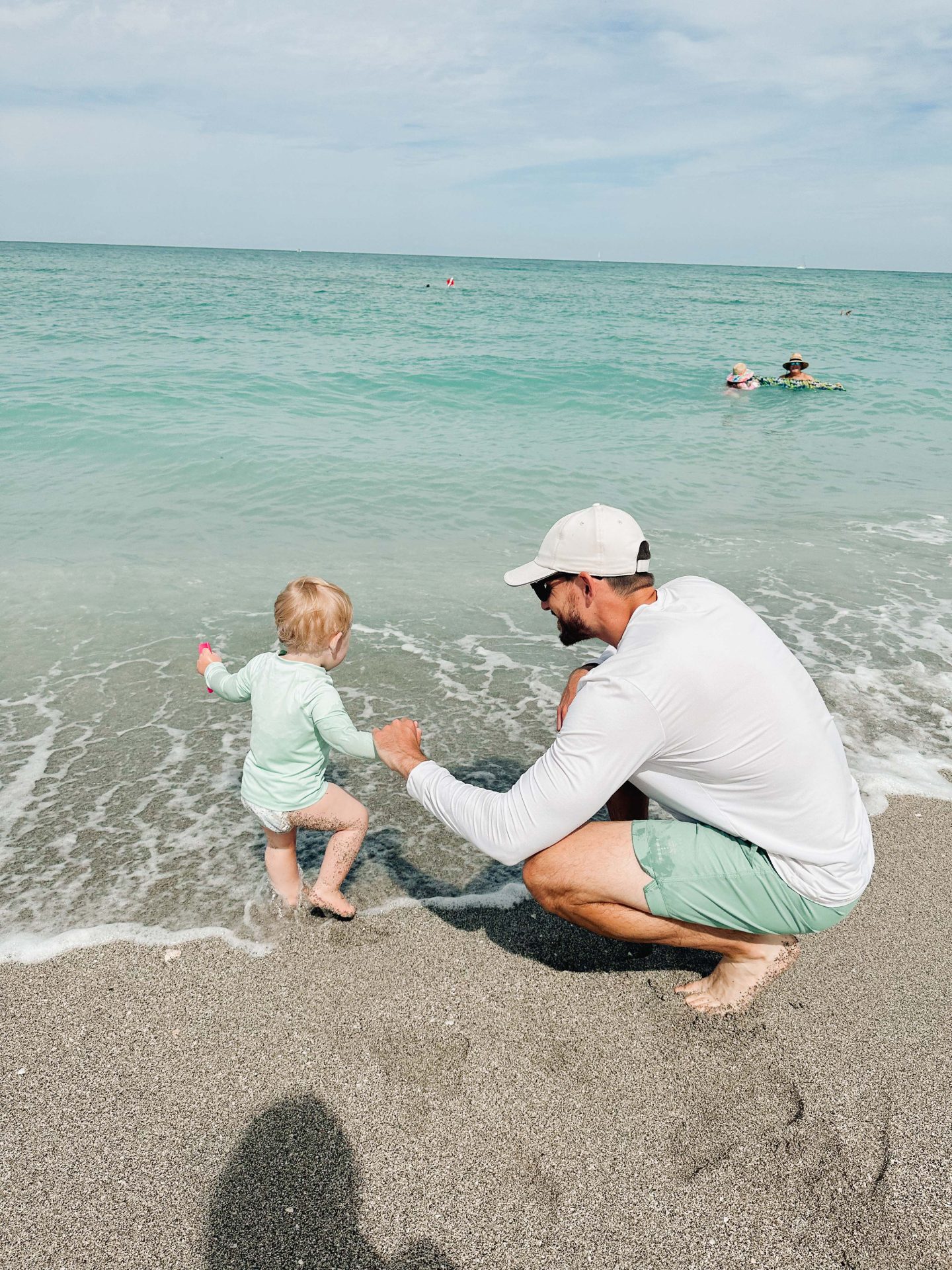 On Memorial Day morning, we headed to the beach before it got too hot and crowded.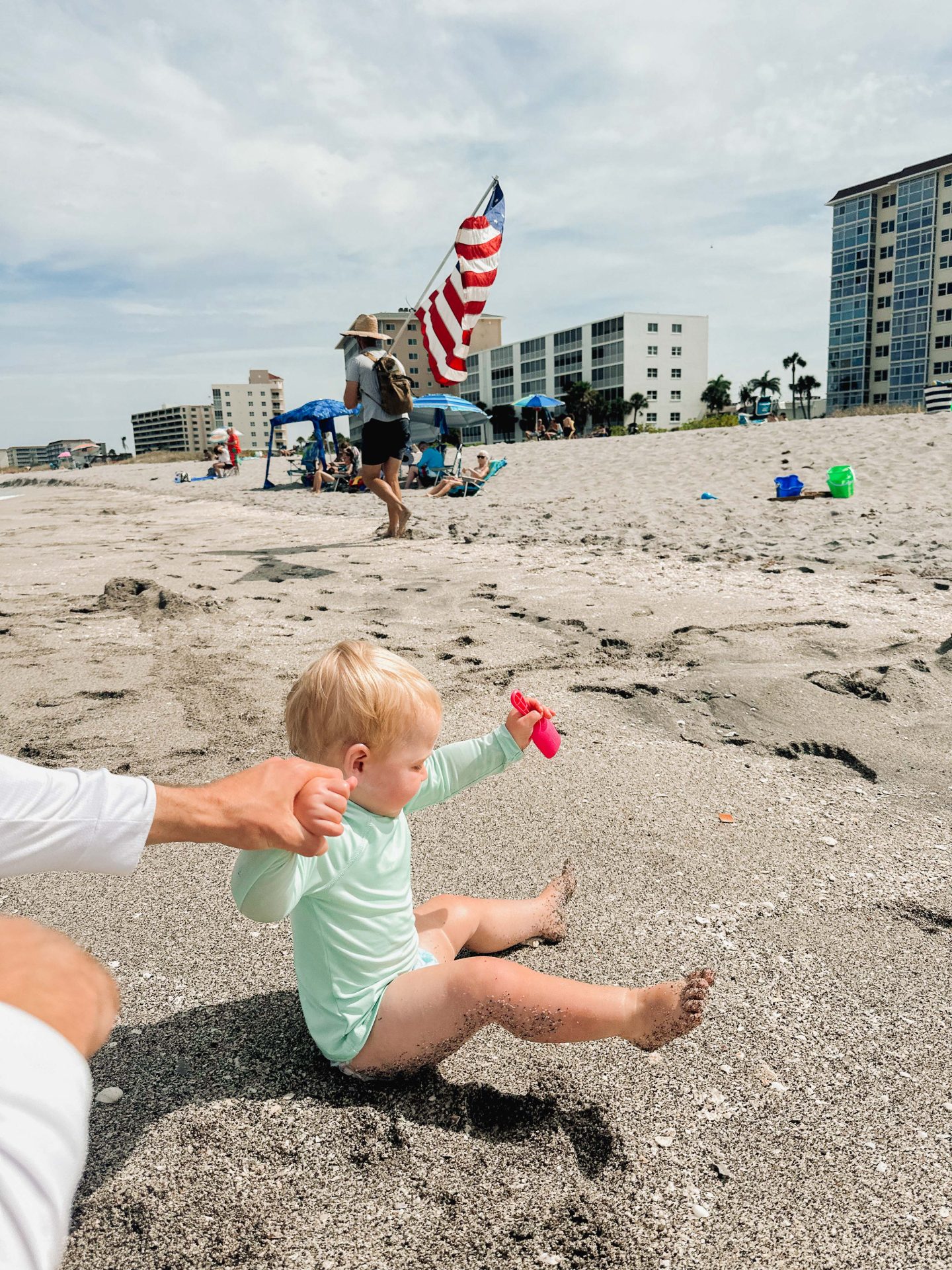 This makes me want to move to the beach since he had so much fun digging in the sand and running around.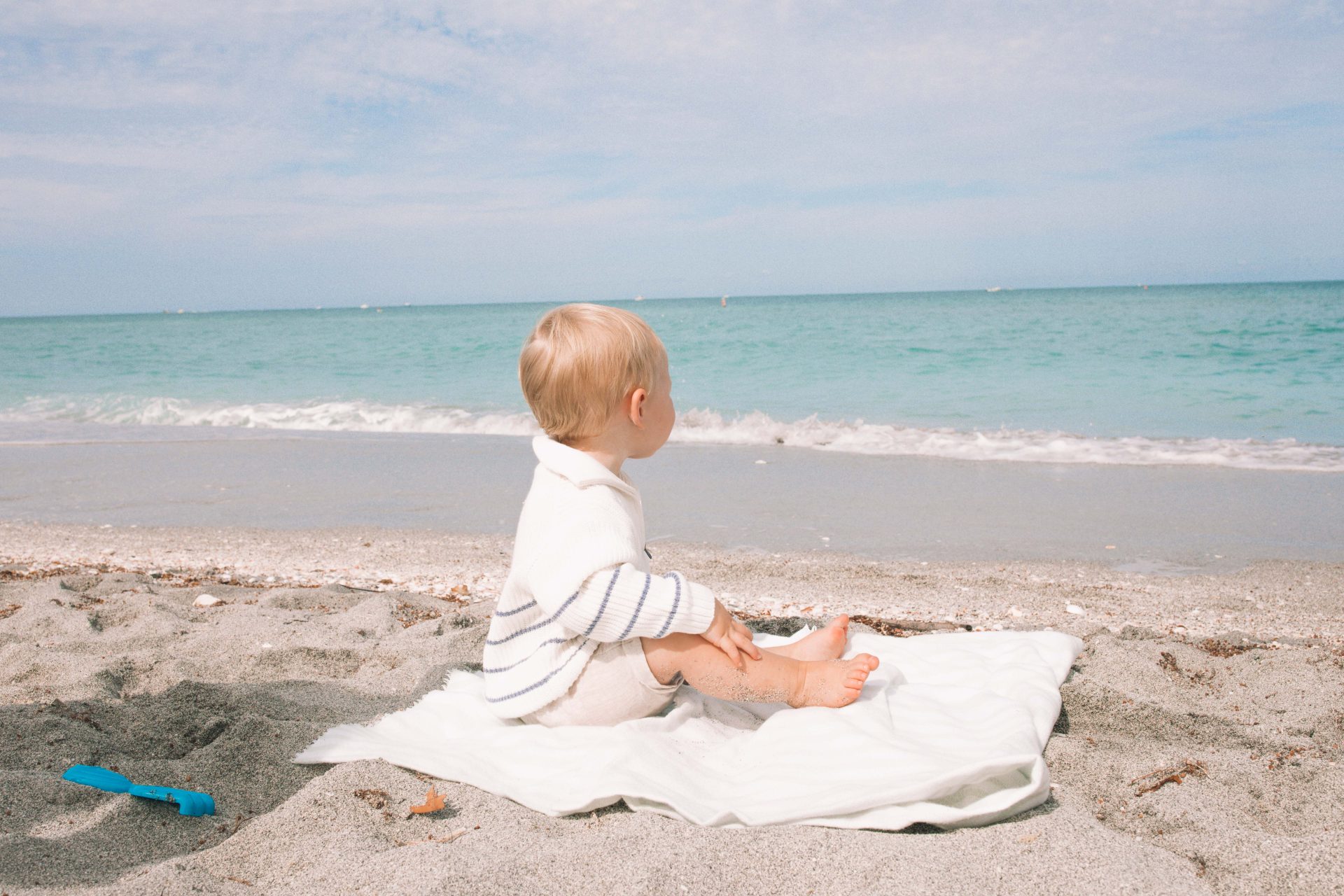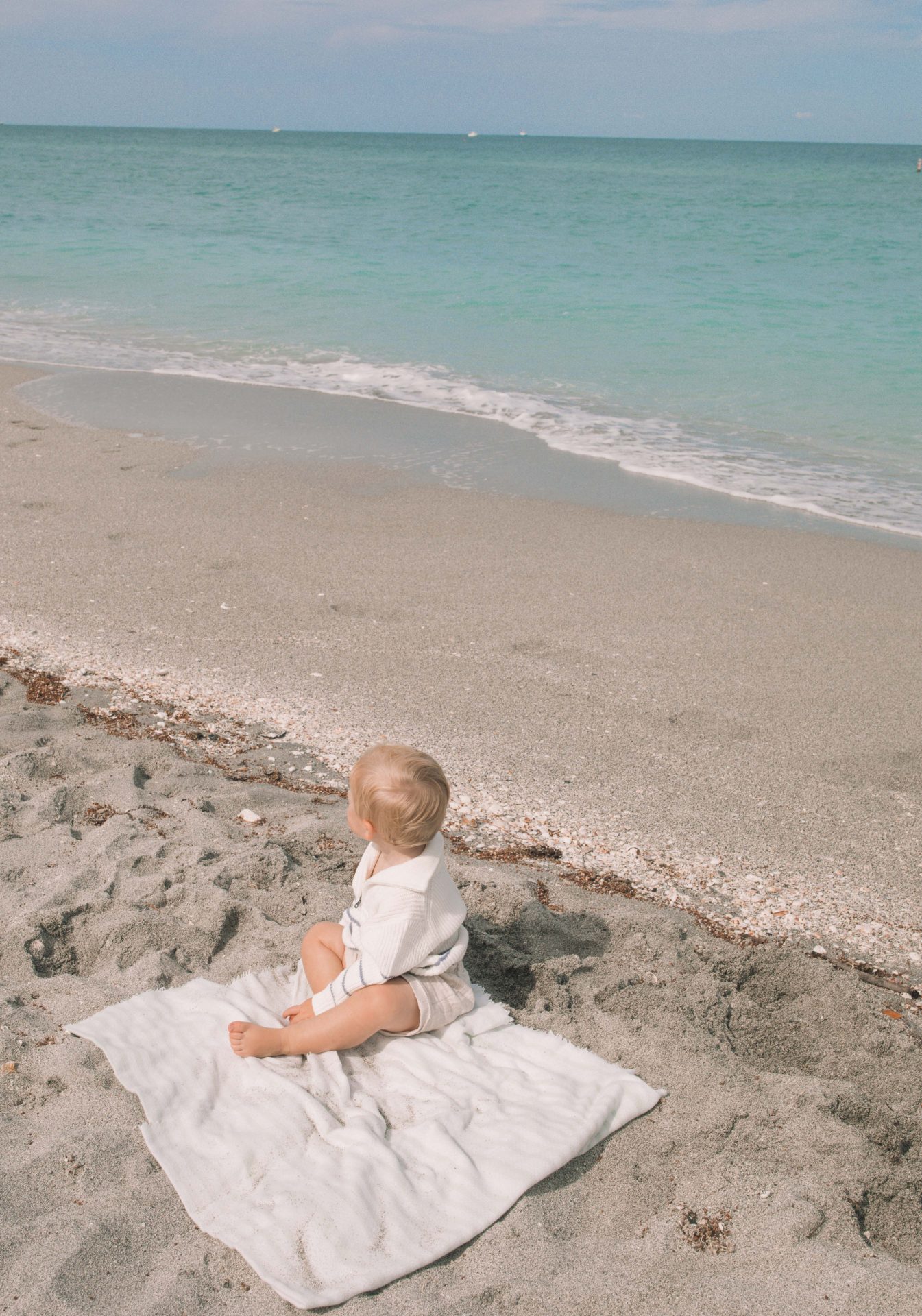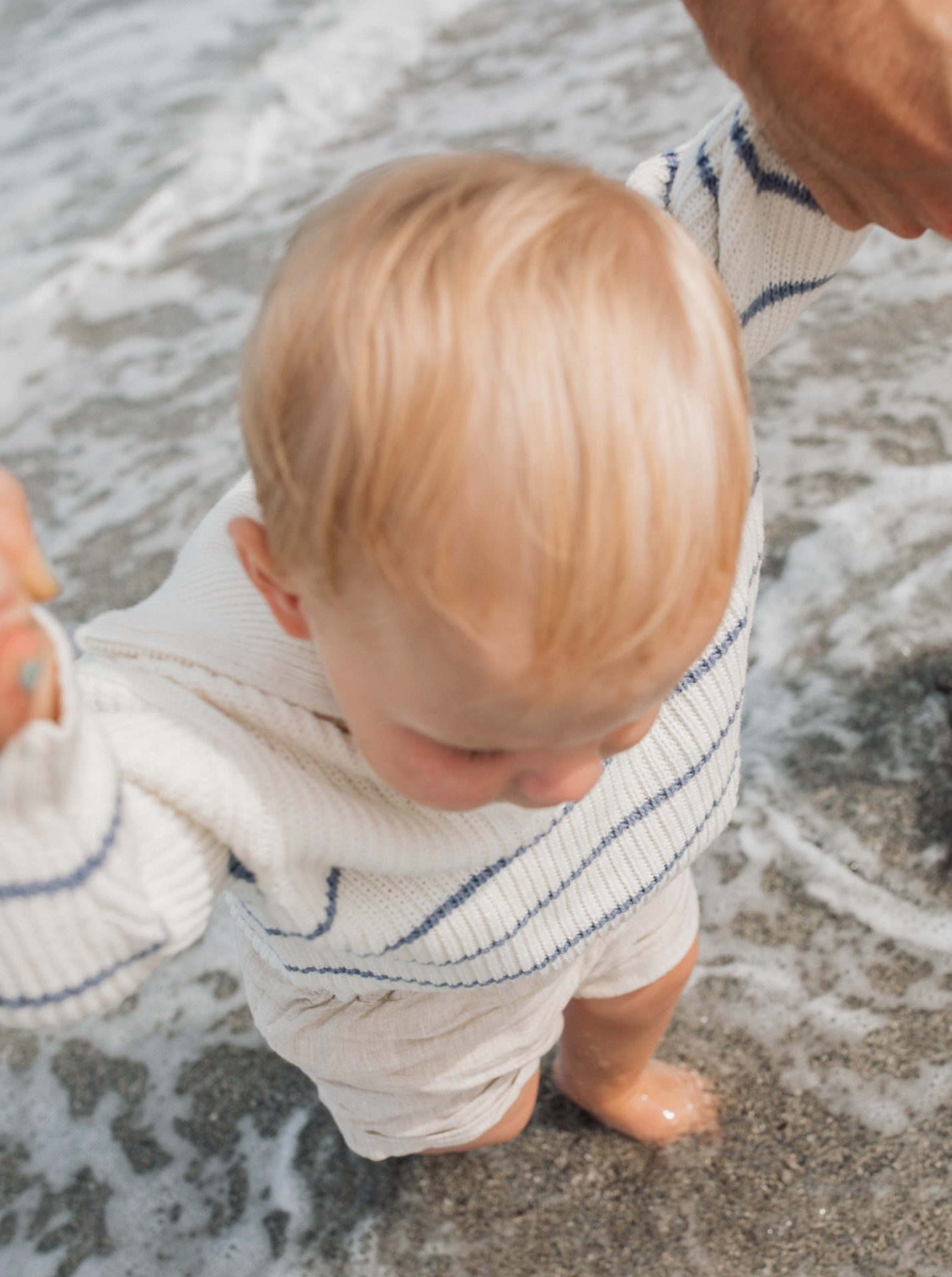 My perfect little beach boy!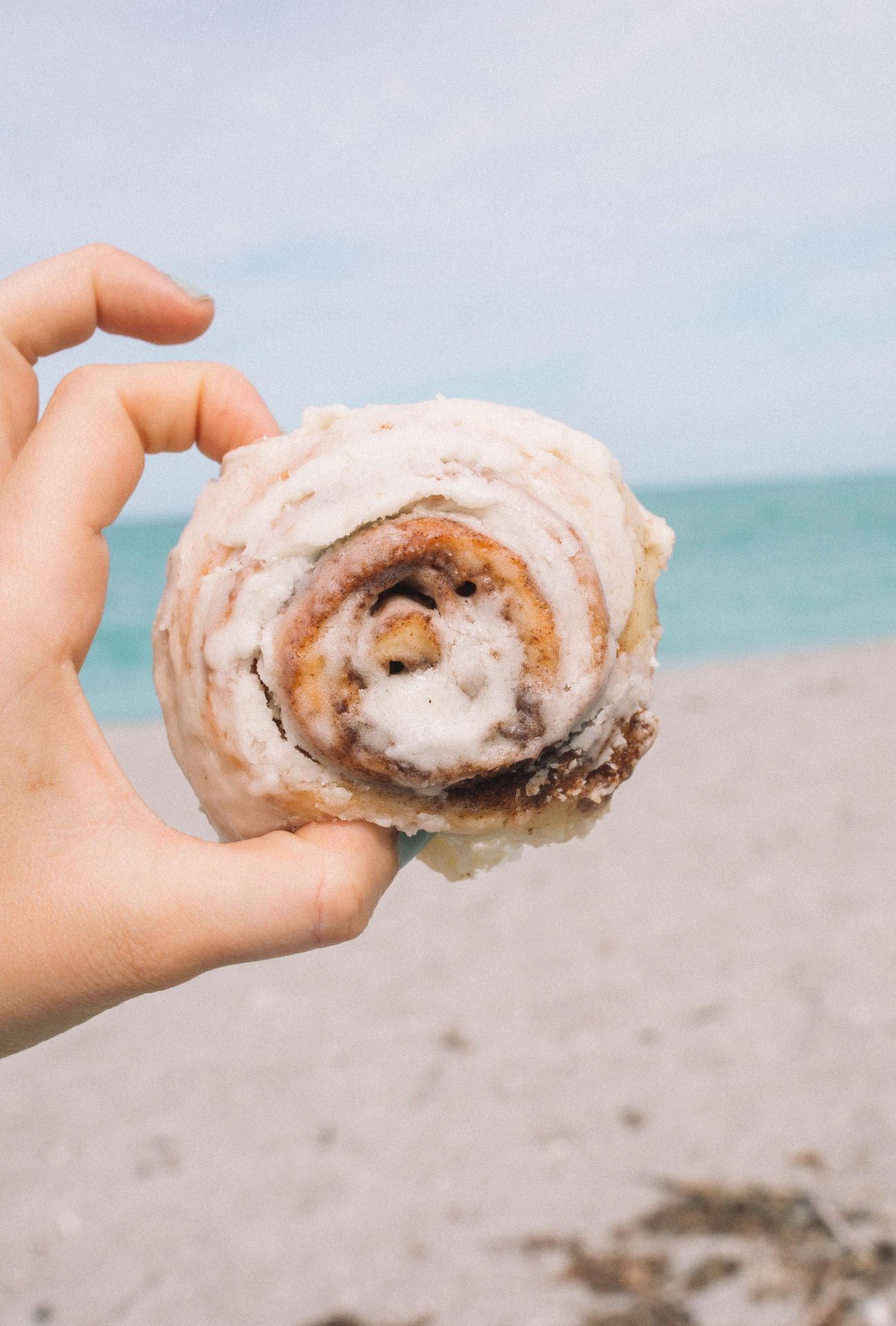 YUM!!! We brought our breakfast to the beach.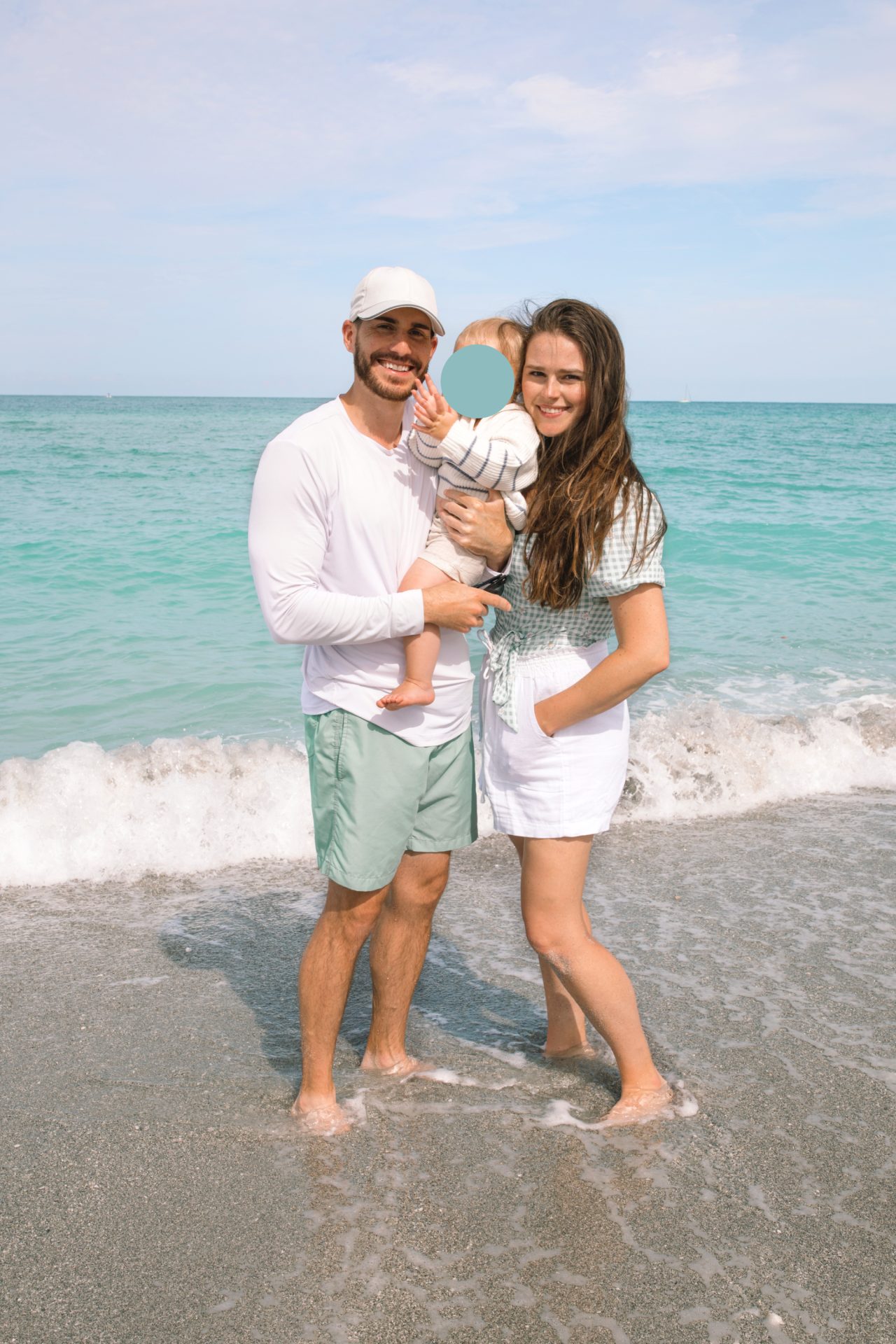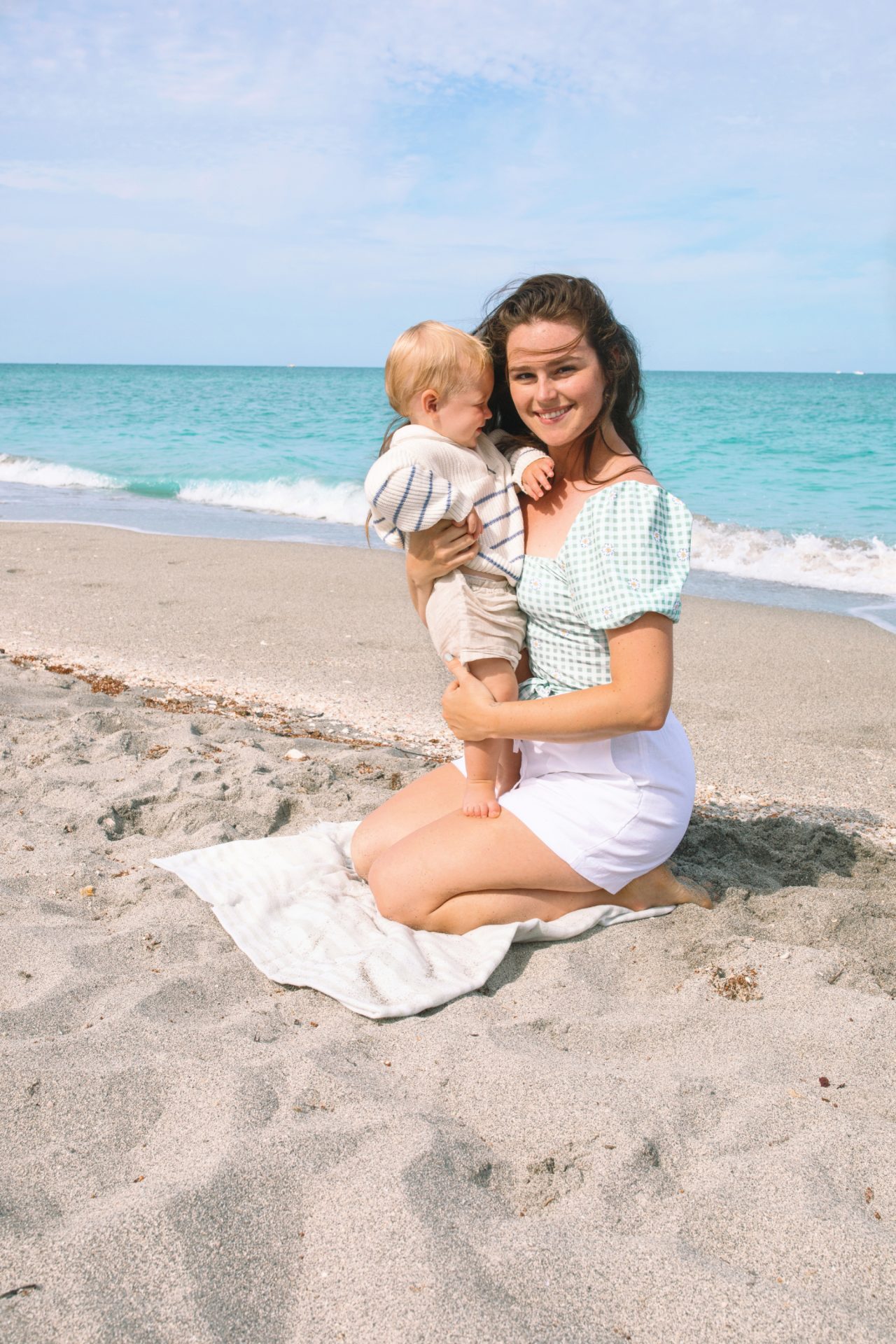 My entire world!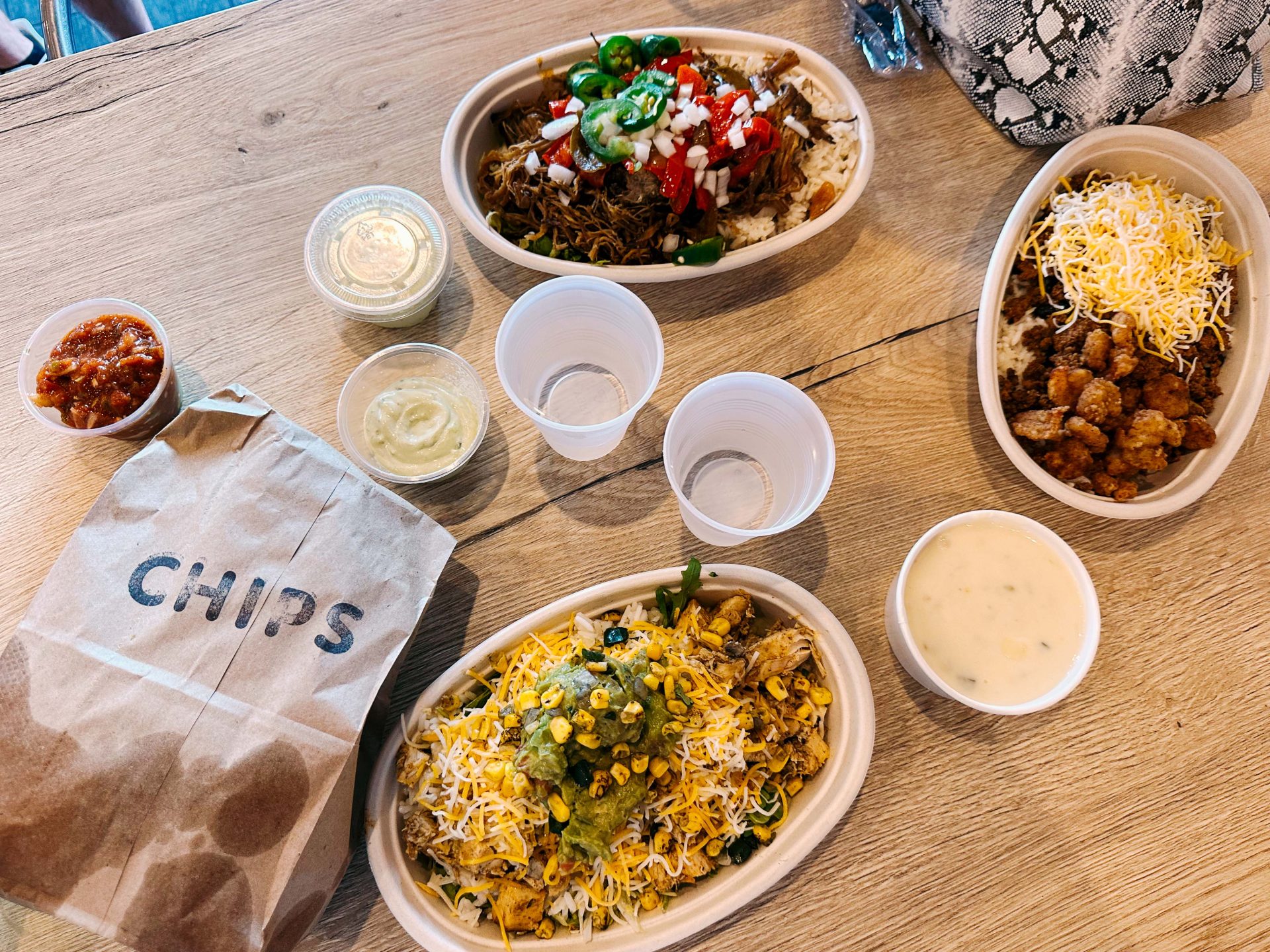 After packing up, we grabbed one last dinner at Urban Taco. I had a chicken salad with rice, corn, guacamole, cheese, and tomatoes. Everything was so fresh and delicious.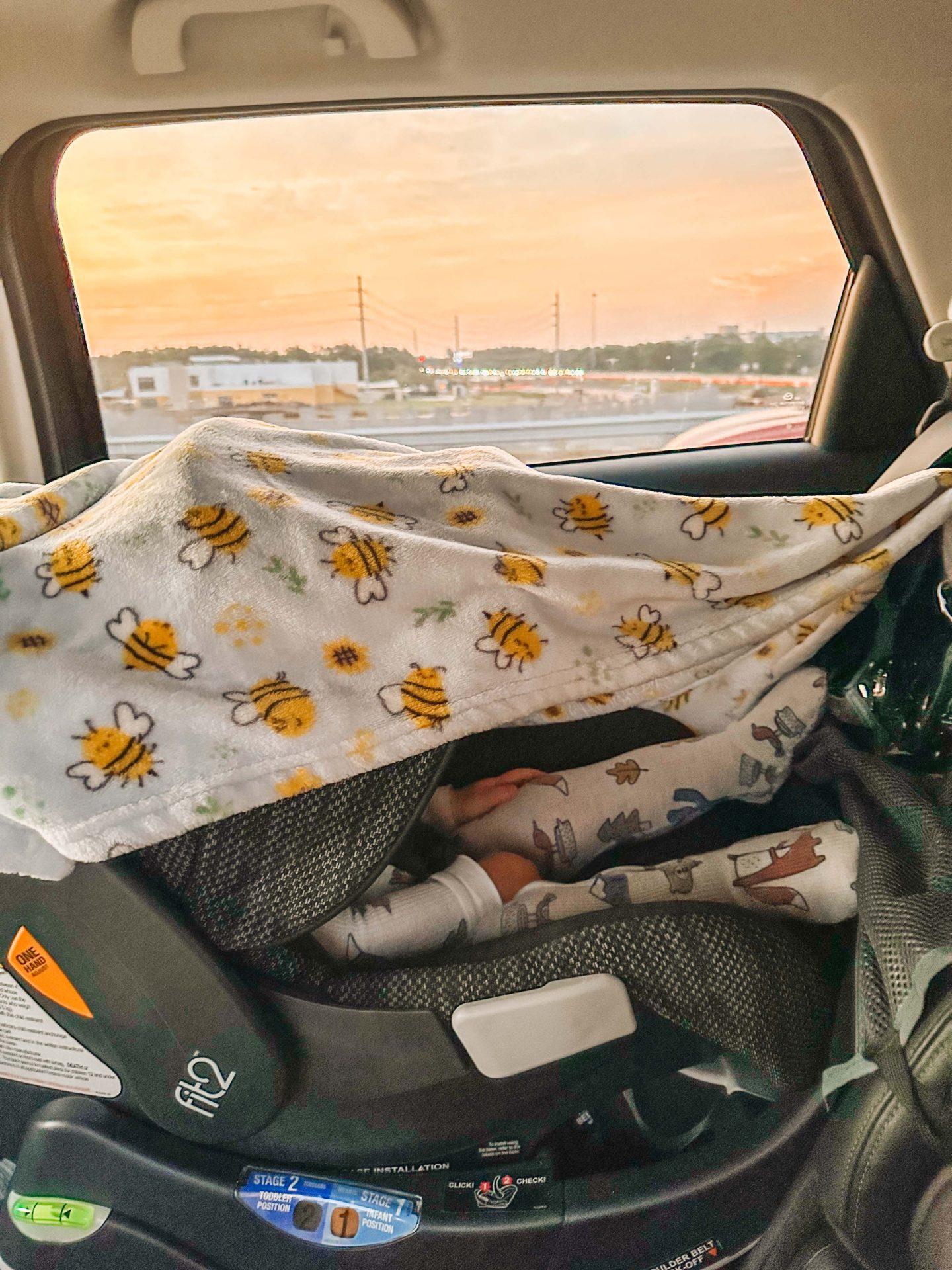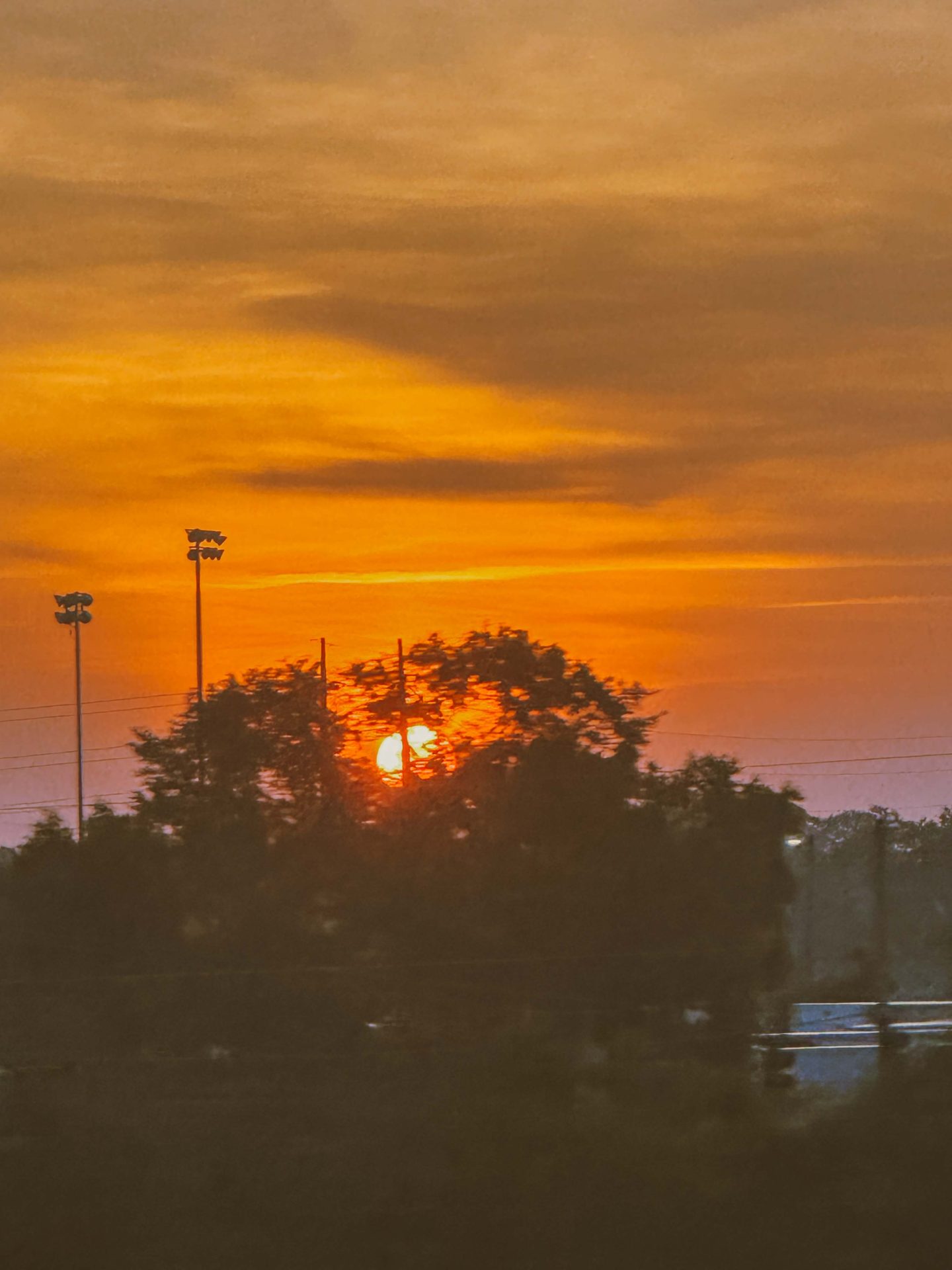 We left Florida at 5 am and got a three-hour sleeper.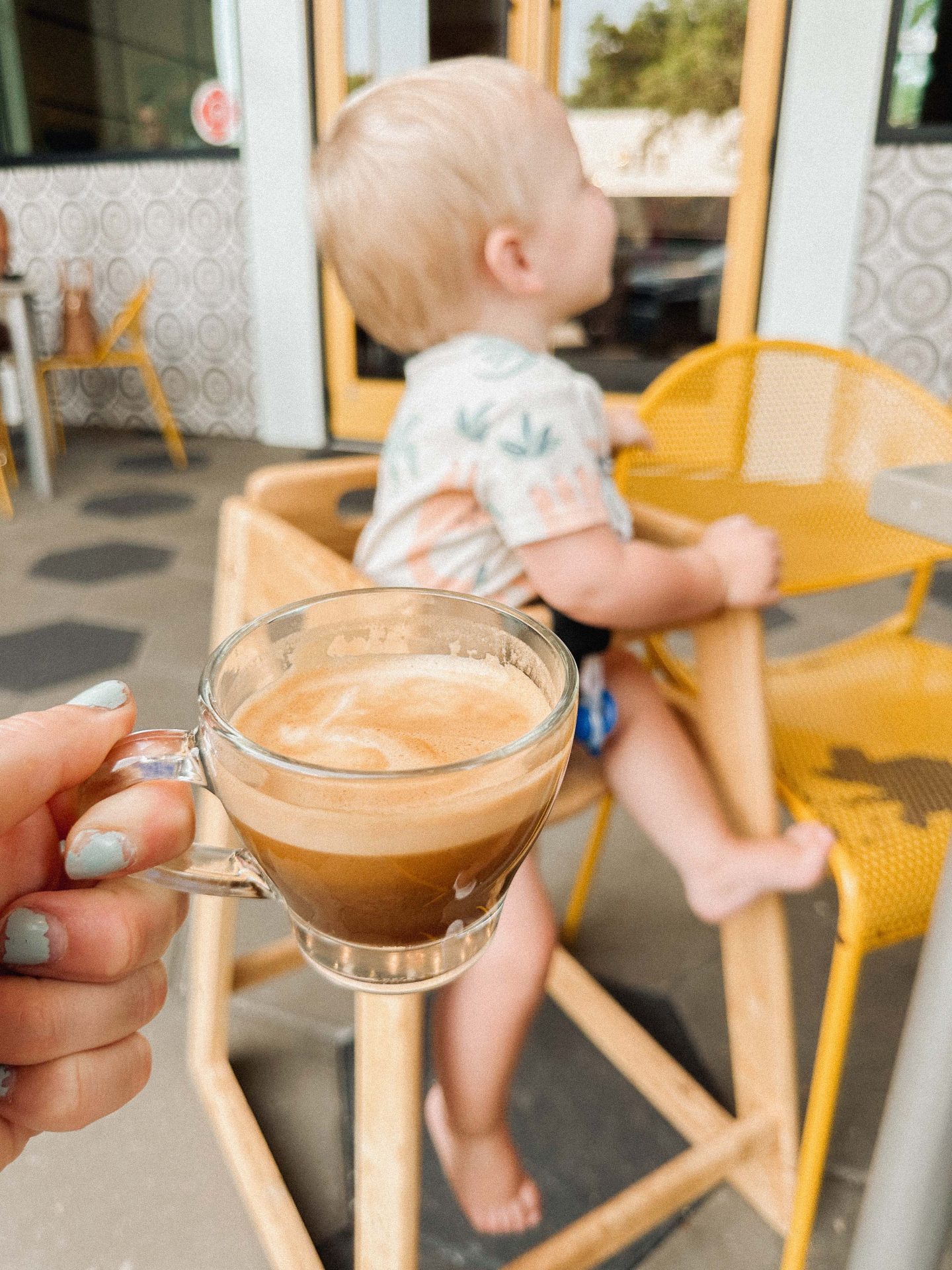 We stopped in historic Avondale, Jacksonville, Florida, to grab breakfast and play at a park.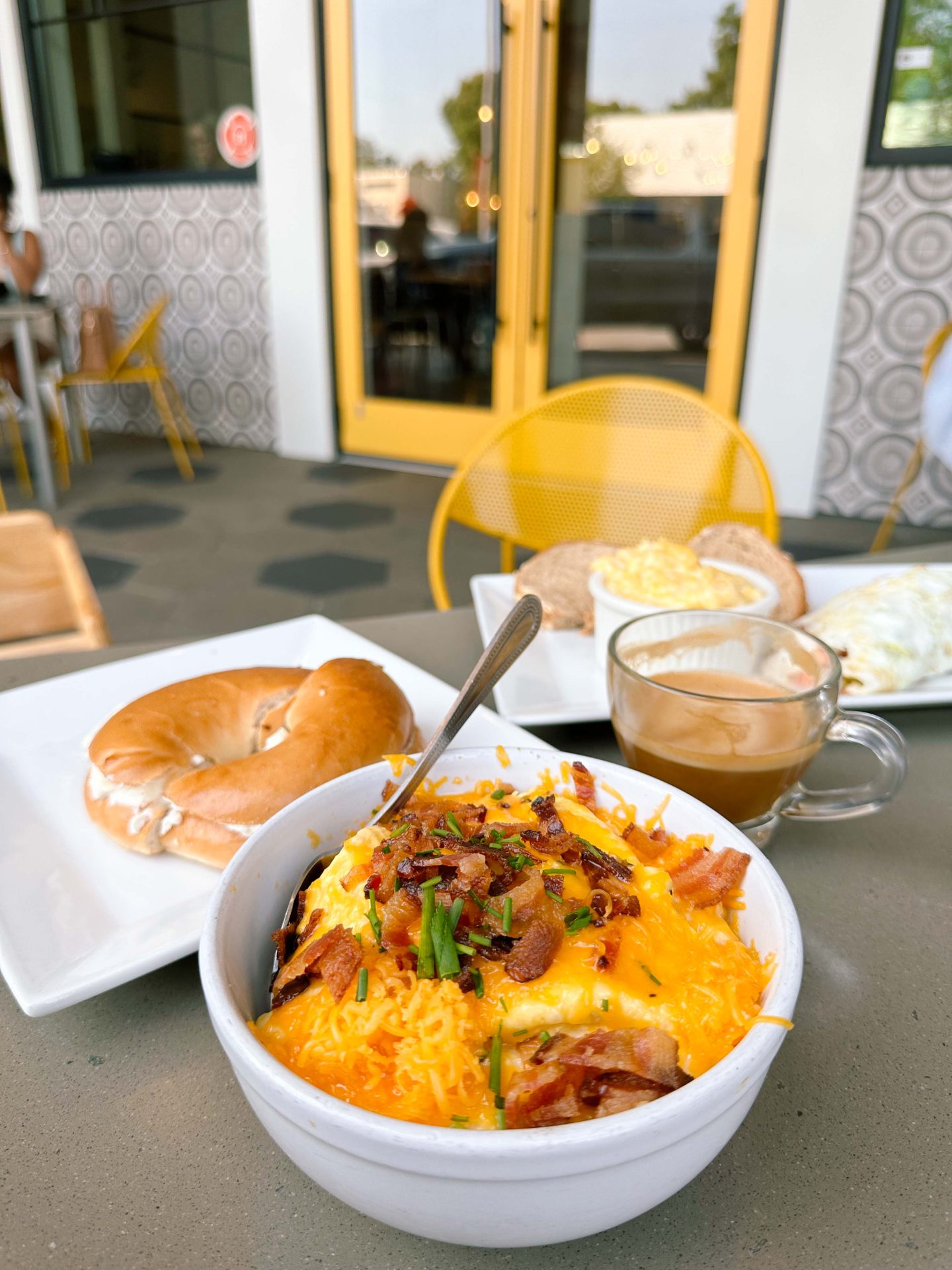 We ordered cheese grits, a bagel, an omelet, and coffees at Southern Grounds and Co! Everything was delicious. My son loves grits, so I have to order them whenever they are on the menu.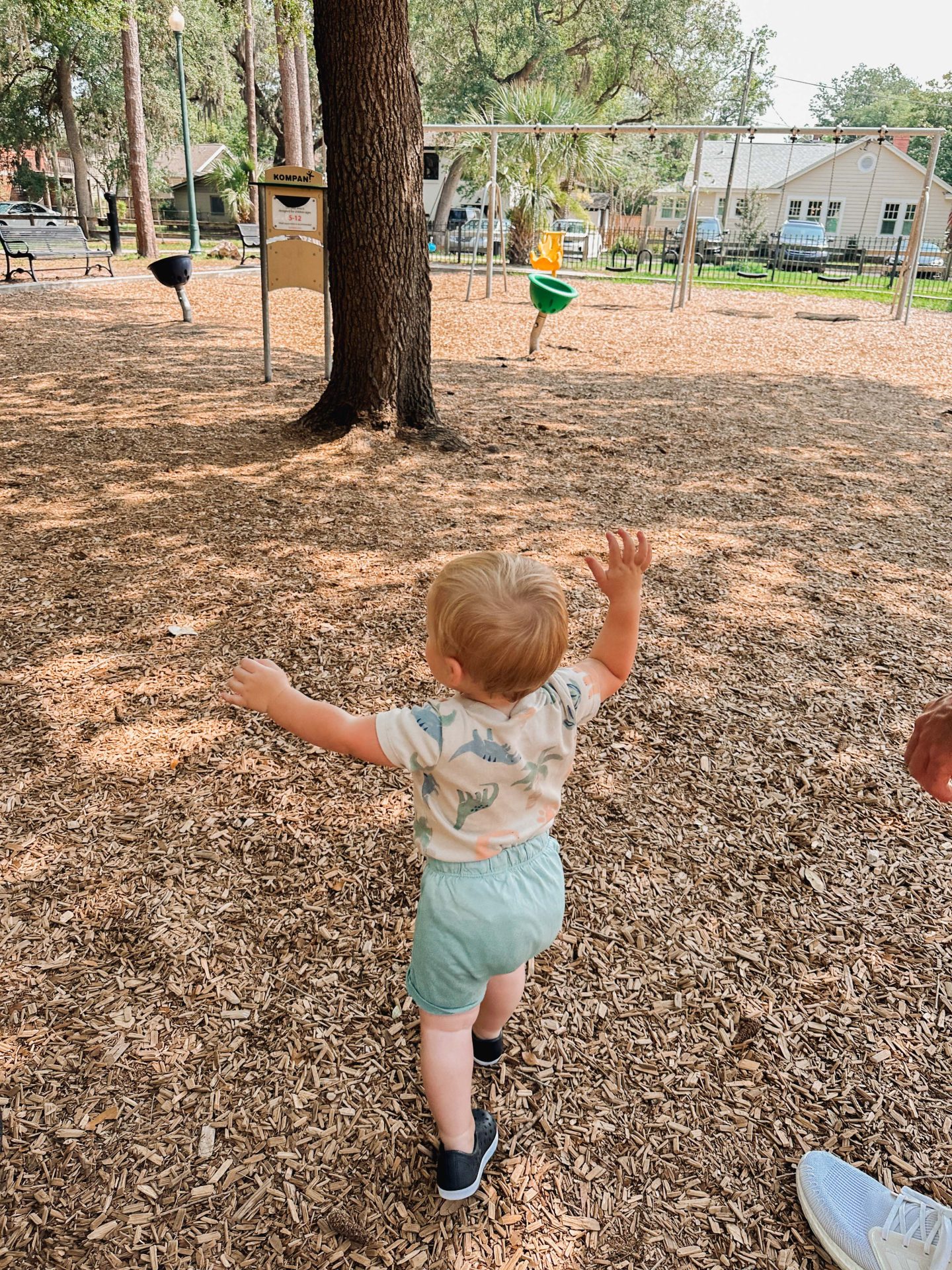 After breakfast, we headed down the street to play at the park. It's wild to see him running around. It literally just happened overnight. We headed to Florida with him taking maybe five to ten steps, but now he can walk alone. It's fun but a bit scary.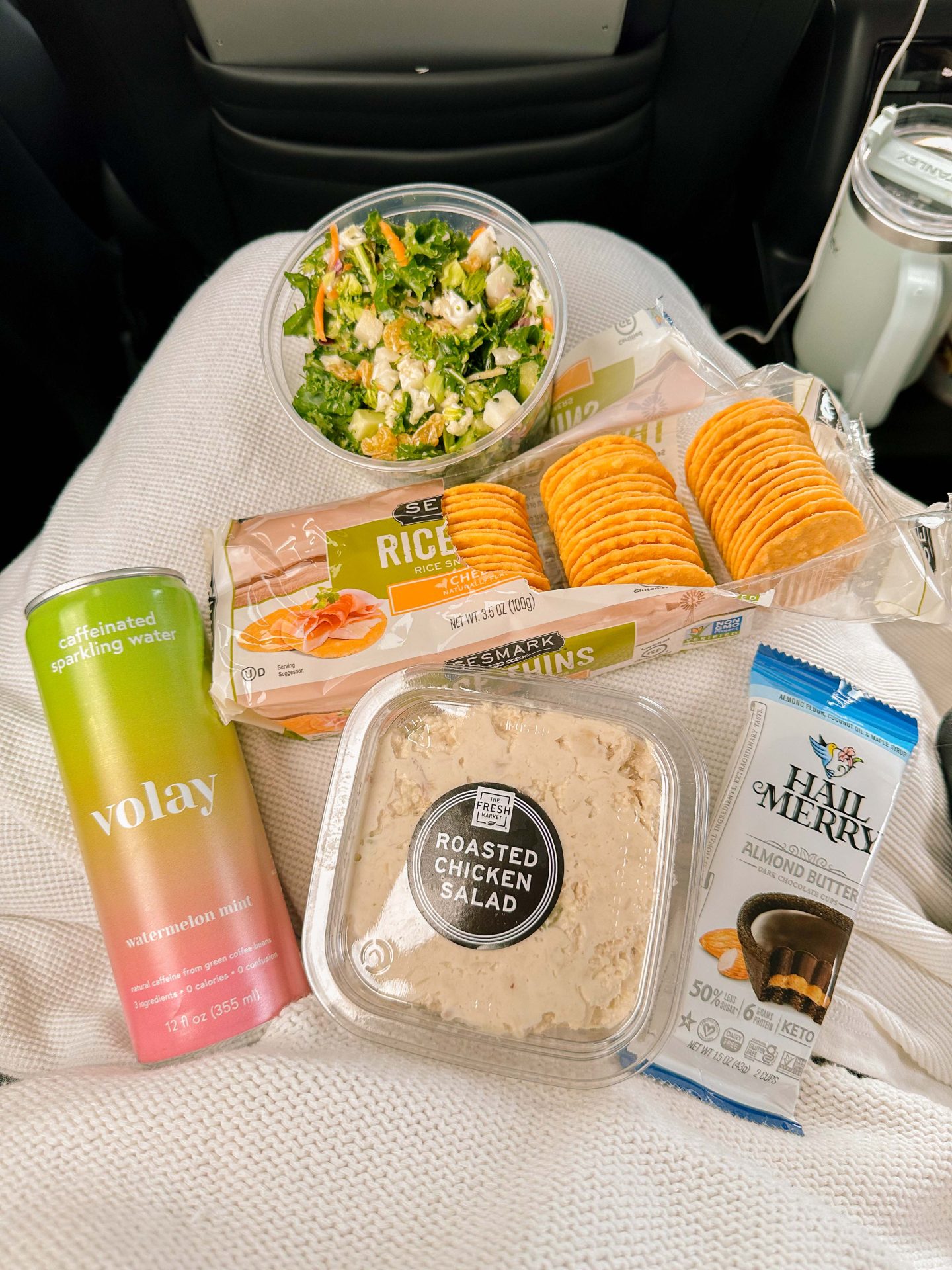 We grabbed food for dinner at Fresh Market and then headed home! I was proud of how good he was in the car, making me want to do more trips with him in the future!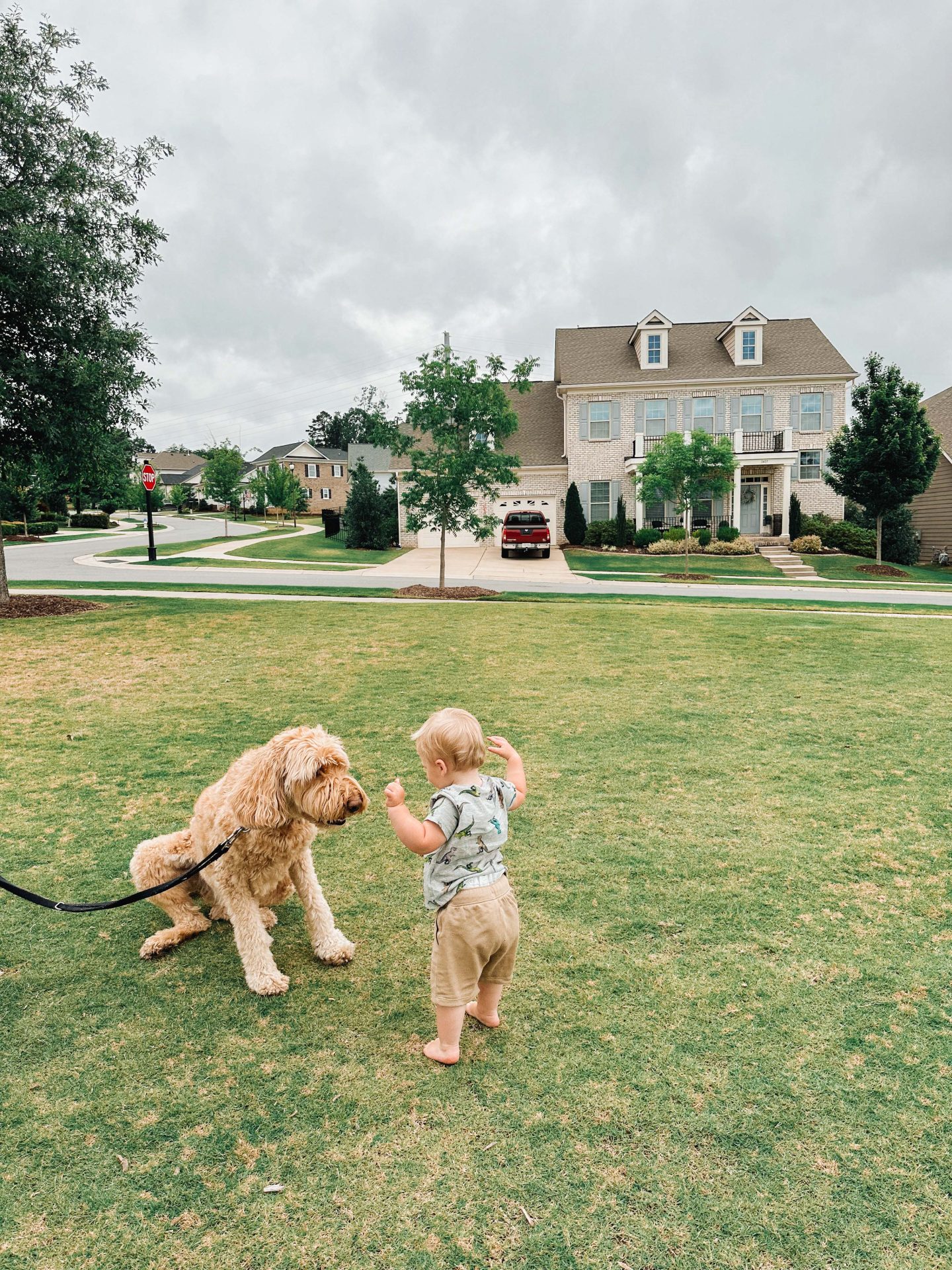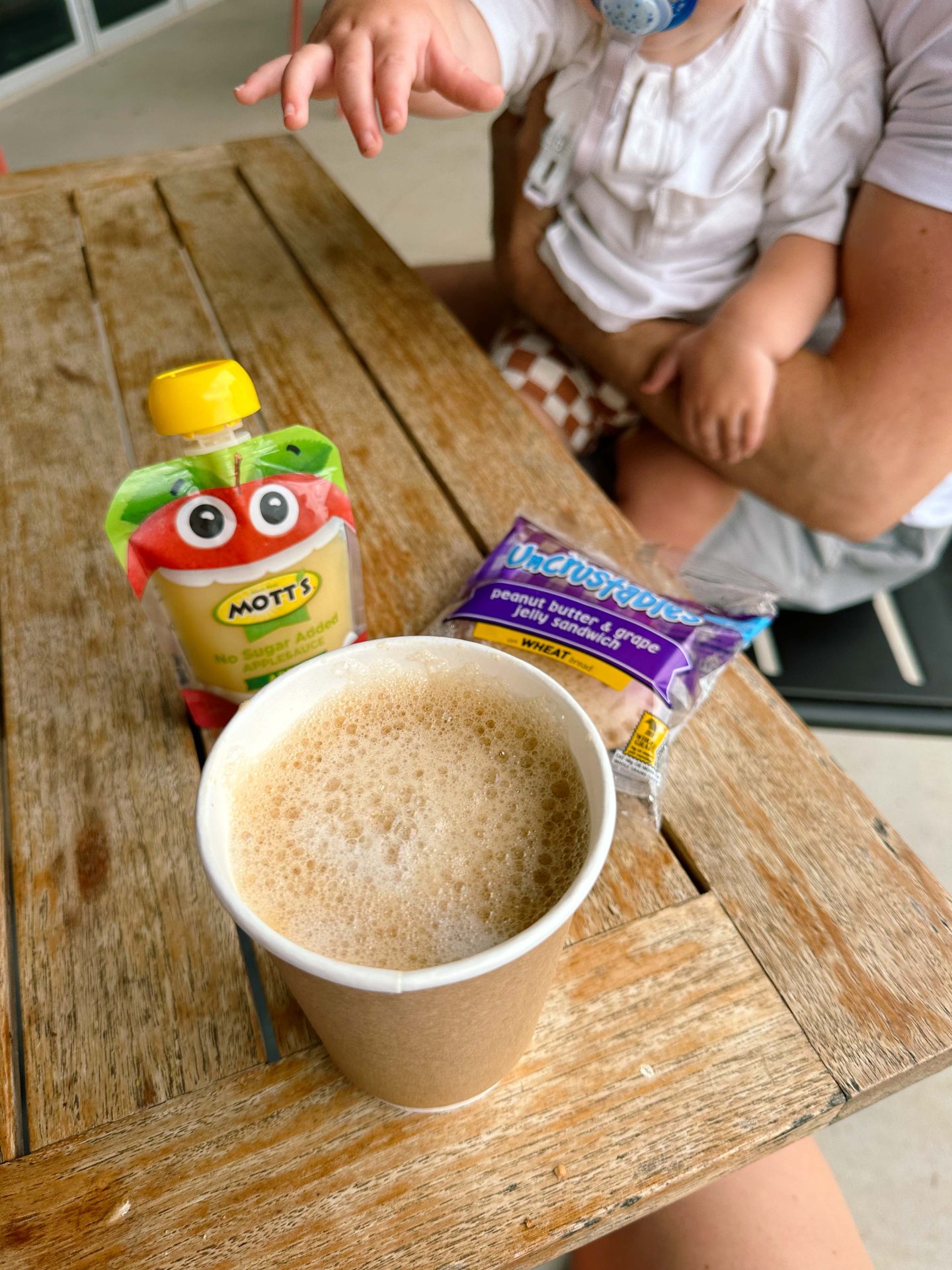 We jumped right back into our routine the following day. We did a morning walk and then stopped for coffee at the Greenway.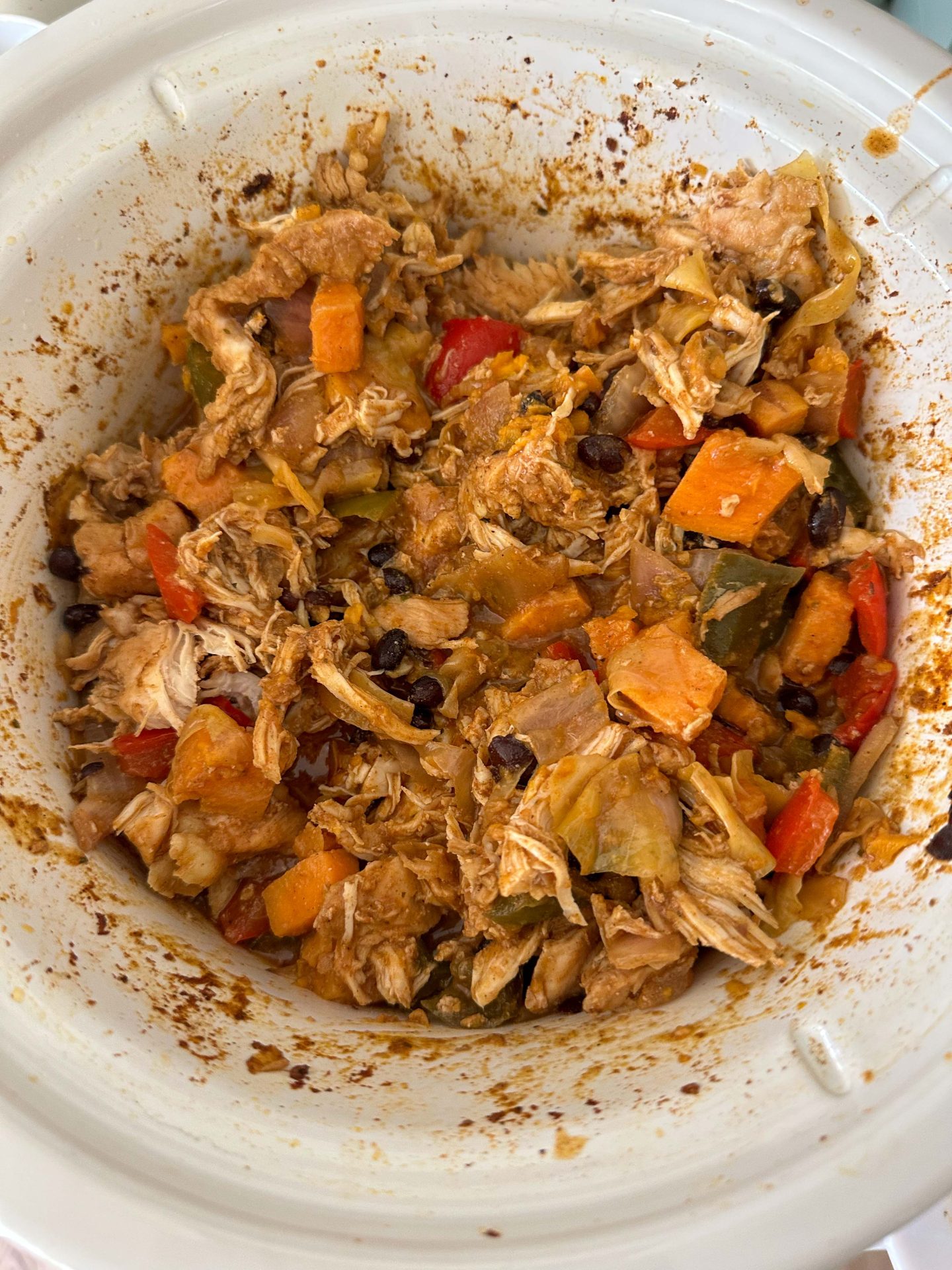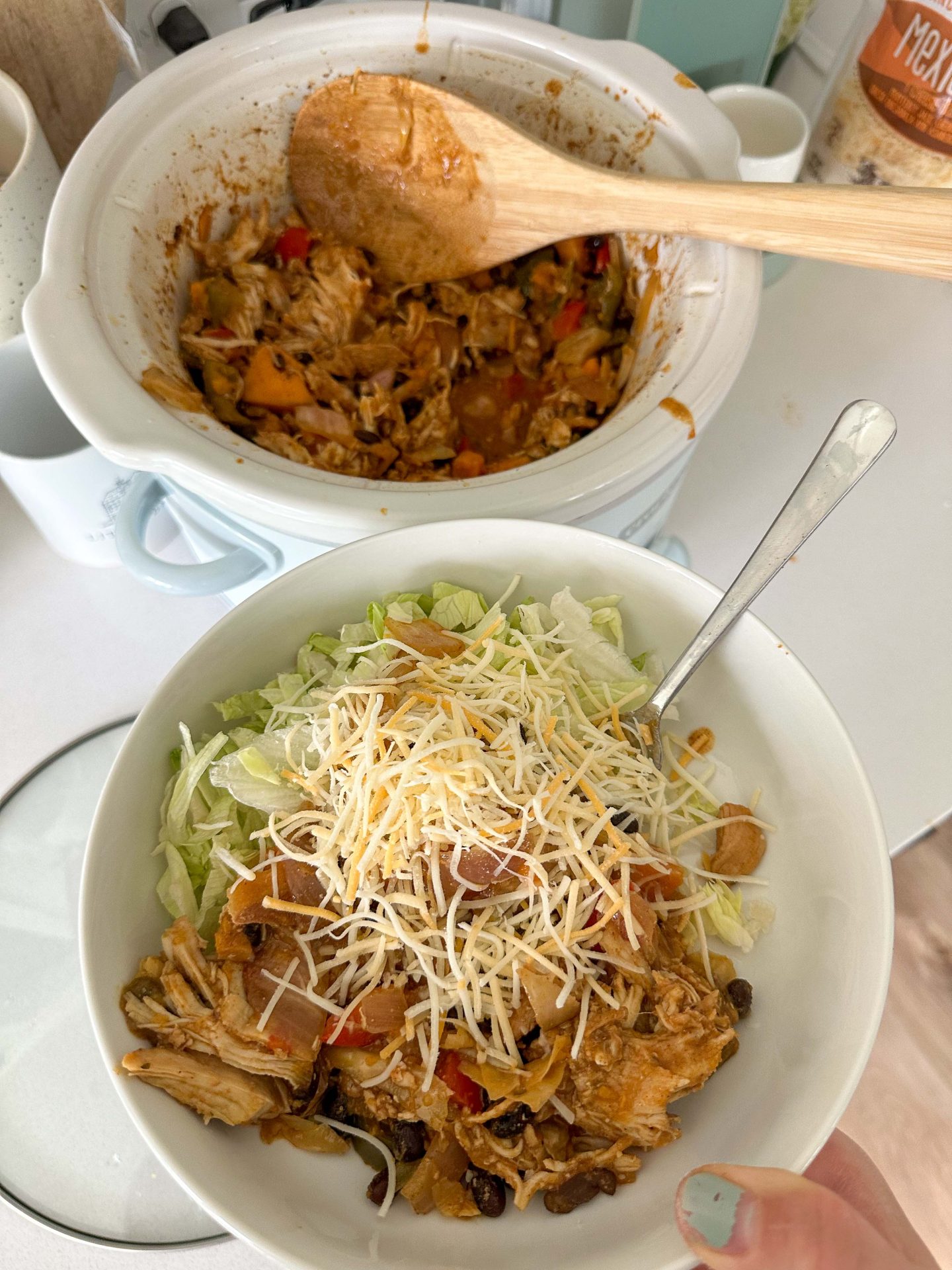 I made a delicious taco chicken dish in the crock pot for dinner. It's so good over salad with all of the taco toppings!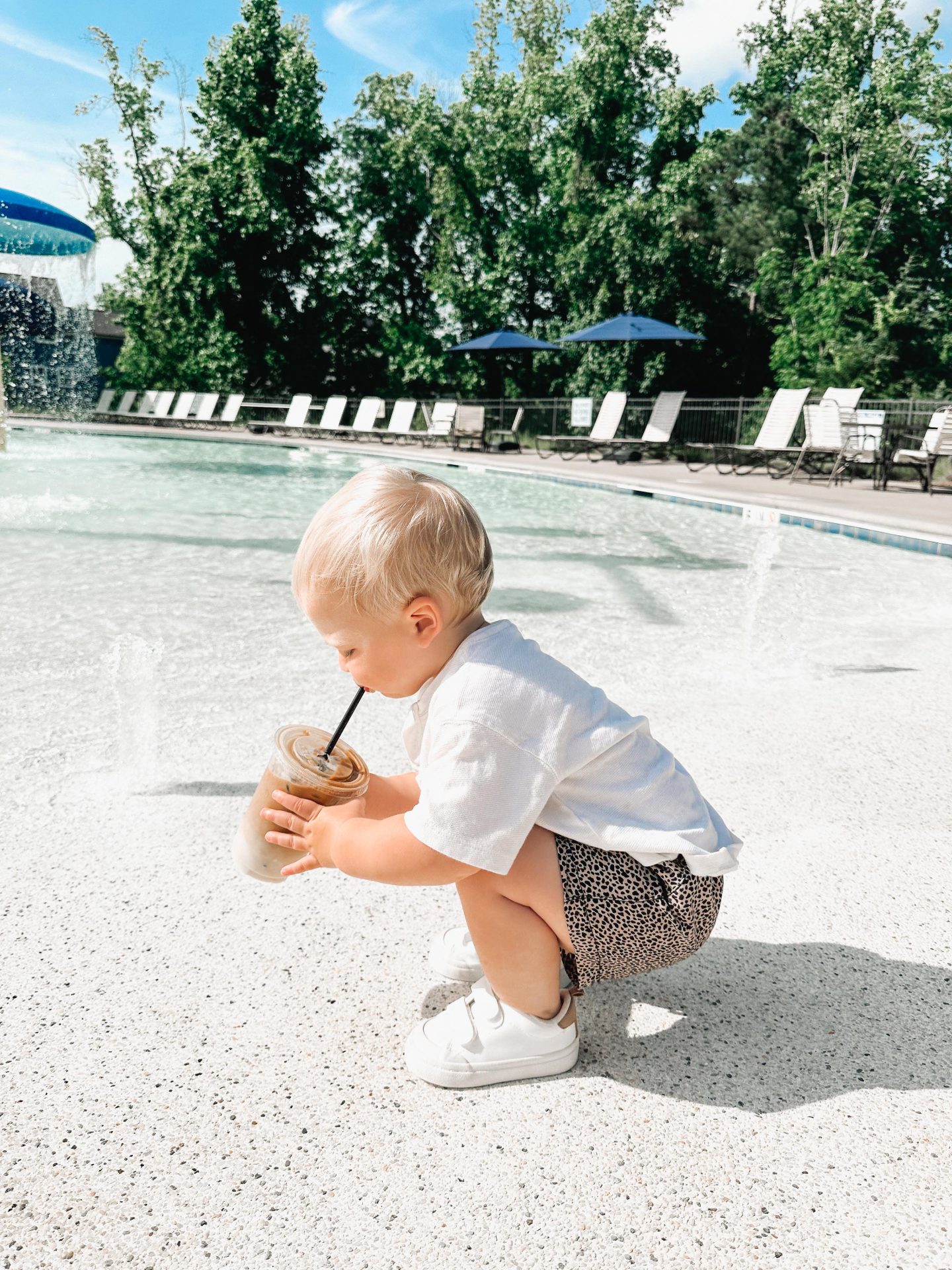 I had a pool and coffee date with Bugs the following morning. He tried to steal my oat milk latte from Humblecup, and that's when I knew he was 100 % my son. The blonde hair throws me off sometimes, but the love for my coffee makes it make sense.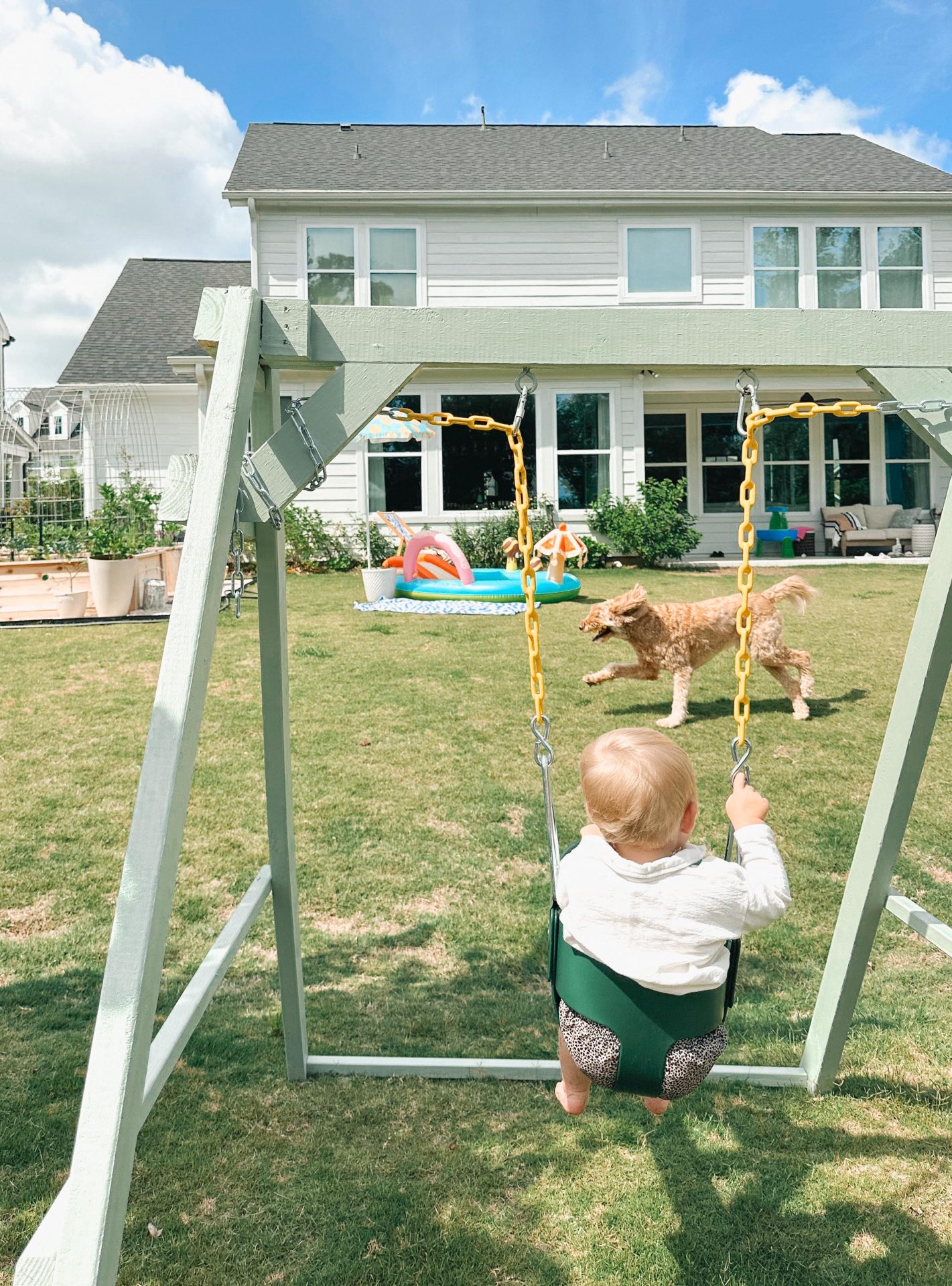 And when we got tired of the pool, we headed home to swing! Between 7 am and noon, it's a battle trying to find things to entertain him. He changes daily regarding interests, but he's happiest when he's not contained and can walk all over by himself. We plan to do a lot of park trips this week so he can get all his little energy out.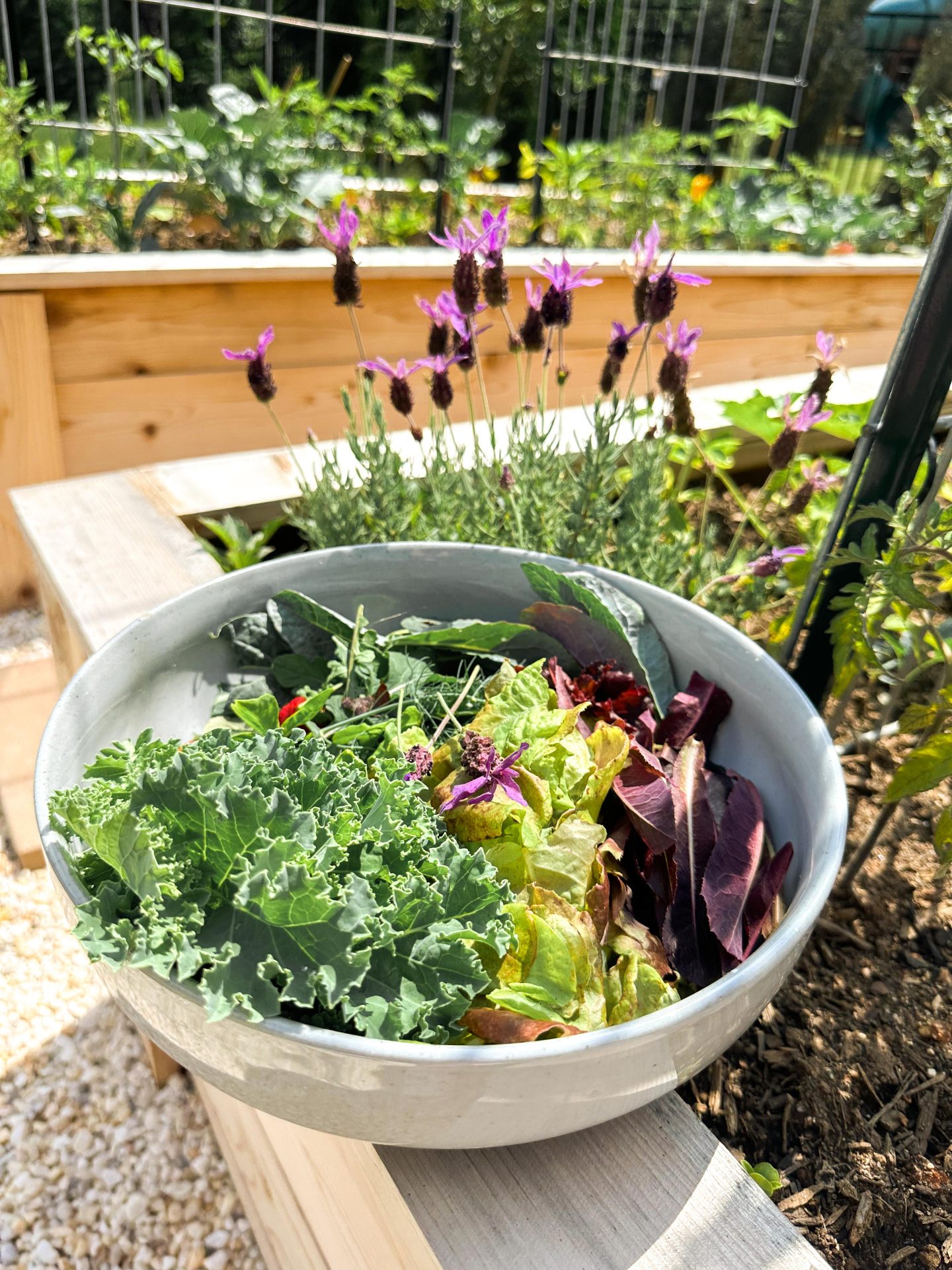 All the fresh salad from my garden!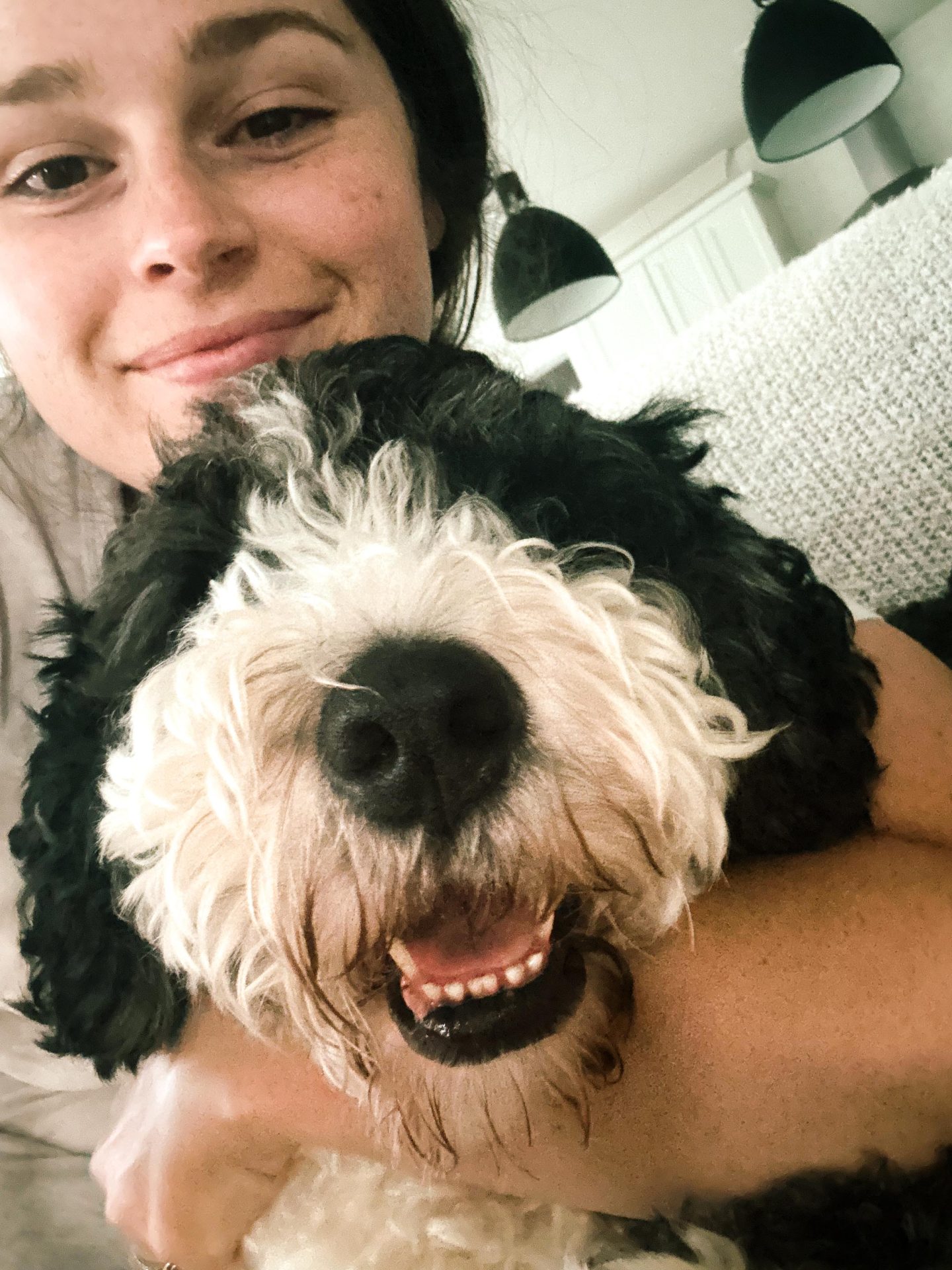 My happy boy!!!!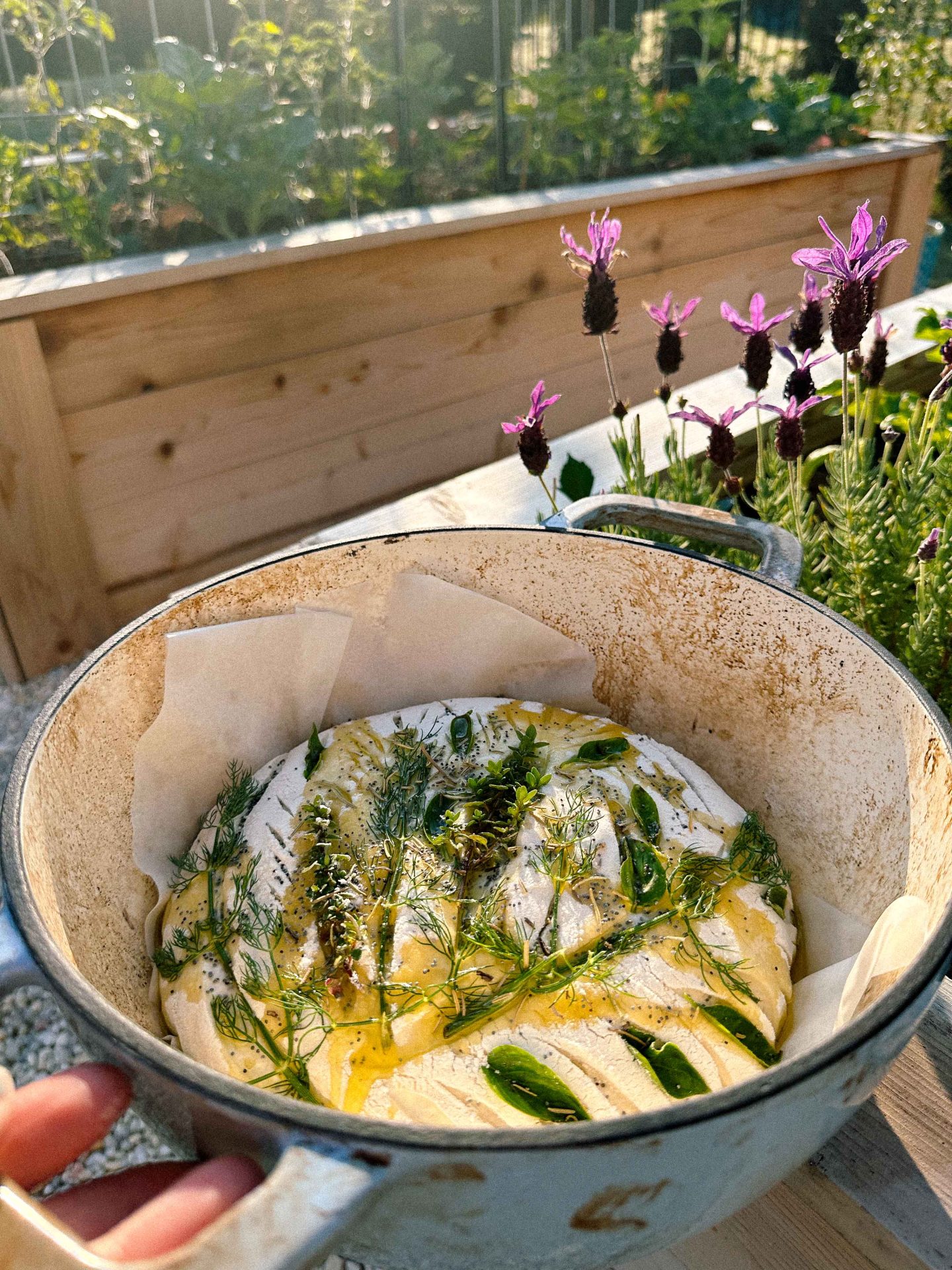 On Friday morning, I made a Tuscan sourdough bread with herbs from my garden and a Tuscan herb olive oil from Venice Olive Oil Company. This herb olive oil tastes like the Pizza Hut breadstick seasoning. It is amazing! I am going to use it for dressings, marinades, and breads!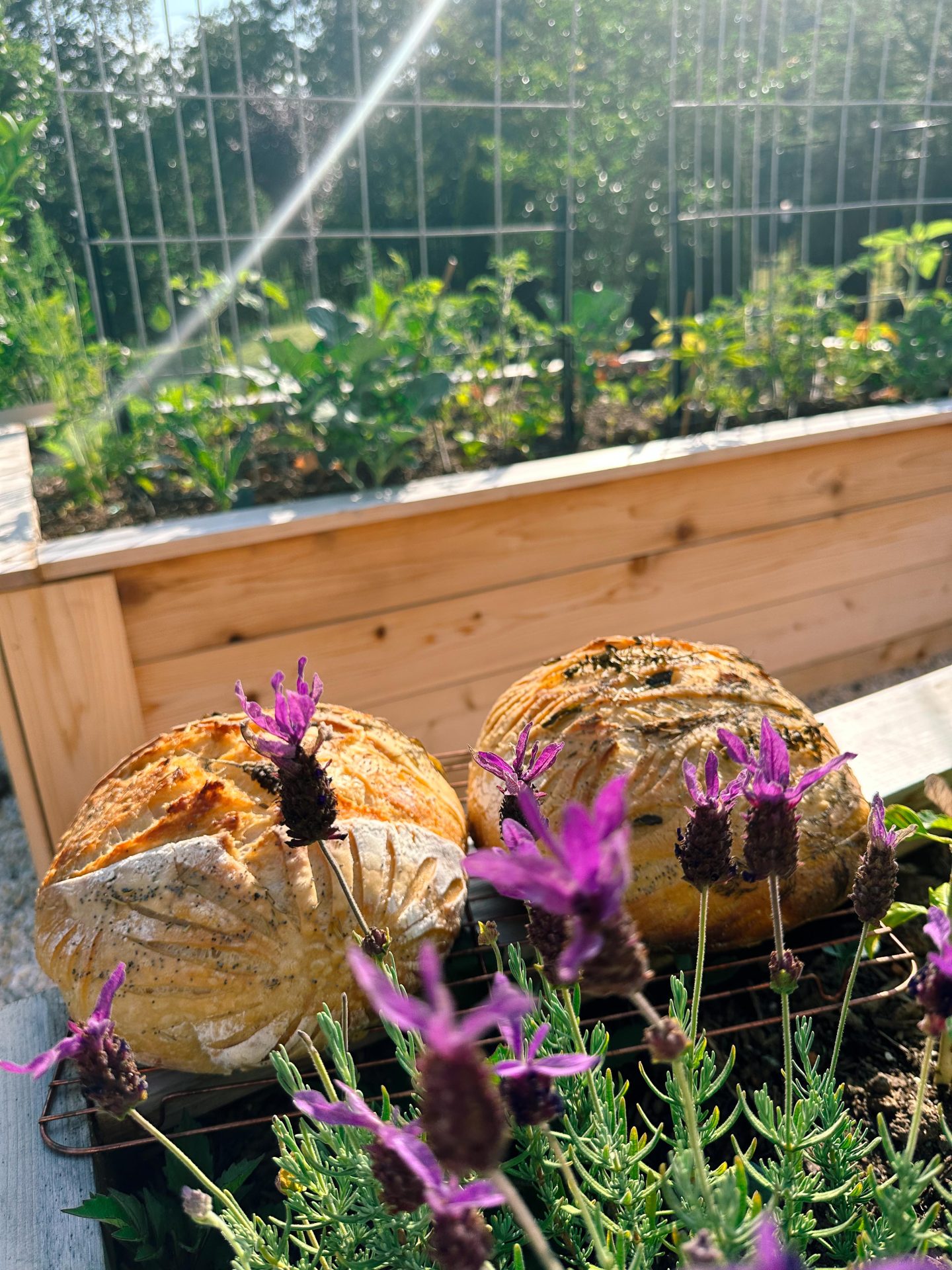 I made a loaf for our house and one for my parents!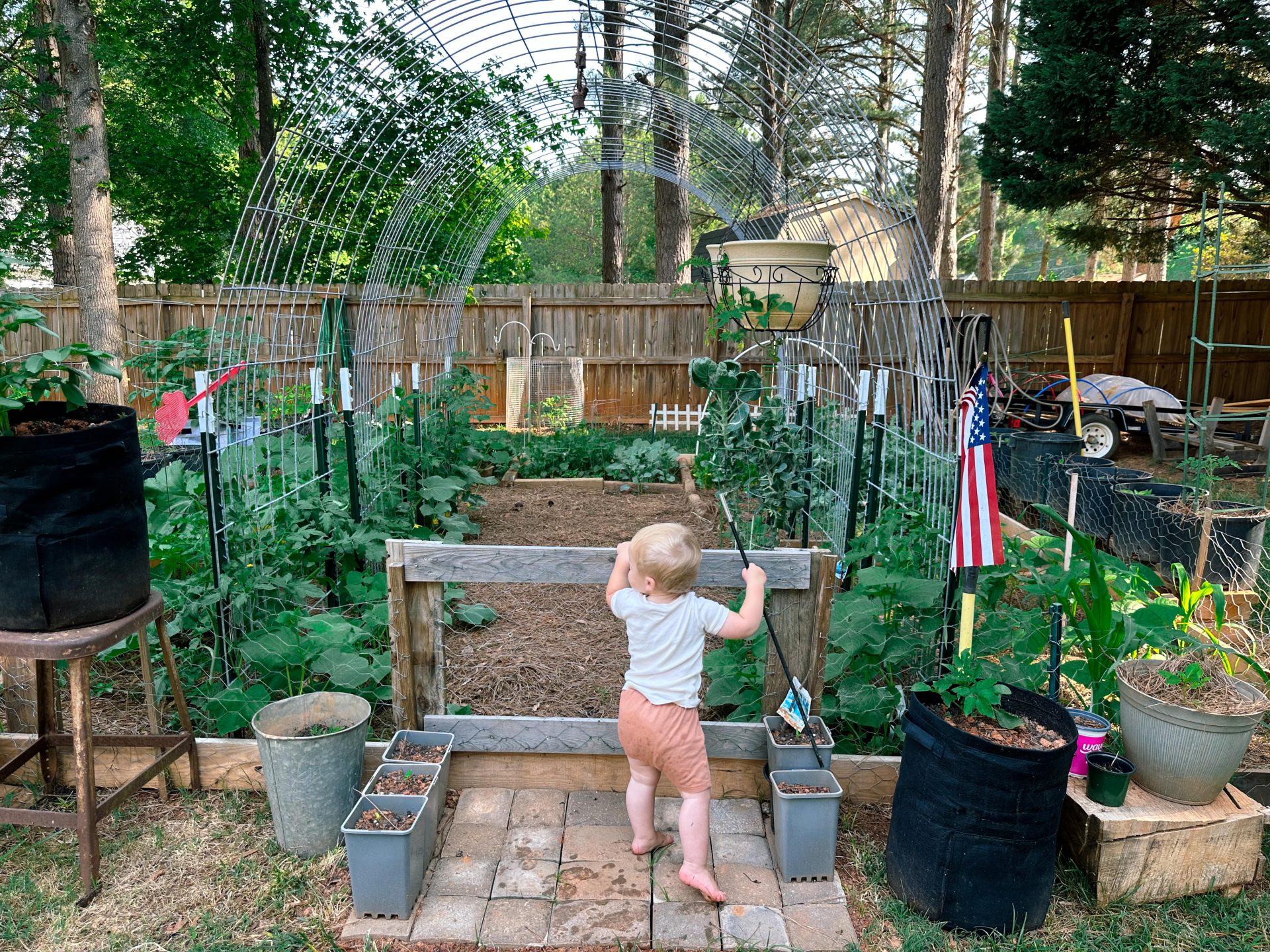 We visited my mom yesterday morning, and Buggy had so much fun exploring their massive garden!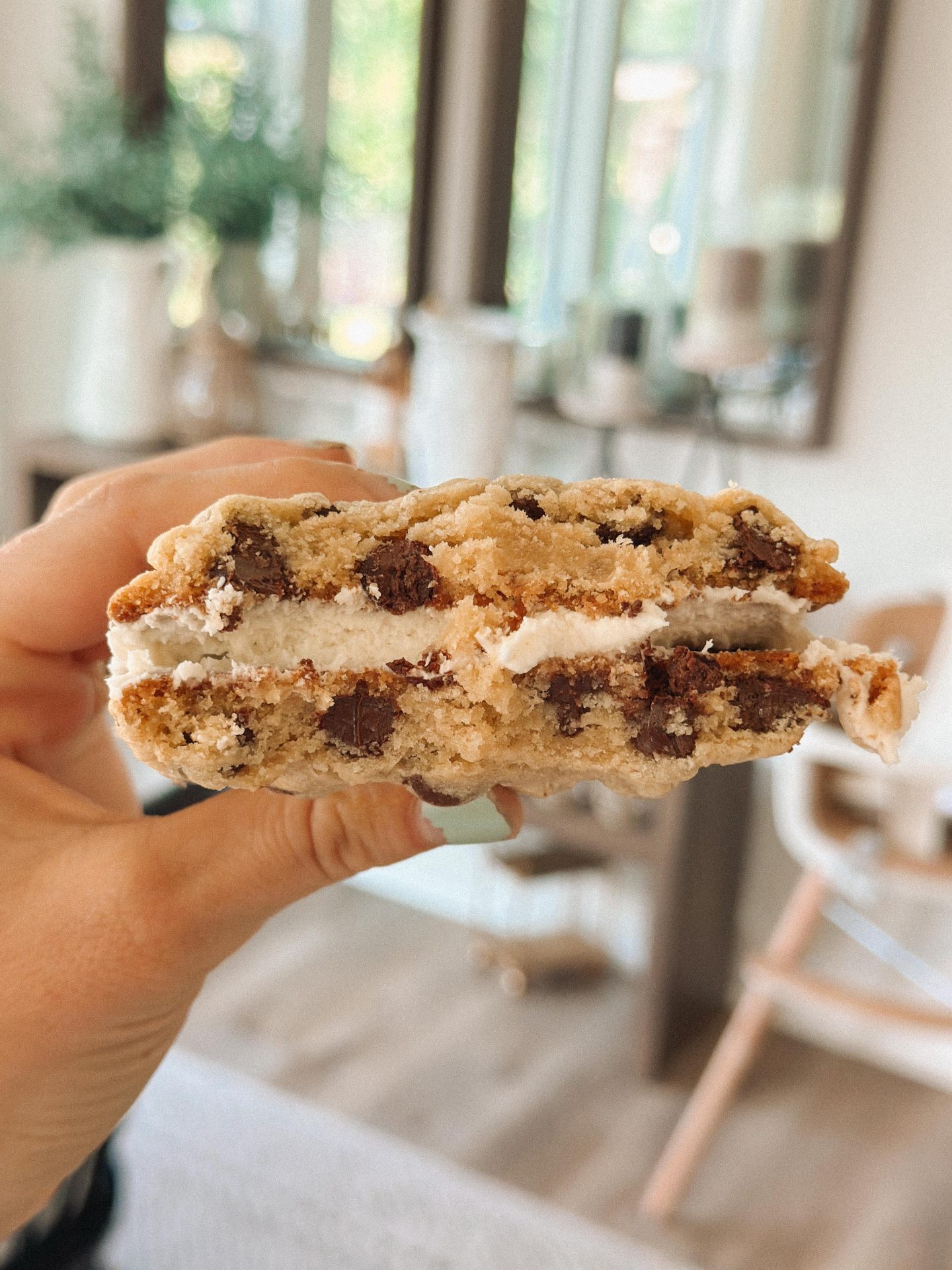 After Bug's bedtime, we dove into the homemade cookie sandwiches and watched an episode of Love & Death! 
I hope you all have the best weekend. Thanks for stopping by to catch up! This is a big week for me and my new business adventure, so stay tuned on social media & my TikTok! 🙂
Questions for you!
If you have kids, when did you first travel with them?
What are some fun things to do with a 13-month-old? 
What are some excellent crockpot recipes?