Can you believe my little bug is already one year old?! It feels like yesterday when I brought them home for the first time. Looking back on the past year, I can't believe how fast it went. People are not kidding when they say time flies when you're a parent.
But you know what? I'm so grateful for all the memories and experiences that my bug has brought into my life. Seeing him grow and learn has been one wild and fun journey. As much as it can be a little bittersweet watching him grow up so quickly, each new stage of growth brings its own set of joys and challenges. I'm excited to see what the future has in store for him. 
Sprouting to One First Birthday Theme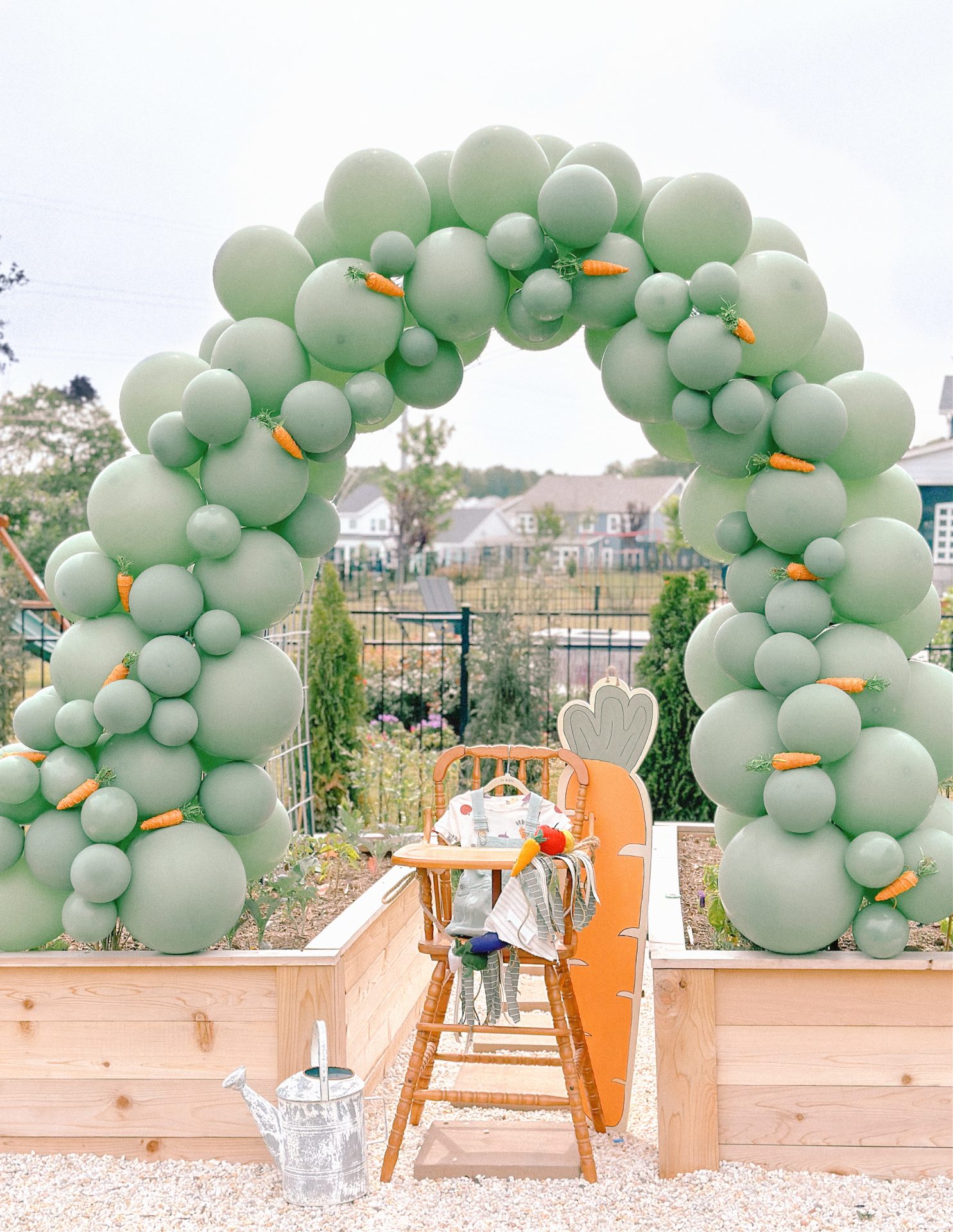 We celebrated Bug's first birthday last Friday with some friends and family! It was an absolute blast, and he had so much fun. I organized a quick and easy DIY party to celebrate him, "Sprouting to One." I thought it would be adorable to do a balloon arch on the trellis and dress him up in a veggie outfit. I wanted to go with the garden theme, and it's super fitting for spring.
To add to the theme, my friend let me borrow her vintage highchair for some adorable photo ops, which turned out precious. I crafted a cute high chair garland out of material and felt veggies, and to top it off, I found this huge wooden carrot on sale for only $7 at Michaels in the Easter section. I flipped it around and painted it to match the theme perfectly. I know he won't remember much of his first birthday, so I wanted to keep everything inexpensive.
Since we did the balloons early in the morning, they kept popping all day. I think I'll splurge for a professional next time! But they did the trick and looked cute.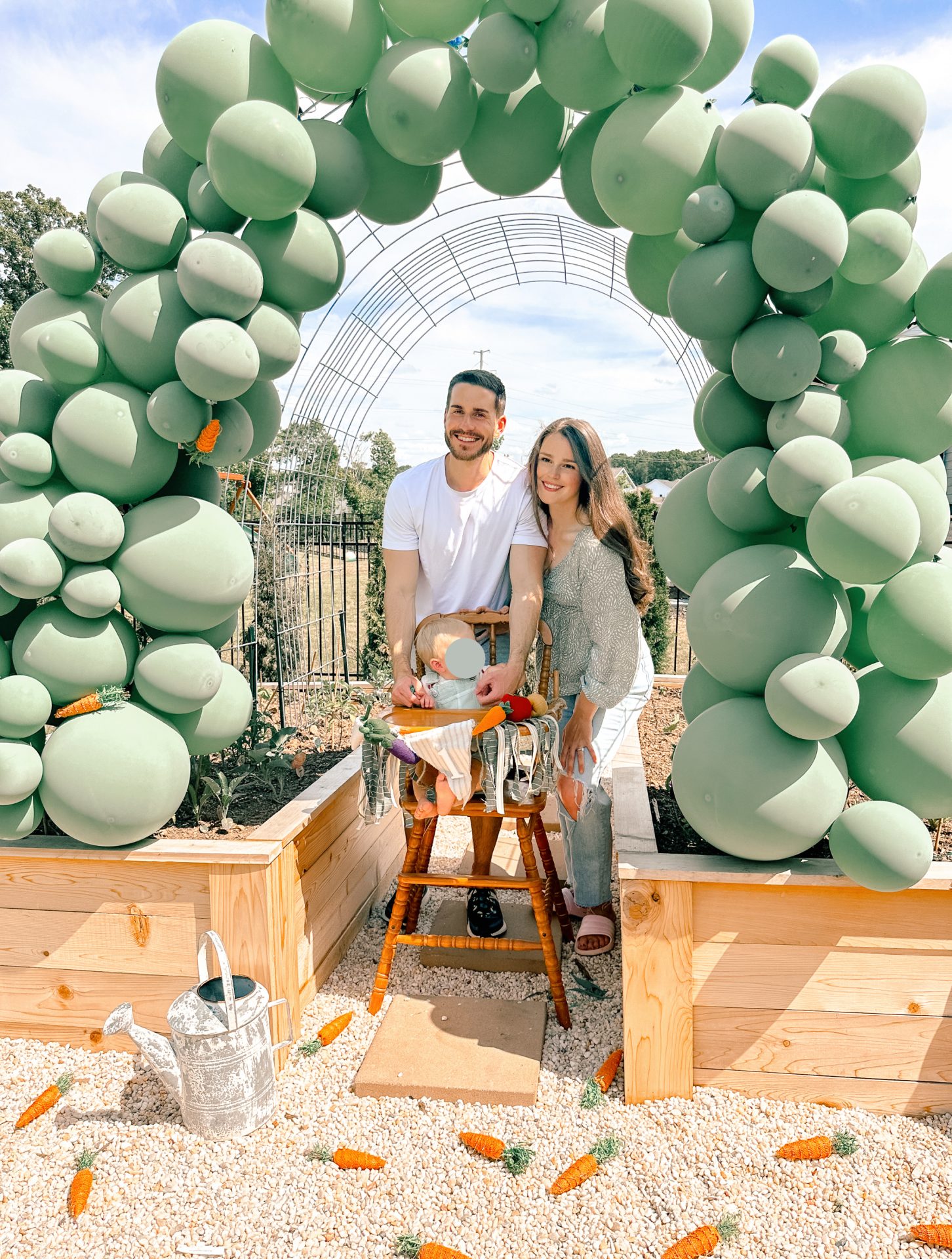 He woke up from his nap 30 minutes before the party. He is always hungry when he wakes up, so I had a feeling he'd be going straight for the cake.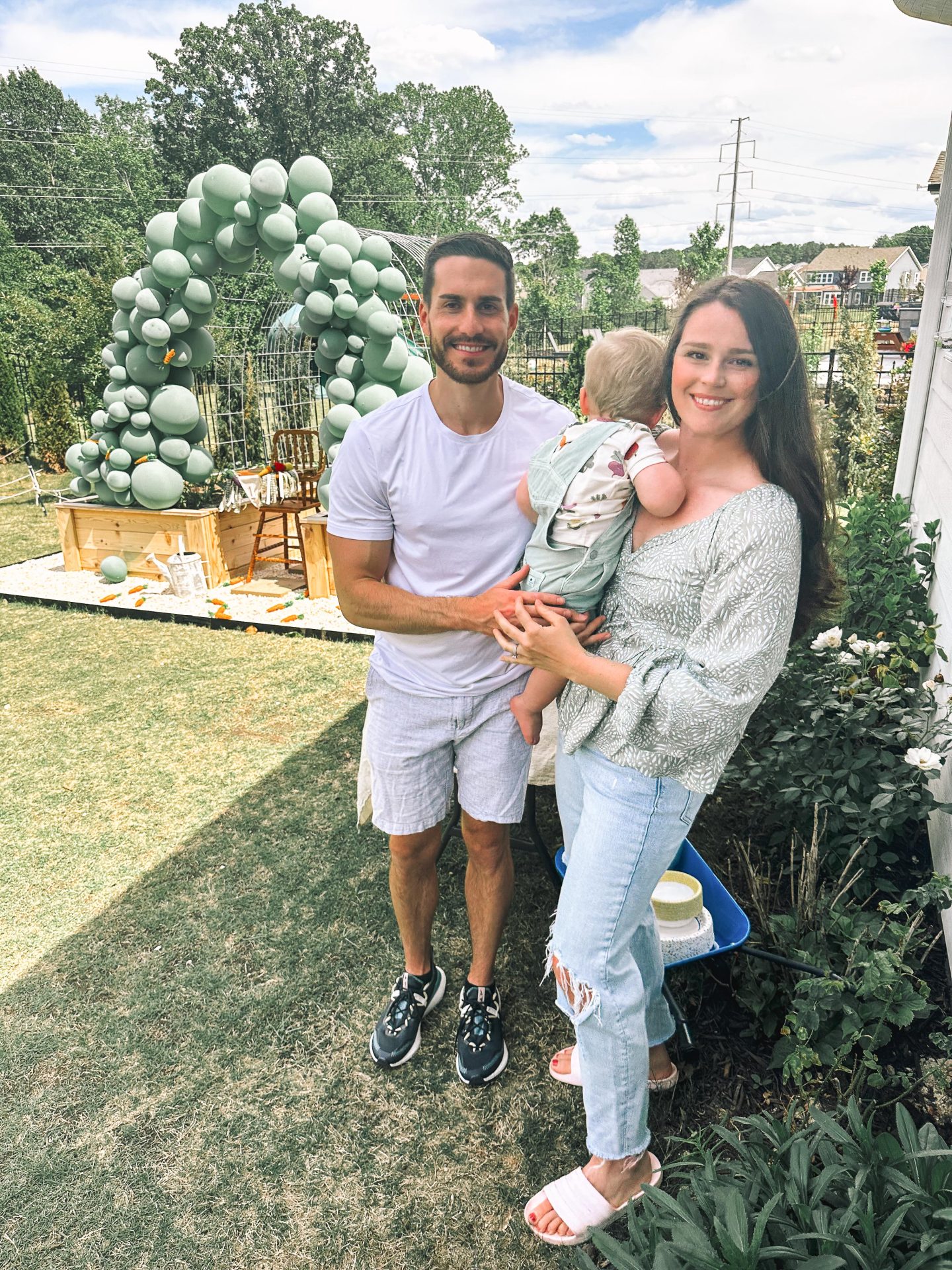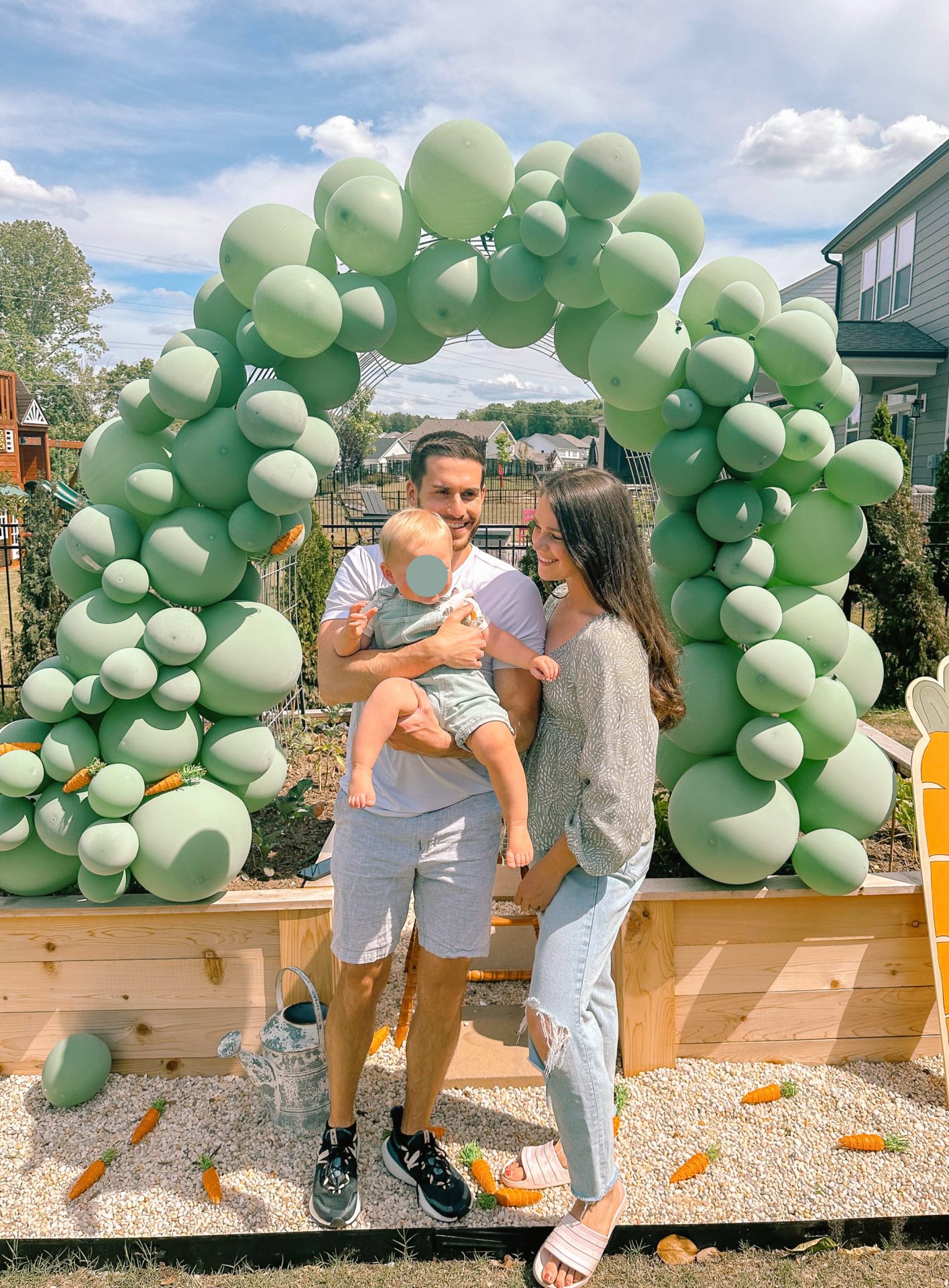 I had been going in and out of the house to get all the food ready before guests came over, so I forgot to change out of my house slippers. His little overalls are from Zara, and his shirt is from Old Navy. Anytime I see a garden-themed outfit, I have to get it for him.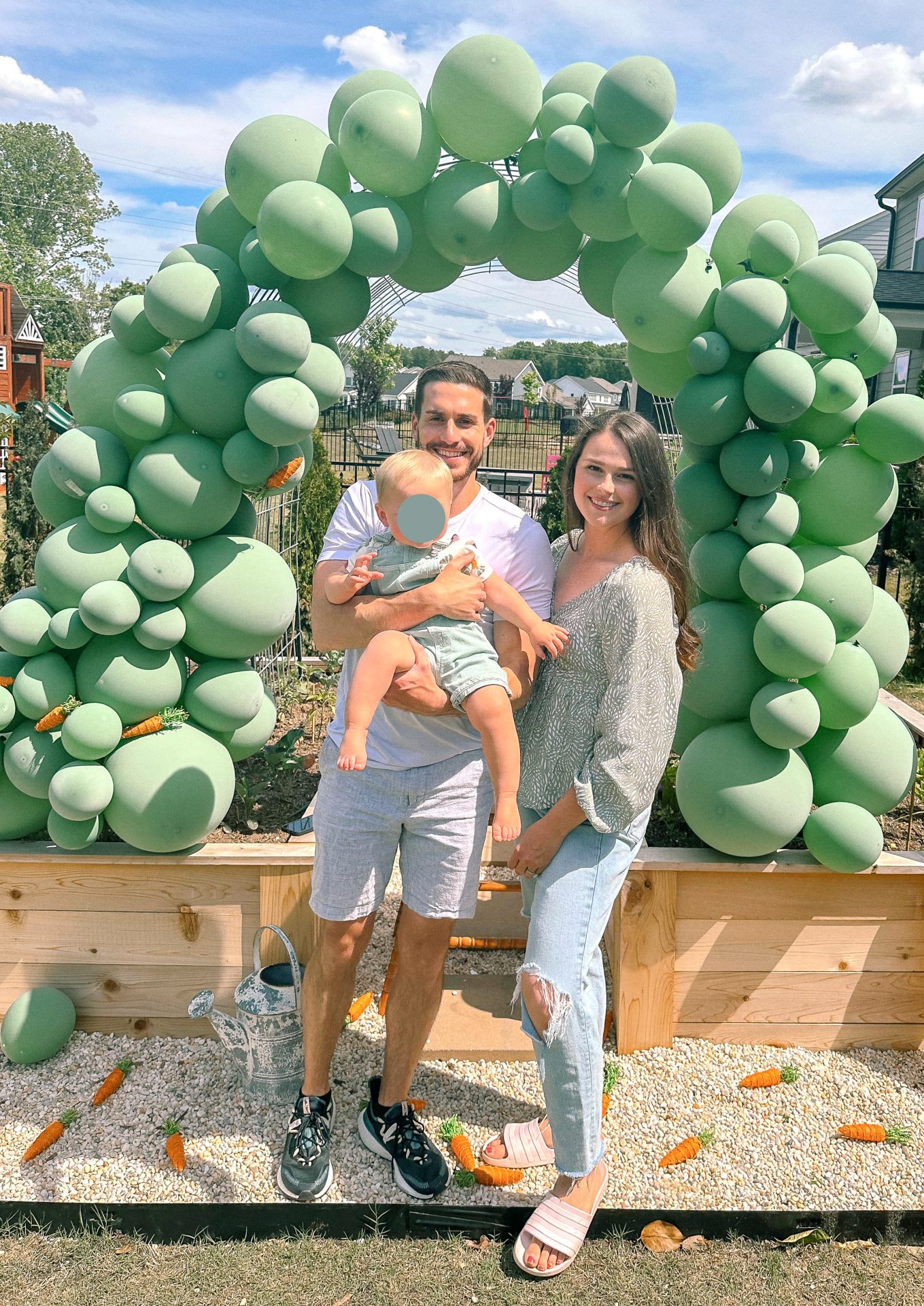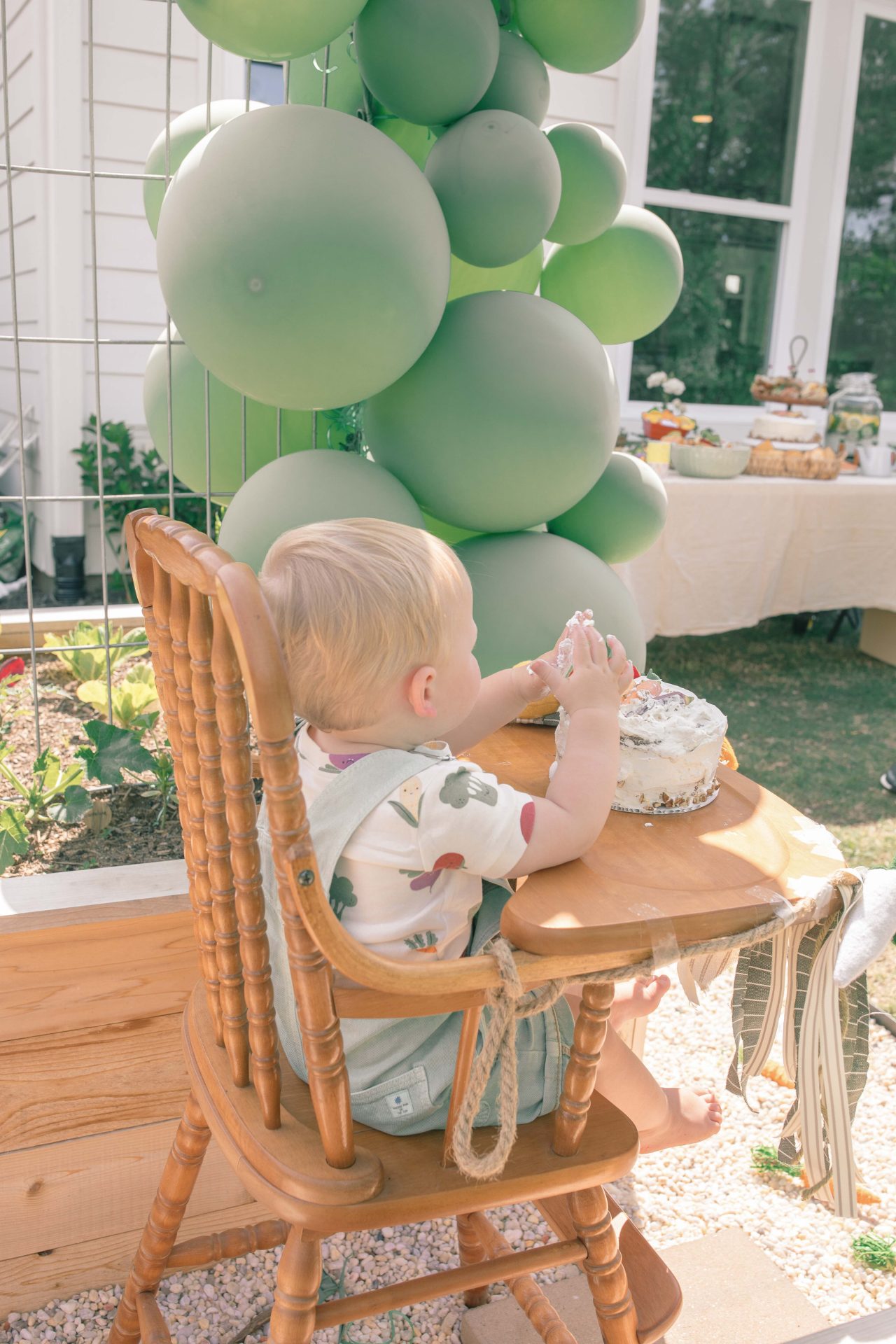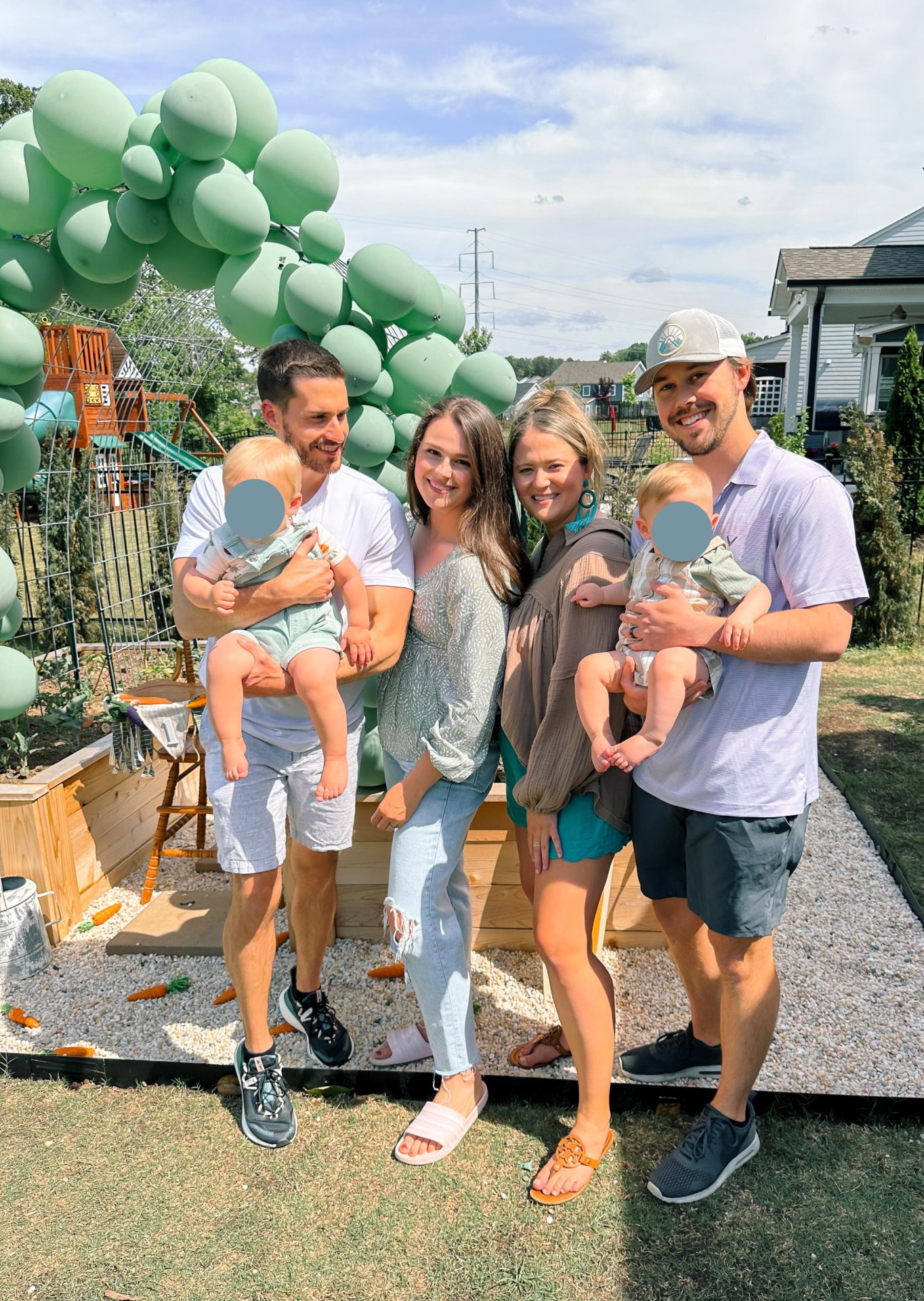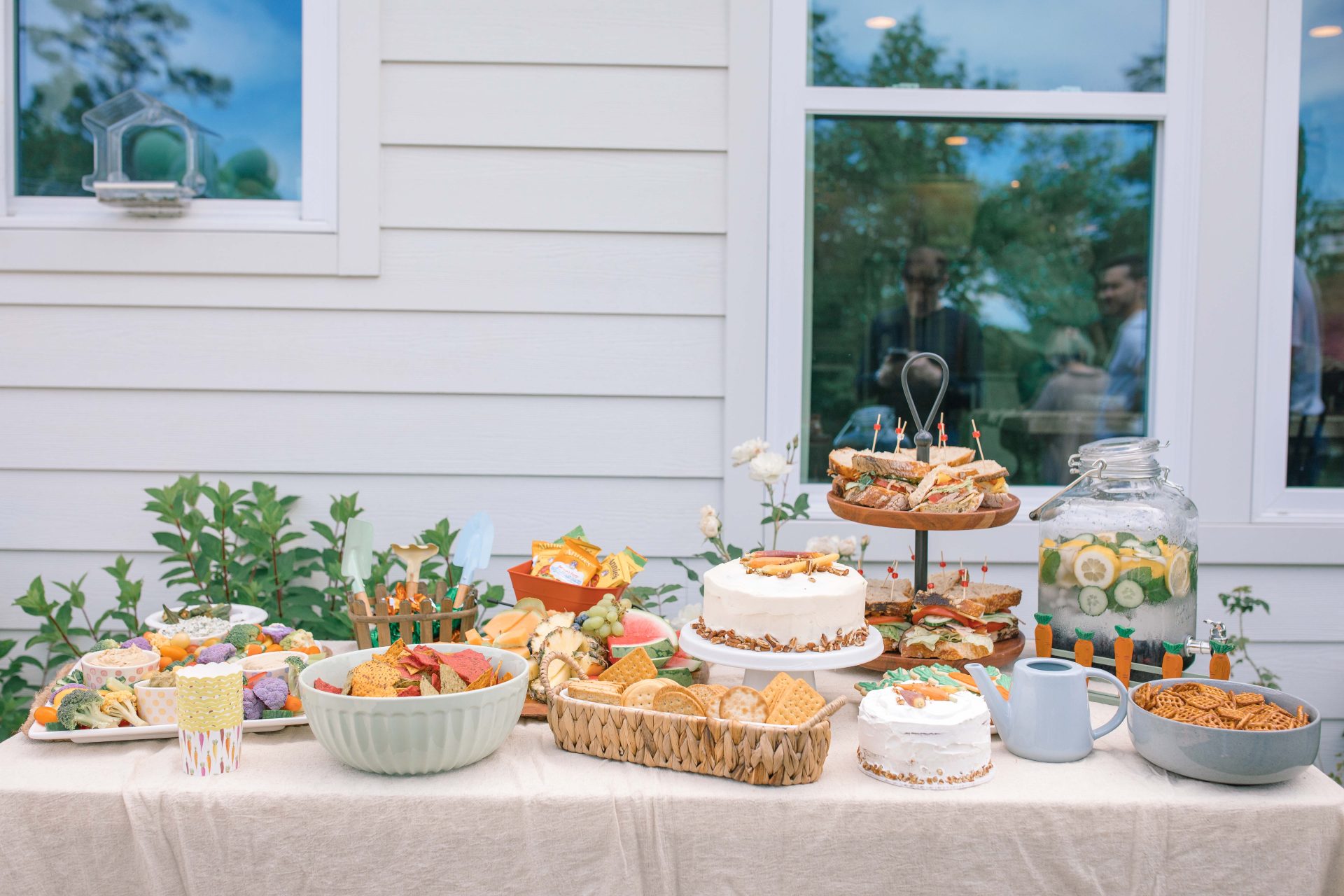 I put together a table of food for my friends and neighbors.
The SPROUTING TO ONE menu!
Vegetable tray with hummus, garlic hummus, and avocado.
Colorful Bean Chips with Salsa
Crackers
Fruit Platter
Fruit Snacks
Carrot Cake
Baby Smash Cake
Lemon Mint Blackberry Cucumber Water
Turkey Bacon Club Sandwiches on Homemade Sourdough Bread
Iced Carrot Sugar Cookies!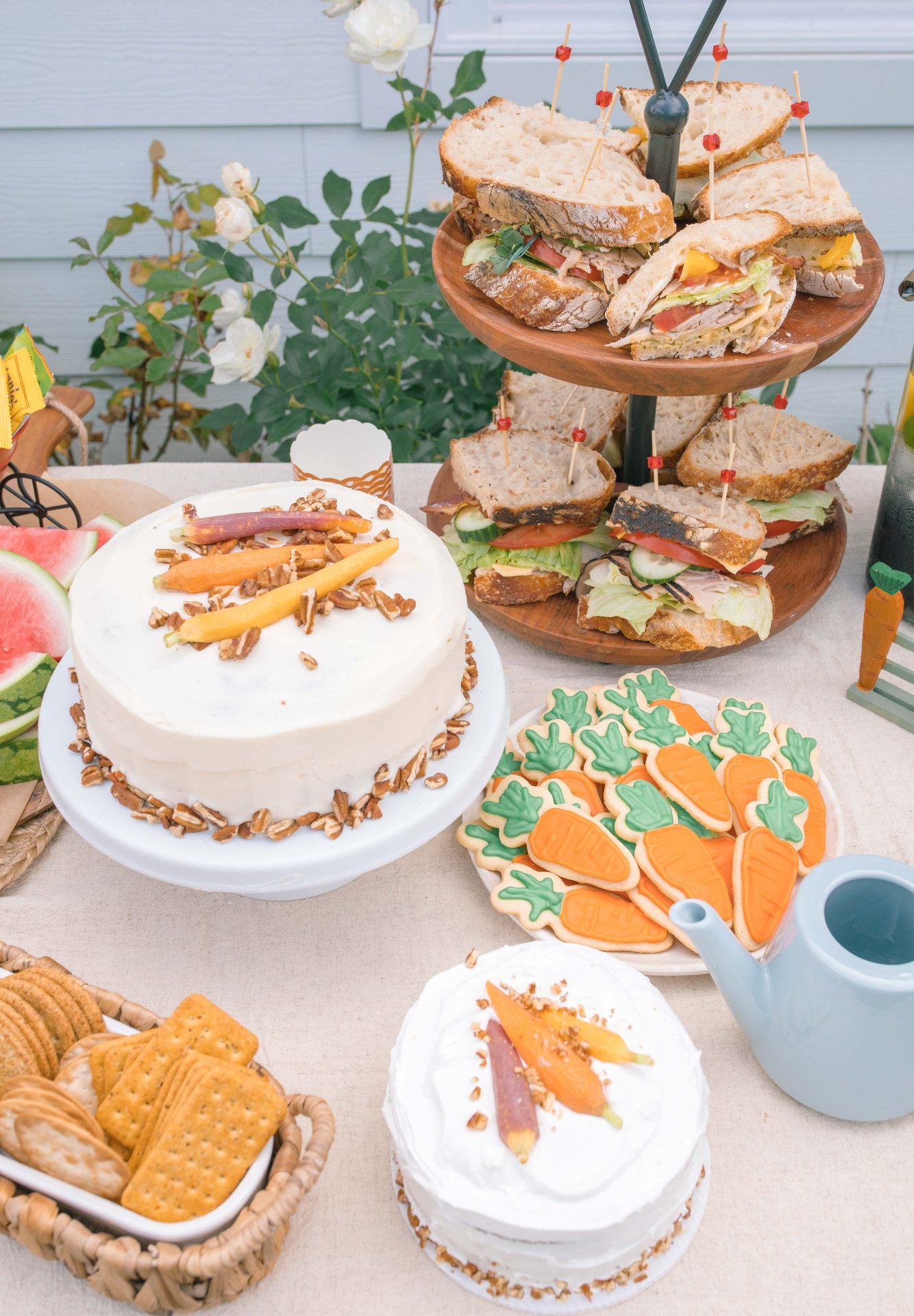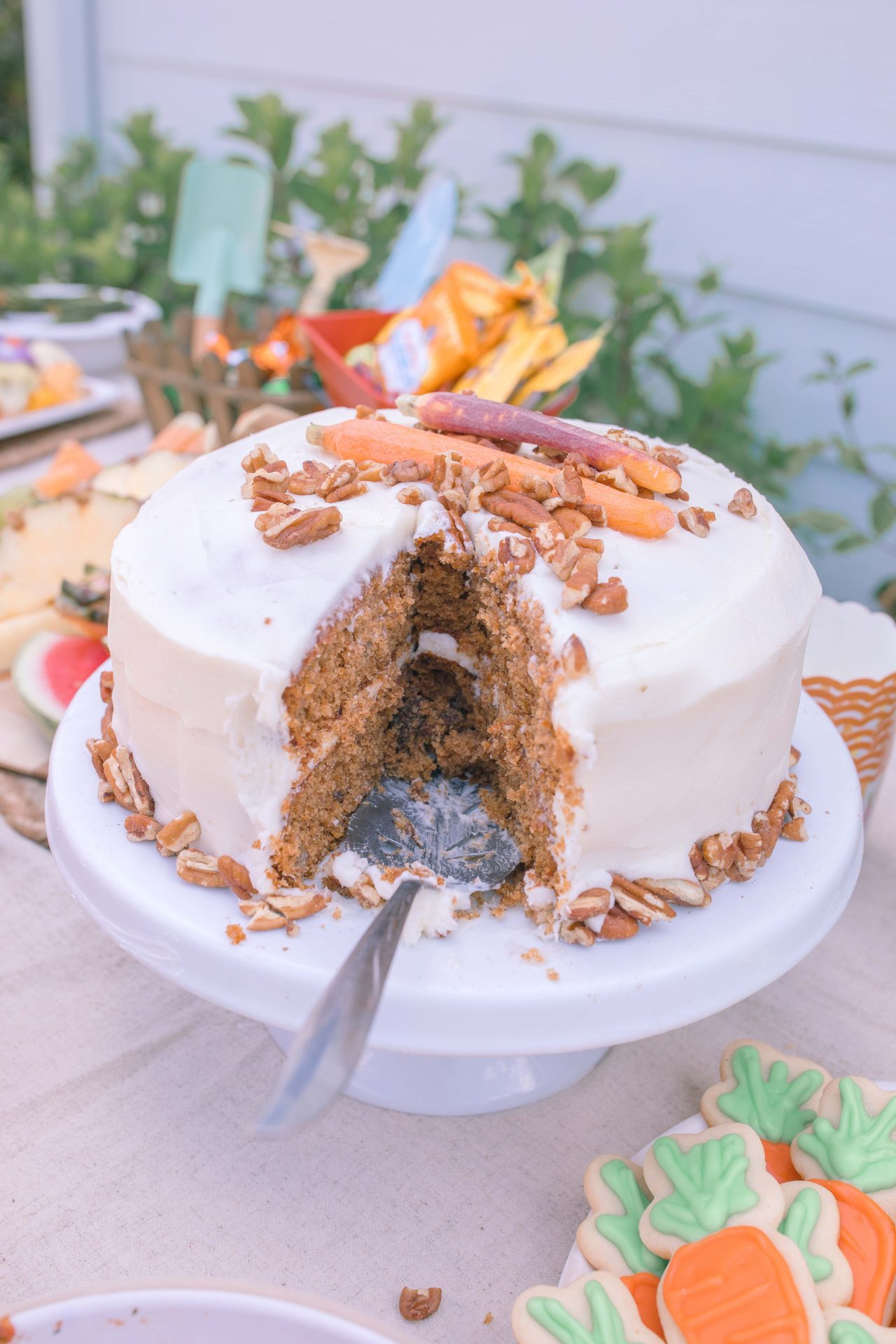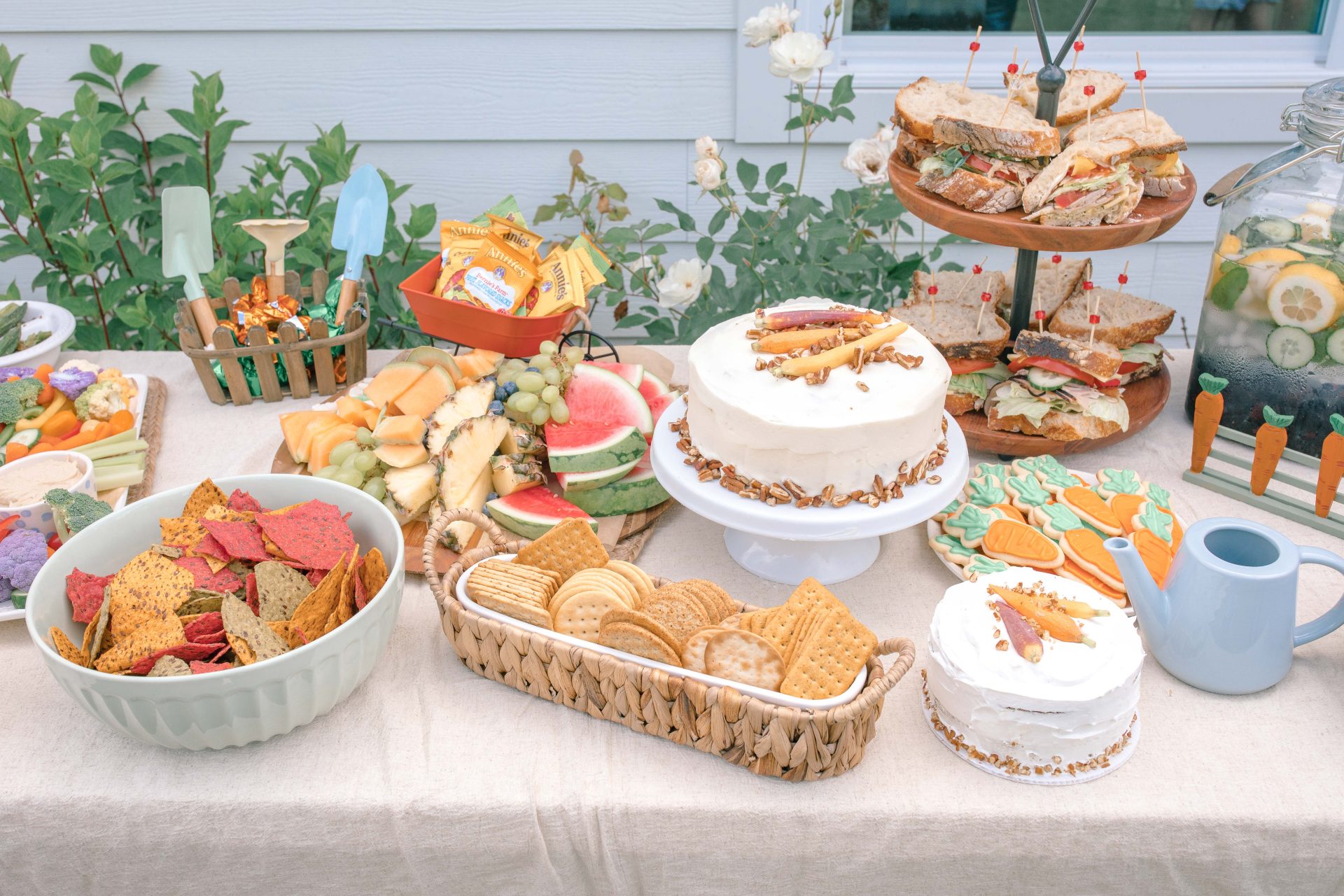 I did some baking and preparation for the party the night before, including making the cookies, cakes, and sourdough dough. I made a healthier option for the smash cake recipe using bananas, carrots, oats, almond flour, coconut oil, peanut butter, cinnamon, and eggs. I topped it off with a frosting of coconut whipped cream and plain organic cream cheese. If you're interested, I can even write a recipe blog for it! I will share my carrot cake recipe soon because it was to die for.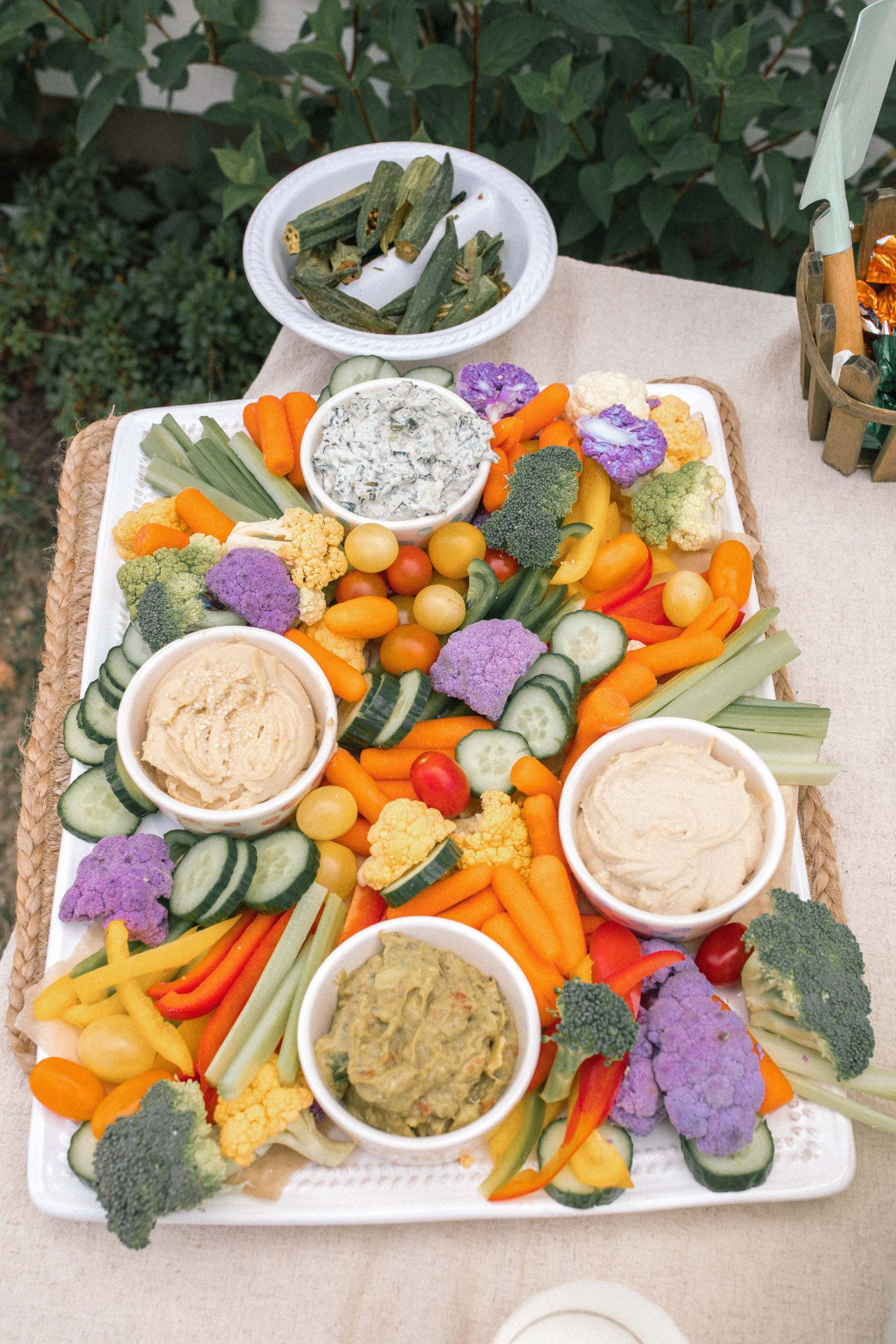 I love that Trader Joe's has colorful veggies! It made the platter so pretty and colorful.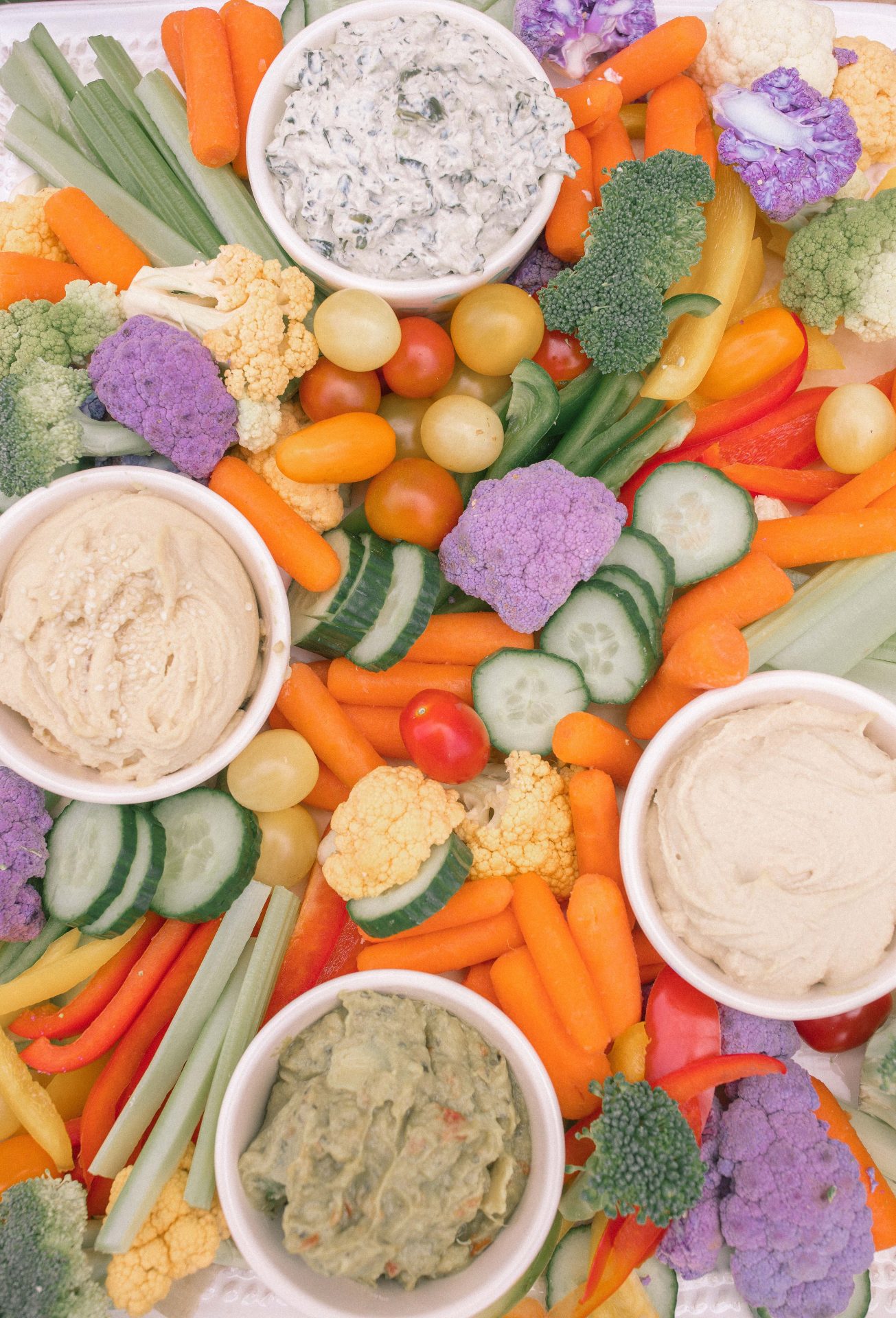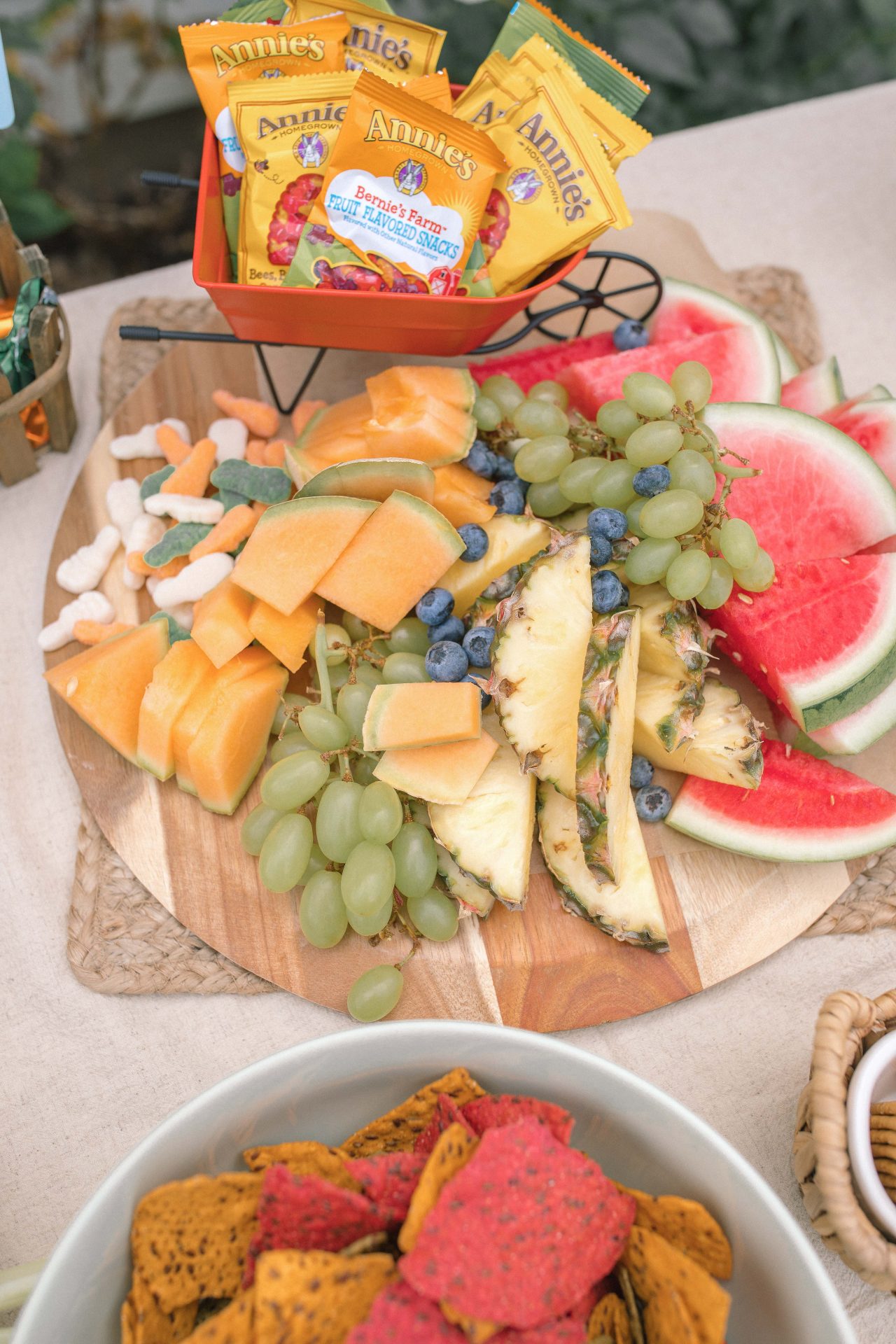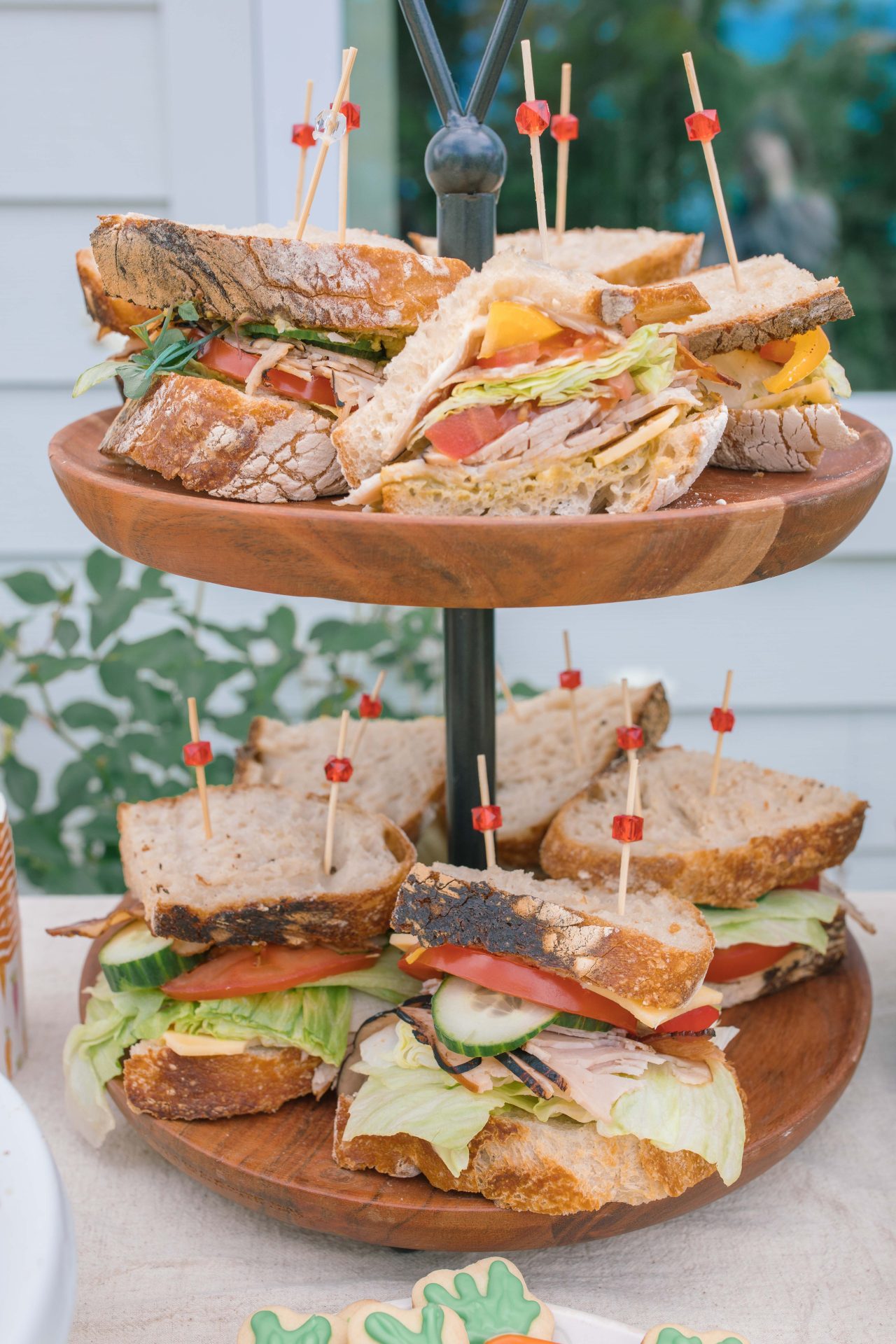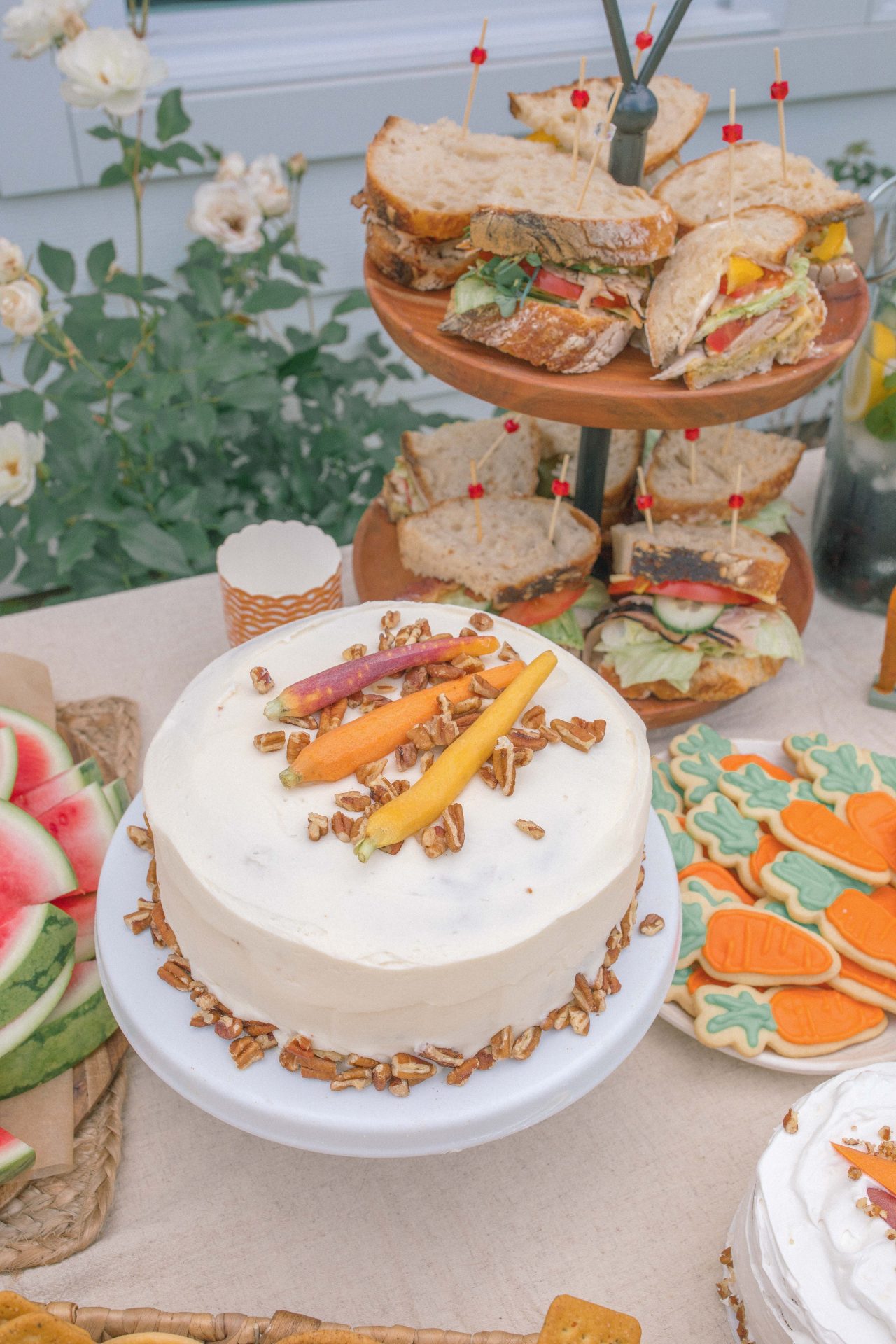 The sandwiches were made with my freshly baked sourdough bread, cucumber, lettuce, tomatoes, bell peppers, red onion, white cheddar cheese, bacon, maple turkey, mayonnaise, and guacamole.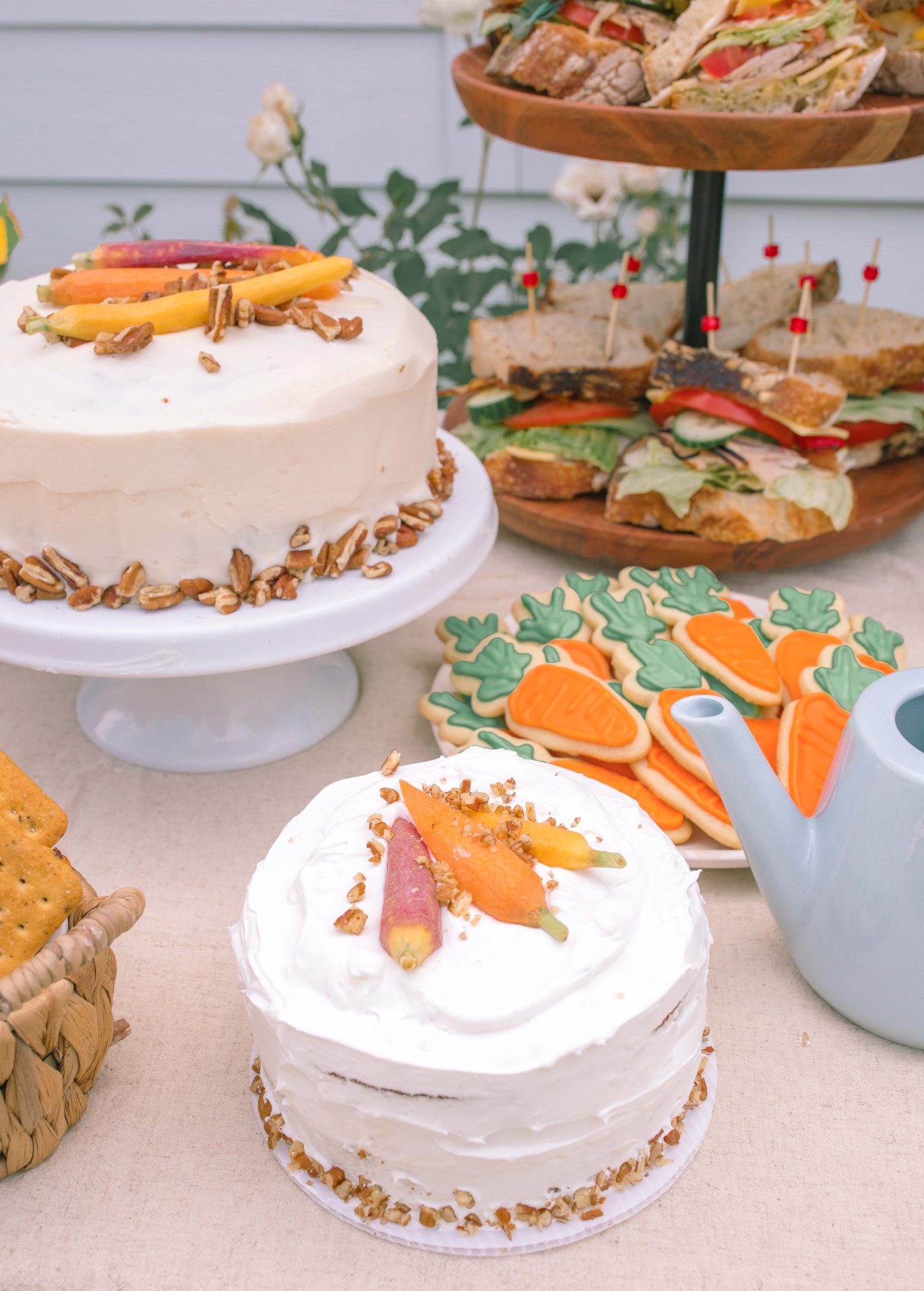 I loved that the little smash cake was a replica of the big cake. I used the colorful carrots from Trader Joe's to decorate the top and added some chopped pecans to the bottom.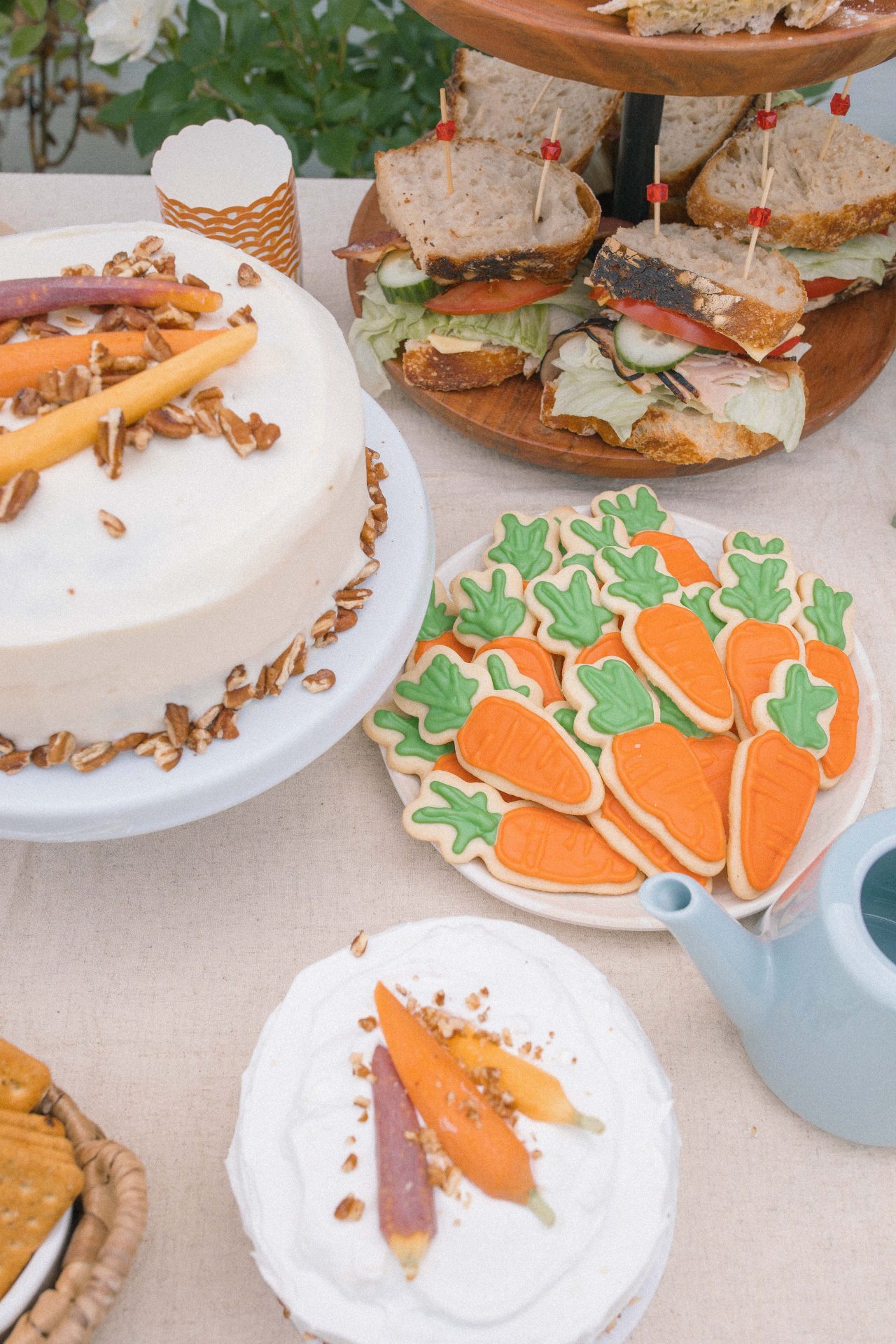 The little carrot cookies turned out pretty cute! Those were easy to make the night before. I found that cookie cutter for fifty cents at Michaels in the Eater section.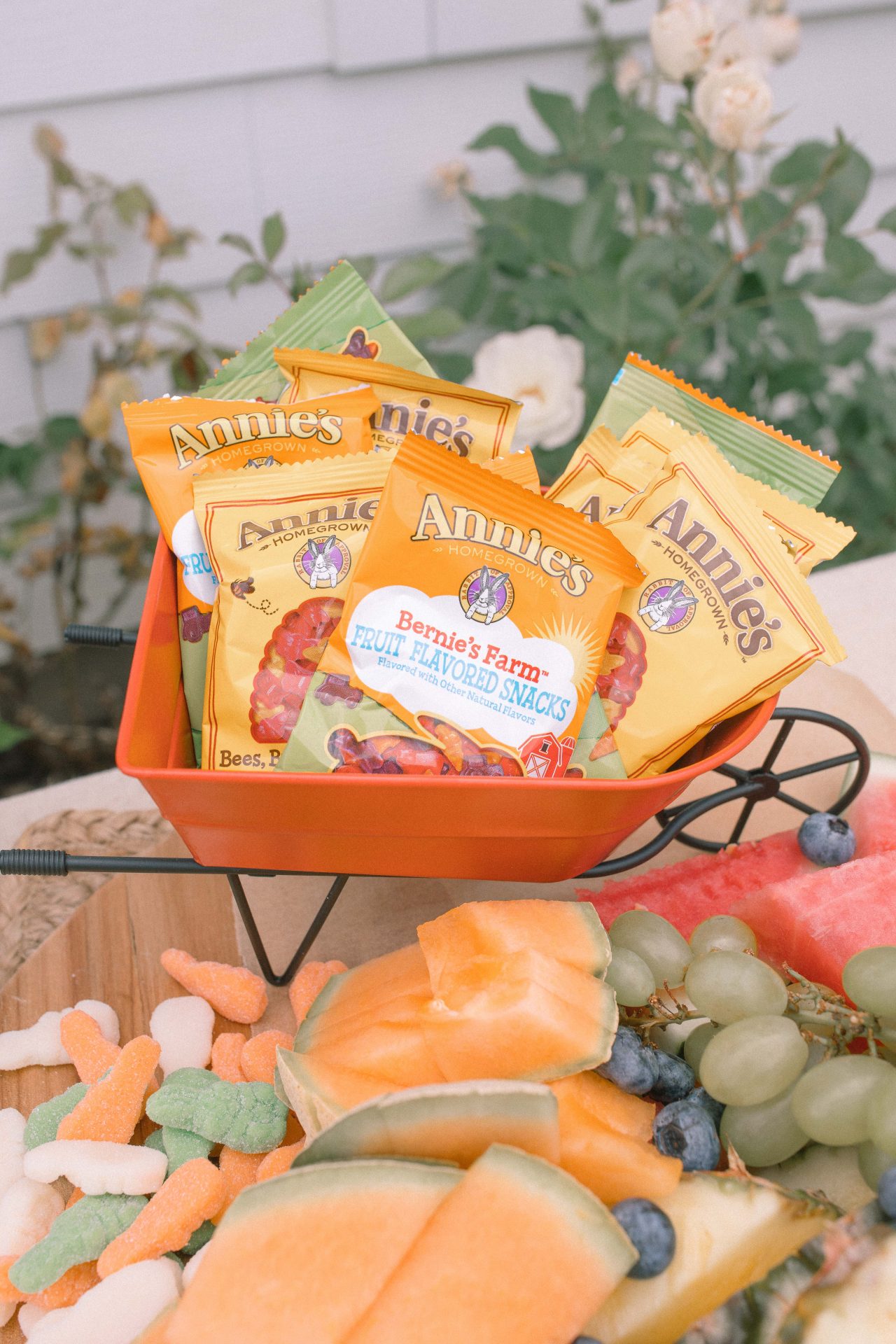 No one can convince me that Annie's doesn't make the BEST fruit snacks.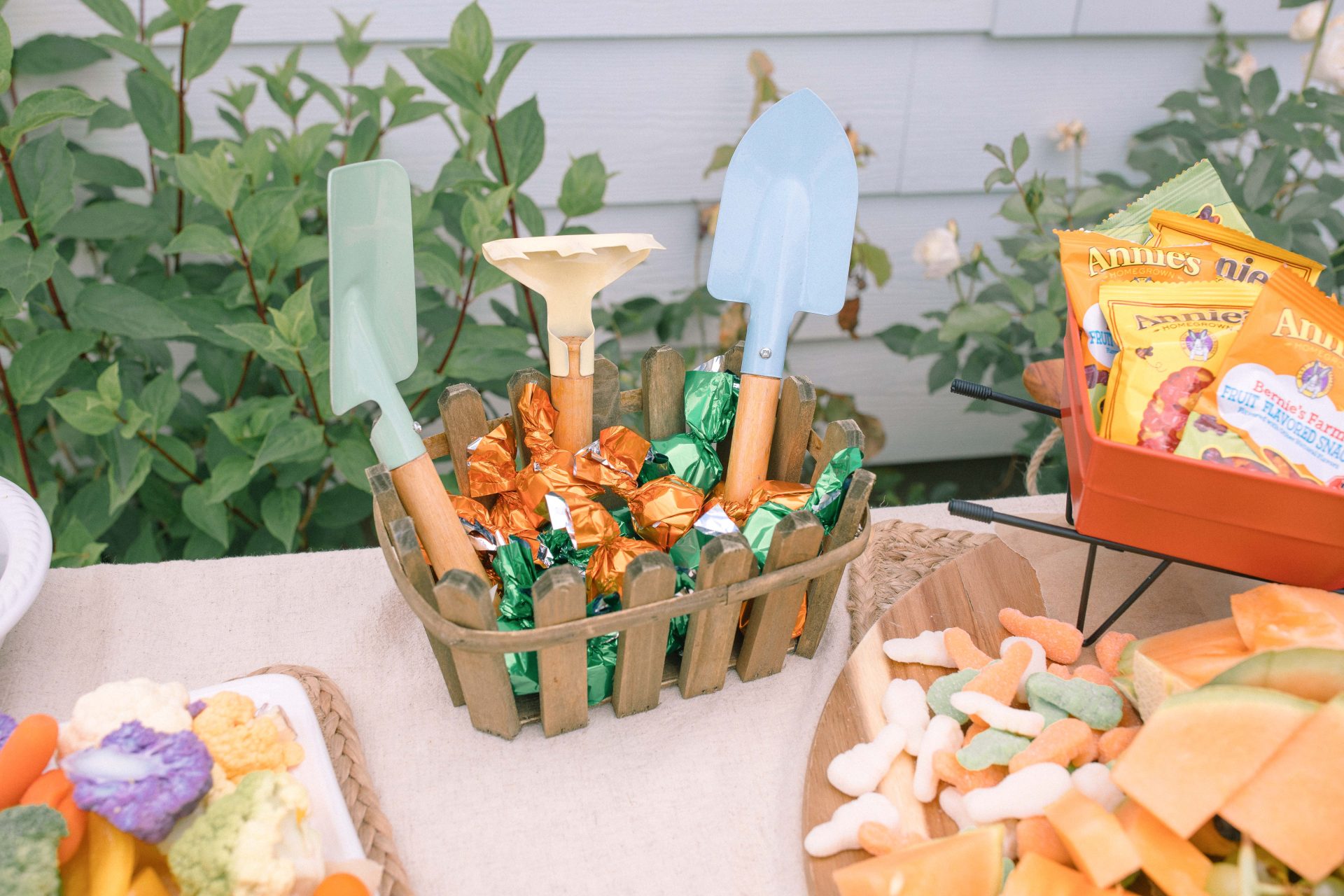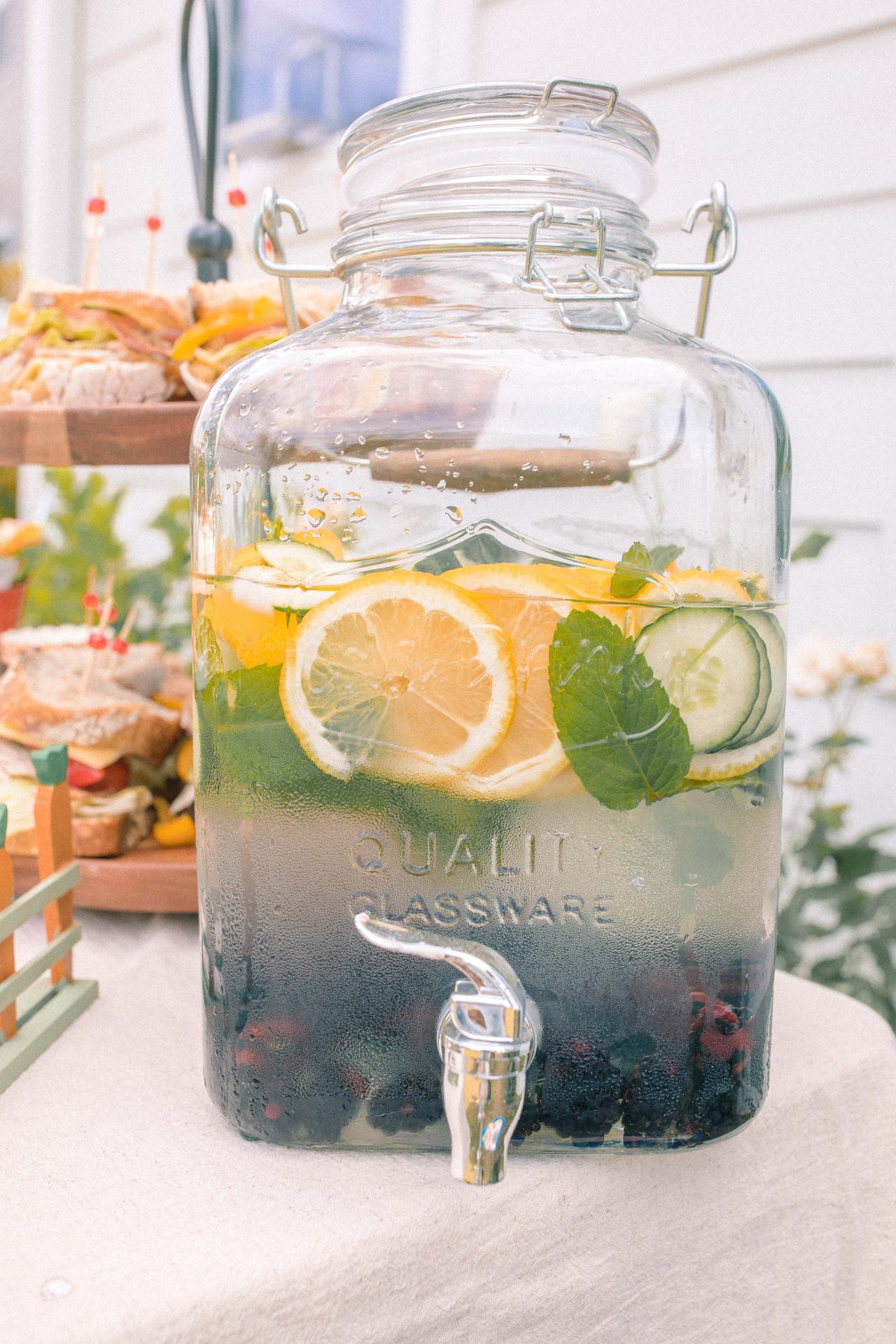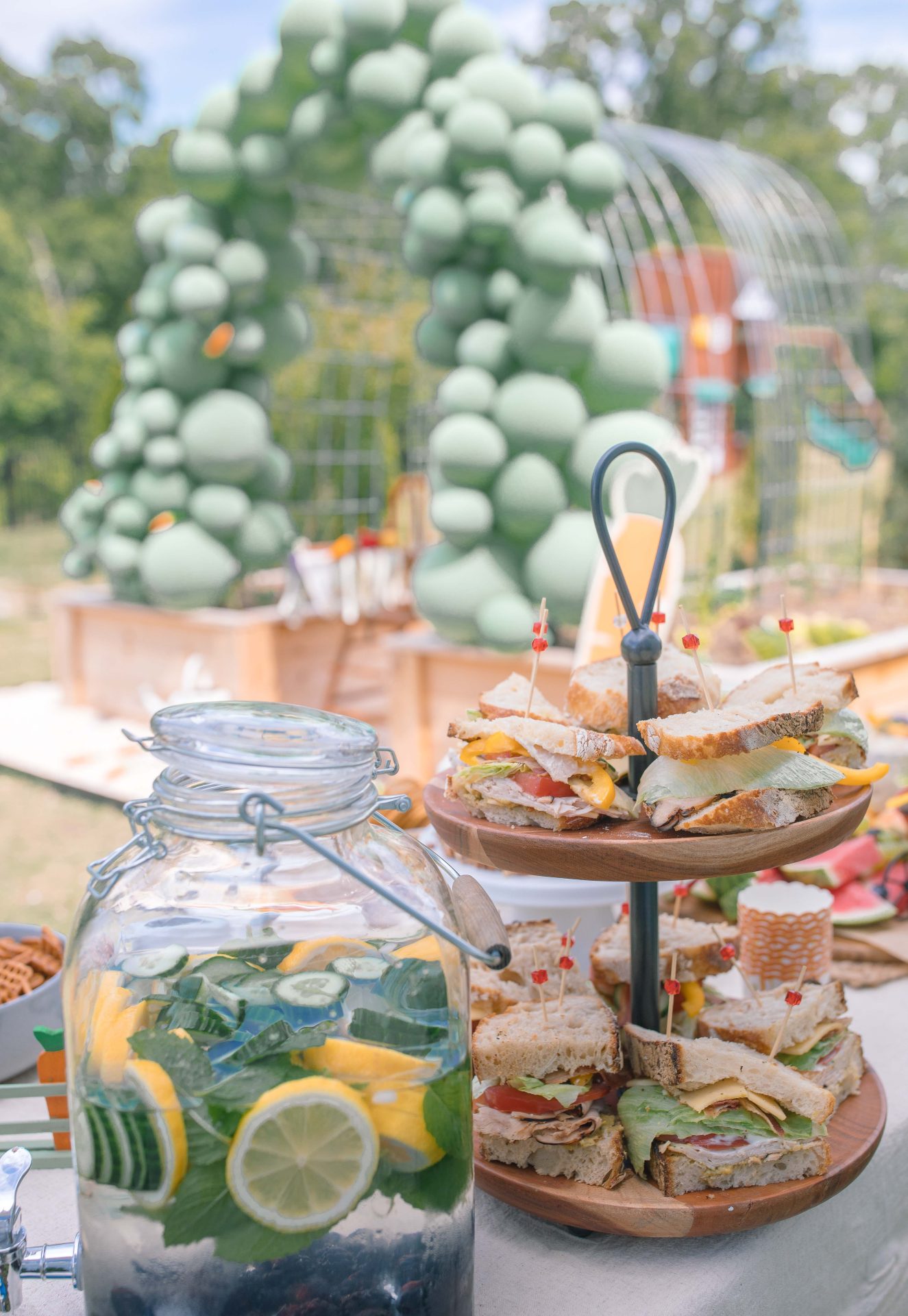 I'll be drinking infused water all summer long!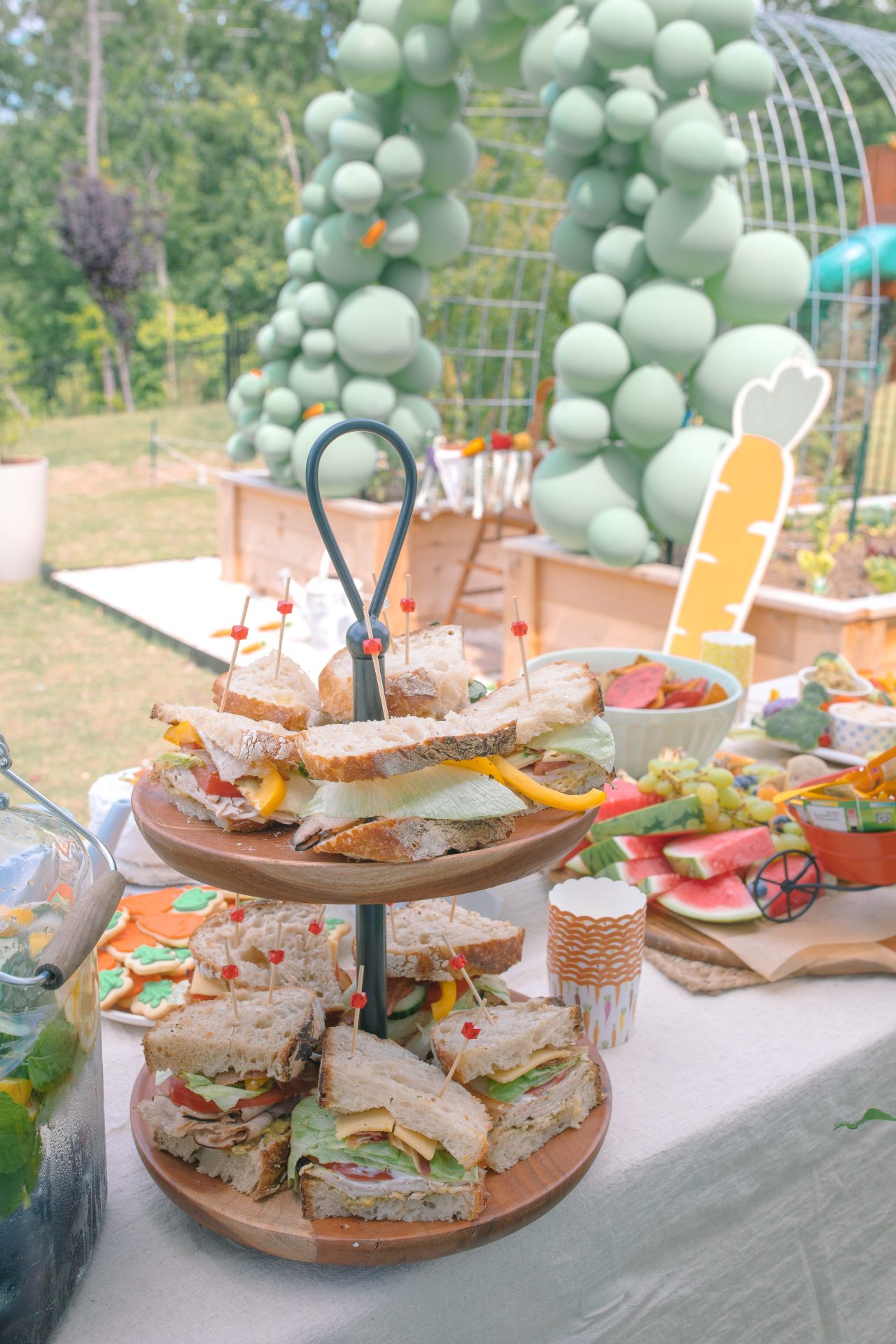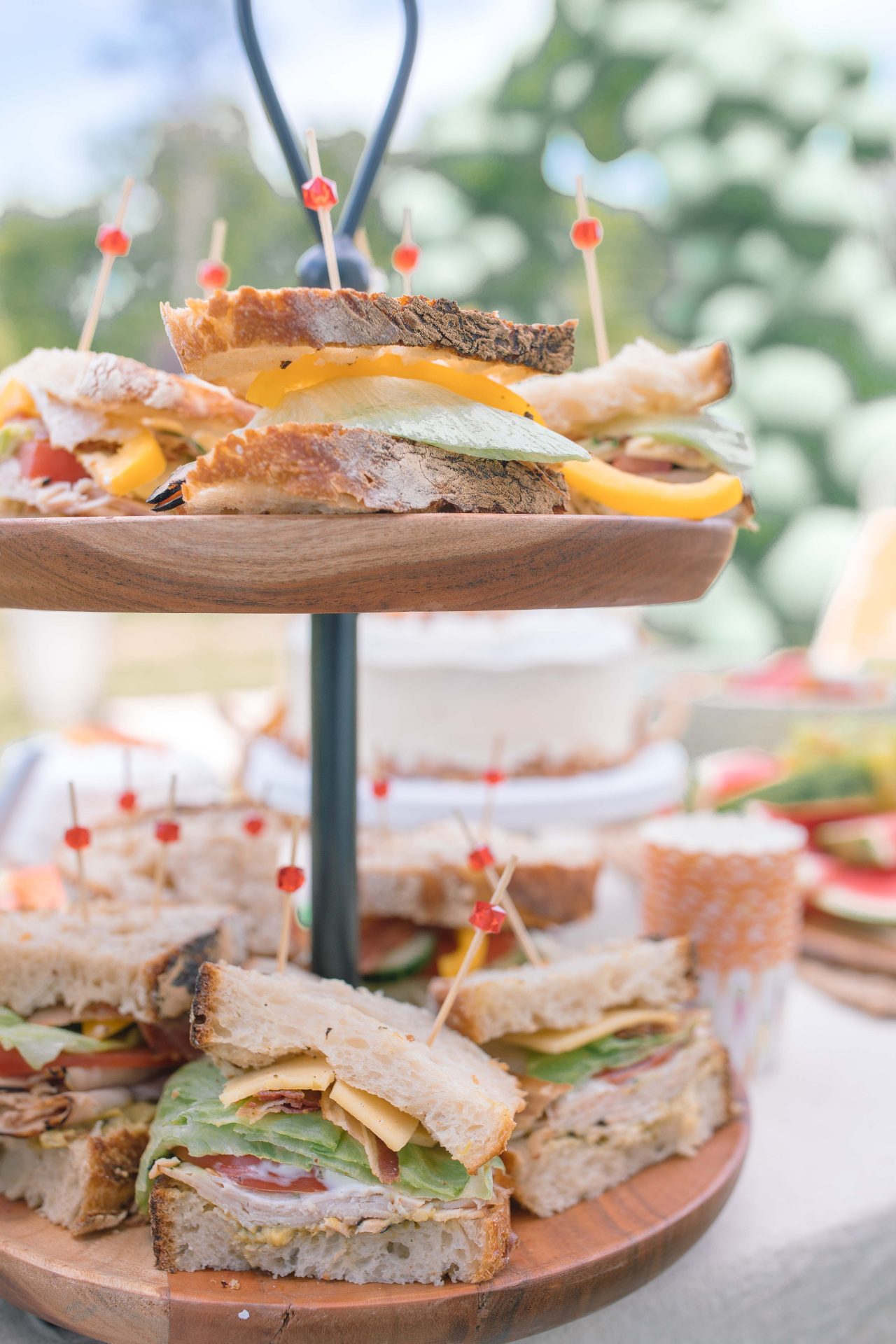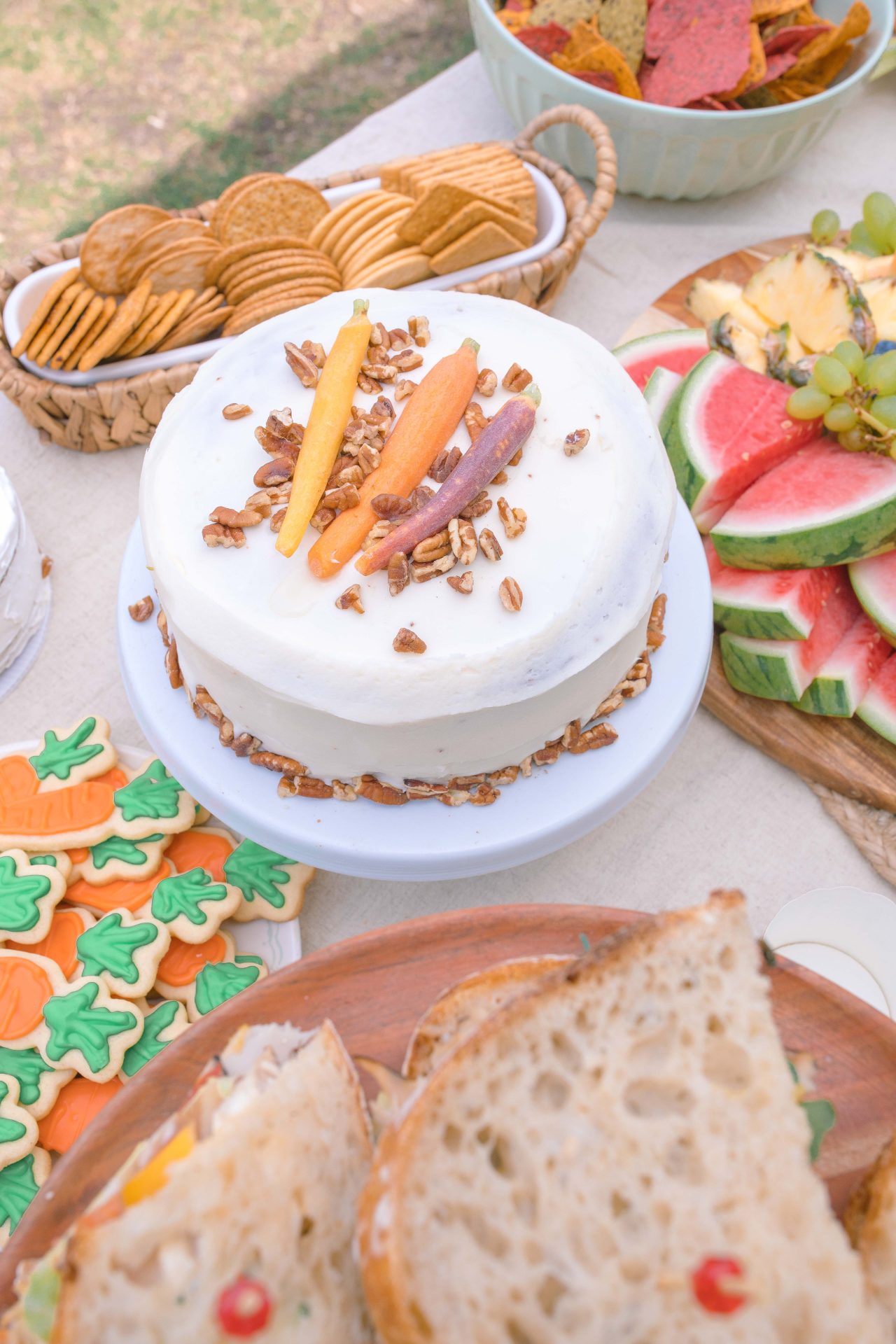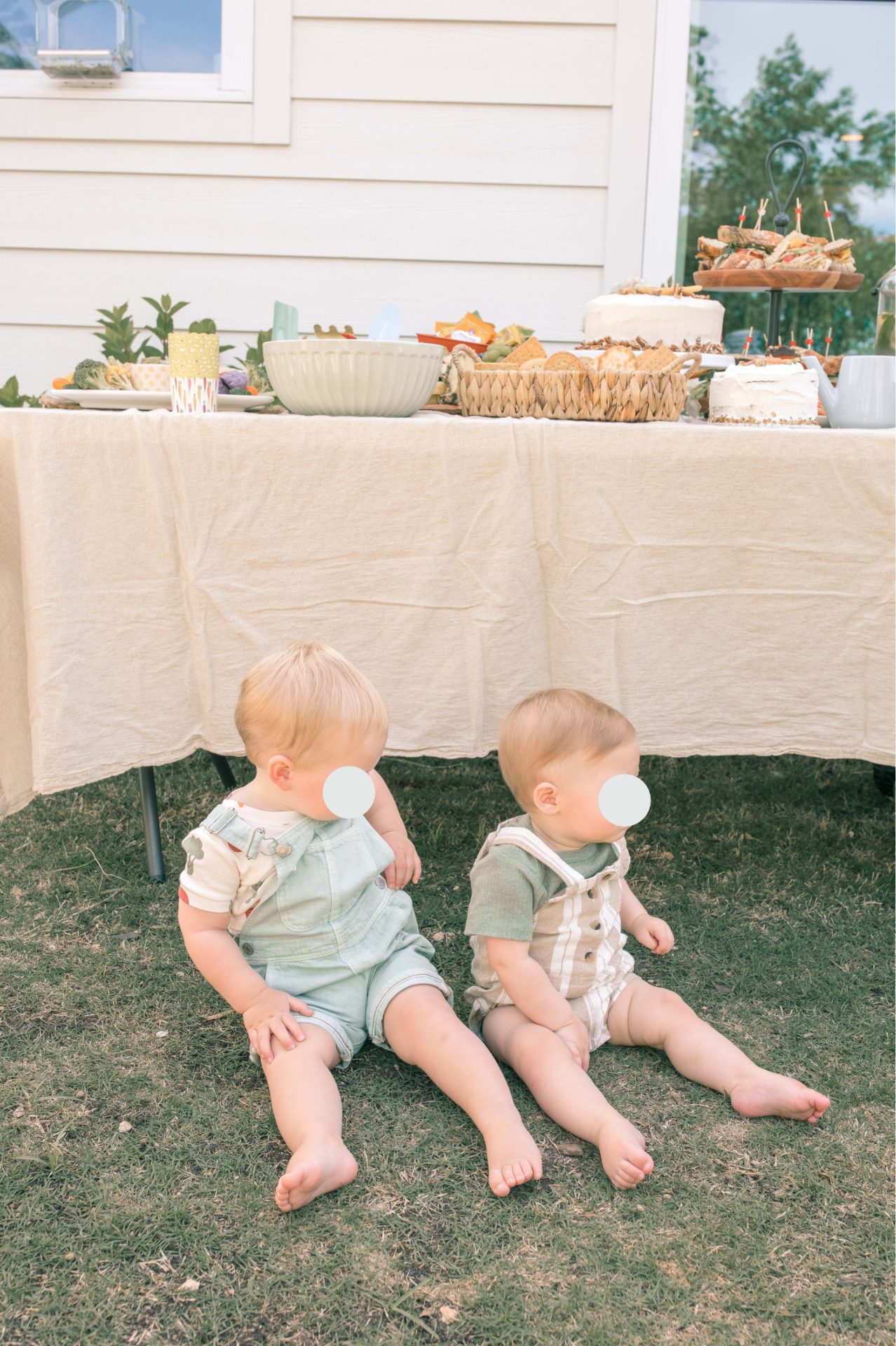 These cuties!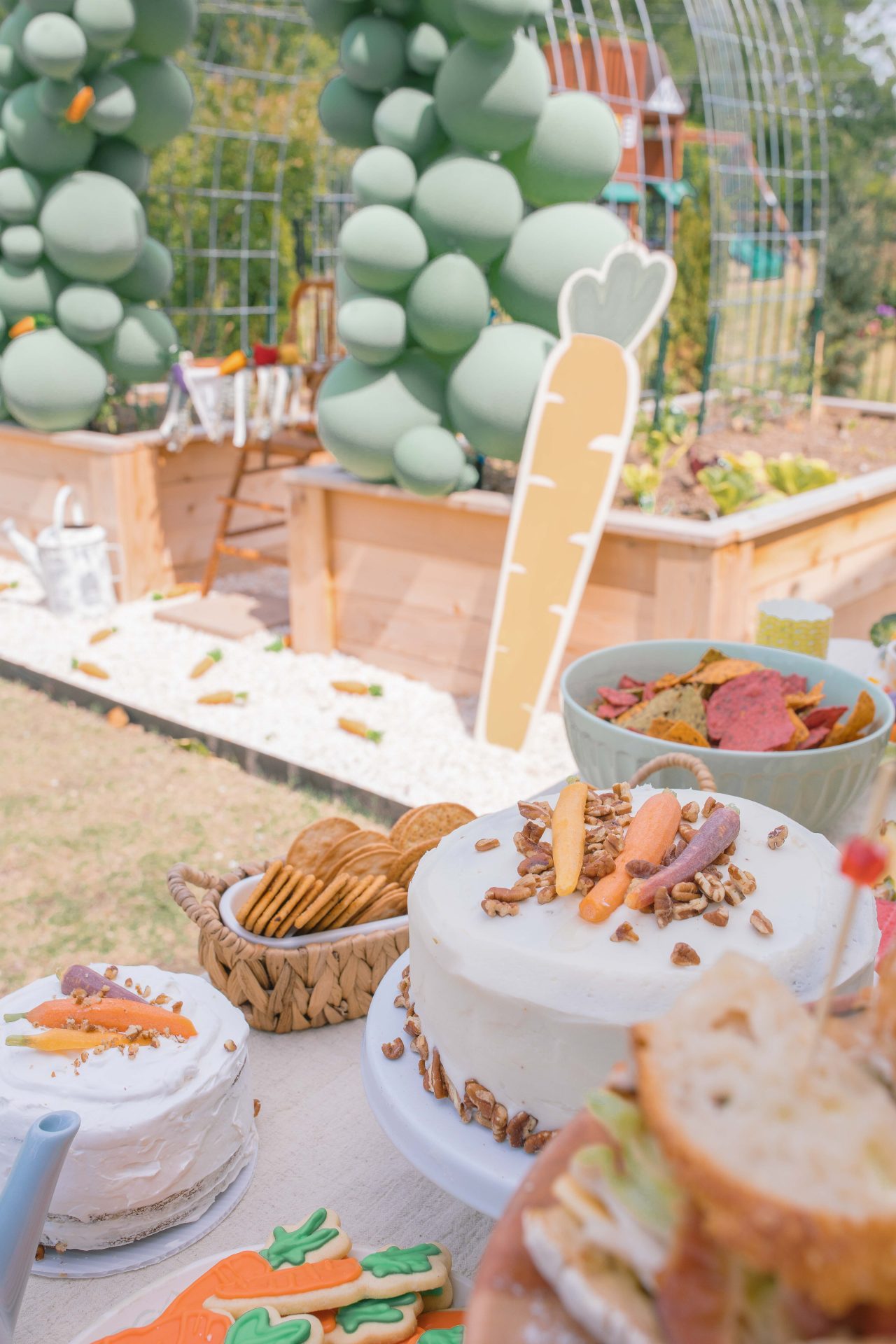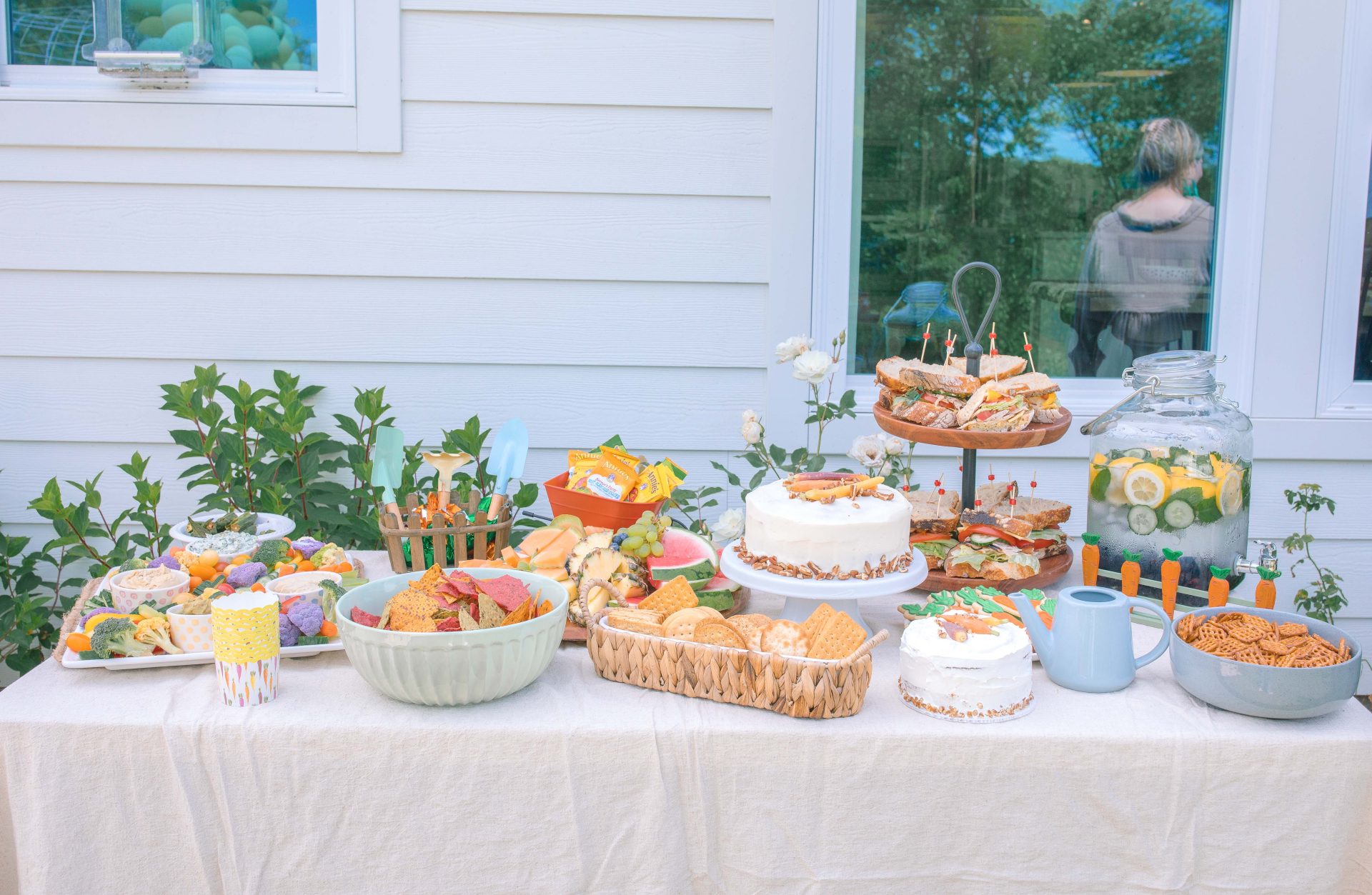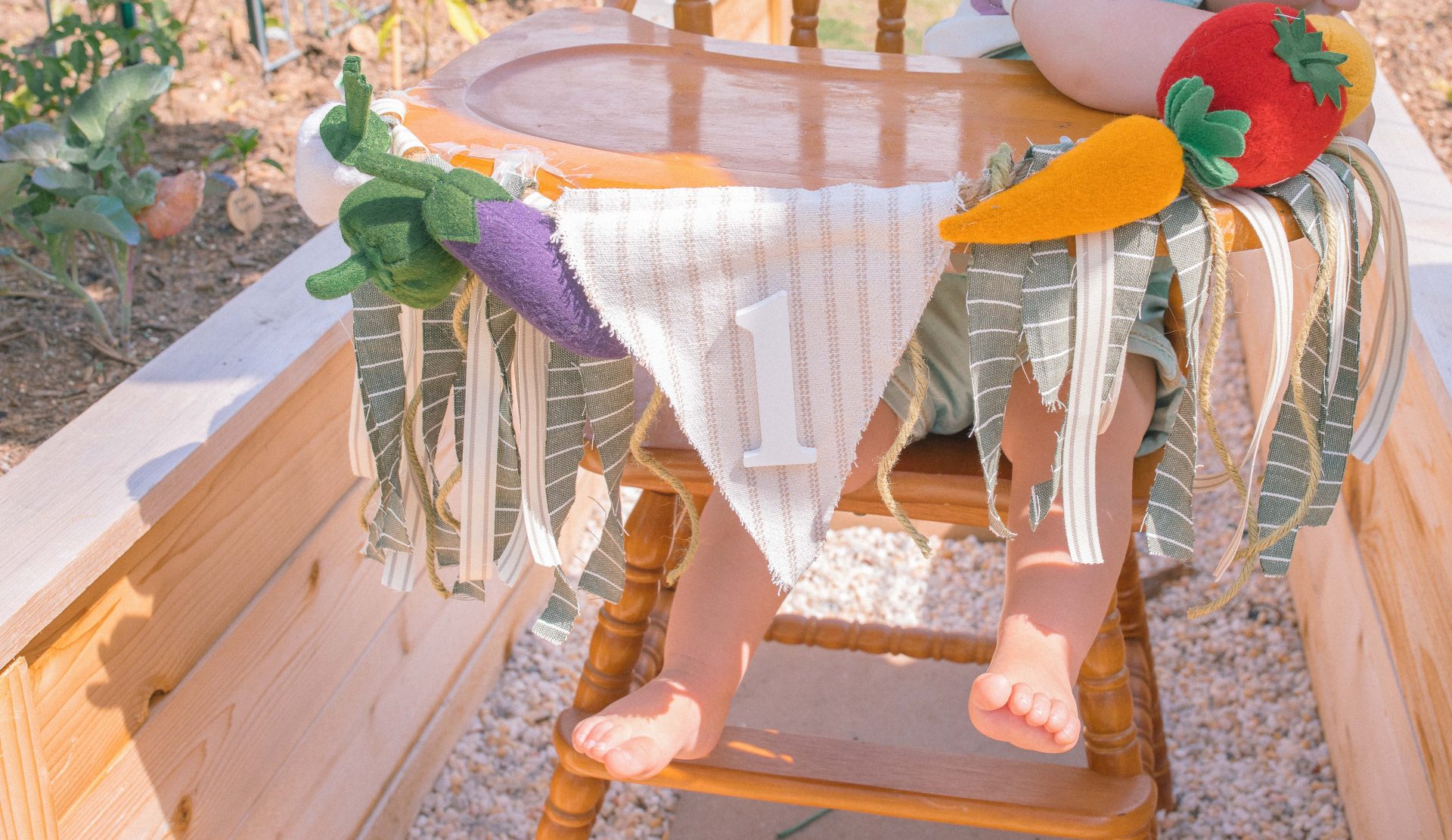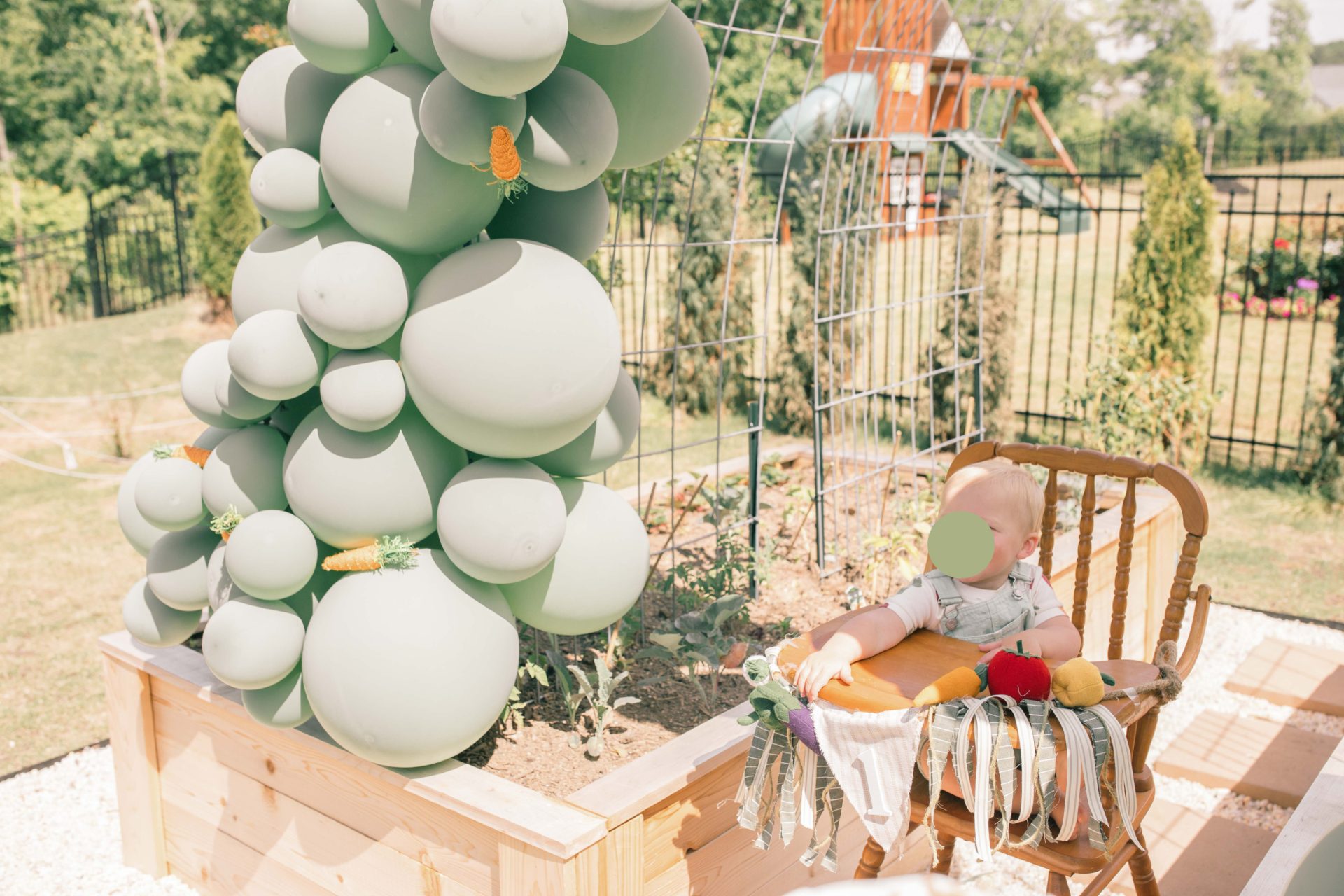 He was SO READY for that cake!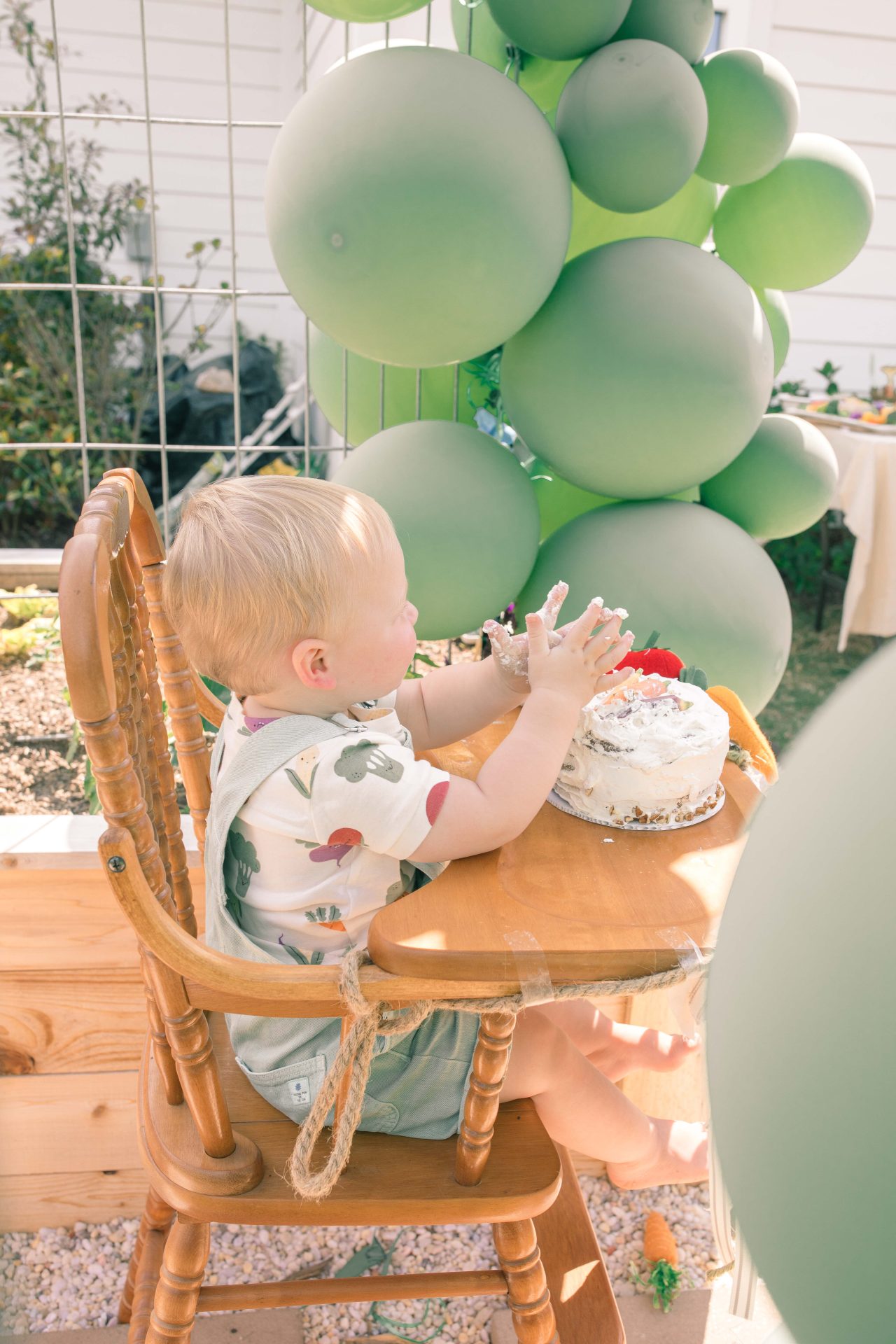 We sang happy birthday, and then he went to town on the cake.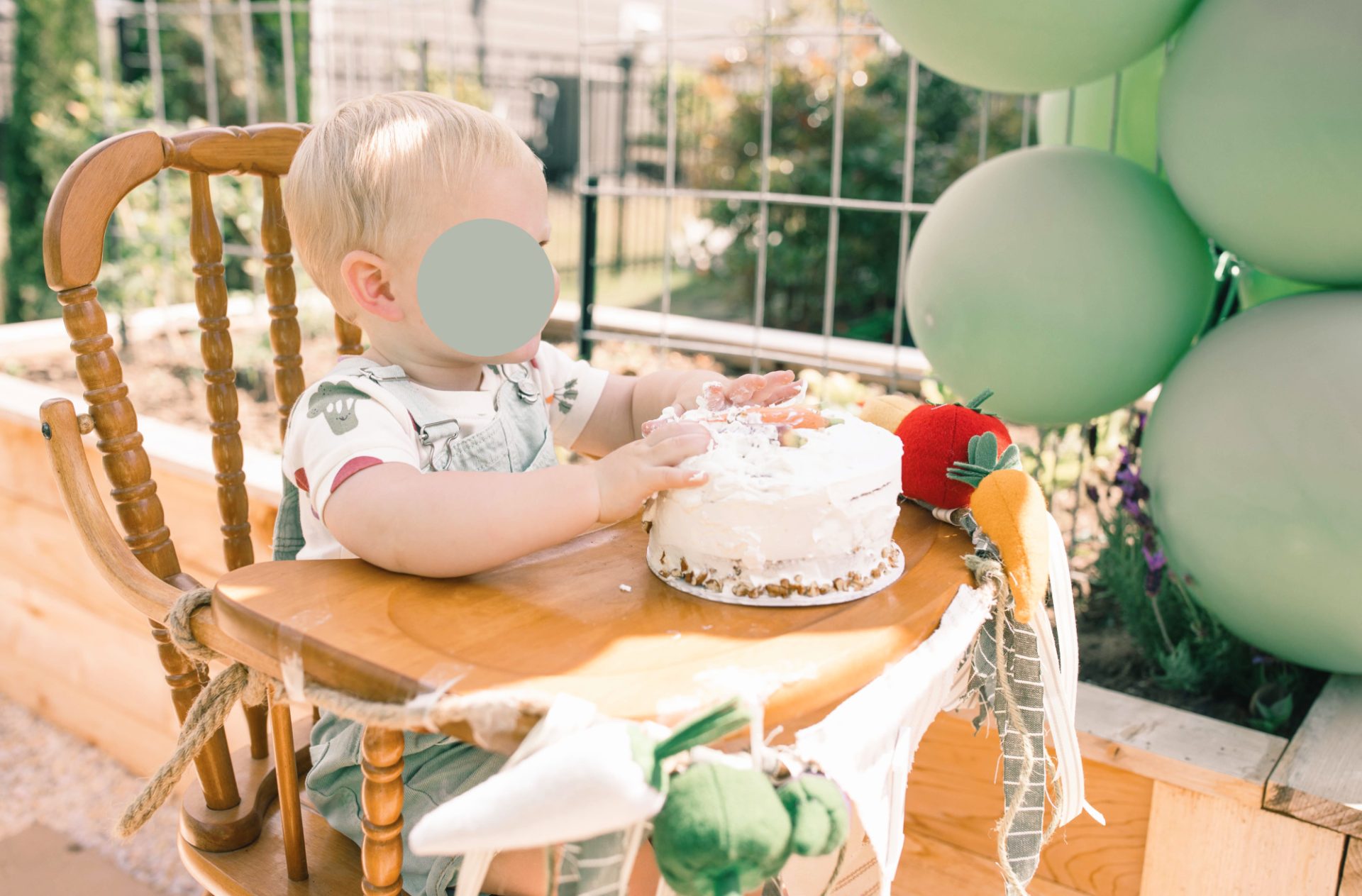 He was so cute. He kept laughing and clapping the entire time. He was a big fan of the frosting.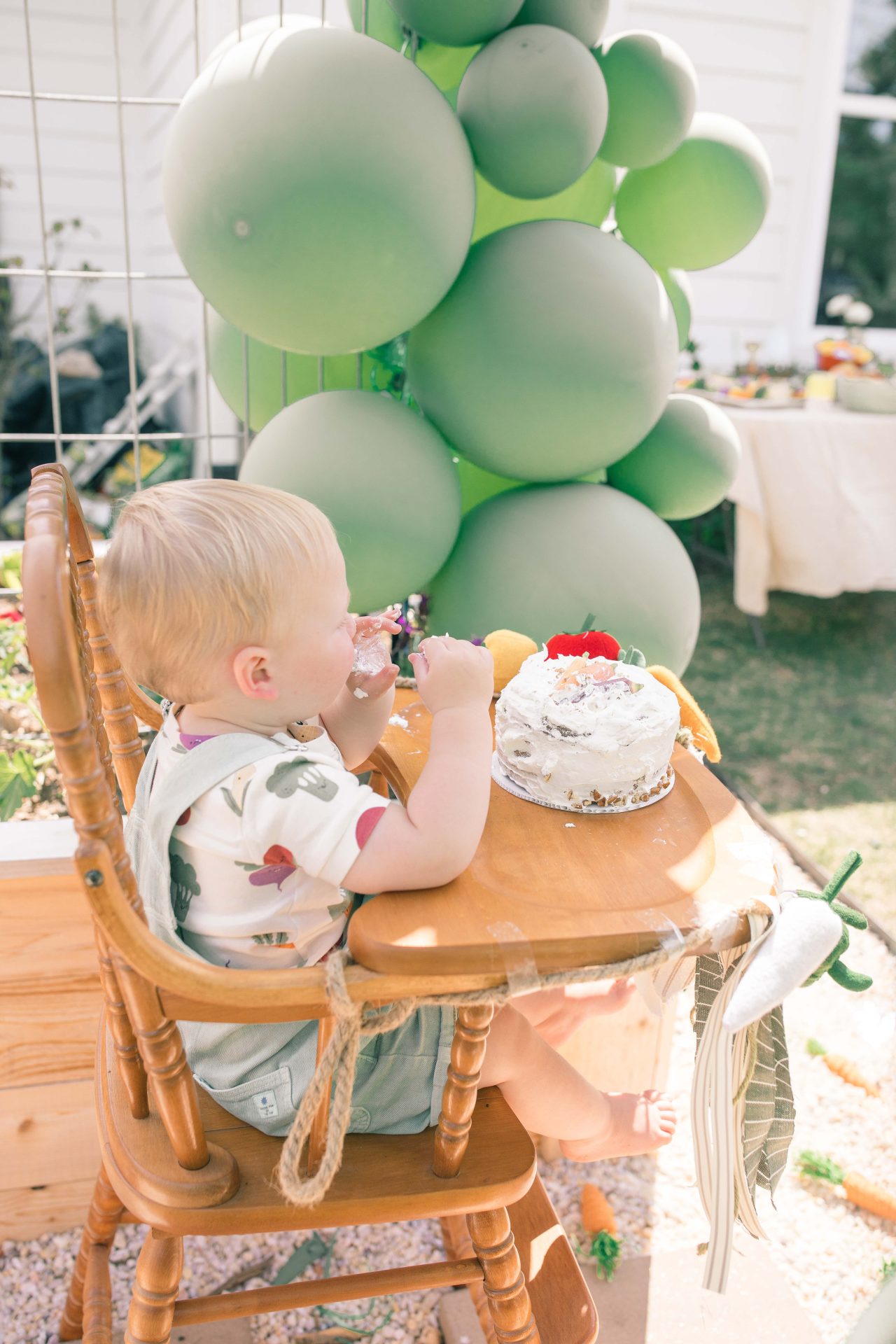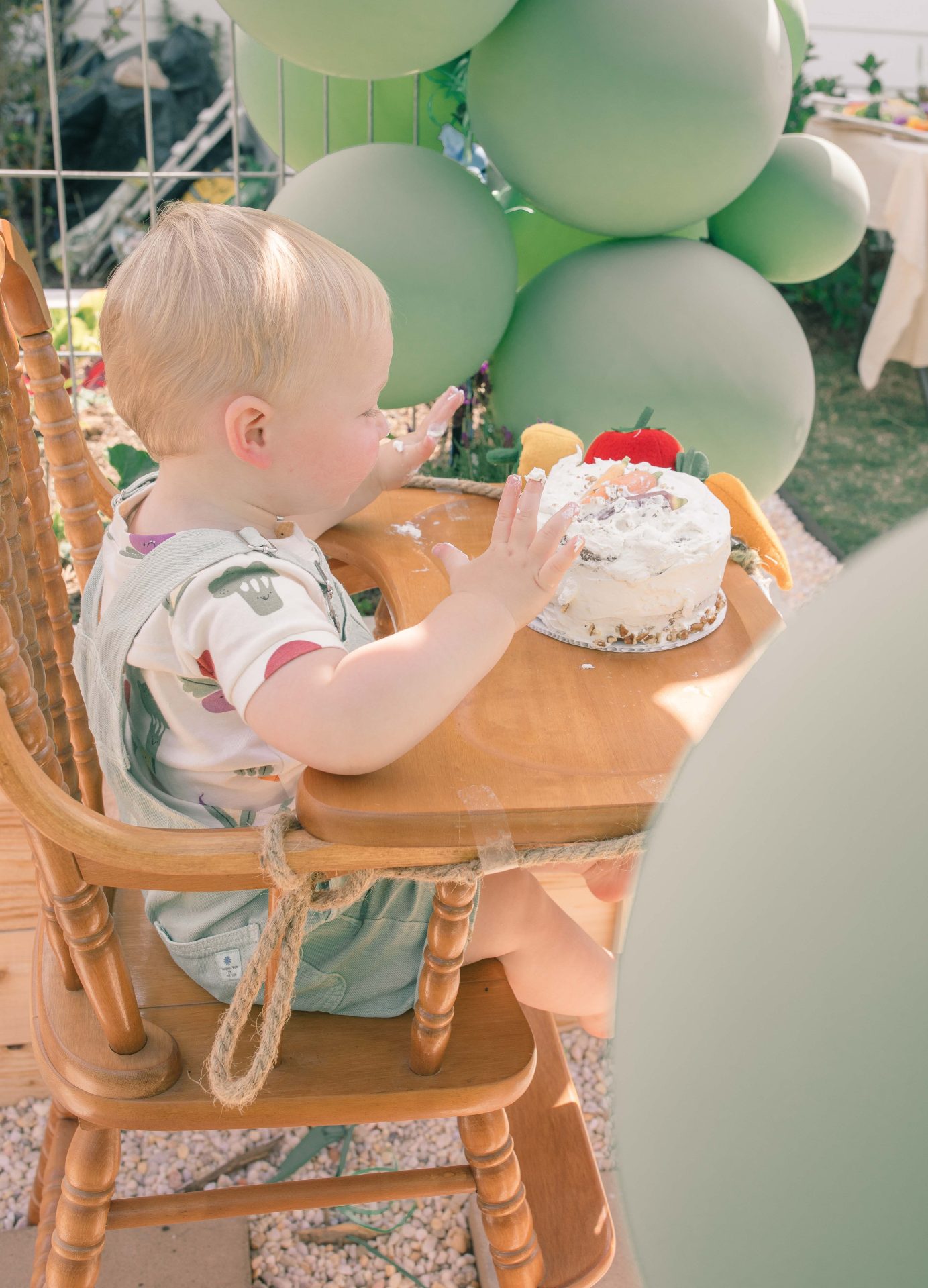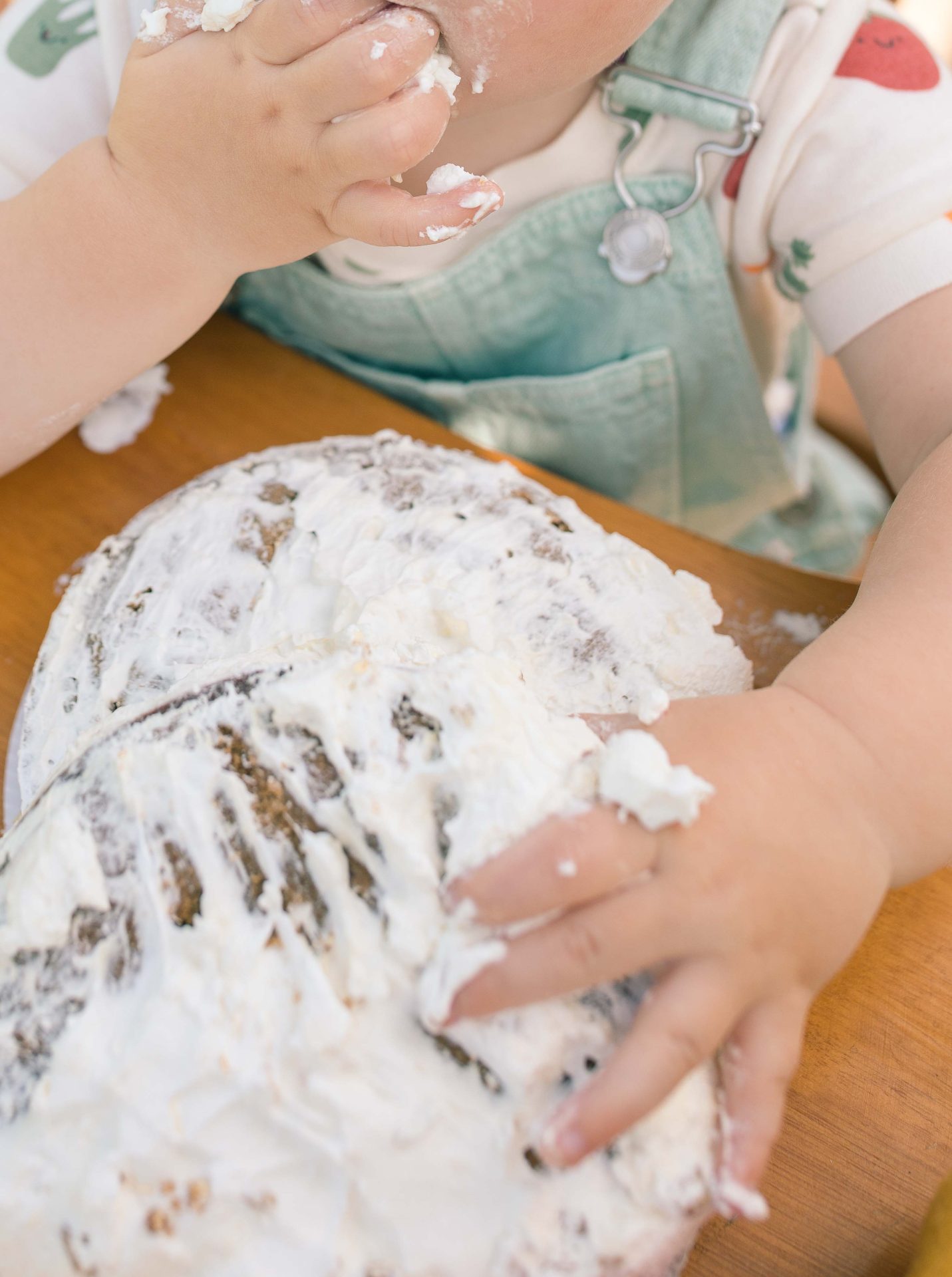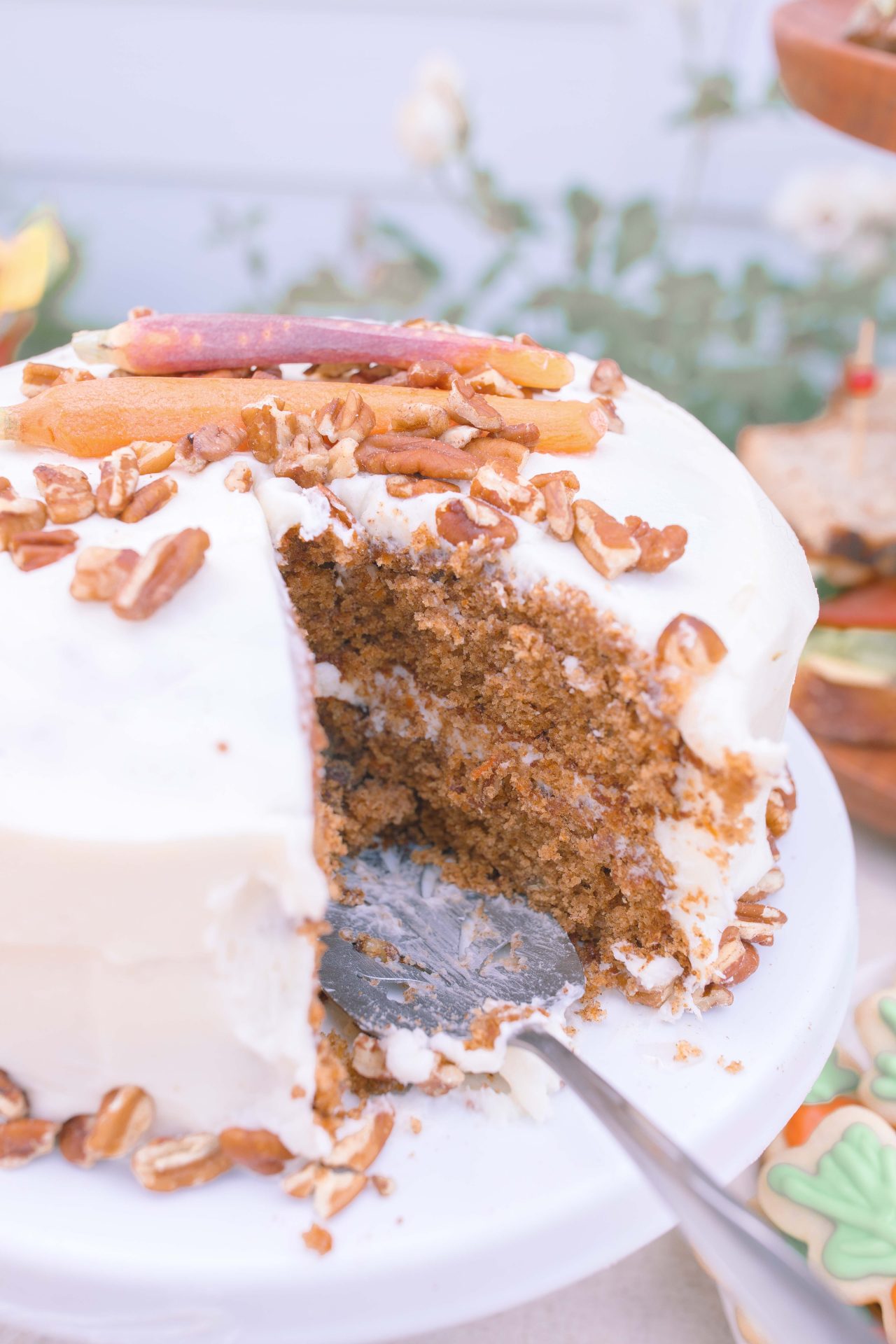 He did try to pick it up!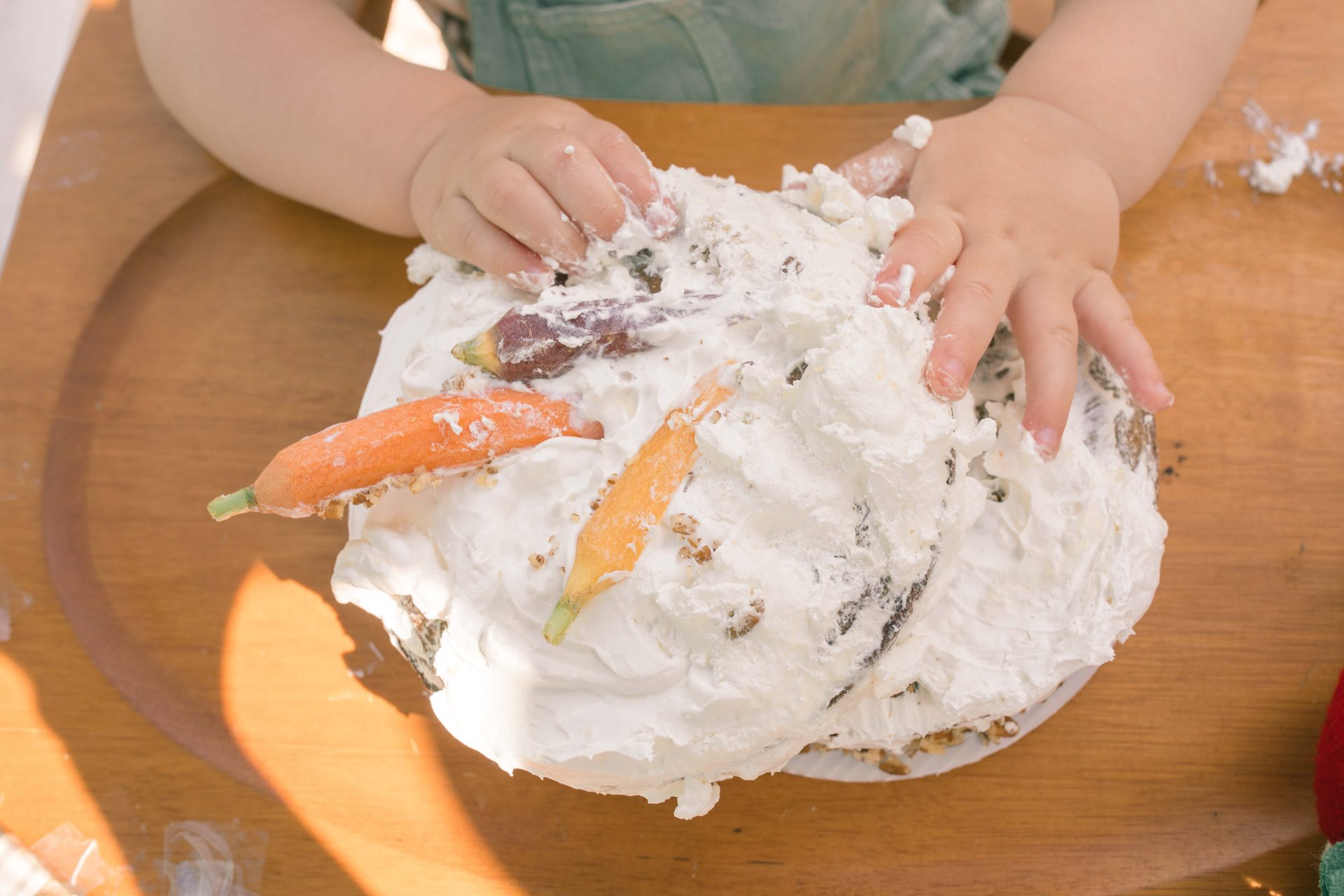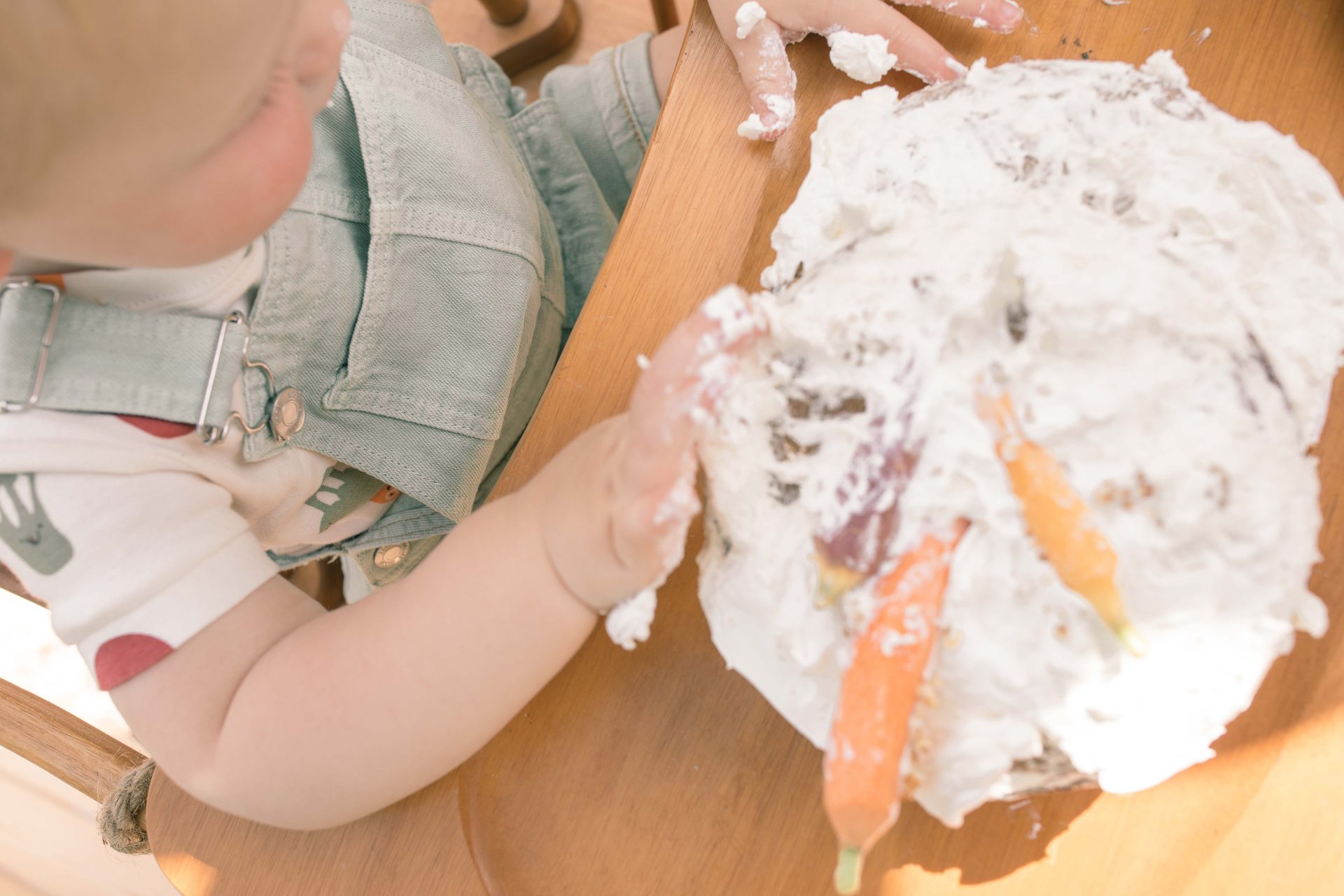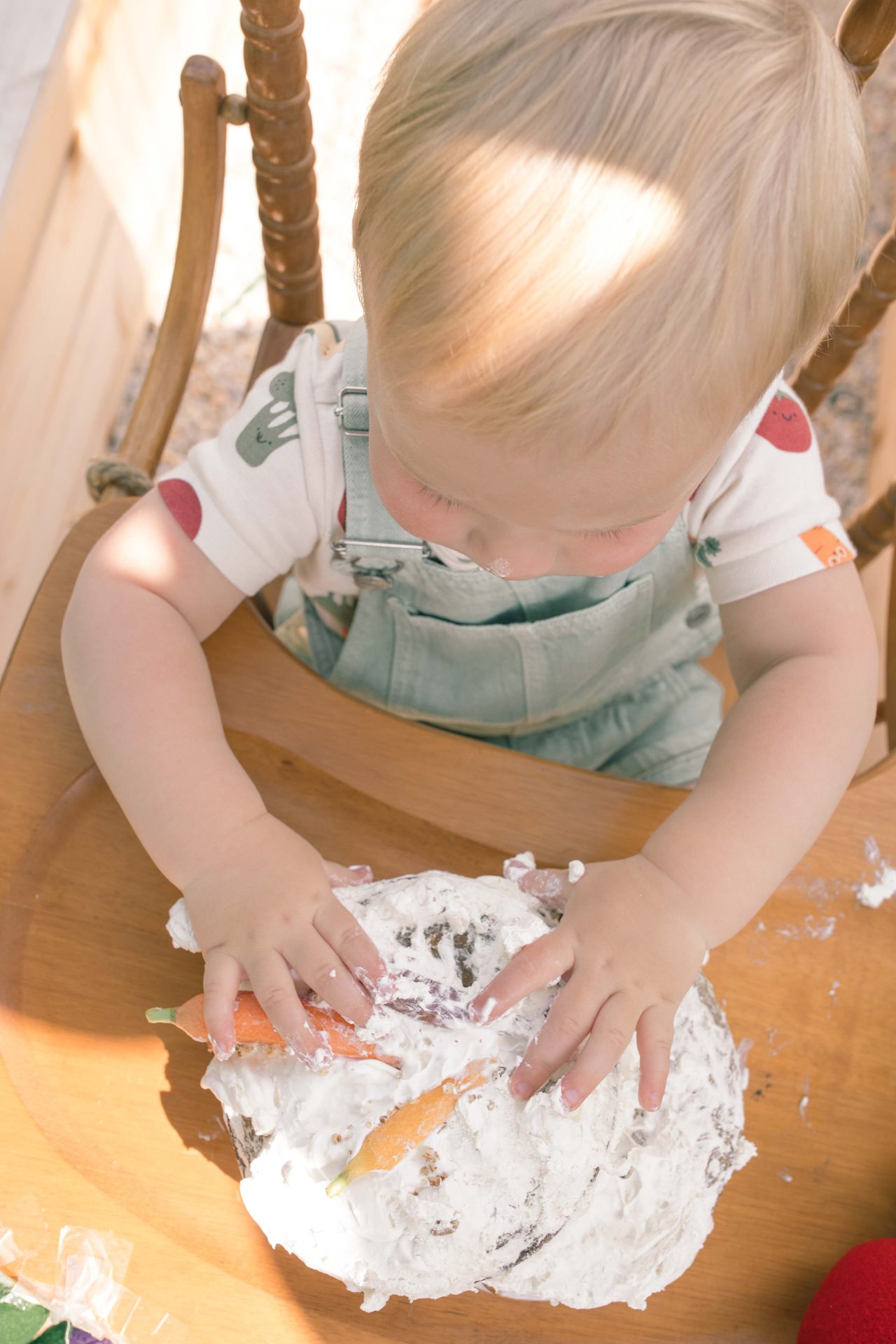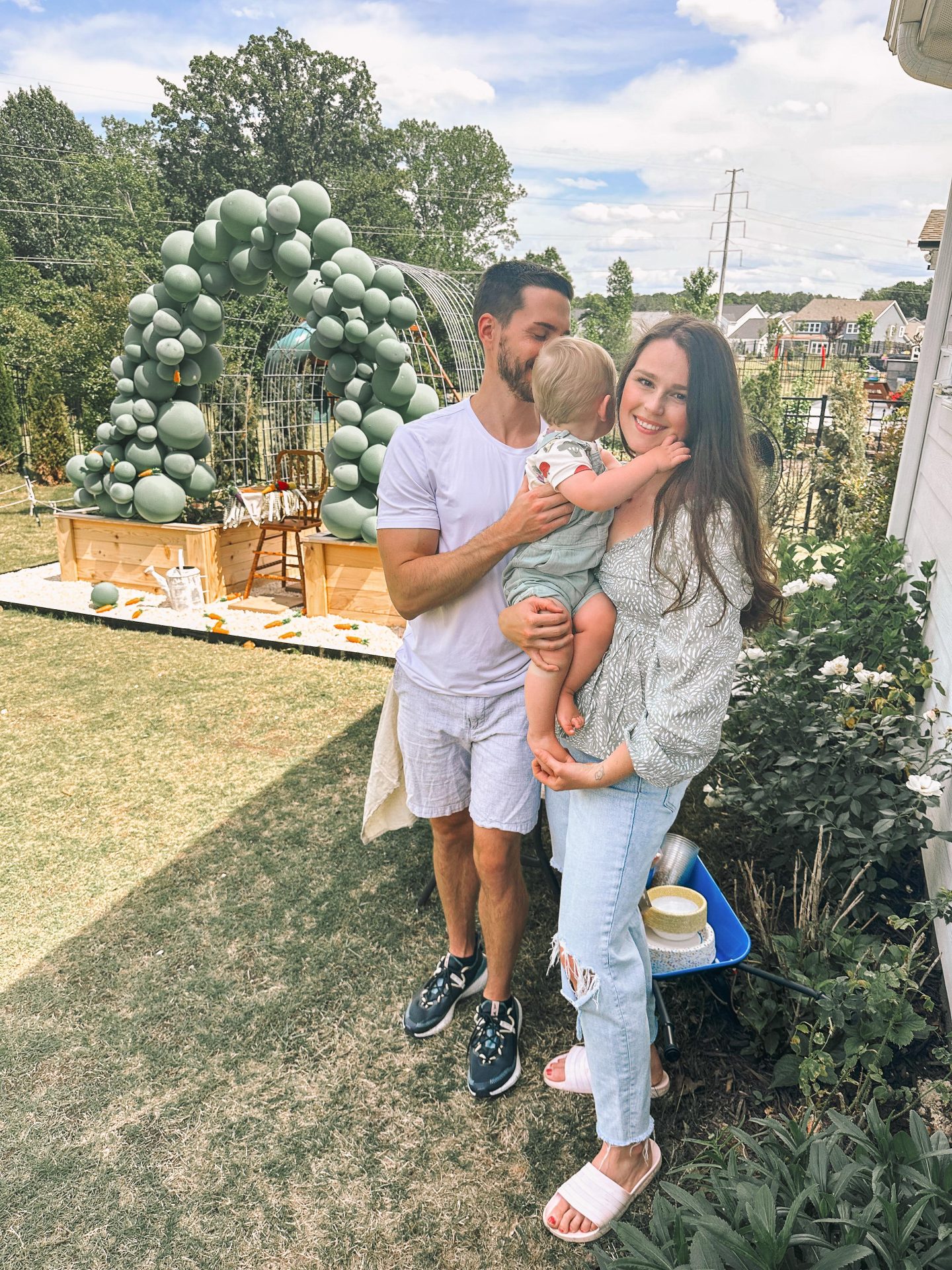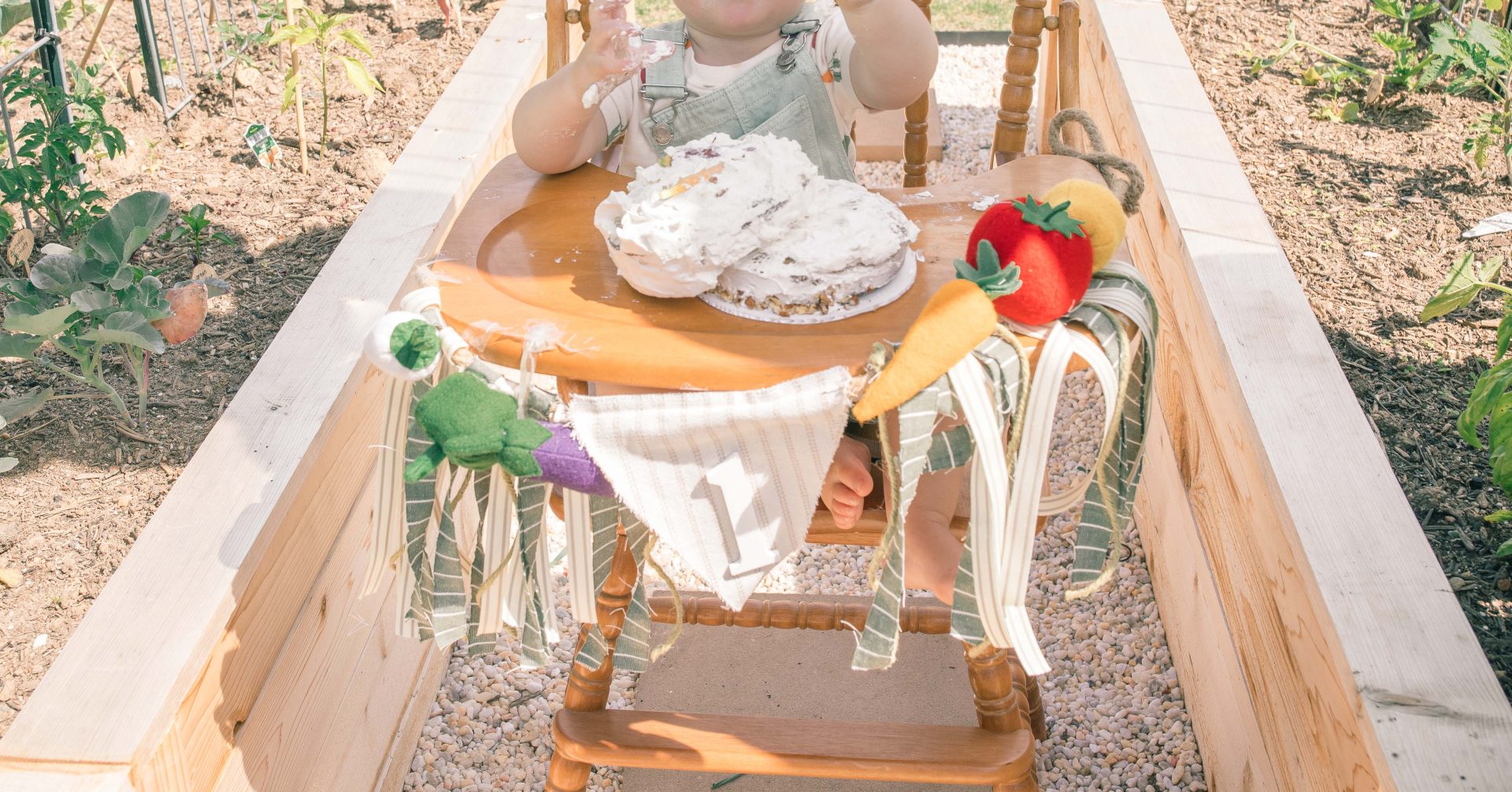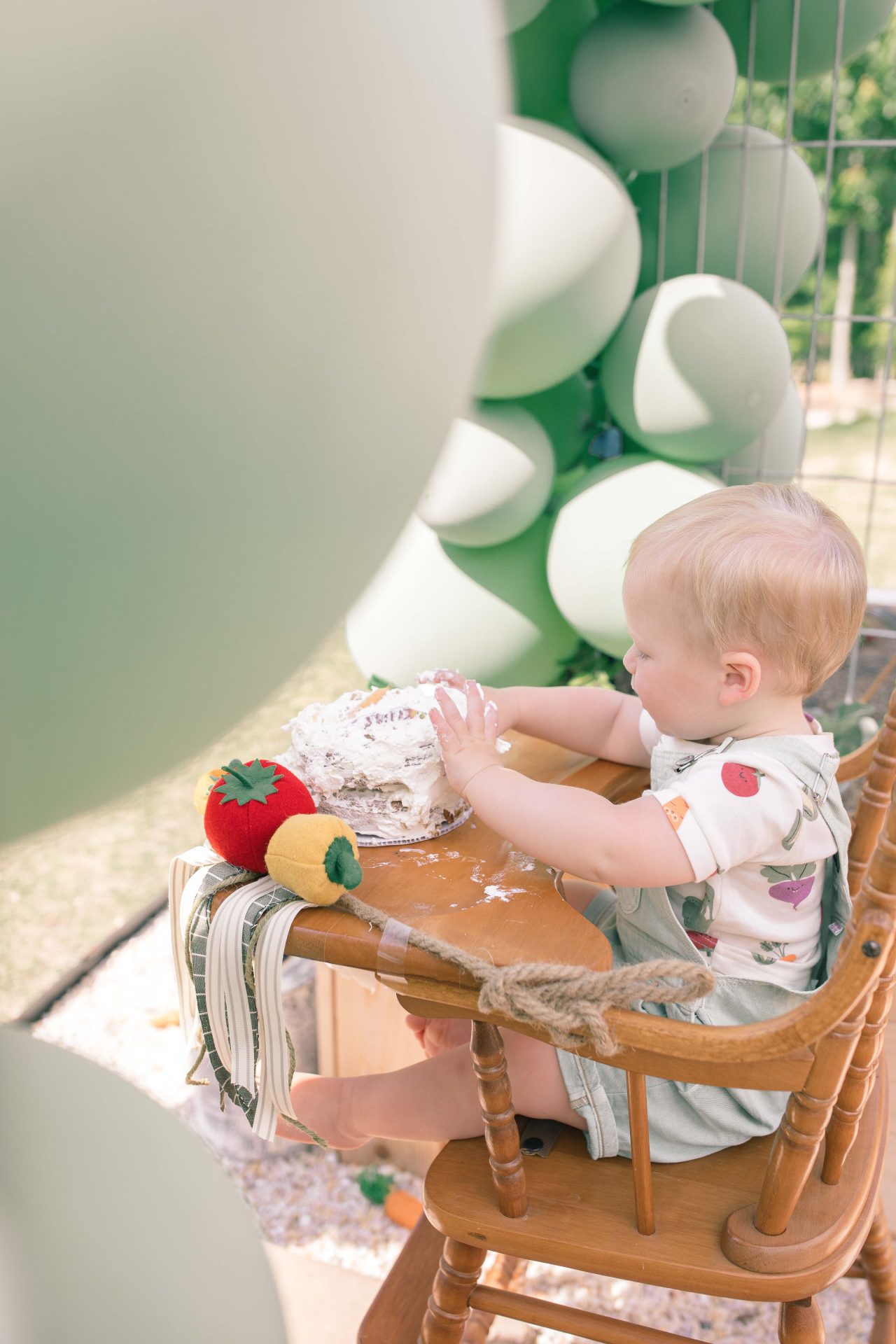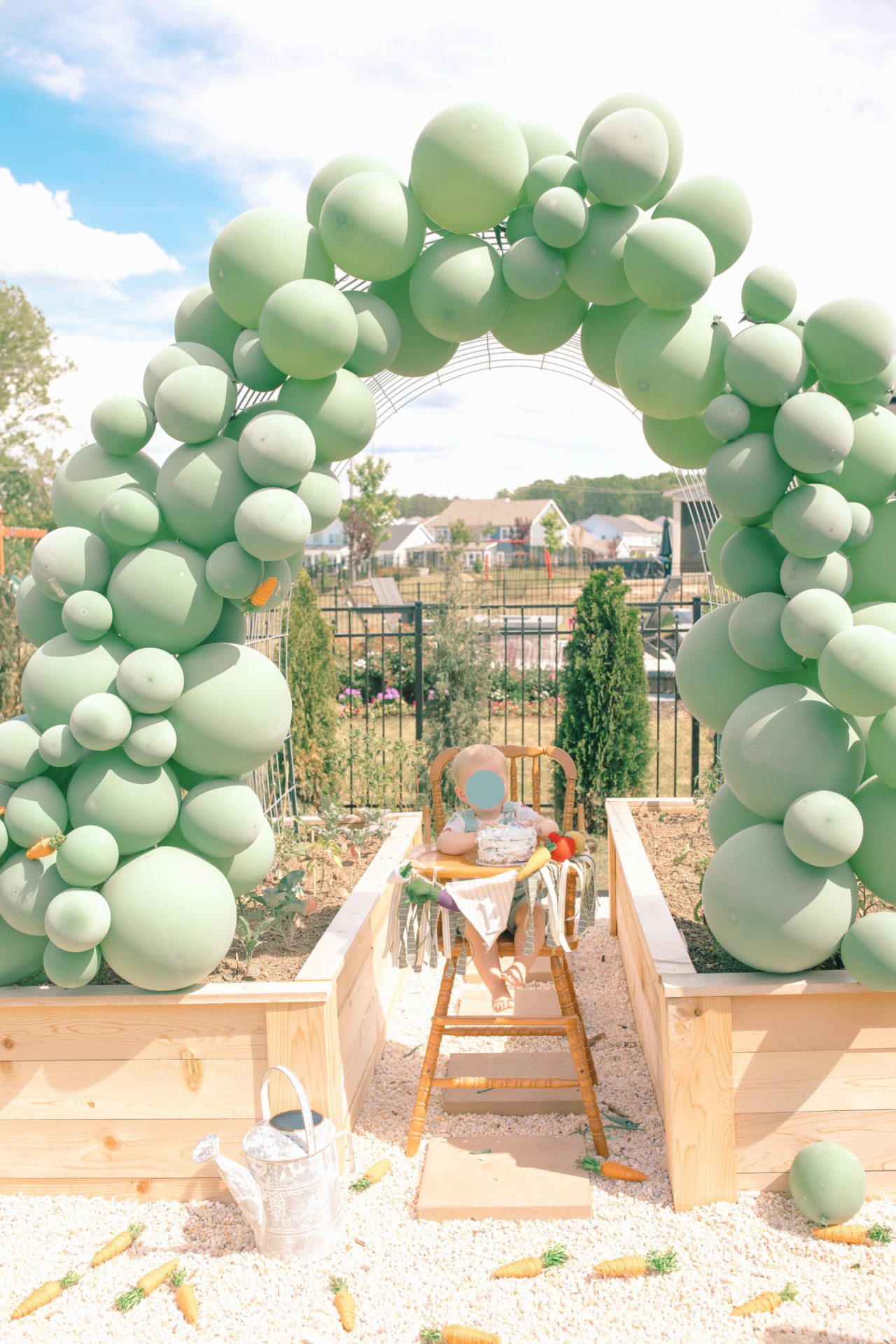 We honestly had the best day, and it was so lovely that our friends and family were there to celebrate!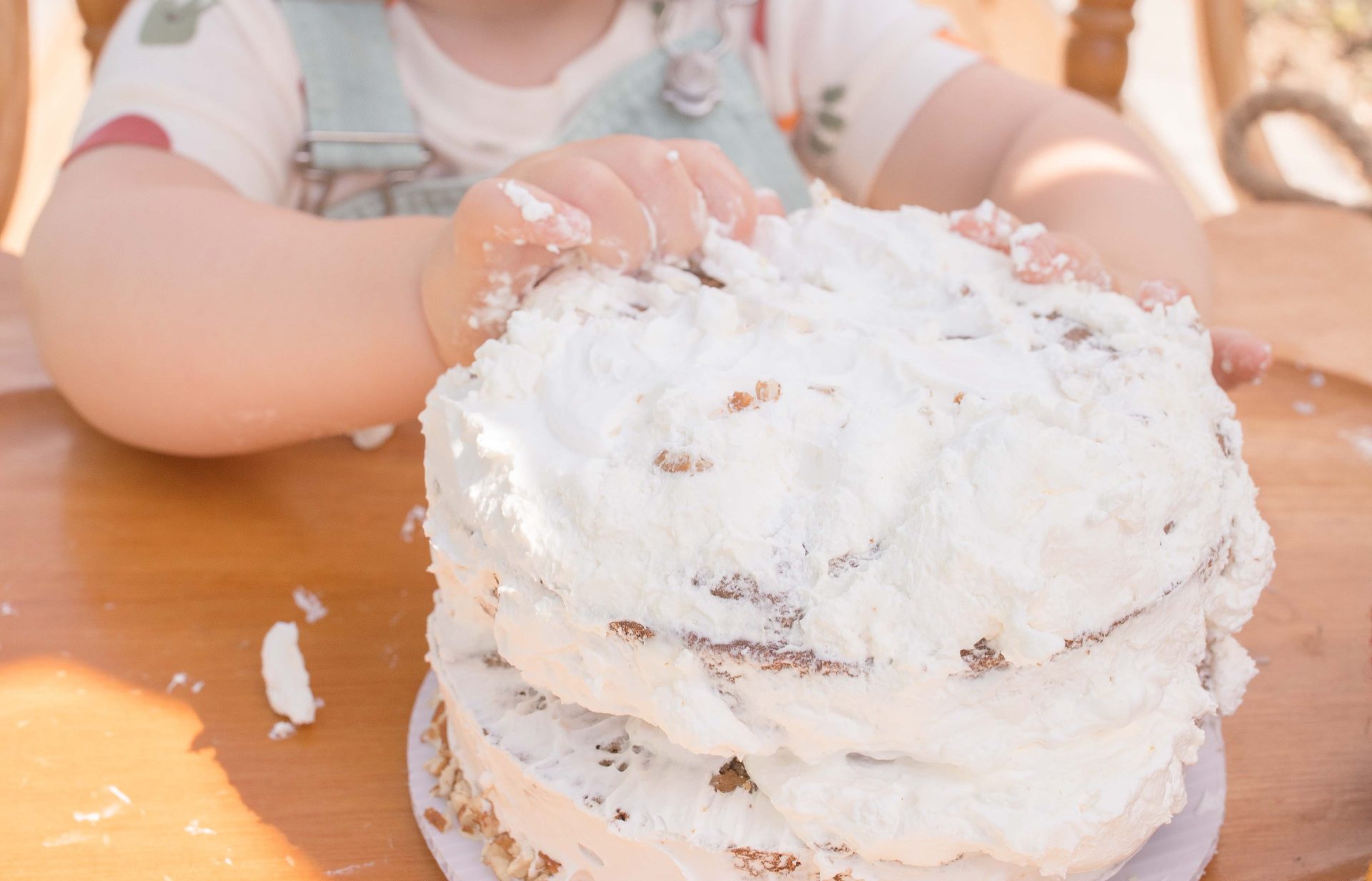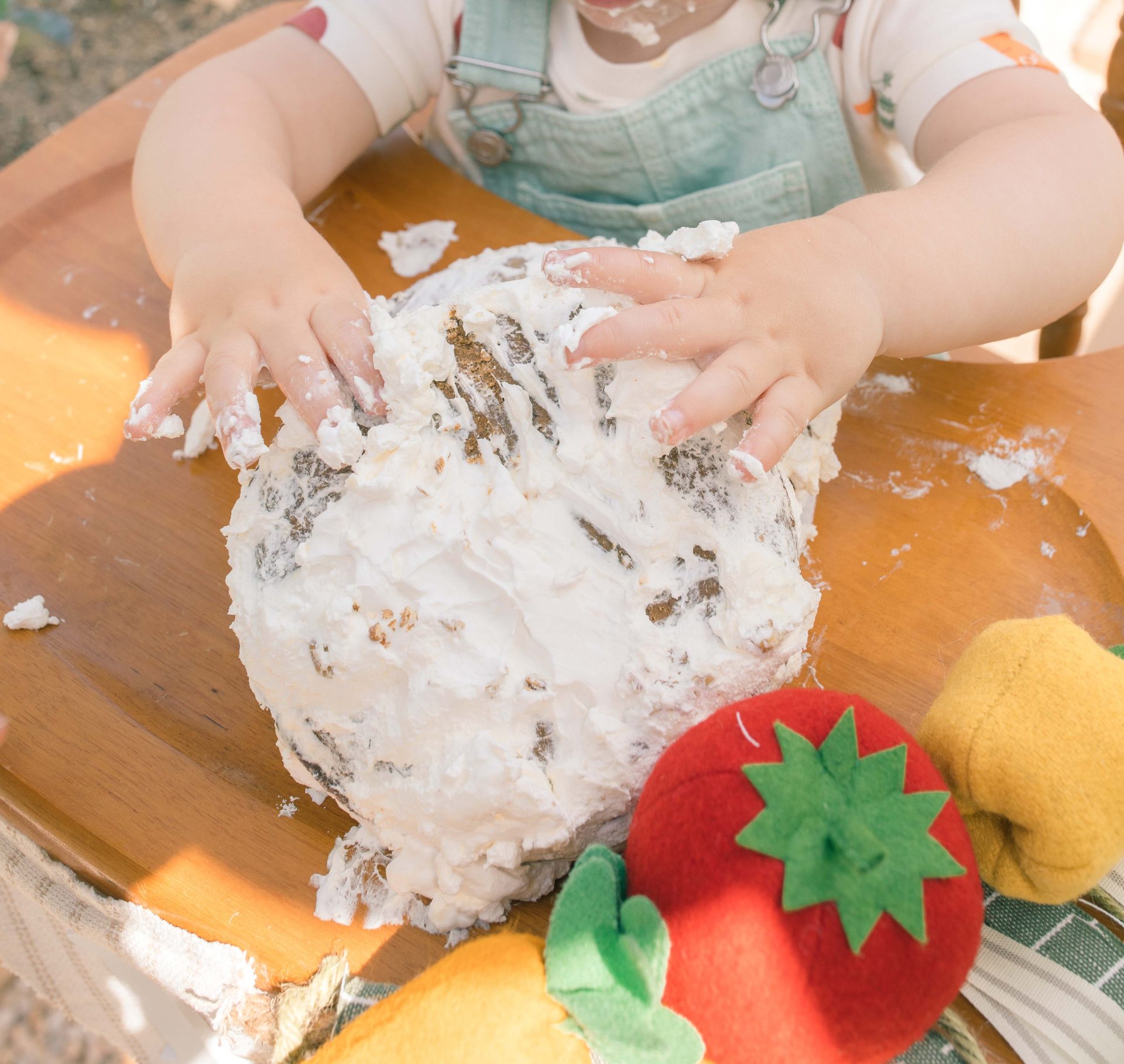 On my first birthday, my parents surprised me with a delicious carrot cake. I have a photo of me with cake smeared all over my face! I have a feeling my dad might have been the one who picked it out, as carrot cake happens to be his favorite. And you know what? Now it's my favorite cake flavor too! Not only did it perfectly match the party's theme, but it's just hands down the most delicious cake flavor ever! Maybe it will be Buggy's favorite when he's older.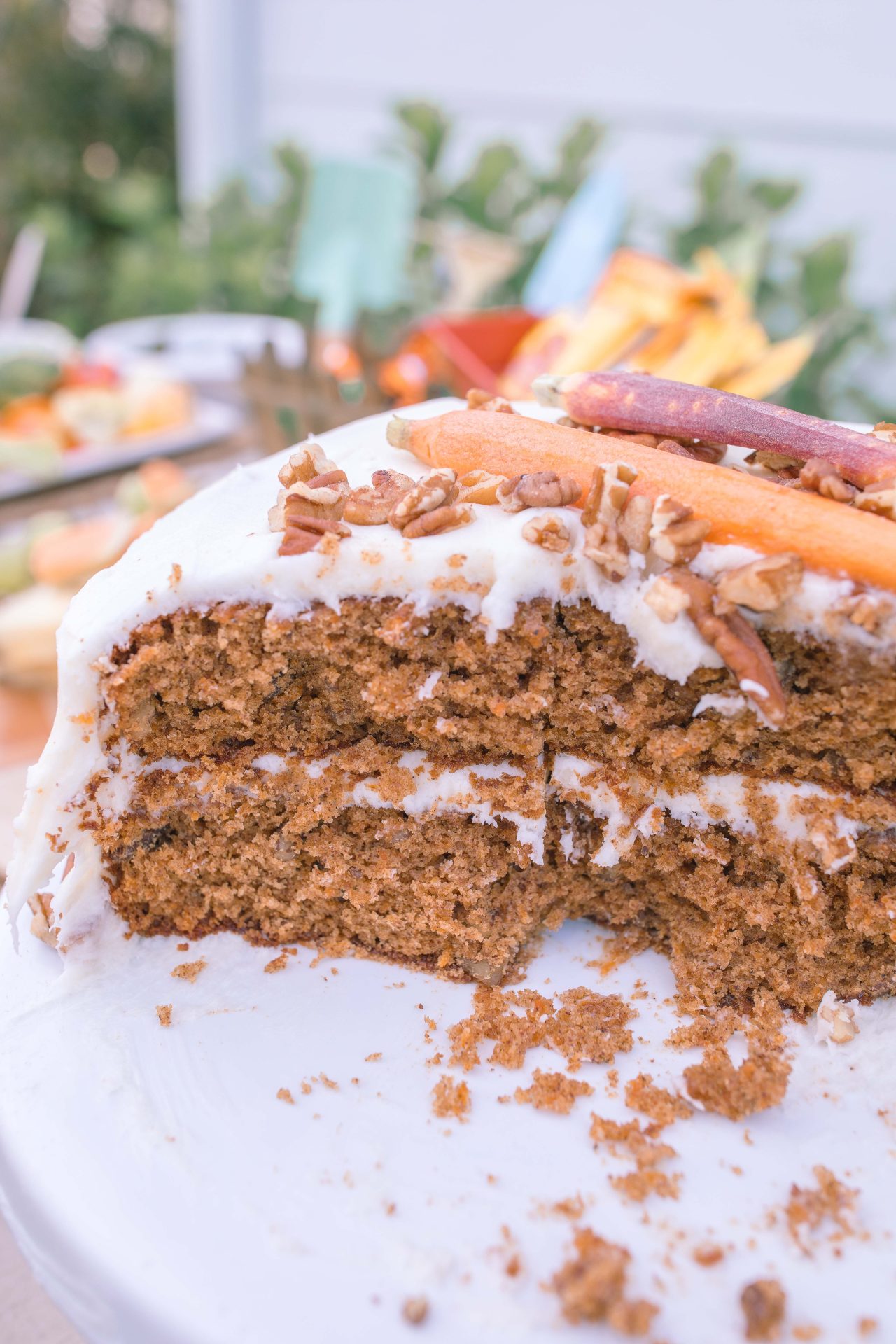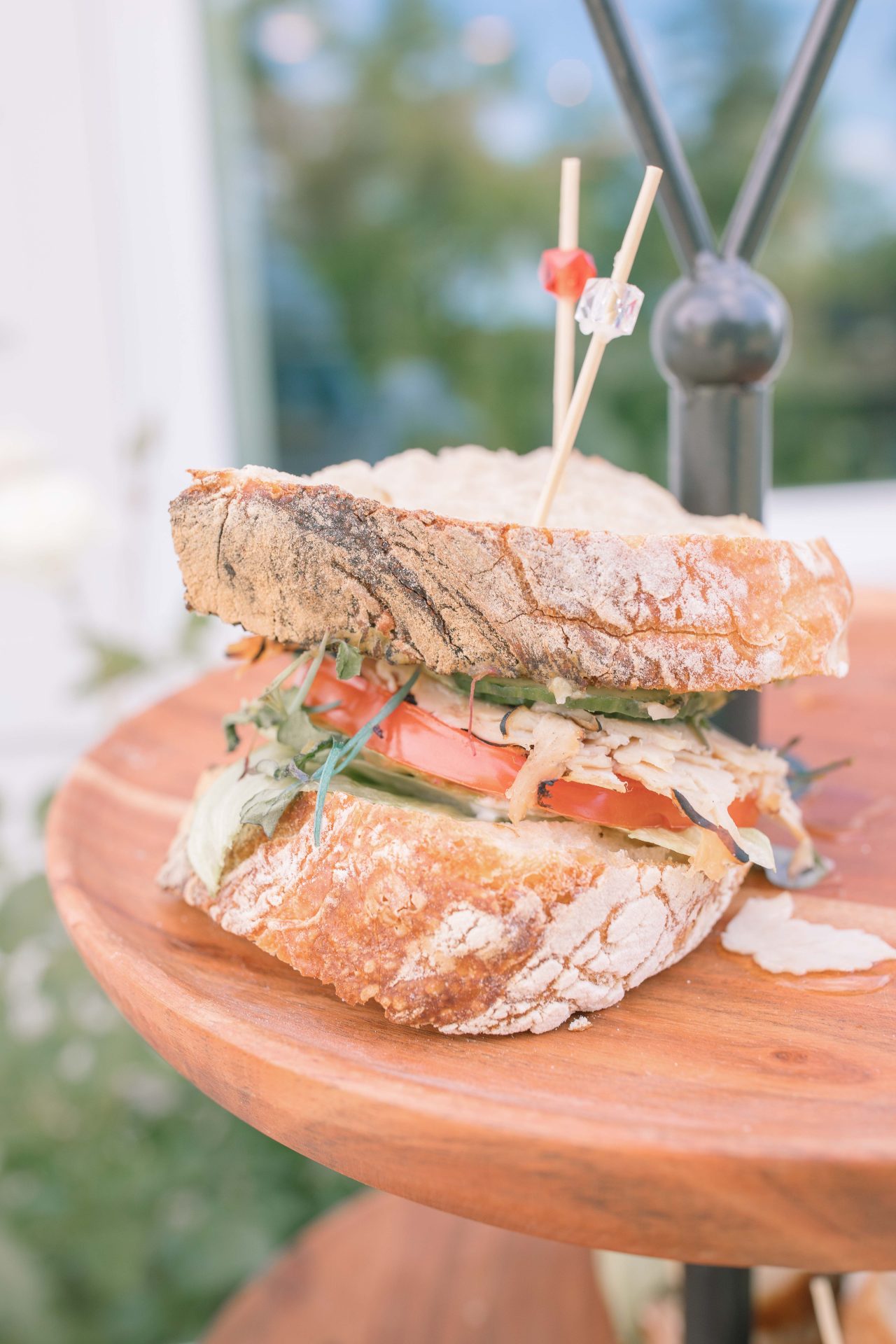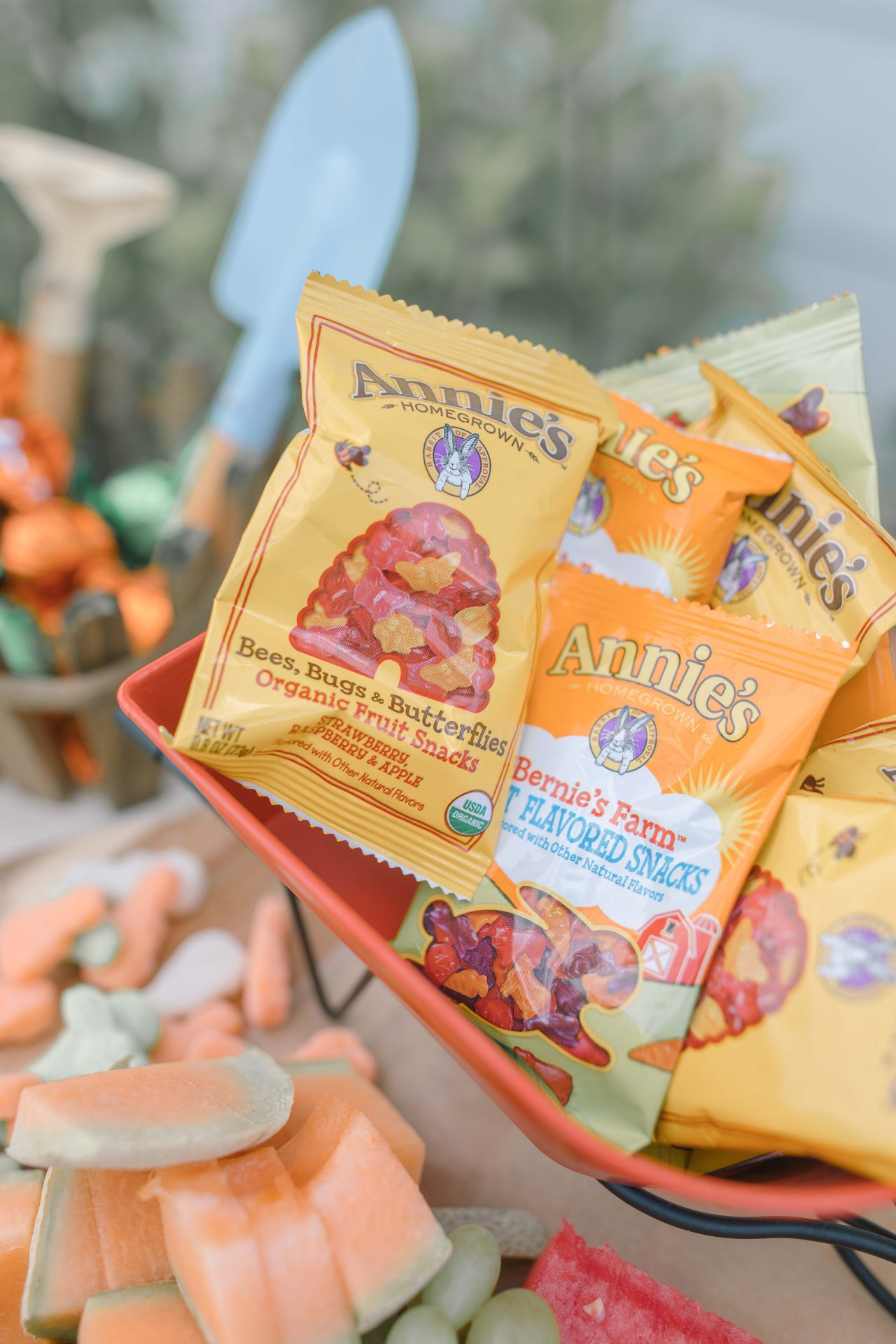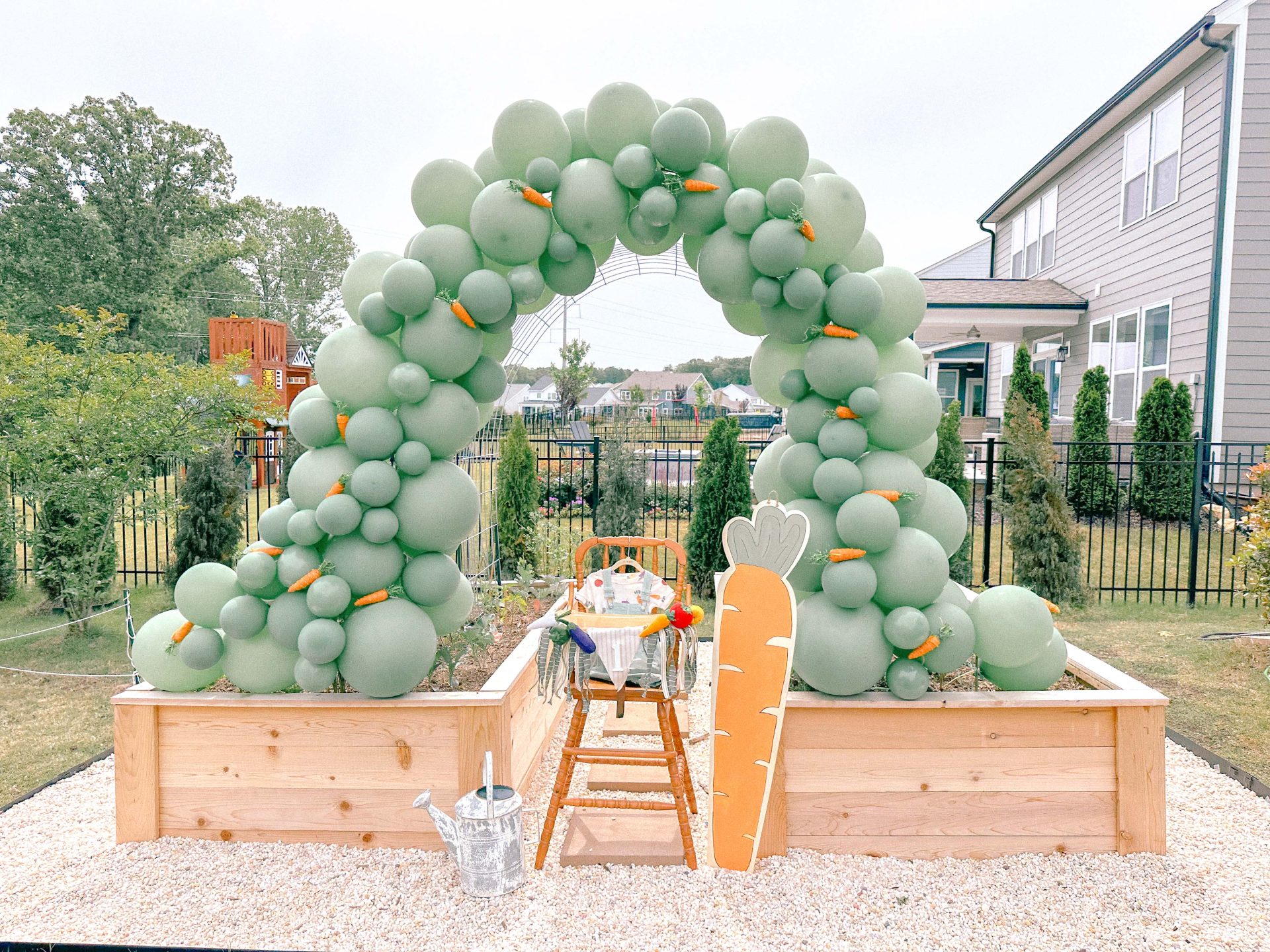 I want to take a moment to express my heartfelt gratitude to all of you for helping me navigate my first year as a mom! I've never felt more supported by any community before, and it's amazing how a bunch of strangers you've never met can come together to offer words of encouragement and help you keep pushing forward. It just goes to show that it really does take a village. Thank you so much, guys!
Questions for you!
Do you know which flavor of cake you had on your first birthday?
What questions do you have for me about my first year of parenthood?
What is a fun first birthday theme idea you have?